Most people know about Philly cheesesteak from the famous Philly cheesesteak sandwiches. While I'm a fan of these sandwiches as well, there are so many other ways to enjoy beef, sautéed onions and peppers, and American cheese. Here at 12 Tomatoes, we've experimented quite a bit with different, creative Philly cheesesteak recipes. From meatloaf to soup, we've got a bit of everything on this list! Let's take a look at our top 10 Philly cheesesteak recipes. Who knows, you might find your new favorite weeknight dinner!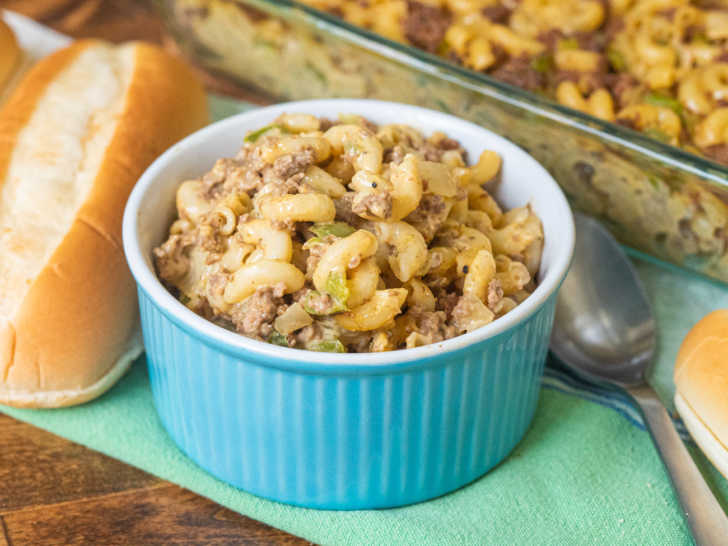 With ground beef, noodles, veggies, and a creamy cheese sauce, this dish has everything you love about Philly cheesesteak sandwiches in casserole form! If you've been around our site for very long, then you'll know how much we love casseroles. Really, who doesn't? They are easy to throw together and pop in the oven for a quick, filling weeknight dinner. Plus, they are usually an entire meal unto themselves, so there's no extra prep work for side dishes. If you're looking for a tasty, simple meal that comes together in just over 30 minutes, this is just the ticket! Get the recipe here!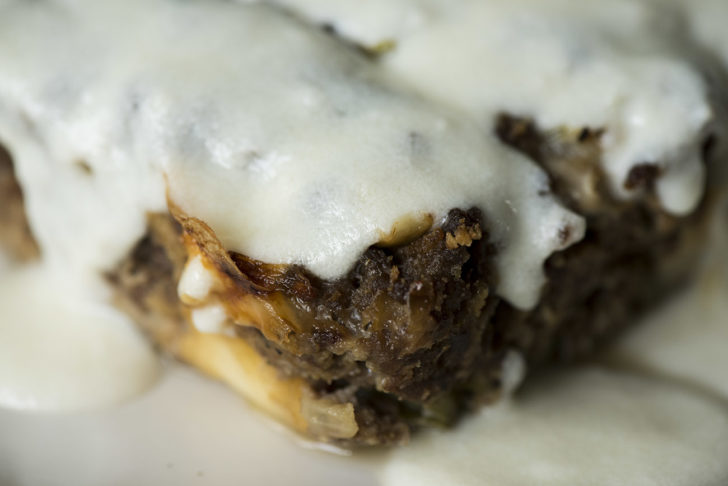 We give you the Philly Cheesesteak meatloaf. That's right, we took our favorite sandwich and turned it into a hearty meatloaf, big enough to feed a family, without the hassle of whipping up individual cheesesteaks for people (…although putting this meatloaf into a sandwich would be awesome.) Packed with peppers and onions and provolone, then topped with a creamy cheese sauce, this dinner is packed with flavor and not to be underestimated. What are you waiting for? This sandwich-turned-meatloaf dinner is calling your name! Get the recipe here!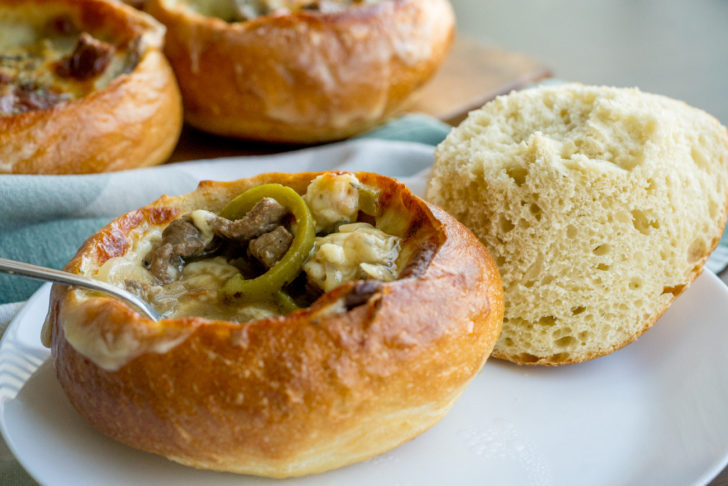 Not to be rude, but we don't think you're ready for how good this Philly cheesesteak soup is. Thick and super flavorful and packed with thin strips of juicy beef, onions and peppers, this dish is amazing. Plus, it's served in a bread bowl and topped with cheese – it could not get any better! We incorporated just about all the great, classic elements of a Philly cheesesteak into this soup – deliciously seared steak, sautéed strips of onion and green bell pepper, plus plenty of American cheese to top it all off and get broiled to golden perfection. Get the recipe here!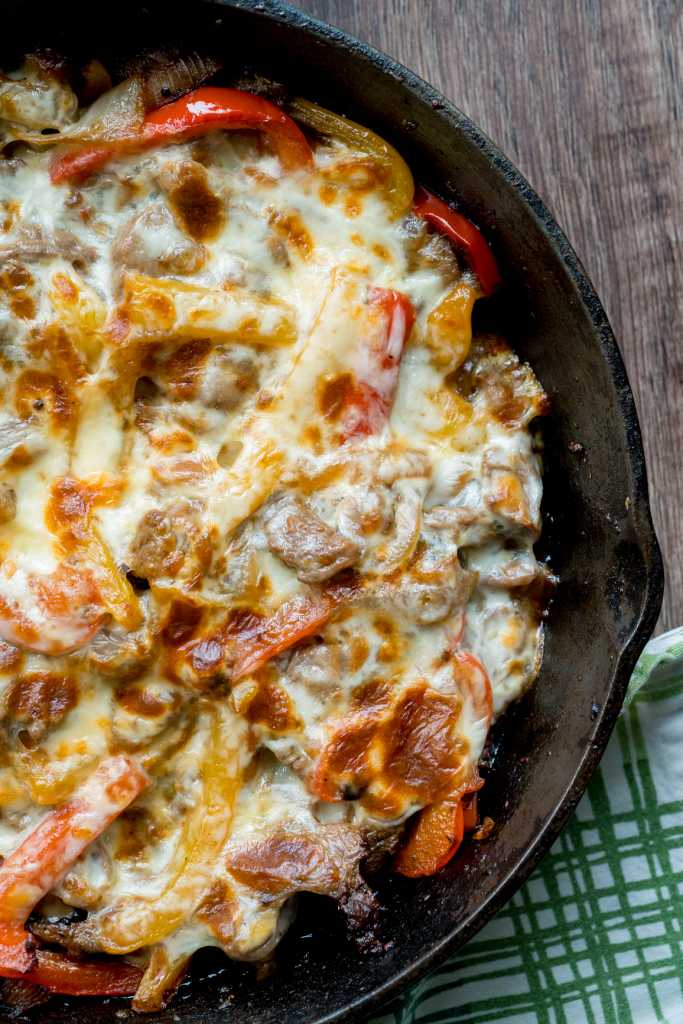 The Philly Cheesesteak is well-loved for good reason. I mean, just think about the tender steak, the flavorful peppers and the ooey-gooey cheese that ties it all together. What's not to love? Well, this quick skillet version gives you a low-carb version of the favorite that's every bit as tasty in just about twenty minutes. That might be even more lovable. Get the recipe here!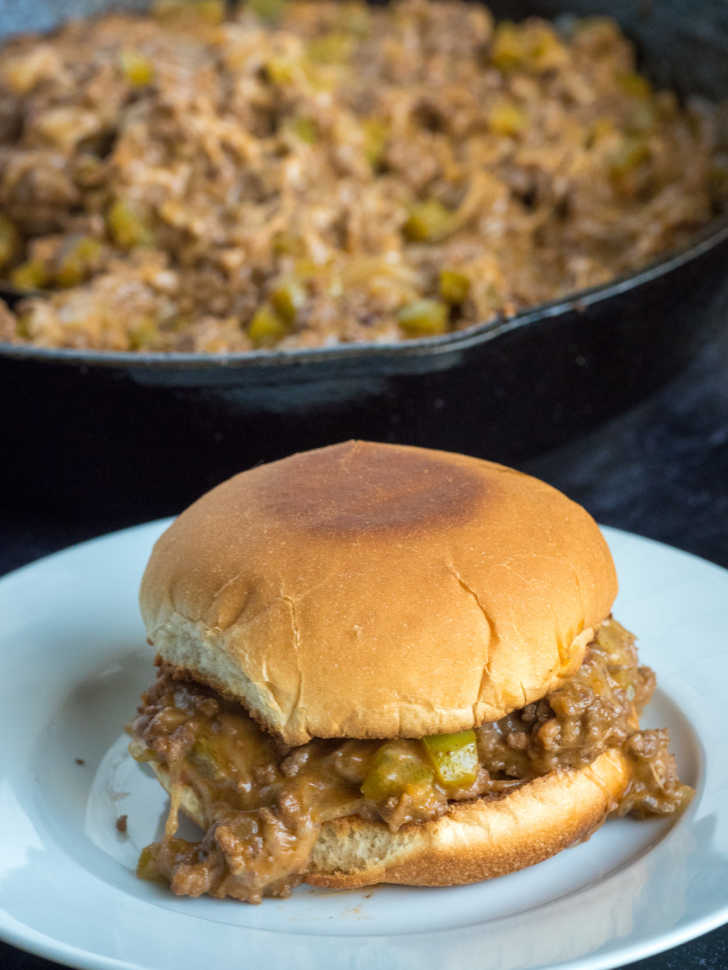 A Philly cheesesteak is a great sandwich. A sloppy joe is a great sandwich. So naturally, when you bring the two together they make an exceptionally great sandwich. With all the delicious mess of a sloppy joe and all the ooey-gooey meaty cheesiness of a Philly cheesesteak, it's the perfect thing to put between a bun whether you're looking for a quick-fix for dinner or trying to satisfy a comfort food craving. (Spoiler alert: it does both.) Get the recipe here!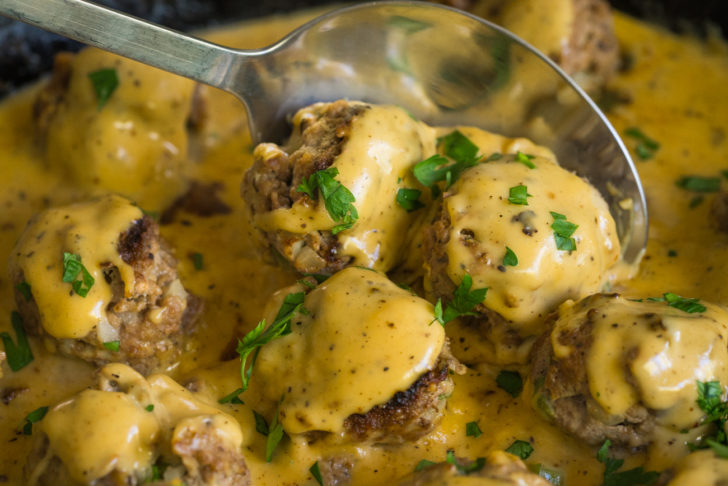 Once you've had your first Philly cheesesteak there's really no turning back. You're hooked on the flavors and will then forever be looking to incorporate them into other dishes…or at least that's what happened to us. The peppers and beef – and mushrooms if you're feeling a little rebellious – all coated in creamy cheese. It's just so good, we decided to skip the sandwich element and make cheesesteak meatballs. Served on their own, or with pasta or mashed potatoes, this is a dinner you won't want to miss. Get the recipe here!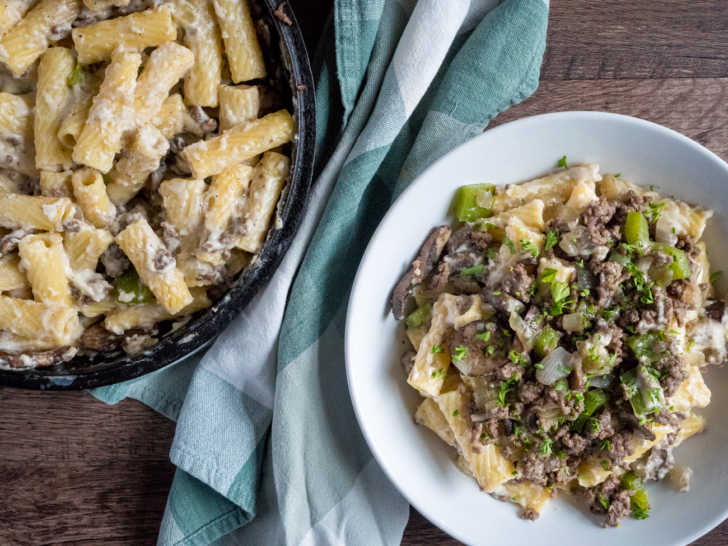 Are you ready for a brilliant and delicious twist on the classic Philly cheesesteak sandwich? This pasta skillet version packs all of the flavors we love – beef, mushrooms, green pepper, and provolone cheese, while also adding another element of creamy cheese sauce. Add in pasta, and what's not to love about this quick and easy dinner? I don't know about you, but my family loves pasta. There are only so many ways to serve up noodles and meat, or so I thought. Having this meal on hand is total game-changer! Get the recipe here!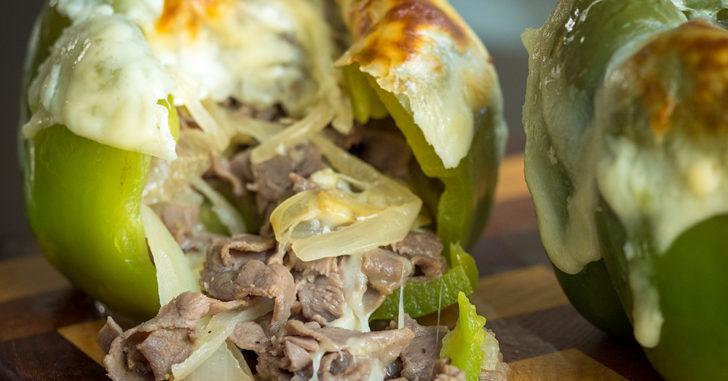 Though we don't eat them all the time, Philly cheesesteaks are probably our favorite sandwich…there's something about the caramelized onions and peppers in them, along with the perfectly seasoned beef, that makes our mouth water. Well, we got a craving for these bad boys the other day, but didn't quite have all the fixings in the pantry to make our own sandwiches, so we got creative and came up with something a little different: Philly cheesesteak-stuffed peppers! Get the recipe here!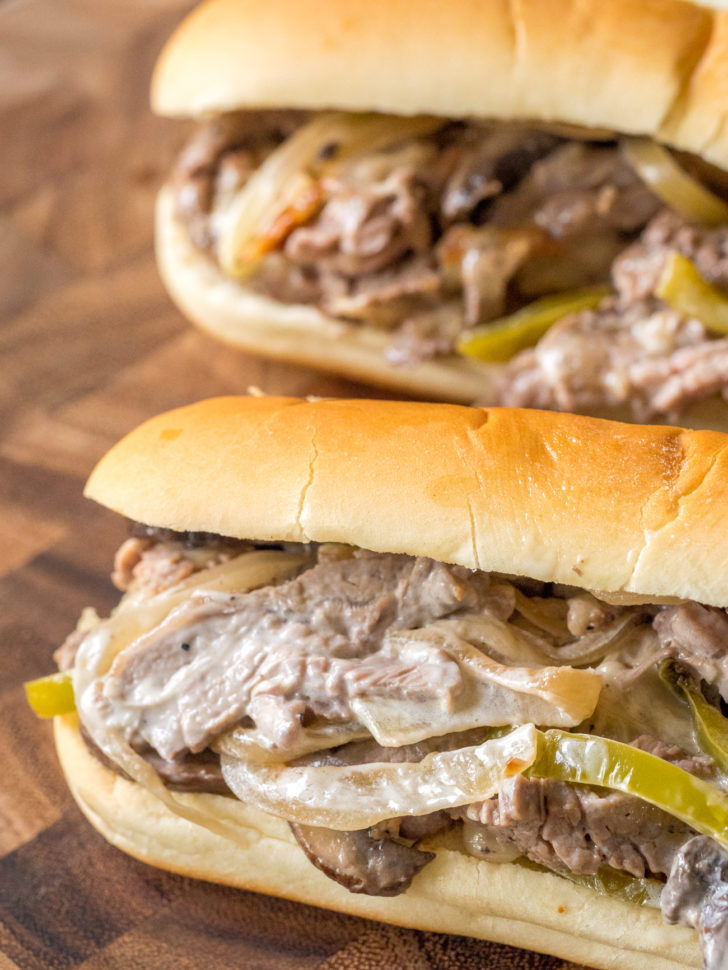 Since we love a sheet pan dinner, we've found a way to cook up all those yummy cheesesteak ingredients on one pan in the oven. It's easy, there are barely any dishes to clean, and it's tasty as can be. After slicing up some veggies, you season them along with the steak and lay it all out on a baking sheet before popping it in the oven. Once the steak is cooked, you slice it up and return it to the pan with some slices of provolone (which is the classic choice for a cheesesteak if you ask us) before returning it back to the oven for a few minutes. When you stir the melted cheese with the sliced steak and veggies, it mixes with the juices from the meat and onions and creates an ooey, gooey flavorful cheese sauce that we can't get enough of. Get the full recipe here!
When it comes to sandwiches, the Philly cheesesteak is at the top of our list of favorites. There's something about the perfect combination of steak, peppers, onions and cheese that gets us every time. While we don't think there's another sandwich out there that could ever top the cheesesteak, thereis a new dip in town that blows all the other ones out of the water…the Philly cheesesteak dip. Packed with all the same components, this dip is robust and delicious and you definitely need to check it out! Get the recipe here!
SKM: below-content placeholder
Whizzco for 12T