Jammy eggs are EVERYTHING!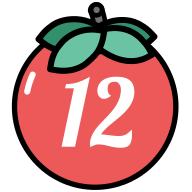 Dom Ruane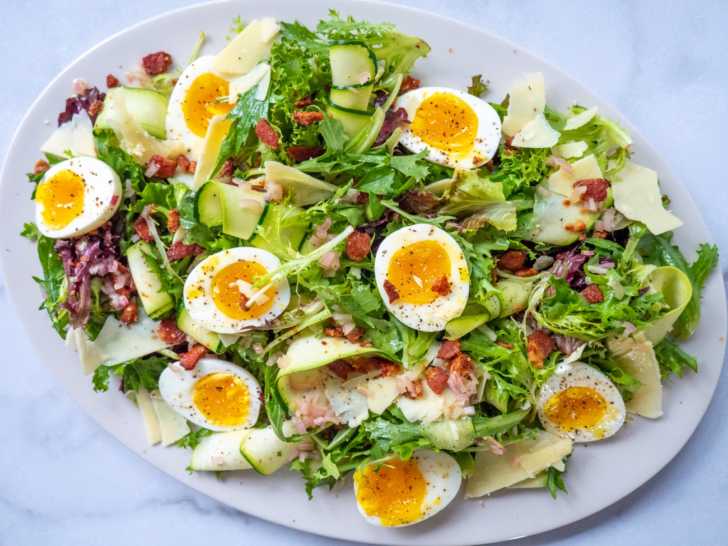 Cuddle up to this new way of making dinner salads because they are here to stay. Salads no longer have to be complex with a slew of ingredients to taste great. Hard-boiled eggs are out and jammy eggs are in! This salad translates to "peasant salad", it's all about using what you have lying in the fridge or on the counter. A few eggs, crispy bacon lardons, and a warm shallot vinaigrette. You are going to fall in love with this salad. Nicoise who?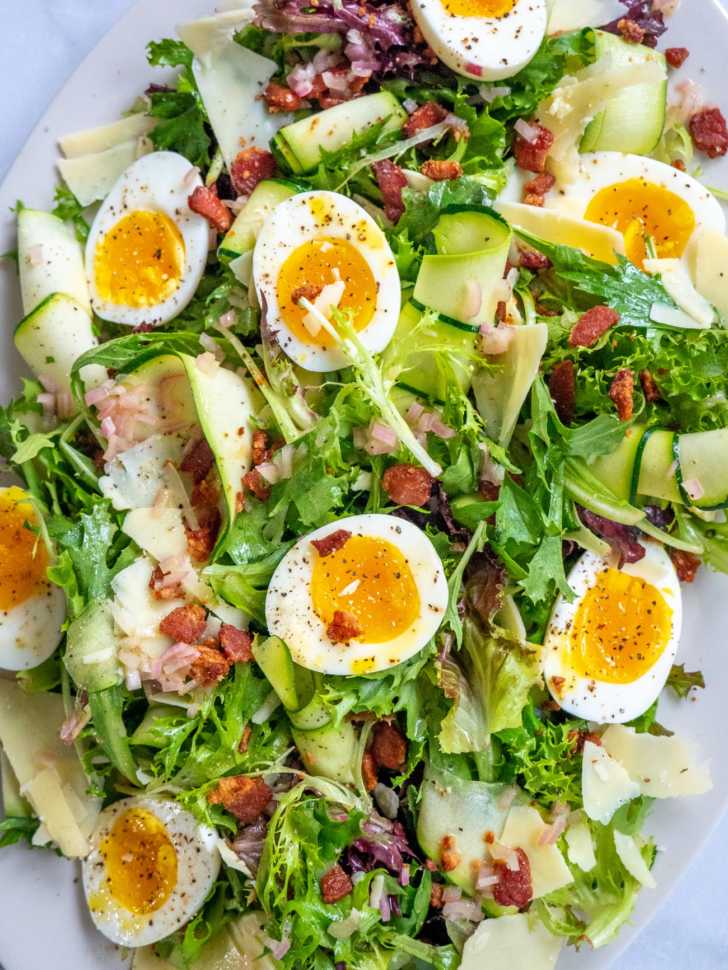 Cover anything with a vinaigrette made out of bacon fat and I'm going to say YES. I have a hard time deciding which is the real star of the show here because the heavenly vinaigrette is life-changing. If that sounds overly dramatic, you're not wrong, but I am 100% right. But the jammy eggs are right up there, too. Both contribute to the overall aesthetic and flavor experience of this beautiful salade paysanne.
The vinaigrette is made with reserved bacon fat from the cooked bacon. I'll then whisk in chopped shallot, sherry vinegar, olive oil, honey, dijon mustard, and of course, some kosher salt and black pepper, to taste. And definitely take a moment to taste the vinaigrette, adding a little more honey or salt and pepper until it strikes the balance that suits your palate. This beautiful, savory salad dressing is so fresh and flavorful – chef's kiss!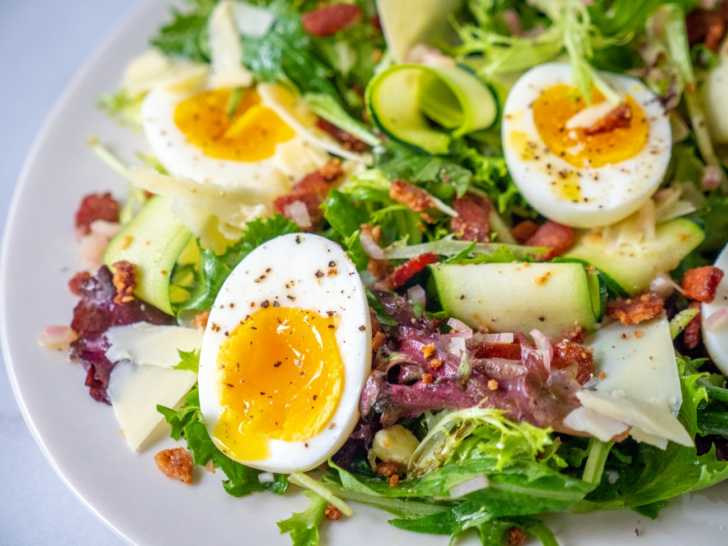 Soft-boiled eggs are truly an art form; they require the right balance of heat and time in order to come out just right. To achieve a "jammy" egg, boil them over medium-high heat for 8 minutes, and be sure to stick to that time. Have a bowl of ice water at the ready; with a slotted spoon, remove the eggs from the boiling water and immediately (and gently) drop them into the awaiting bowl. This ice bath will stop the eggs from cooking any further.
Once cooled, peel the eggs and slice them in half. Set them aside to use as the final garnish on the salad. If you've done them right, the yolk will strike the perfect balance of soft and firm, just gooey and luxurious. I have a friend who swears by rolling the eggs gently over the countertop before peeling them … old wive's tale or pro-tip? I'm not sure but I've seen it work!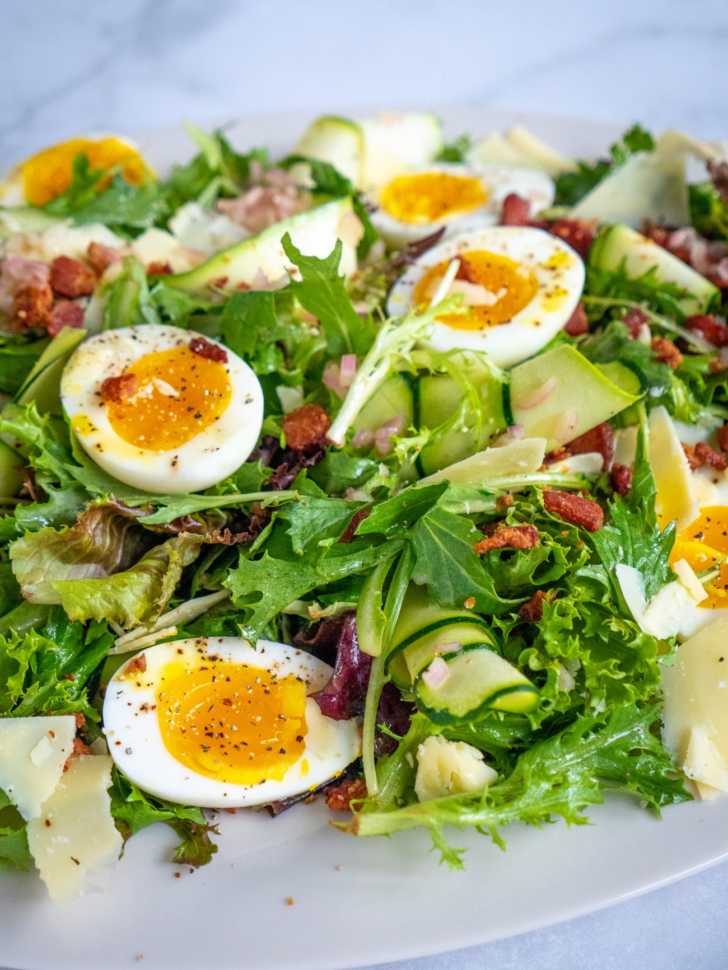 Ok, let's finish the salade paysanne. I'll toss the lettuce leaves and zucchini ribbons with about two-thirds of the dressing in a separate bowl. Next, I'll transfer the greenery to a serving platter, aesthetically I like to use an oval-shaped serving dish. I gently place my jammy eggs atop the salad and then I like to take a few of the zucchini ribbons and curl or roll them so they look like gorgeous zucchini spirals nestled in the salad.
The remaining salad dressing will be drizzled over it all, and a final sprinkle of salt and pepper to finish. Violá! Is this not the most gorgeous salad you've ever seen?! Not your standard nicoise salad but one that is both rustic (a nod to the "peasant" name) and elegant at the same time. This is an absolutely beautiful salad.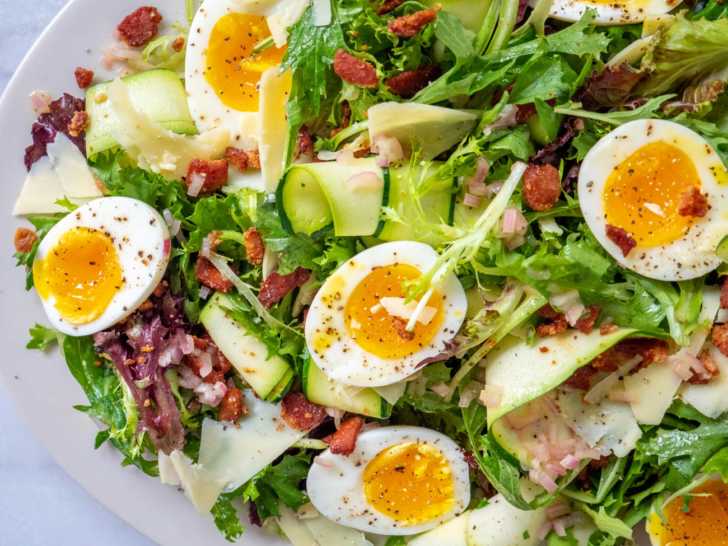 Salade Paysanne is a part of the Midnight in Paris menu from Table for 12. It was served with French Braised Short Ribs, Pommes Puree, and Souffle L'orange.
Salade Paysanne
Ingredients
5 oz. mixed leaf lettuce
2 oz. baby arugula
4 oz. thick-cut bacon, cut into lardons
6 eggs, soft boiled
1 zucchini, peeled into ribbons
1 oz. Gruyere cheese, shaved
3 tablespoons sherry vinegar
1 tablespoon bacon fat
1 tablespoons olive oil
2 tablespoons shallot, finely diced
1 tablespoons dijon mustard
1 teaspoons honey
Kosher salt and freshly cracked black pepper, to taste
Preparation
Bring a large saucepan of water up to a boil over medium high heat. Let eggs cook for 8 minutes on the kitchen timer.
Remove to a bowl of ice water and cool for 2 minutes. Gently peel the egg shell off and cut in half. Season with salt and pepper, then set aside.
In a sauté pan over medium heat, crisp up the bacon lardons and reserve 1 tablespoon of bacon fat.
Whisk together vinegar, bacon fat, olive oil, shallots, dijon and honey until a vinaigrette comes together. Season with salt and pepper.
Assemble the salad by dressing the leaf lettuce, arugula, and zucchini with a drizzle of vinaigrette. Plate lettuce on an oval platter and curl up dressed zucchini to plate, sprinkle on bacon, place eggs, and top with shaved gruyere.
Drizzle with remaining dressing. Enjoy!
This recipe was featured in the Midnight in Paris Menu at Table for 12
SKM: below-content placeholder
Whizzco for 12T