Rich and full of flavor…a truly show-stopping meal!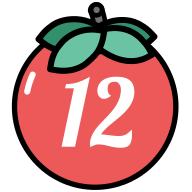 Dom Ruane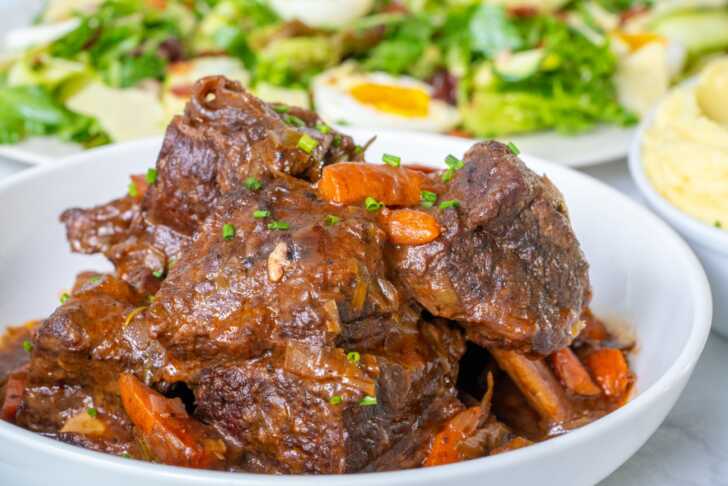 The short rib has become the new sexy beef cut as it lends plenty of flavor through the long braise that cooks the meat until it falls off the bone. We've all grown up with pot roasts or beef stews, but this dish is the ultimate beef stew. It incorporates classic French techniques, like mirepoix, fresh herbs, and a beurre manie to thicken the sauce. This beautiful dish was inspired by Julia Child, the original culinary icon for at-home cooks. Child's Beef Bourguignon inspired my early chef career. French braised short ribs in a red wine sauce are rich, flavorful, and will melt in your mouth. This dish is an homage to her fabulous recipe.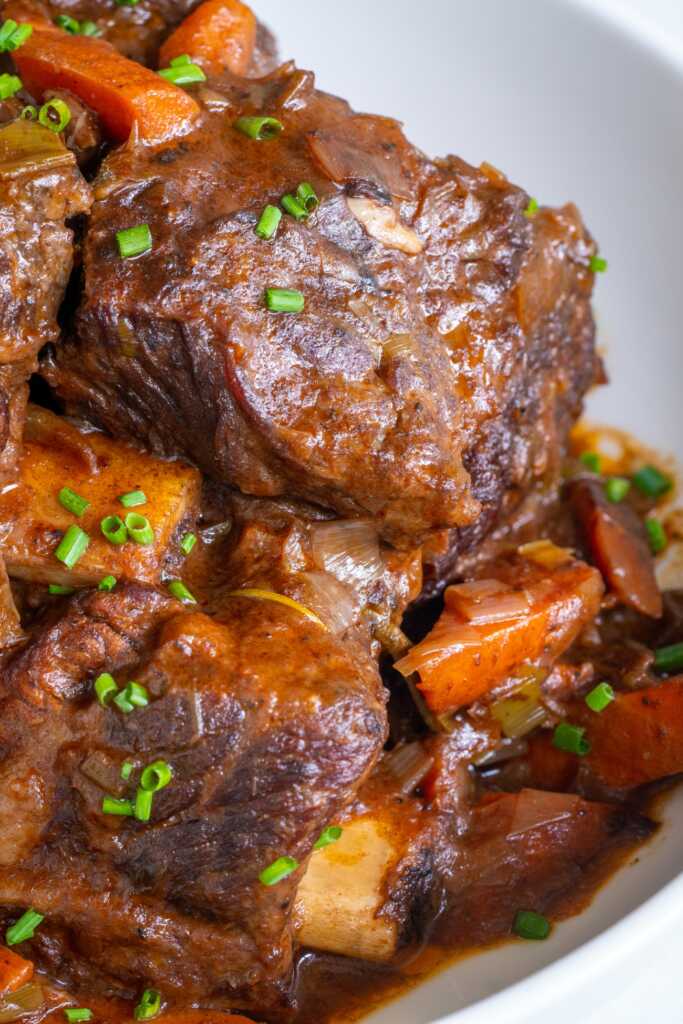 One thing that Julia Child emphasized about French cooking is that it's actually accessible, something we can make in the comfort of our own home kitchens. This beautiful version of her Beef Bourguignon is a great example of what she wanted to accomplish. Short ribs become richly luxurious when slow-braised in this incredible red wine sauce. Whereas Julia Child used stewing beef cut into chunks, I'm using short ribs; I believe there's an added layer of flavor enhancement with the bone-in beef.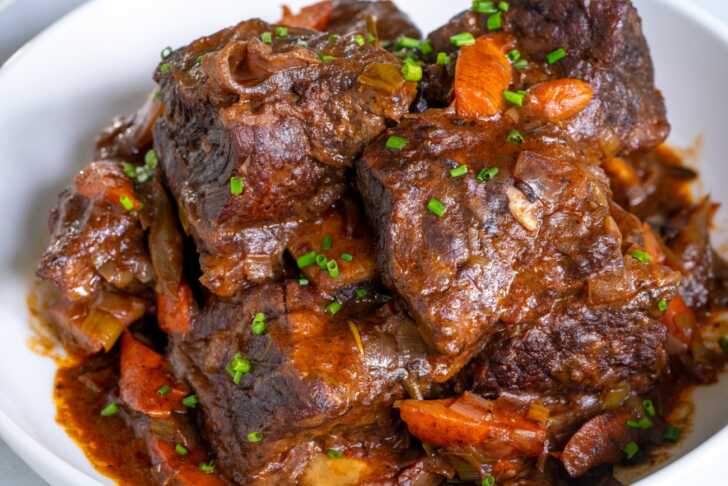 Ok, so let's get into some of the vocabulary of this dish, words like "braise," "mirepoix," and "beurre manie" don't tend to roll off the tongue in our home kitchens. To braise means that the meat is cooked two different ways; first, it's seared and browned in a hot pan and then liquid is added and it continues to simmer for an extended period of time.
A mirepoix (sounds like "mere pwah") is a classic combination of vegetables, here I'm using carrots, onions, and celery, cooked in oil. These create a beautiful foundation of flavor in a dish. And finally, we arrive at beurre manie (sounds like "burr ma-knee"), a French term for butter kneaded with flour and used to thicken a sauce. Each of these completes the trifecta needed to create a beautiful French braised short rib.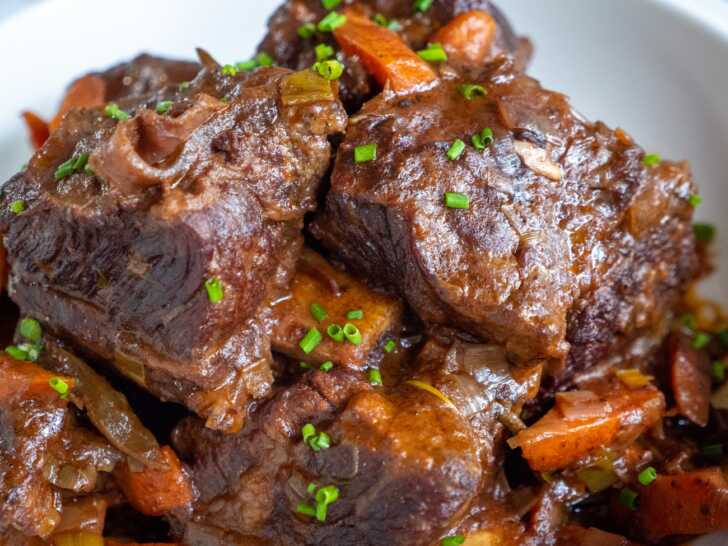 Time is one of the important ingredients, if you will. If you have an instant pot, time is shortened; otherwise, a Dutch oven will do the trick, you'll just need to cook this for a bit longer in the oven. We're in the home stretch at this point. To complete the meal, I remove the short ribs and strain the broth into a separate pot. I add the beurre manie and bring the sauce to a boil, stirring to incorporate the thickener. You'll know the sauce is ready when it is thick enough to coat the back of a spoon. Pour this sauce over the awaiting short ribs and step back to admire the beauty of French Braised Short Ribs in a Red Wine Sauce.
I absolutely love this dish. It smells amazing and the meat is fork-tender and luxurious. I serve this with a beautiful French mashed potatoes (called pommes puree) and a bright, fresh salad to complete this gorgeous meal.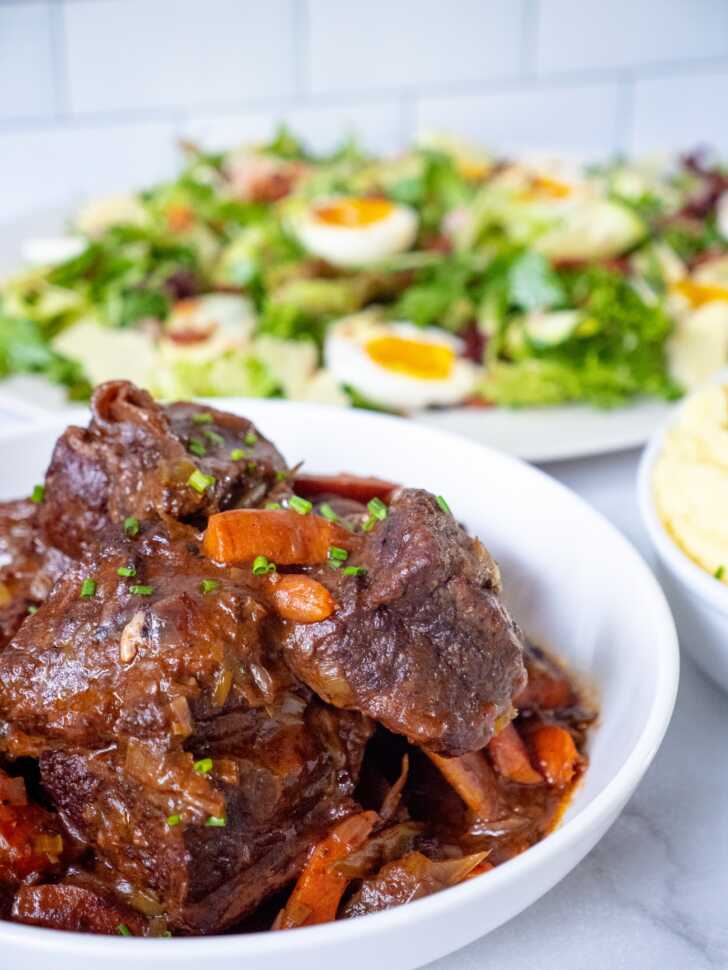 French Braised Short Ribs is a part of the Midnight in Paris menu at Table for 12. It was served with Salade Paysanne, Pommes Puree, and Soufflé L'orange.
French Braised Short Ribs in a Red Wine Sauce
Serves 6
30m prep time
1h 30m cook time
Ingredients
10 bone-in 2-inch-thick short ribs (3 lbs.)
1/4 cup vegetable oil
3 carrots, bias cut
1 stalk celery, bias cut
2 leeks, roughly chop
3 garlic cloves, smashed
2 tablespoons tomato paste
1 cup red wine
1/2 cup beef broth
3 sprigs fresh thyme
1 sprigs fresh rosemary
1 tablespoon butter, softened
2 cups + 2 tablespoons all purpose flour
Kosher salt and freshly cracked black pepper, to taste
Optional: chopped chives to garnish
Preparation
Season short ribs with salt and pepper then dredge them in 2 cups flour.
Cook them in a large rondeau over high heat with oil until browned on all sides.
Add vegetables to the pan, cook until vegetables are translucent then add tomato paste, and cook for 2 - 3 minutes. Season with salt and pepper.
Deglaze with red wine and add stew to the instant pot with beef broth, thyme, and rosemary. (If you do not have an instant pot, cook in a 350°F oven for 2 - 3 hours, until the meat falls off the bone)
Cook on high pressure for 45 minutes and let naturally release for 15 minutes. Skim fat.
Remove short ribs from the instant pot and strain broth.
Heat strained broth with beurre manie of butter and flour. Bring mixture to a boil until it thickens and coats the back of a spoon. Taste for seasoning. Enjoy!
This recipe was a part of the Midnight in Paris menu at Table for 12.
SKM: below-content placeholder
Whizzco for 12T