A simple throwback casserole from an old recipe card.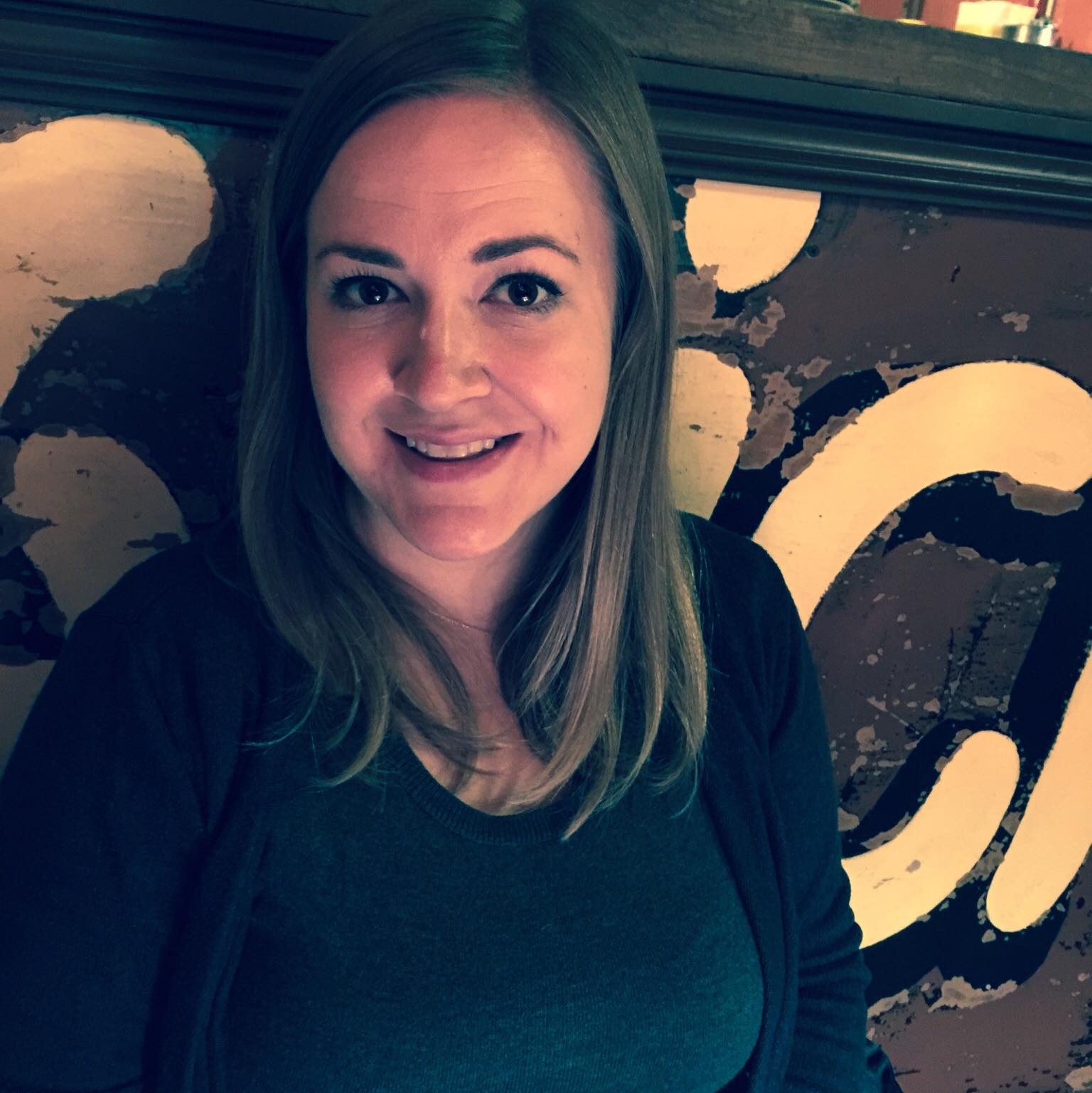 Kristy Norrell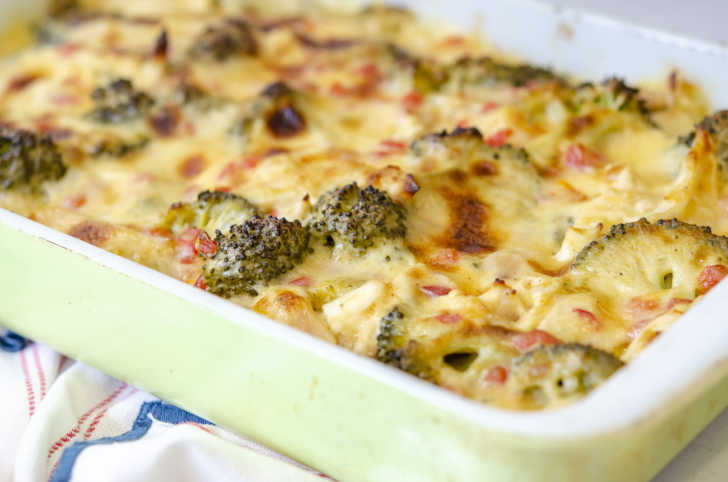 Some of the best foods out there are ones that also happen to have a touch of nostalgia to them, so I am always up for trying out a retro casserole when it comes my way. And luckily with our Recipe Tin Project there are plenty of interesting vintage casseroles. This French Chicken Broccoli Casserole is just one of them, a cheesy and easy bake that came from a well-loved index card with lovely red script and a few smudges and splotches.
This recipe card came out of an old recipe tin that I've been cooking my way through. I call it the Recipe Tin Project. It's chock full of old recipe cards, most of which seem to be from the '60s and '70s. I love food history, and the idea is to breathe new life into these recipes from the past and maybe learn a technique or two from them along the way. There are everlasting classics in there like Carrot Cake and some not so timeless creations like Jellied Chicken Gumbo.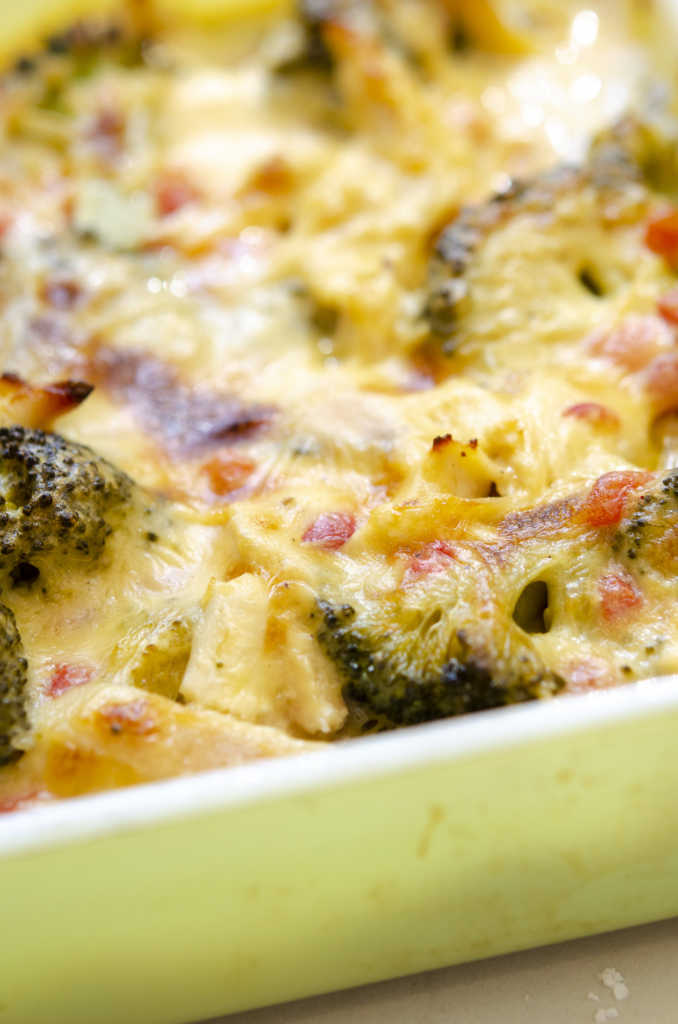 This card is an unlined index card with cursive in red ink that's been smudged and splotched by ingredients over the years. The handwriting strays a bit here and there, lifting up to the right, or with words scribbled or squished in where they fit.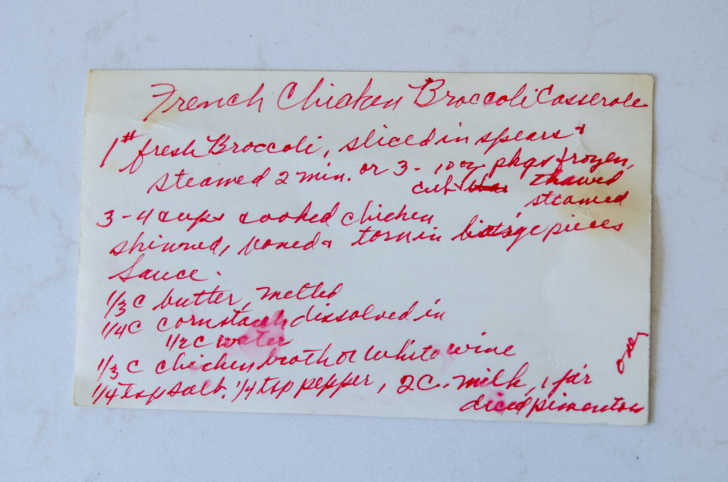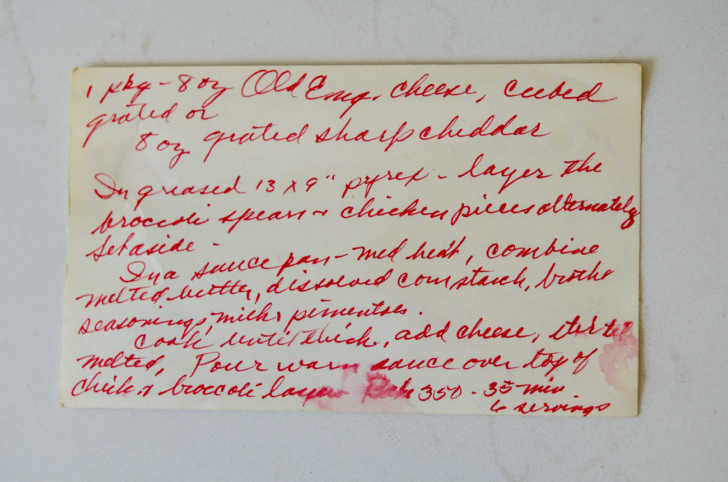 It's not a particularly long ingredient list for a casserole. There's chicken and broccoli, and a quick sauce that doesn't strike me as being particularly 'French.' Instead of being a more traditional roux based sauce, this one is made up of butter, cornstarch, milk, wine, and cheddar. Oh, and diced pimentos, which don't strike me as being particularly French either, but do seem to be a mainstay in decades gone by.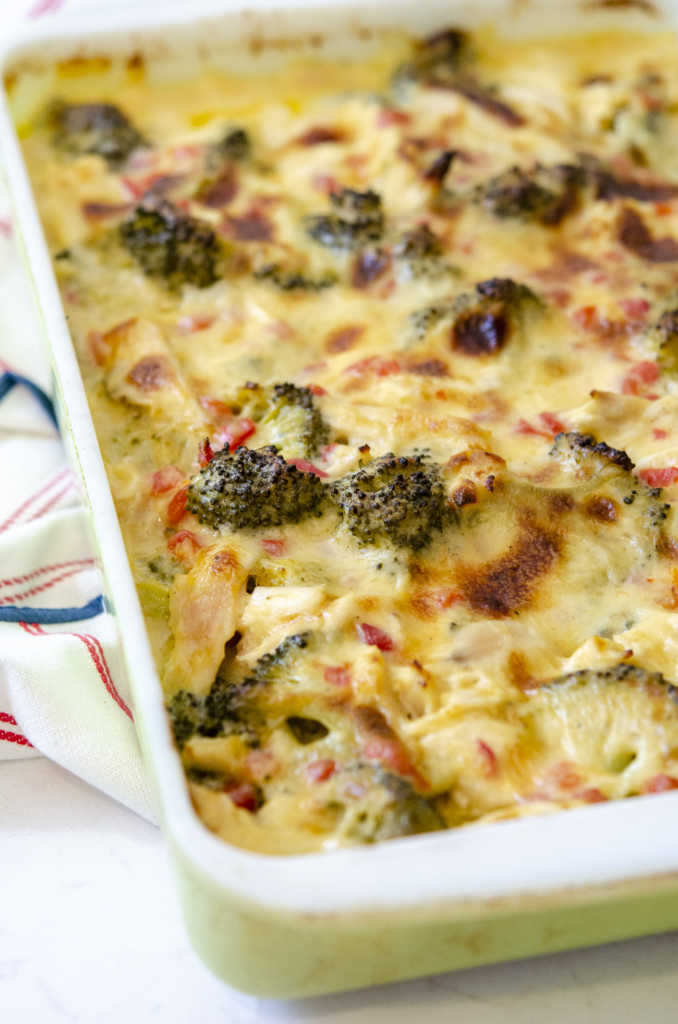 You heat the sauce on the stove top until it thickens and then pour it over the layered chicken and broccoli. I happened to not notice the sauce-cooking step when I started the process, but it all turned out okay in the end!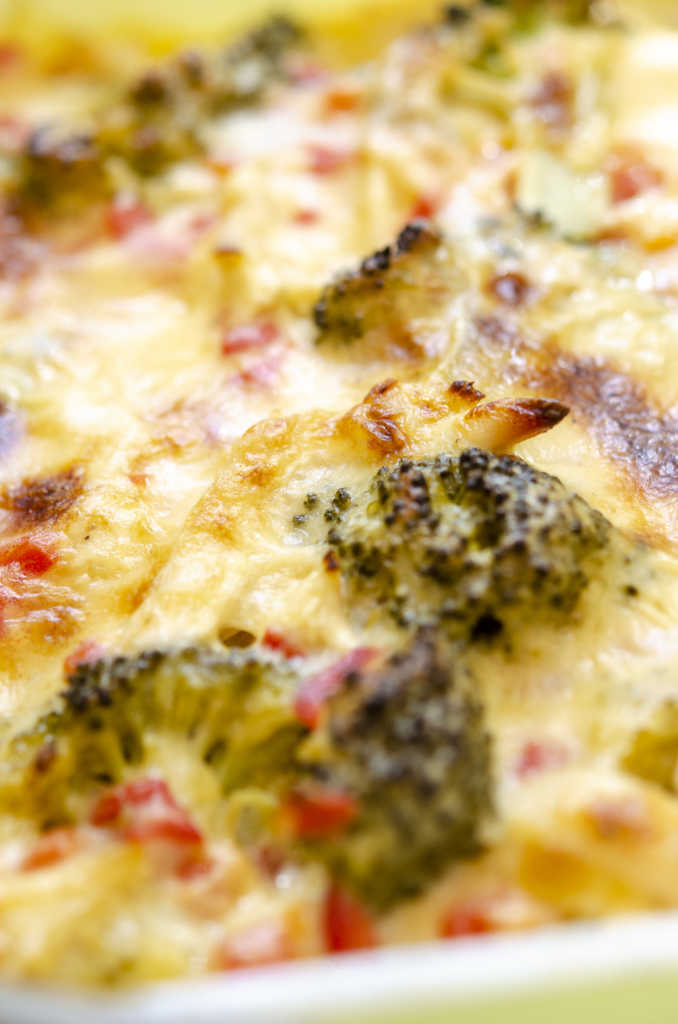 There's no rice or potatoes to worry about here, but it's still a very filling casserole. The flavor reminds me a lot of broccoli cheddar soup, actually, but with some chicken added for a heartier meal. It's easy to make and easy to enjoy, and feels like a bit of a throwback though you won't hear any complaints if you set it on the table today.
French Chicken Broccoli Casserole
Serves 6
10m prep time
35m cook time
Ingredients
1 lb fresh broccoli, sliced in spears
3-4 cups boneless skinless chicken, cooked and torn into bite-sized pieces
1/3 cup butter, melted
1/4 cup cornstarch
1/2 cup cold water
1/3 cup chicken broth or white wine
1/4 teaspoon salt
1/4 teaspoon pepper
2 cup milk
1 jar diced pimentos
8 oz Old English cheese or sharp cheddar, grated
Preparation
Preheat oven to 350°F and grease a 9x13-inch baking dish.
Steam broccoli for 2 minutes, and layer broccoli and chicken in baking dish.
Stir cornstarch into 1/2 cup cold water. In a saucepan over medium heat, combine the melted butter, dissolved cornstarch, broth or wine, seasonings, milk, and pimentos. Cool until thick.
Add cheese, and stir until melted. Pour over chicken and broccoli. Bake 35 minutes. Enjoy!
SKM: below-content placeholder
Whizzco for 12T