A vintage jellied adventure.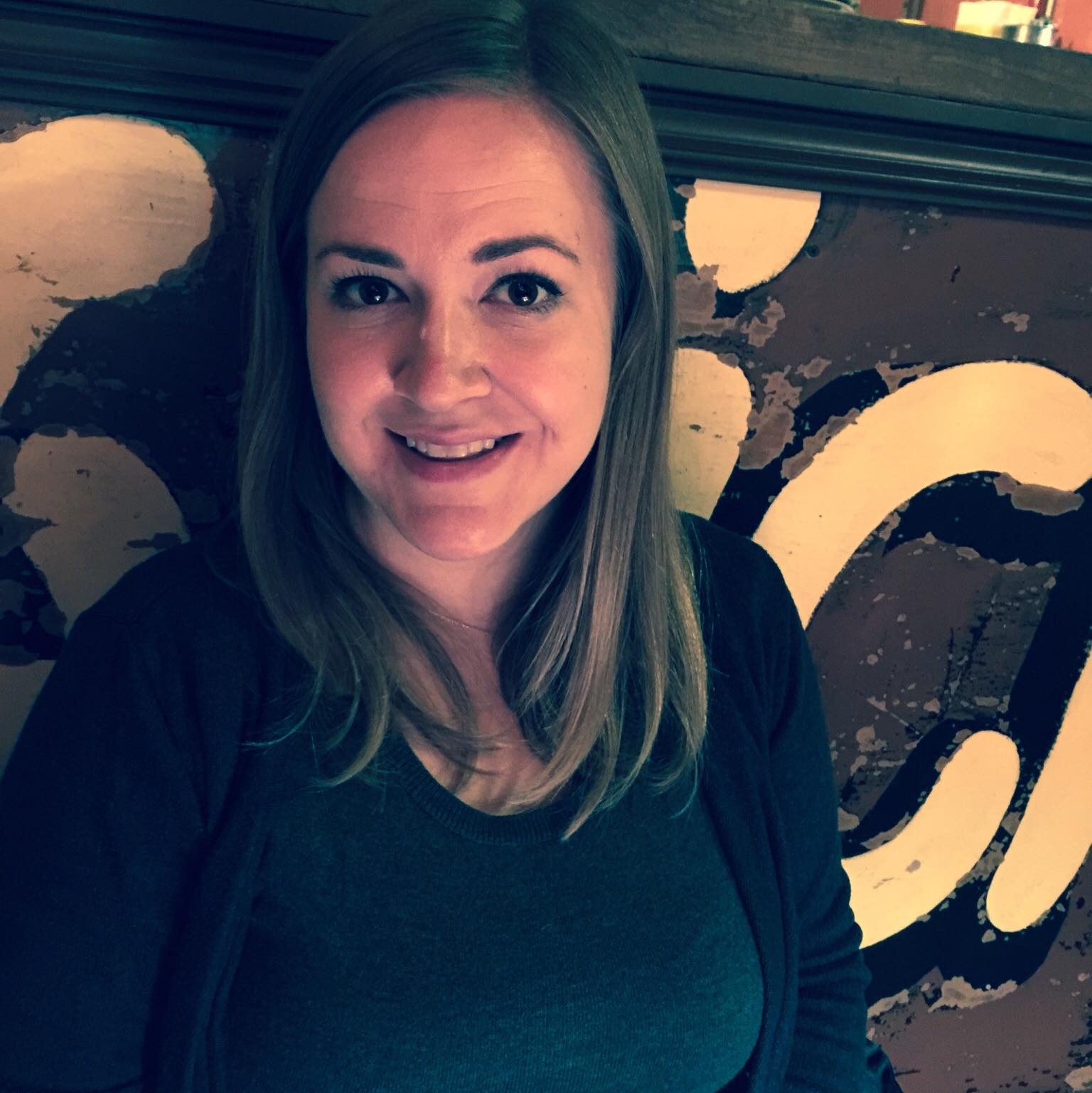 Kristy Norrell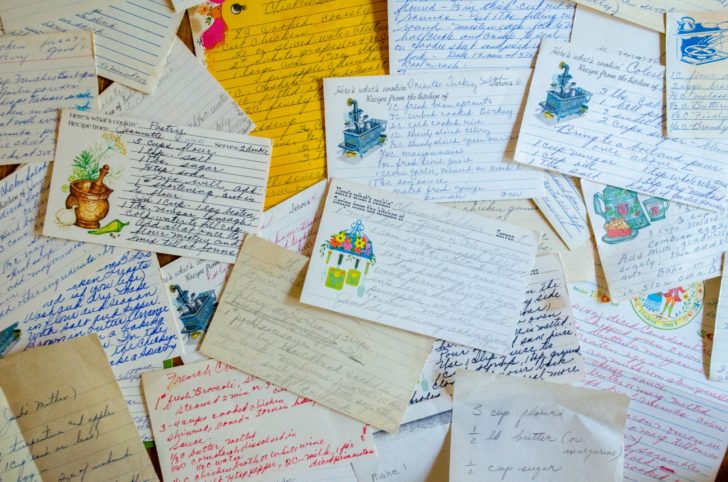 Have you ever been at an antique store and come across an old box of photos? I love thumbing through those boxes and peeking in on other people's lives from the past… solemn faced portraits from over a century ago, a proud new owner standing in front of a shiny '57 Chevy, an awkward couple in 70's prom garb. I think they're fascinating and I get lost in wondering about those people and what their stories were, but I always end up finding it a little sad. Those pictures of birthday parties, first days of school, and Christmases gone by no longer have a keeper. Those photographs are someone's memories and yet here they are, without a home, up for sale.
When I came across this recipe tin filled with handwritten recipes, I couldn't help but feel the same way. In so many ways, food is the heart of a home and yet here was a lonesome box filled with recipes that had no home at all. Someone had collected favorite recipes from friends, clipped ideas from newspapers and magazines, jotted down quick notes on the back of scrap paper and written out recipes in elegant script – all to ensure that they were remembered for future use. But they weren't being used. At some point, people sat around a table together and shared meals cooked from these recipes. They had mattered to someone. It didn't feel right for them to go unused or be forgotten about. So I decided to give them a home.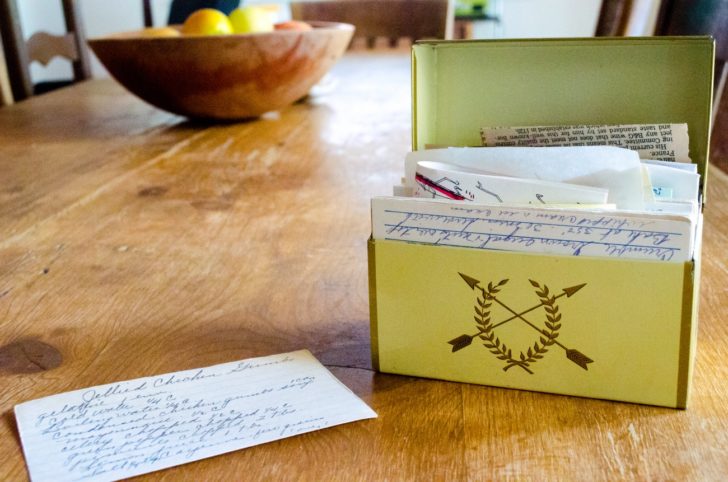 My plan is to cook my way through the recipe tin and document the adventure here. I call it "The Recipe Tin Project." I figure it's a way to breathe new life into these recipes and hopefully find a few new favorites along the way. It's maybe not what the original owner had intended, but at least it's something.
It's hard to tell who this tin belonged to. There are recipes in all kinds of different handwriting, with different names next to "Recipe from the kitchen of:" so it seems that a lot of these were collected from friends. They seem to range from the '60s all the way to the early '80s. (So there are a lot of chicken dishes involving cream of mushroom soup. A lot.) There are some "Solid Rock" savings stamps and a coupon for 5-cents off Ivory liquid, I think from 1965.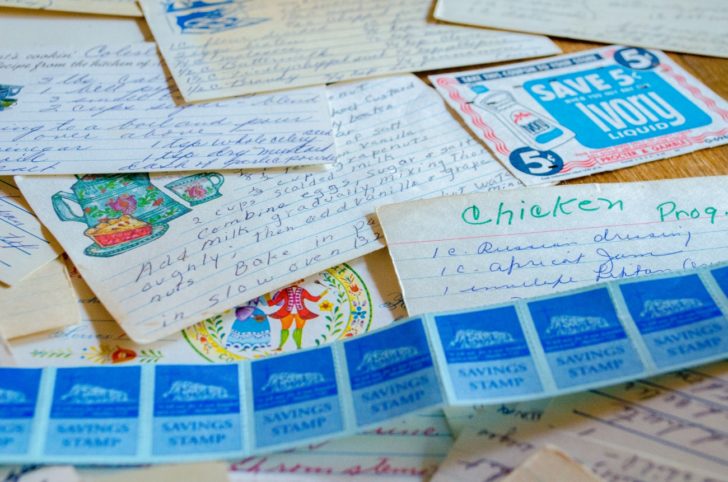 There are beautifully handwritten instructions for how to make liniment from "Jack's mother." Many of the cards are dotted with stains and the corners curled from use. There are a few recipes jotted down on the backs of flyers for a "Barristers Wives Club." Some recipes are staples: chocolate cake, Hubbell house dressing, basic pastry. Others were probably occasionally used for entertaining: Oriental Turkey Salad, Potluck Chicken, a few variations of coleslaw.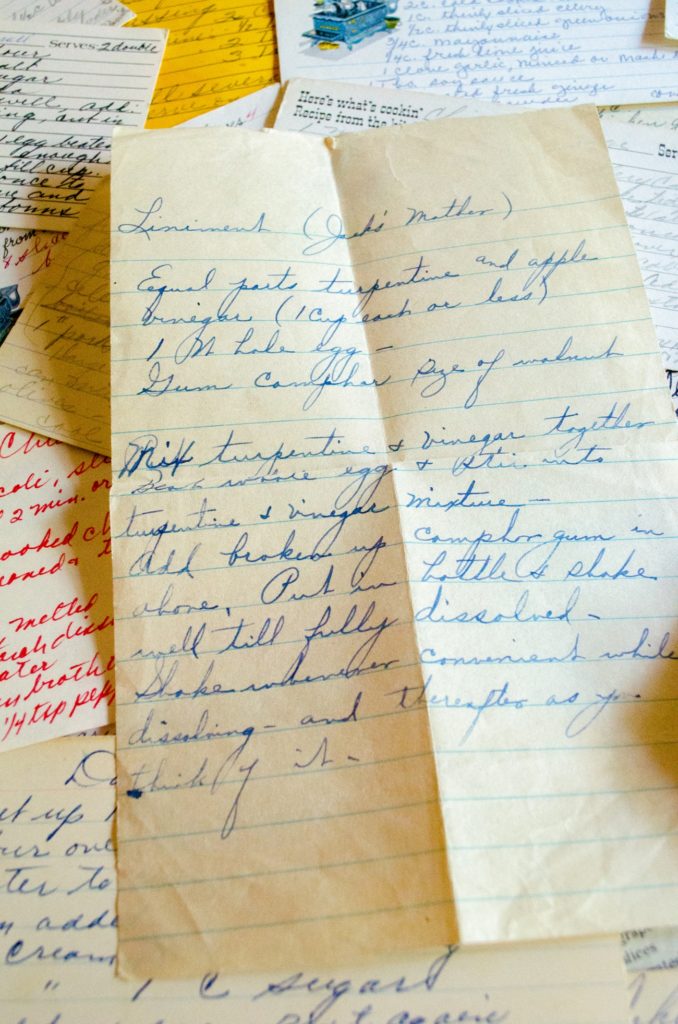 One of my favorite things is a brochure called "A Medley of Salads." It features absolutely zero of the kind of salads that I'm currently accustomed to eating (you know, like with lettuce), but rather a whole lot of gelatin and canned goods.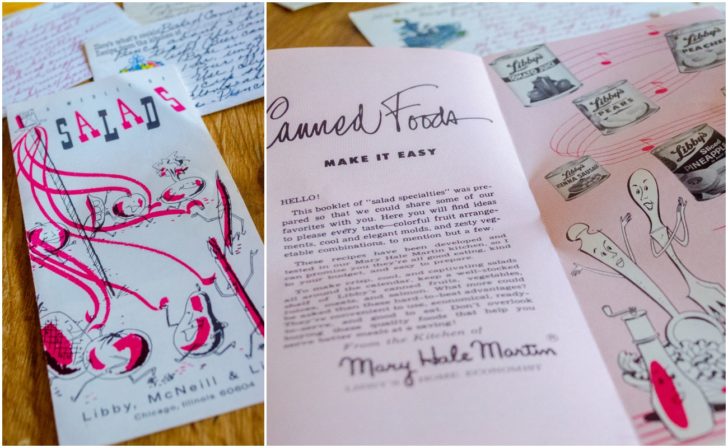 It's so interesting to see how much our food culture has changed throughout the years. This tin is chock full of things I would probably never think to make – some things I've never even heard of – yet I'm sure many of them are totally familiar to my grandmother. It was hard to choose a first candidate to try, but I ended up going with the one that seemed the strangest to me: Jellied Chicken Gumbo.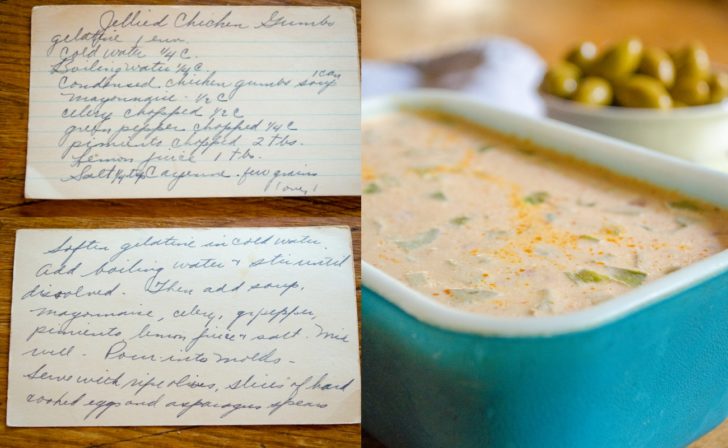 That's right. A gelatinous loaf of chicken soup mixed with some mayo and crunchy veggies for good measure. It was all at once a terrifying and fascinating concept. I expected it to be jiggly, weird, and at least a little revolting. I was mostly correct in my assessment. I will say the flavor itself was actually pleasant, a little bit spicy but not overpowering, and the cool and crunchy celery was a nice touch… but I can't get past the creamy yet jellied consistency. It's not quite solid like a jello jiggler, it's softer and has less of a bite to it.
If you would like to attempt this yourself, you can find the recipe below. I've expanded the instructions a bit. I searched the internet to try to find the history of this creation but I couldn't find anything about it, so if you decide to make it, it will be a pretty unique adventure. I, however, don't think it's a particular venture I'll be undertaking again.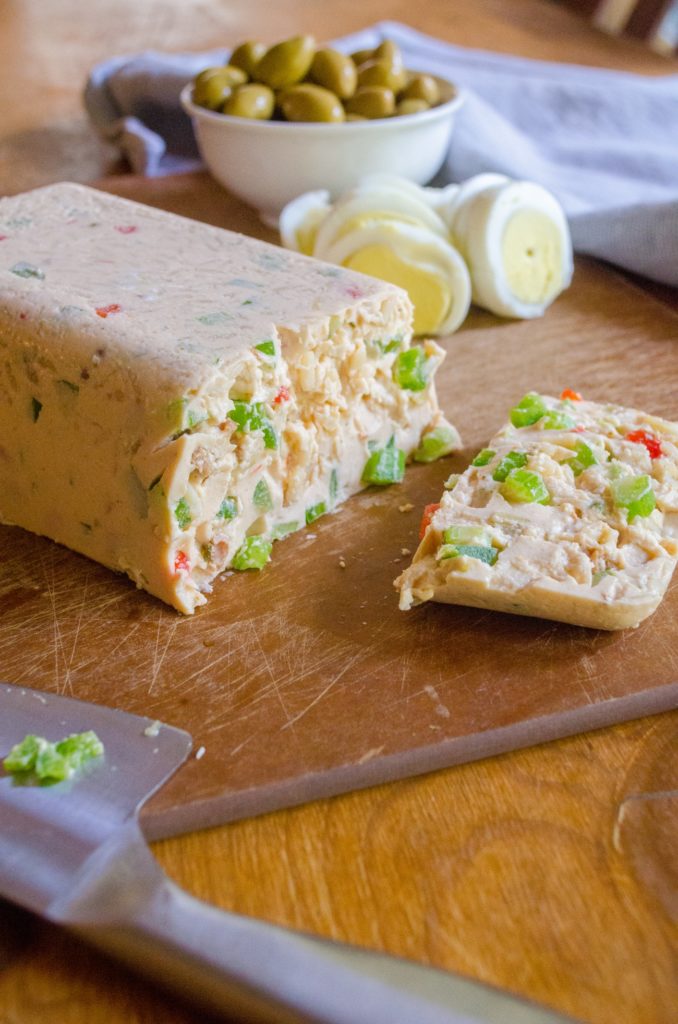 You start by softening the gelatin over a bit of cold water and then adding the boiling water and stirring until the gelatin has dissolved. Then you simply add the can of soup, chopped veggies, mayo, and some lemon juice, and mix it well before pouring it into the mold. It takes a few hours to chill and the card suggests serving it with "ripe olives, slices of hard cooked eggs and asparagus spears."
It's a very quick thing to throw together and I can see how you might choose to serve it at a gathering for convenience sake. You could prep the whole thing ahead of time and leave it in the fridge until you were ready to serve, which is always nice. In the era of jellied salads and whatnot, I can imagine that it would be a popular choice, but today you would probably get some weird looks. I wonder where the recipe tin owner got this recipe and how often she used it.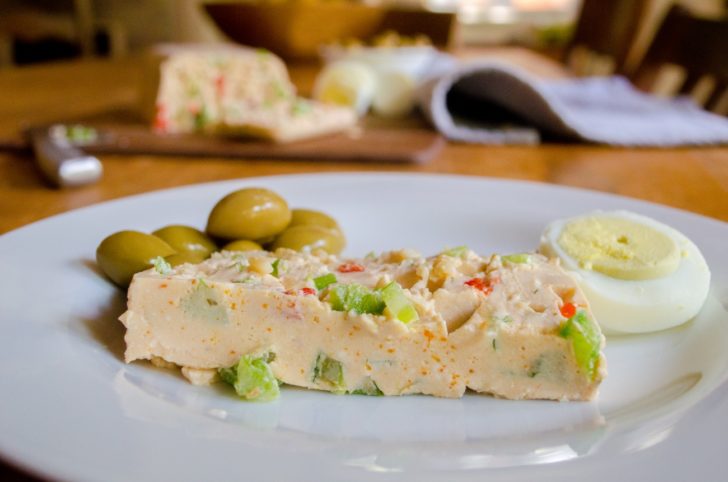 I can't wait to try some more of these recipes (though Baked Canned Ham sounds a little ominous). Follow along as I cook my way through the rest!
Jellied Chicken Gumbo
Serves 6-8
15 minutes active, 3 hours inactive
Ingredients
1 envelope unflavored powdered gelatin
1/4 cup cold water
1/4 cup boiling water
1 can (10.5 oz) condensed chicken gumbo soup
1/2 cup mayonnaise
1/2 cup celery, chopped
1/4 cup green pepper, chopped
2 tablespoons pimentos, chopped
1 tablespoon lemon juice
1/4 teaspoon salt
1/4 teaspoon cayenne
Preparation
Lightly grease an 8x4-inch loaf pan or other mold. Set aside.
Add cold water to a medium bowl and sprinkle gelatin over the top to soften. Add boiling water and stir until dissolved.
Add soup, mayonnaise, celery, green pepper, pimentos, lemon juice, salt and cayenne and mix well. Pour into prepared loaf pan or mold.
Chill until set, at least 3 hours. "Serve with ripe olives, slices of hard cooked eggs and asparagus spears." Enjoy!
SKM: below-content placeholder
Whizzco for 12T