Fall is a great time for innovative, delicious recipes that don't take long to prepare. There's an abundance of vegetables (not just pumpkin, people!) that are harvested during fall that make their way to your kitchen, brightening up the period between the heat of summer and cold of winter.
Some cooks keep the grill going long past summer's end, while others like to heat up the oven and get to work on producing their favorite hearty warmers. Fall is also a great time to switch in some cool veggies to create spectacular versions of year-round faves. In the story below you'll find an exciting collection of mouthwatering fall favored recipes to use in the new season!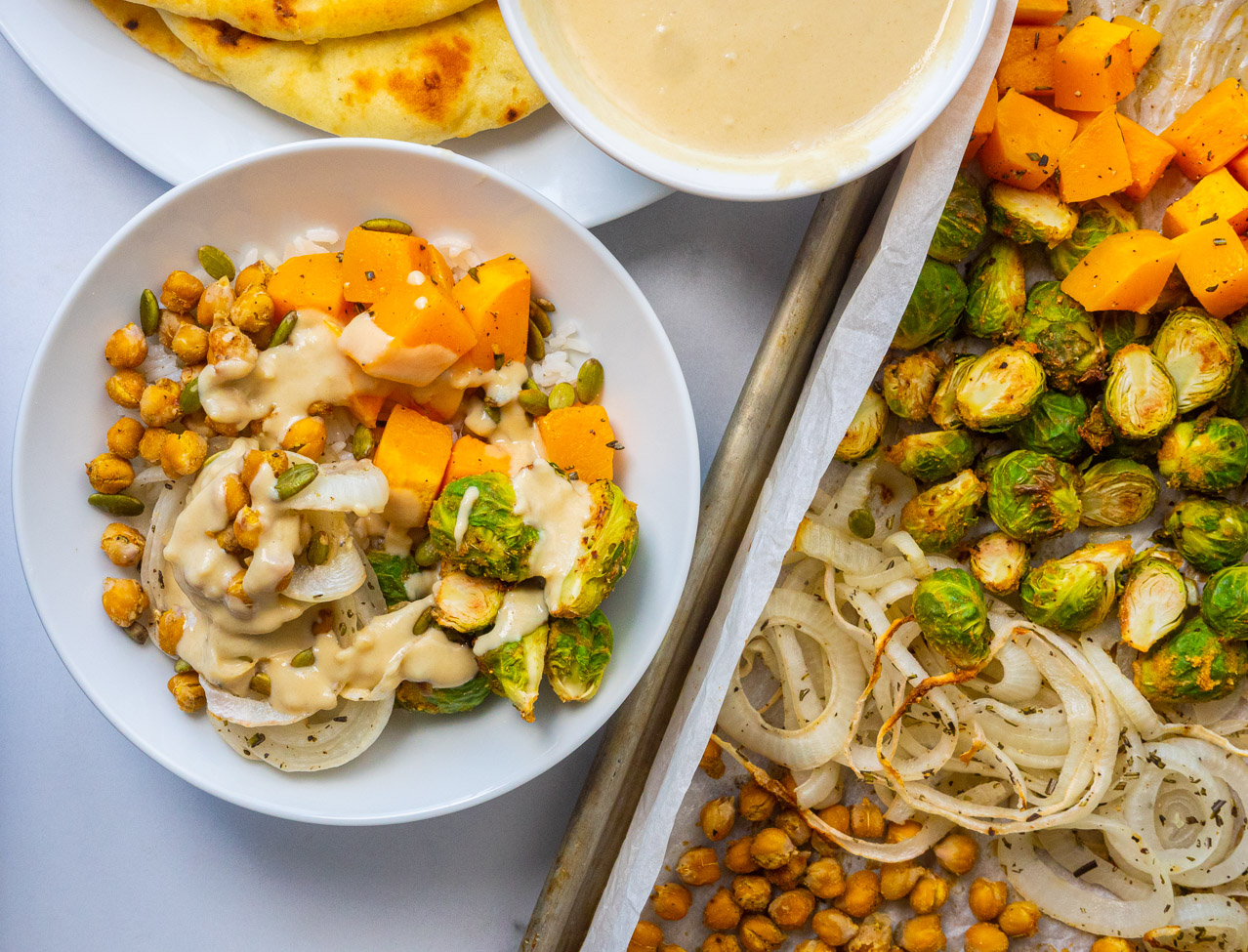 I'm always up for a quick to enjoy sheet pan dish, even moreso when they're covered in a sensational lemon garlic tahini sauce. This Fall Harvest Sheet Pan Dinner is the answer when you are after a simple meal bursting with flavor and goodness! As colorful as it is flavorful, the recipe offers butternut squash, Brussels sprouts, chickpeas, and onions. Serve these veggies alongside humble fillers – a bed of rice, lettuce cups, or naan – to taste how the textures of fall are perfectly tied together by a delightful tangy-but-creamy dressing.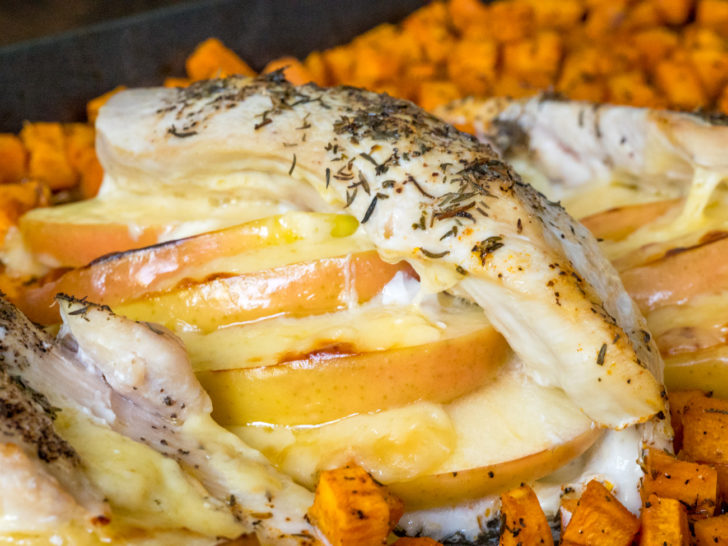 Part of what makes our Cheesy Apple-Stuffed Chicken Breasts so yummy is the variety of ingredients we use to create an easy, nutritious, one-pan dinner that will have everyone raving. Delicious melted gouda cheese and delectably softened apple slices meld lusciously with each bite of seasoned chicken. This quick dinner recipe may utilize fall ingredients, but you can love it all year-round!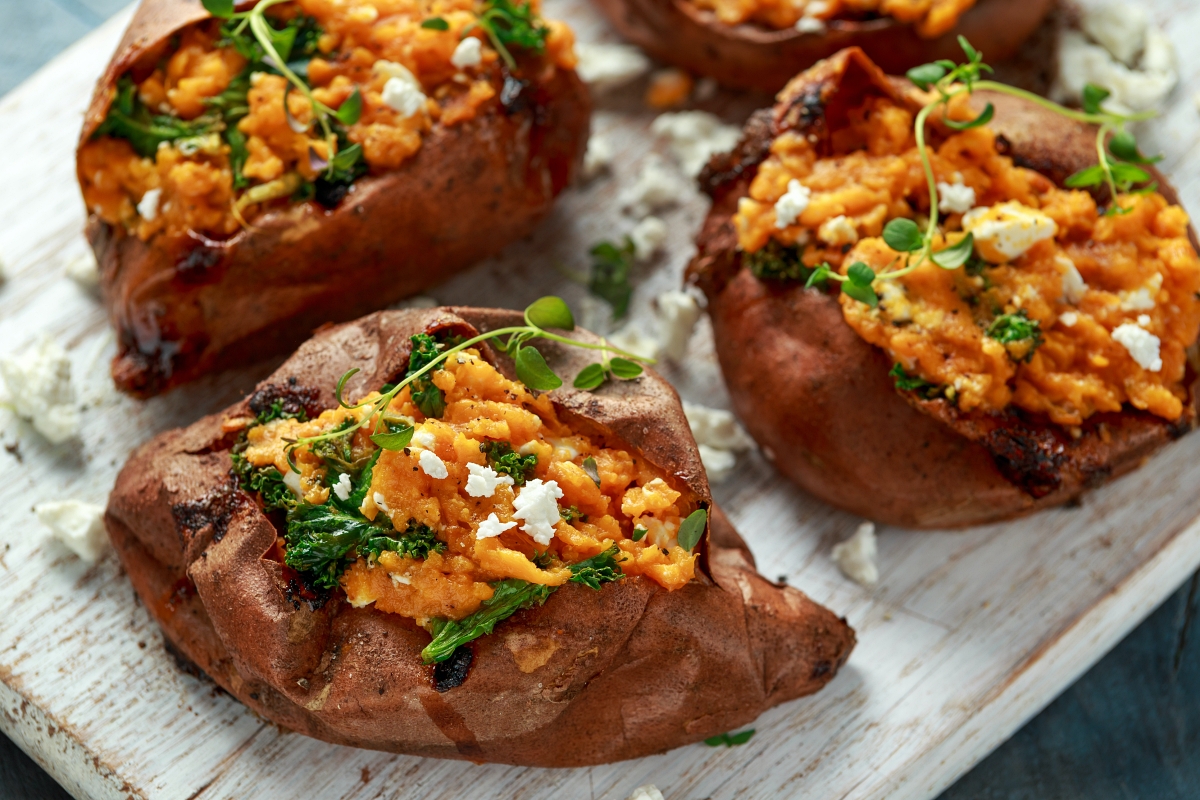 Kale Stuffed Feta Sweet Potatoes make a satisfying savory way to enjoy the beloved sweet potato. To make them it's as simple as cooking and unzipping the colorful spud and filling it with yummy ingredients that are just perfect for fall. I must admit, I never thought I'd combine sautéed kale with anything, let alone fabulous feta cheese and crunchy toasted almond slivers, but it works, is really healthy, and tastes amazing! If you are looking for a wholesome take on the twice baked potato, then this recipe is well worth trying out.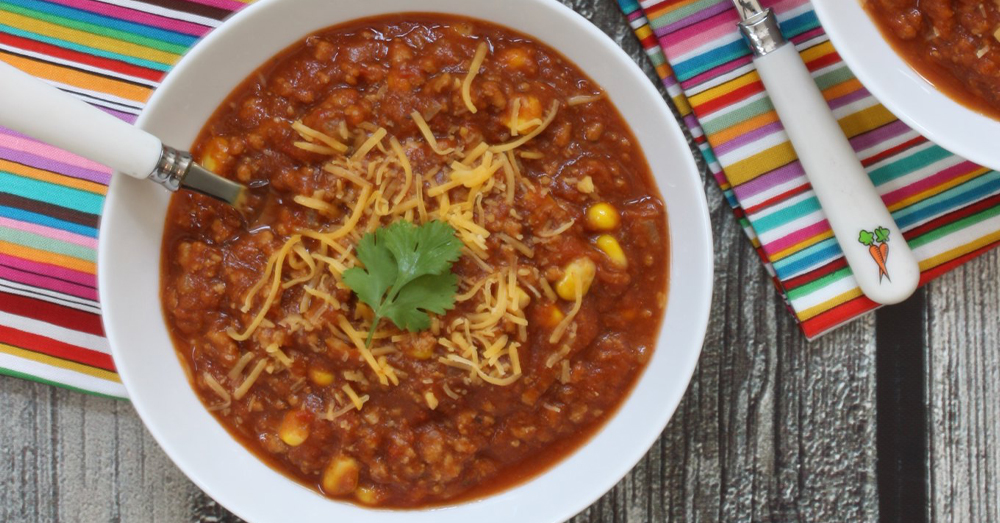 Adding a splash of cinnamon and a can of pumpkin puree to a traditional chilli cook up is an unbelievably simple way to flavor up during the cooler months. This innovative chilli is a classic comfort meal that will stick to your bones and warm you up from the inside! The original Hearty Pumpkin Chilli recipe calls for ground turkey (it's leaner and healthier), but you can replace that with beef or even sausage – they both contrast well with the addition of cinnamon amongst the warm spices.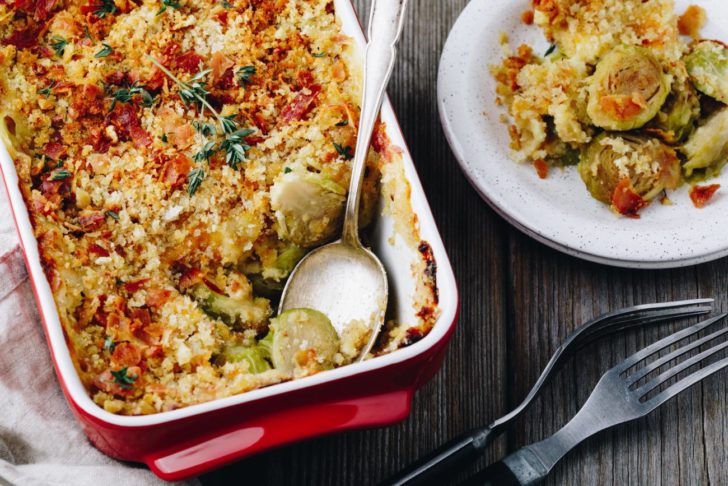 Everyone could do with a creamy, crunchy Brussels sprouts bake that will win over the most skeptical anti-sprout advocate. I strongly believe adding a hearty amount of bacon is a good way to go, if you can keep the sprout's flavor and texture intact! This straightforward Crispy Bacon Brussels Sprouts Bake combines a savory cream sauce, buttery herbed breadcrumbs, and chunks of bacon bits. It's a delightful, completely drool-worthy autumn dish!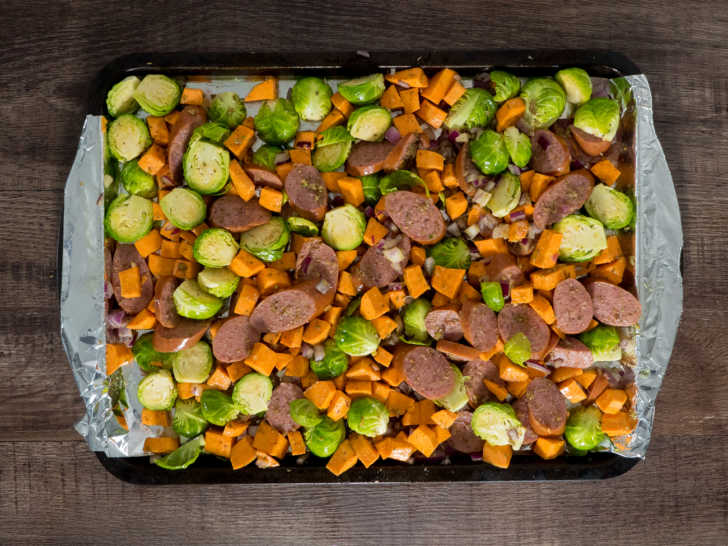 As a stay at home dad with three unpredictable young children, at dinner time there's not much better than combining a bunch of ingredients on a baking sheet, tossing it in the oven, and coming back to a healthy, delicious, homemade meal in less than half an hour. My family loves this Autumn Sausage and Veggie Sheet Pan meal, which uses a selection of fall veggies combined with a couple of fun toppings to create an enjoyable flavor finale. The chopped pecans and dried cranberries really take this dish to the next level by adding some tart-sweetness and a nice crunch to the tender vegetables.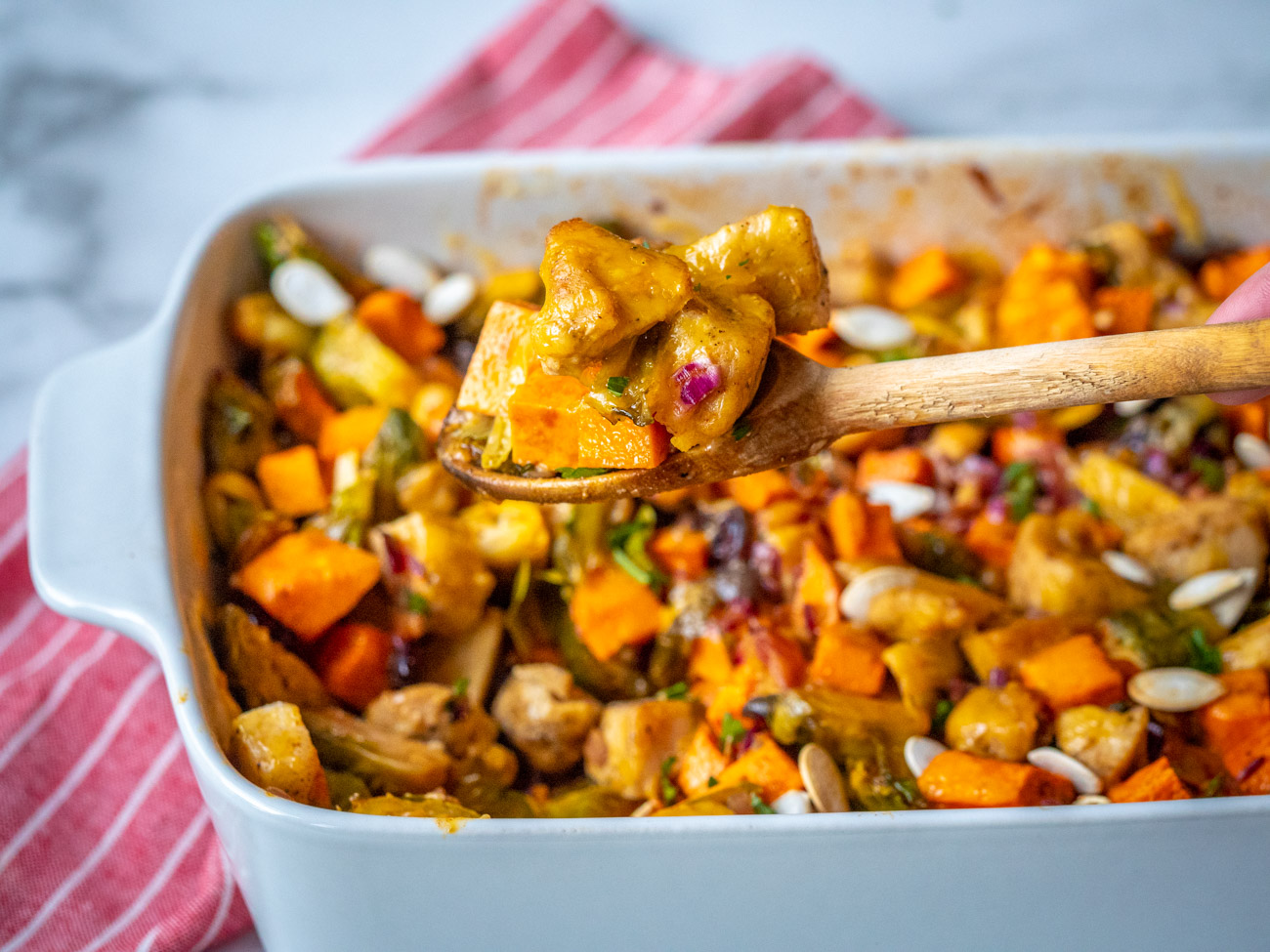 With sweet potatoes, cranberries, pumpkin seeds, and veggies, this Harvest Chicken Casserole recipe contains some of the most essential flavors of fall. The best part about this recipe? All you have to do is chop up the ingredients, dump them into a casserole dish, and bake. Not only is this Harvest Chicken Casserole easy, quick to make and delicious, but you'll be getting lots of protein and antioxidants!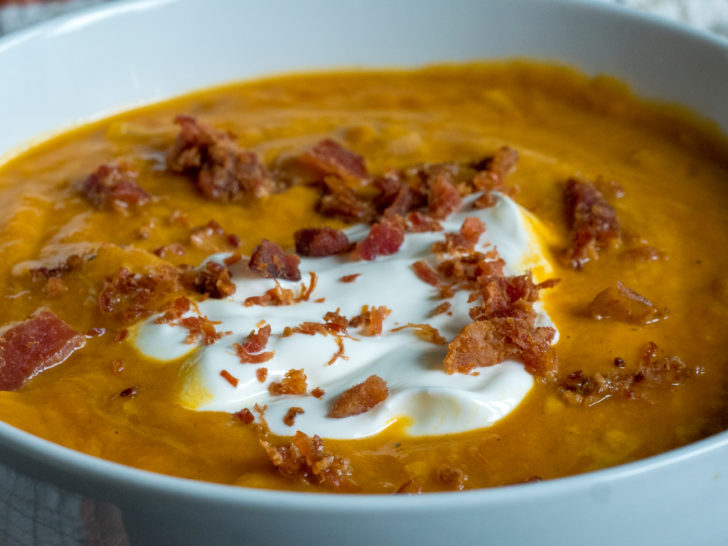 When the craving for soup hits in fall (and pumpkins appear everywhere), then the first option should be to make a creamy, indulgent pumpkin soup. It's great for cozy family dinners or as part of entertaining guests. Our Slow Cooker Pumpkin Soup uses a serious amount of pumpkin – 58 ounces! Apple cider vinegar adds a touch of sweetness, garlic powder, ground ginger and cinnamon add warmth, then a bit of chili powder adds just the right amount of kick. A fall icon, pumpkin soup is perfect for stress free slow cooking, and delicious tasting to boot!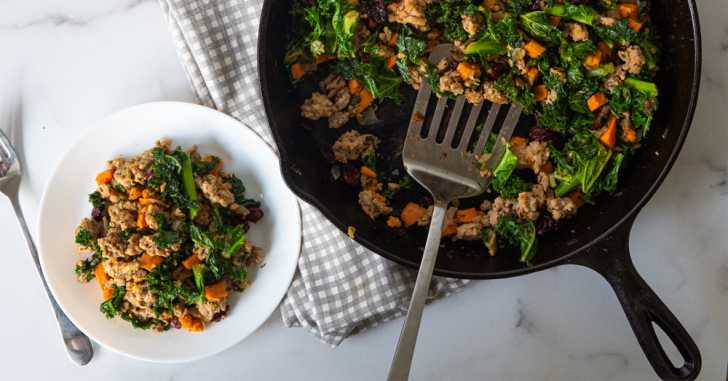 Using ground turkey is a lighter, heart-healthy option over ground beef, and it matches extremely well with fall flavors. Our Ground Turkey Sweet Potato Skillet is the trifecta of family dinners – easy, delicious, and healthy – which makes it perfect for busy weeknights. Not only are the ingredients simple and delicious, but the meal comes together in a snap and only dirties up one pan, a great result for such a tasty meal!
Conclusion
Cooler weather, cozy sweaters, the beautiful colors, and of course, the flavors of the season make fall a great time to get busy in the kitchen. You can ramp up your casseroles, sheet pan meals, and even soups, as the season's harvest is utilized in a variety of creative ways! Fall is a great time to create, cook, and to eat!
SKM: below-content placeholder
Whizzco for 12T