It's no secret that we love potatoes around here. Personally, I consider myself a connoisseur of potatoes in all of their glorious forms. Mashed, fried, sliced, twice baked, I'm here for all of it! Good thing you guys seem to like potato dishes as well. I've collected our top 10 5-star recipes as voted on by you, our 12 Tomatoes audience! If you love potatoes, this is the list for you. Go ahead and find your new favorite recipe below!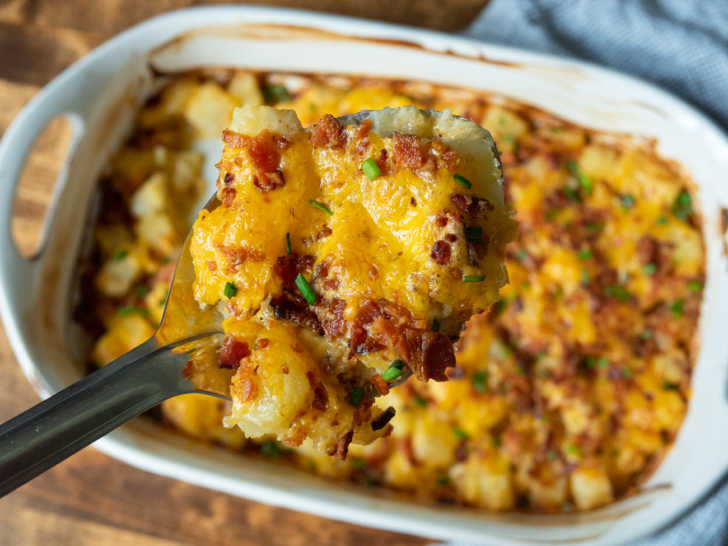 If you're going to go to the trouble of making a side dish, you want to make something that you know everyone will love. And you know what everyone loves? Potatoes. Wrap them in some cheesy, bacony, ranch goodness and that's pretty much a guarantee. These Bacon Ranch Cheesy Potatoes are filling and indulgent enough that you could absolutely make a meal out of them, but they make the perfect crowd-pleasing side dish for any occasion. Potluck, game day, Sunday night family dinner… they always fit right in. Get the recipe here!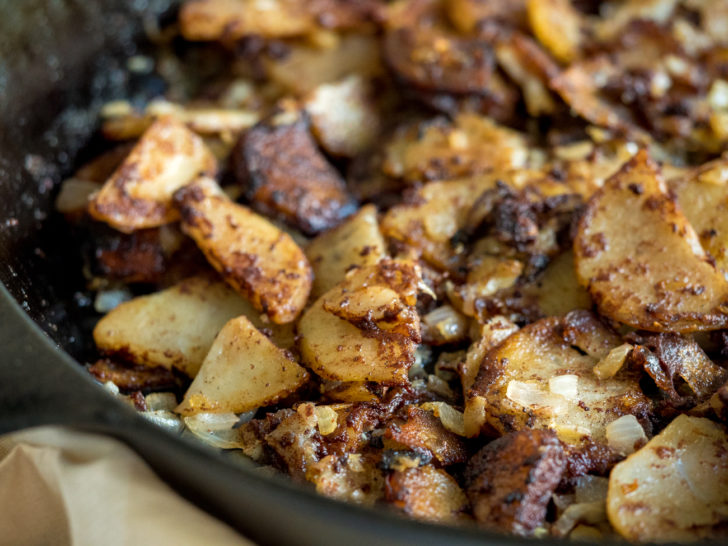 Crispy cinnamon potatoes – they've got a healthy dose of cinnamon and a pinch of sugar, along with your expected salt and pepper to pump up the general flavor. If you're thinking it sounds like this dish would be too sweet, you'll be happy to find that it strikes the perfect balance. Yes, you can taste a bit of the sugar, but it's definitely not a sweet recipe, and the sugar is really there just to complement the cinnamon. Get the recipe here!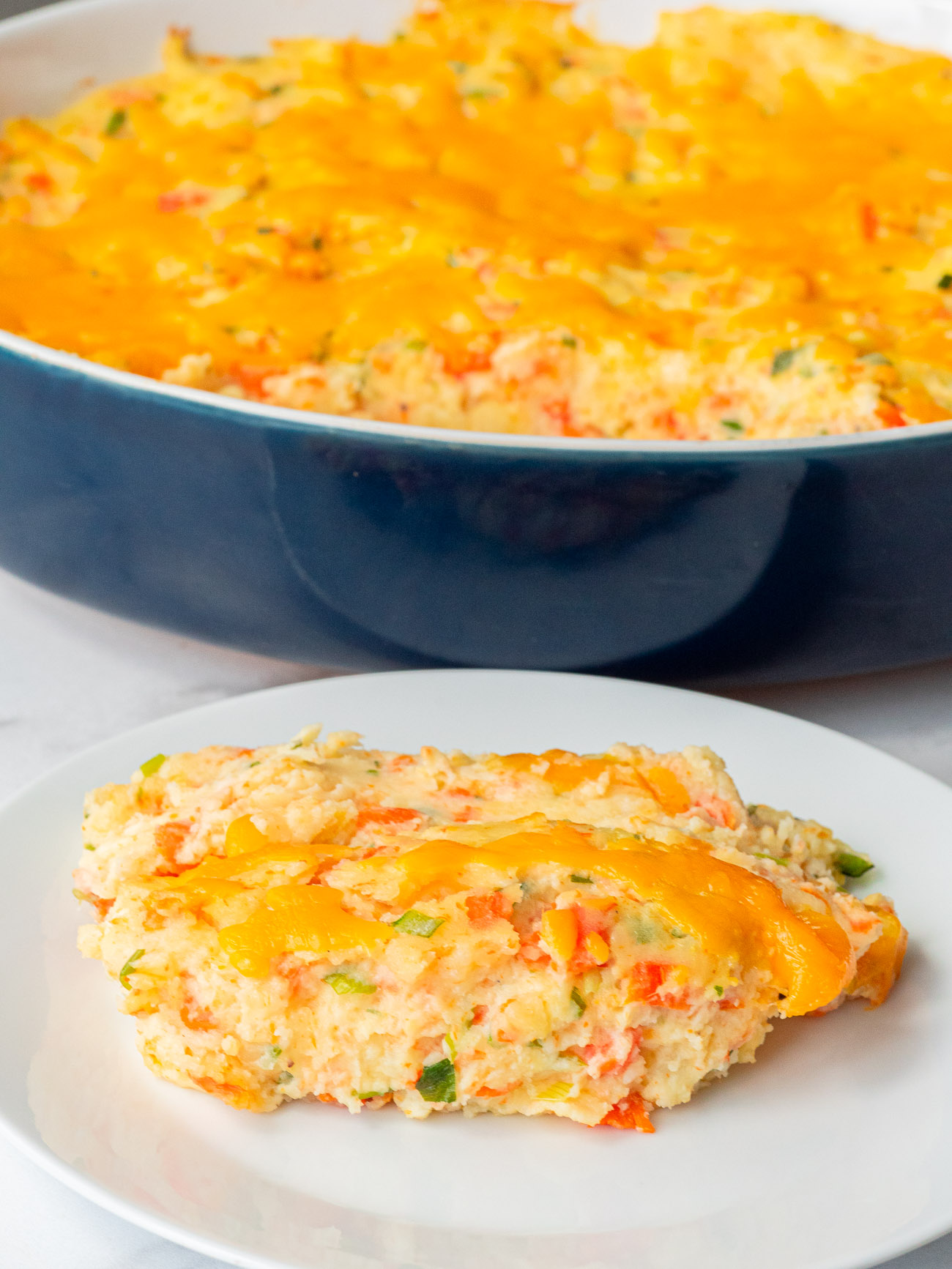 These golden mashed potatoes get their vibrant color from Yukon gold potatoes and the addition of chopped carrots. The carrots add not only color, but also a hint of sweetness that marries all these flavors together. Get the recipe here!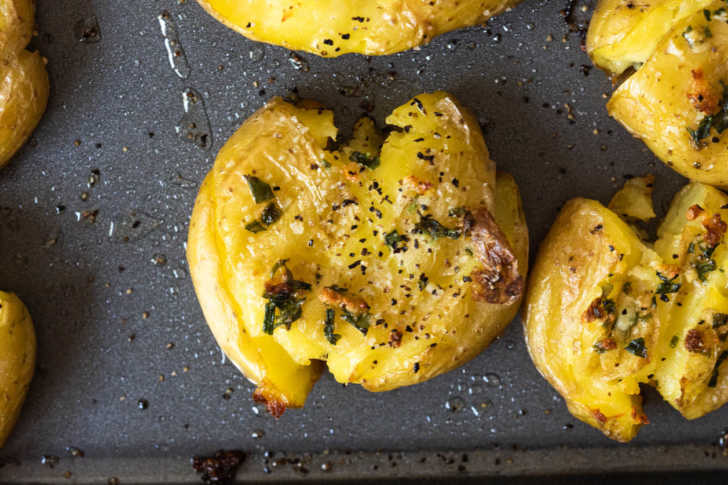 The first time I made smashed potatoes, I fell instantly in love with them. Honestly, I felt a little upset with myself that I hadn't discovered the cooking method sooner. See, I love potatoes in all forms; I love them when they're crispy, I love them when they're soft and fluffy… You get the idea. But with this method, you get to have it all. You get a potato with a tender, fluffy interior surrounded by plenty of crispy-crunchy edges. It satisfies all your potato needs. And it doesn't hurt that they're also super easy to make. Get the recipe here!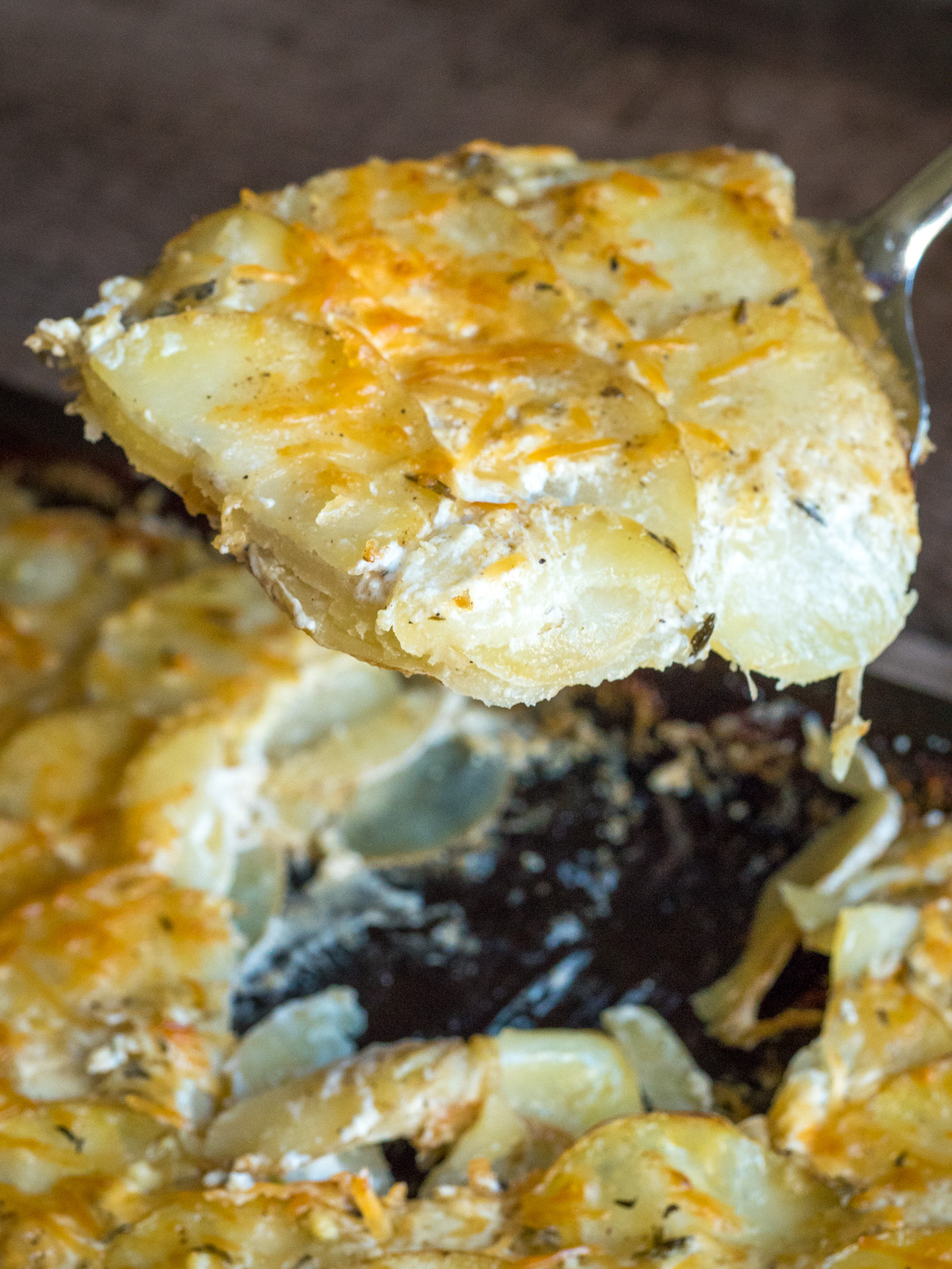 Scalloped potatoes are an all time favorite dish in my family and for good reason. The creamy sauce pairs perfectly with the thinly sliced potatoes and the cheese. But, there's something a little special about using a sheet pan instead of a deeper casserole dish for scalloped potatoes. It means that the best part of scalloped potatoes -the crispy edges and top- is all over the entire dish. If you're someone who can't get enough of the crispy burnt cheese on pizza crusts or those wonderful parmesan cheese "cookies" then this is the scalloped potato recipe for you. Get the recipe here!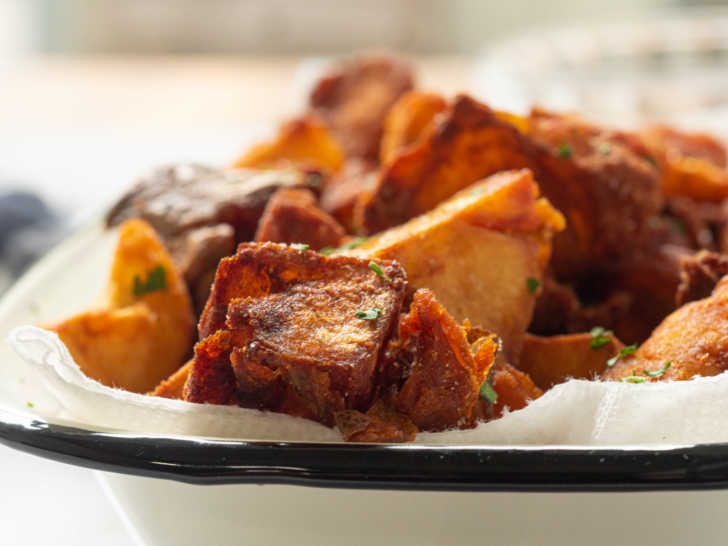 Every recipe I have tried from Deb Perelman's blog, Smitten Kitchen, has been absolutely delicious and her Crispy Crumbled Potatoes are no exception. A recipe that's more about the method than it is the ingredients, it turns out tender potatoes with an irresistibly crispy and salty exterior of craggy edges. They're as satisfying a side as French fries are, but heartier and with more crunchy nooks and crannies. Get the recipe here!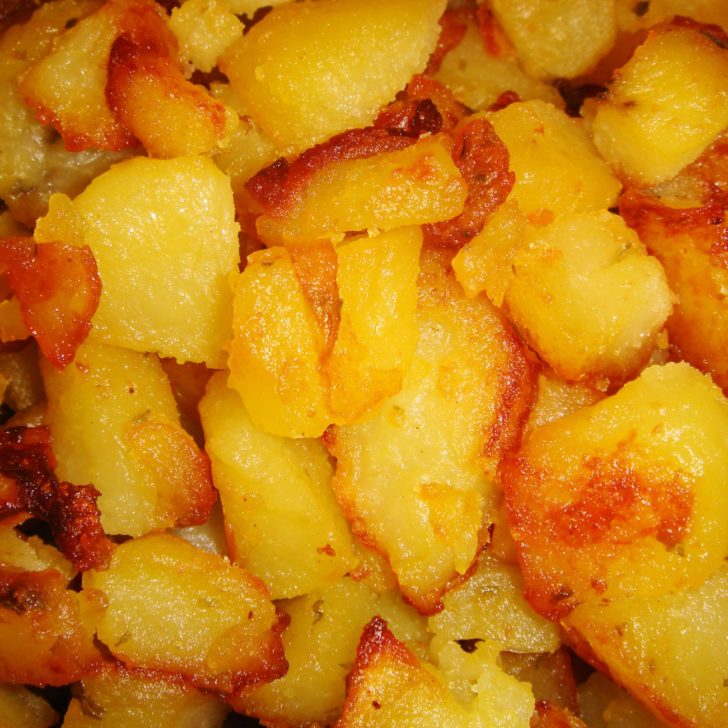 All in all, potatoes are a pretty forgiving ingredient. They're just hard to mess up! Whether you boil them, bake them, or roast them, they pretty much always end up tasting good. For instance, roasting potatoes isn't hard… no matter what you do, you'll end up with potatoes that are tender and totally edible, if not reasonably tasty. But for absolutely perfect golden potatoes that are fluffy on the inside and crispy on the outside, kissed with a sprinkle of saltiness? (In other words, totally delicious roasted potatoes…) Well, that's not hard either. You just need to know a couple of simple tricks. Get the recipe here!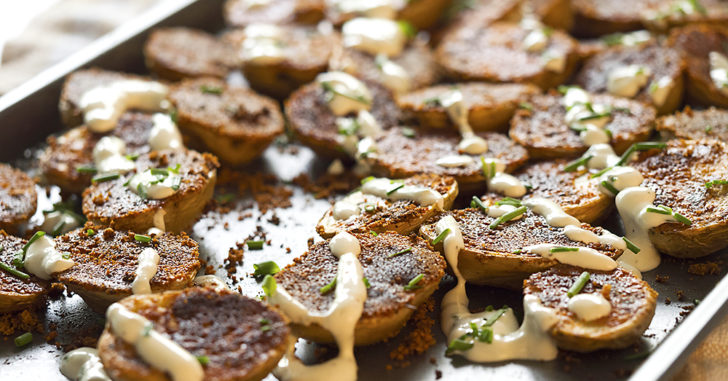 We've had our fair share of potatoes, really just about any way we can get them – baked, mashed, fried, etc. – but we'd never had them like this before until recently. While there might seem like a bunch of ingredients involved, this recipe could not be simpler; the genius of this dish is that the tots bake perfectly into the parmesan, and a perfect, golden, caramelized crust forms. You need to try these to see what we're talking about…they're so good! Get the recipe here!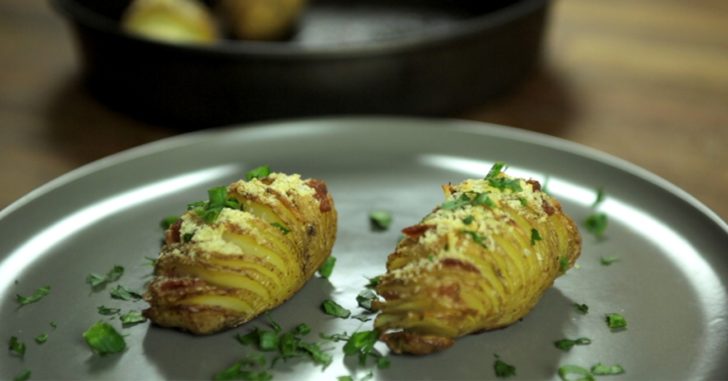 If you're a fan of baked potatoes with bacon and cheese, (and who isn't?!) this is a delicious way to jazz those babies up for company – or even just yourself! These might look upscale but they're super easy to make, and if you're anything like us, you'll soon be experimenting with all sorts of yummy ingredients to stuff between those slices of buttery potato.
We decided to top these ones off with parsley and chives, but feel free to add thyme or rosemary, or really any herb you like. We're positive you'll love this recipe as much as we did, and you'll probably want to get creative by adding your own personal flare! Get the recipe here!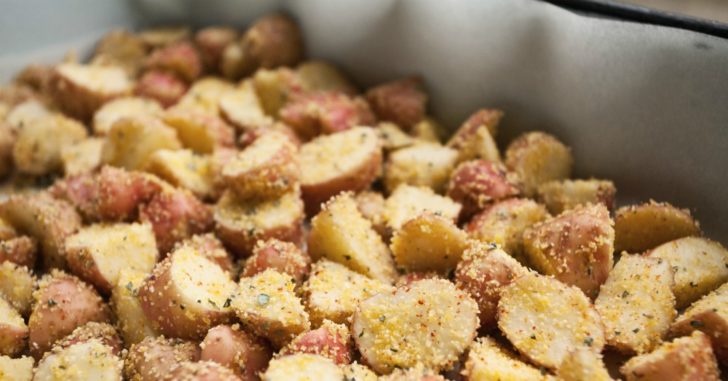 When we head to our favorite Italian restaurant, we, of course, love all the pasta and homemade sauces, but from time to time we go a different direction and try other great menu items, and we fell in love with these roasted potatoes. We can't go out to eat every night, so we've figured out how to copycat some of our favorite menu items right in our own kitchen. No fancy ingredients required! Just a little of this and a little of that – potatoes, cheese, herbs – and we've got a delicious side dish, perfect with just about any meal. Get the recipe here!
SKM: below-content placeholder
Whizzco for 12T