You're going to kick yourself for not making these sooner.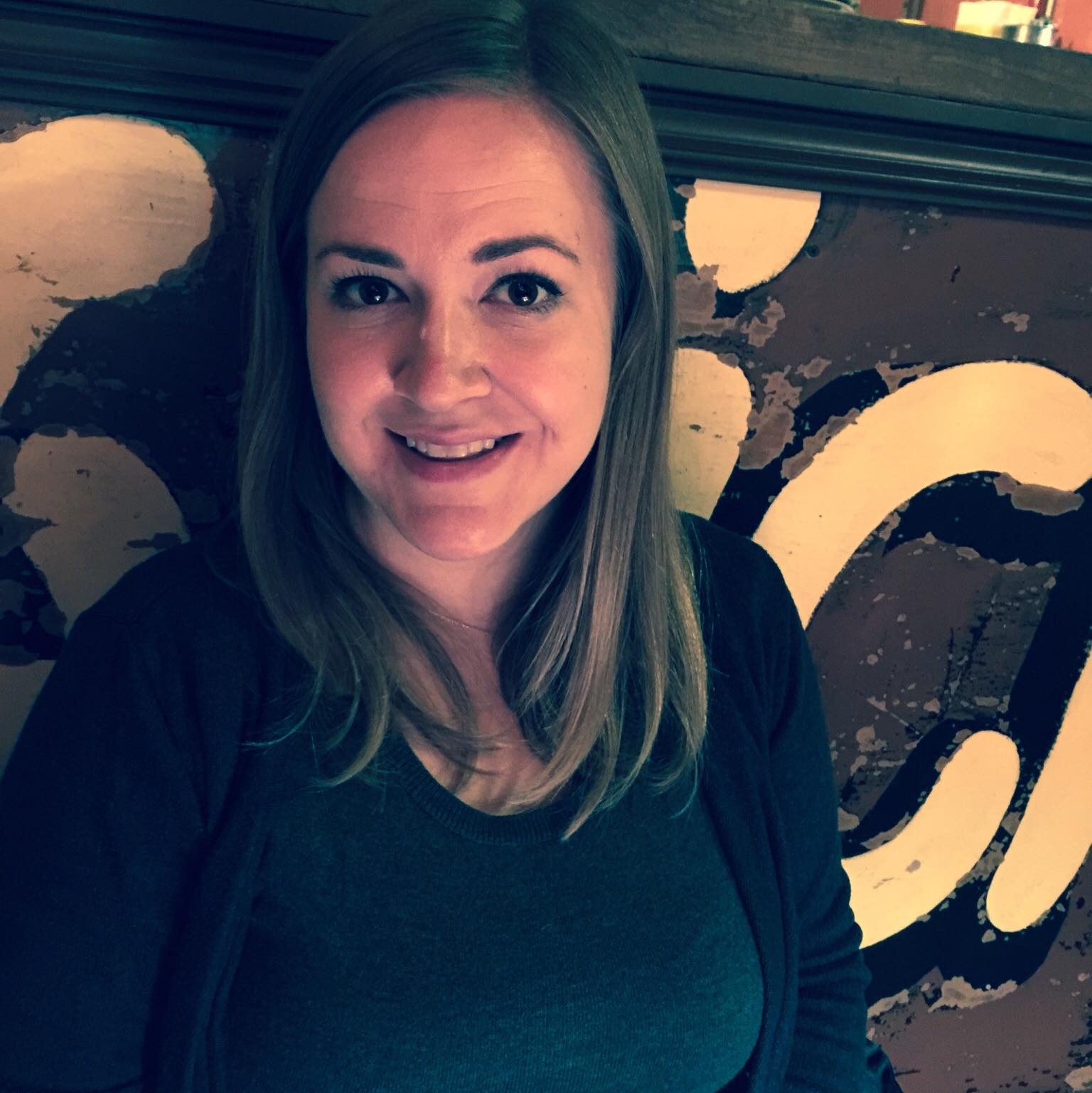 Kristy Norrell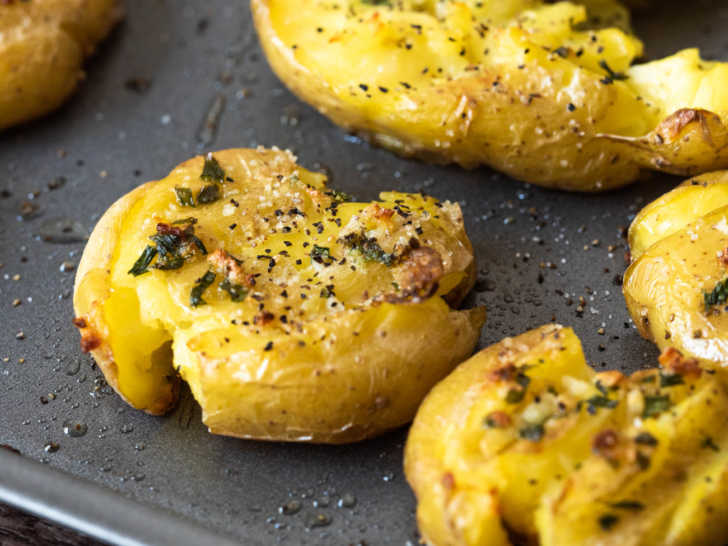 The first time I made smashed potatoes, I fell instantly in love with them. Honestly, I felt a little upset with myself that I hadn't discovered the cooking method sooner. See, I love potatoes in all forms; I love them when they're crispy, I love them when they're soft and fluffy… You get the idea. But with this method, you get to have it all. You get a potato with a tender, fluffy interior surrounded by plenty of crispy-crunchy edges. It satisfies all your potato needs. And it doesn't hurt that they're also super easy to make.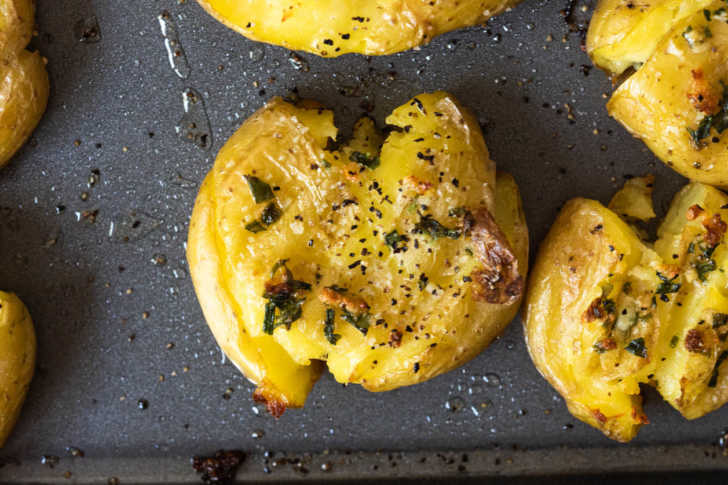 What you're doing here is boiling a potato (which anyone can handle), smashing it, and then giving it a little more time to cook in the oven so the outsides get nice and crisp. Kind of genius, right? There's not a whole lot to it, but there are a few keys to success.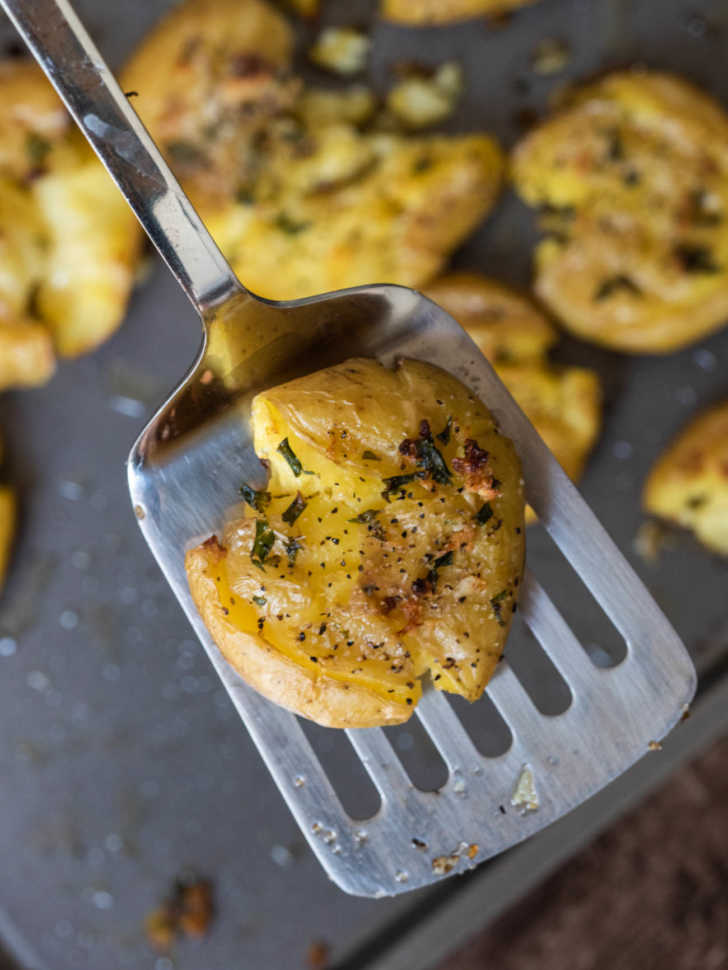 First, you want to make sure your potatoes are very tender before you take them out of the pot so they smush down easily and don't give you any lumps to deal with. You also want to make sure they're nice and dry. Give them a pat down with a towel if you need to; the drier they are, the crispier they'll get.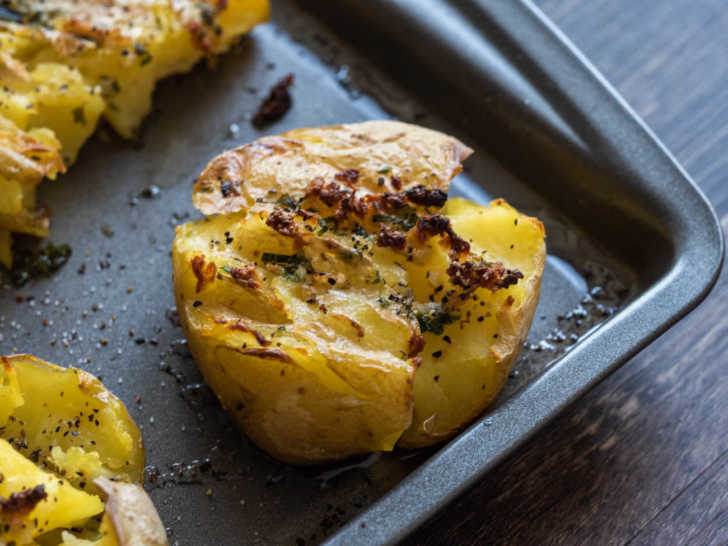 Smash them lightly with your palm, a fork, a potato masher… I suppose you could even use the bottom of a glass. My favorite is the potato masher, because it exposes a little more of the interior, which gives you more surface area to crisp up. Just make sure you don't smash them totally flat, or you'll lose out on all the soft, tender insides that make these such a nice exercise in contrast.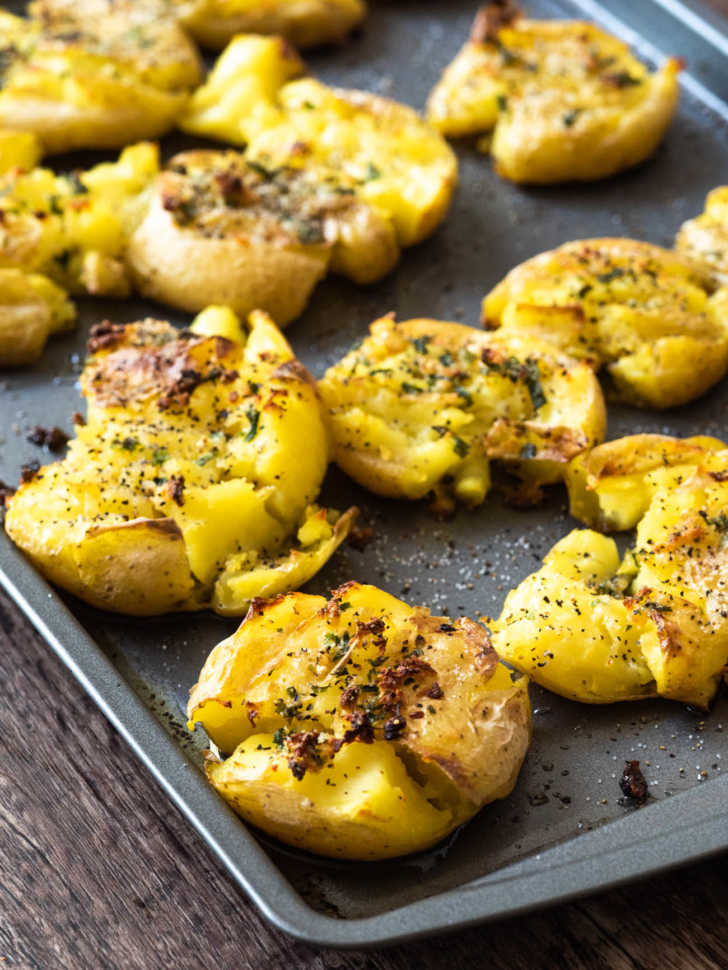 After that you coat them in a little fat and pop them in the oven to work on their crunch. Could you drizzle them with a little olive oil and a sprinkle of salt and call them done? Yes. But you could also top them with a little chopped garlic, and maybe some chives… because if you have the opportunity to use some garlic, you might as well go for it.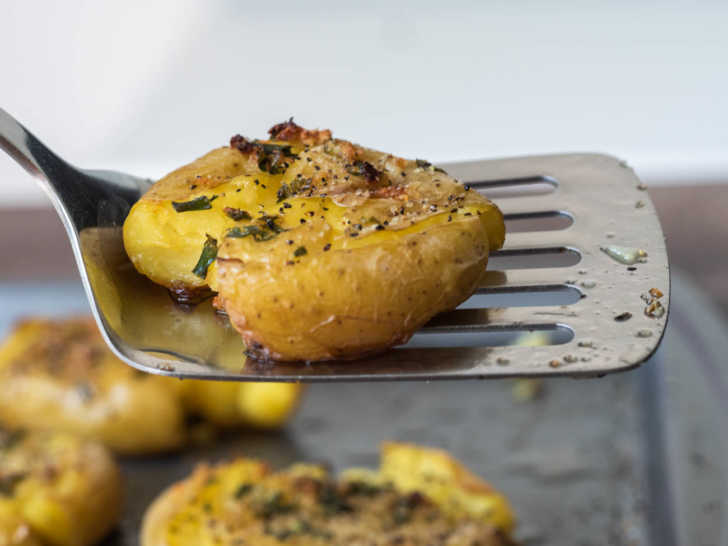 The seasoning opportunities here are endless. You can use some ranch seasoning mix, you could sprinkle on some Parmesan, you could get some butter in the mix… but this olive oil/garlic/chive combo is my personal favorite. It brings out the best in the potato, but it's simple enough to really let them shine. Because that's what smashed potatoes are all about – showcasing all the soft, fluffy, crispy, crunchy glory that the humble potato is capable of.
Crispy Smashed Potatoes
Ingredients
2 lbs small waxy potatoes, such as Yukon Gold
4 tablespoons extra virgin olive oil
3 cloves garlic, minced
2 tablespoons chives, finely chopped, divided
Kosher salt and freshly ground black pepper, to taste
Preparation
Preheat oven to 450°F.
Place potatoes in a large pot and cover by one inch with cold water. Season liberally with salt and bring to a boil over high heat.
Cook until potatoes are fork-tender, about 30 minutes. Drain well, patting potatoes dry if necessary.
Place potatoes on a baking sheet and smash each one lightly with your palm, a fork, or a potato masher. (Don't flatten them entirely or you won't have a nice soft inside!)
In a small bowl, mix together the olive oil, garlic, and 1 tablespoon chives. Spoon a little of the mixture over each potato, ensuring that oil coats most of the surface. Season potatoes with salt and pepper.
Bake until potatoes are golden brown and crispy, 15-20 minutes. Sprinkle with remaining chives, season with more salt, if needed, and serve. Enjoy!
SKM: below-content placeholder
Whizzco for 12T