They don't get any better than this!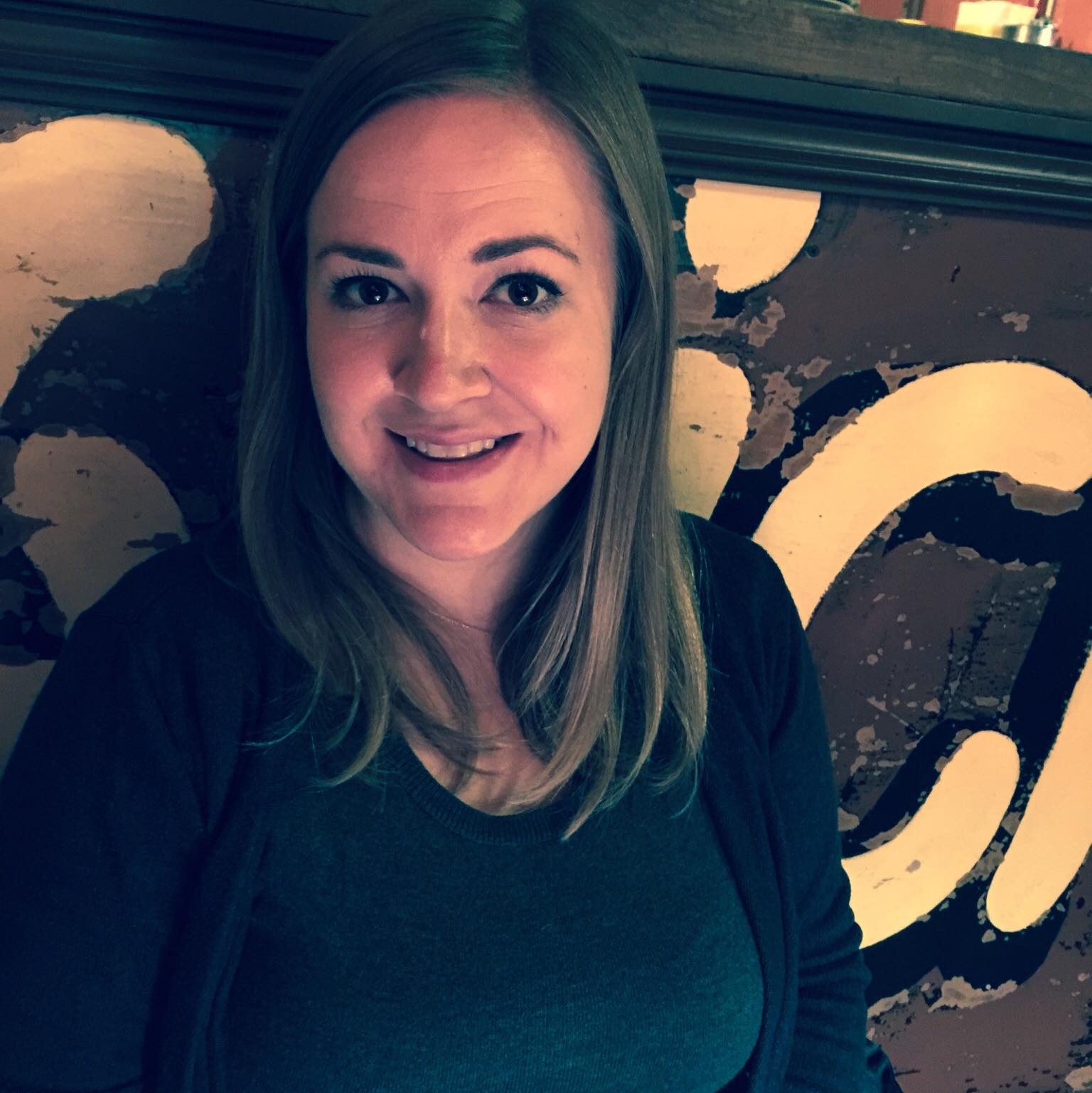 Kristy Norrell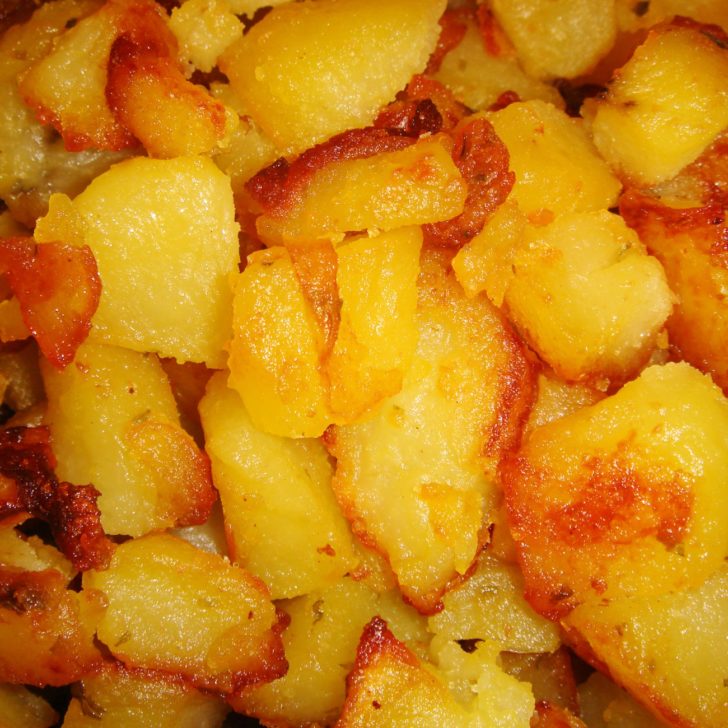 All in all, potatoes are a pretty forgiving ingredient. They're just hard to mess up! Whether you boil them, bake them, or roast them, they pretty much always end up tasting good. For instance, roasting potatoes isn't hard… no matter what you do, you'll end up with potatoes that are tender and totally edible, if not reasonably tasty. But for absolutely perfect golden potatoes that are fluffy on the inside and crispy on the outside, kissed with a sprinkle of saltiness? (In other words, totally delicious roasted potatoes…) Well, that's not hard either. You just need to know a couple of simple tricks.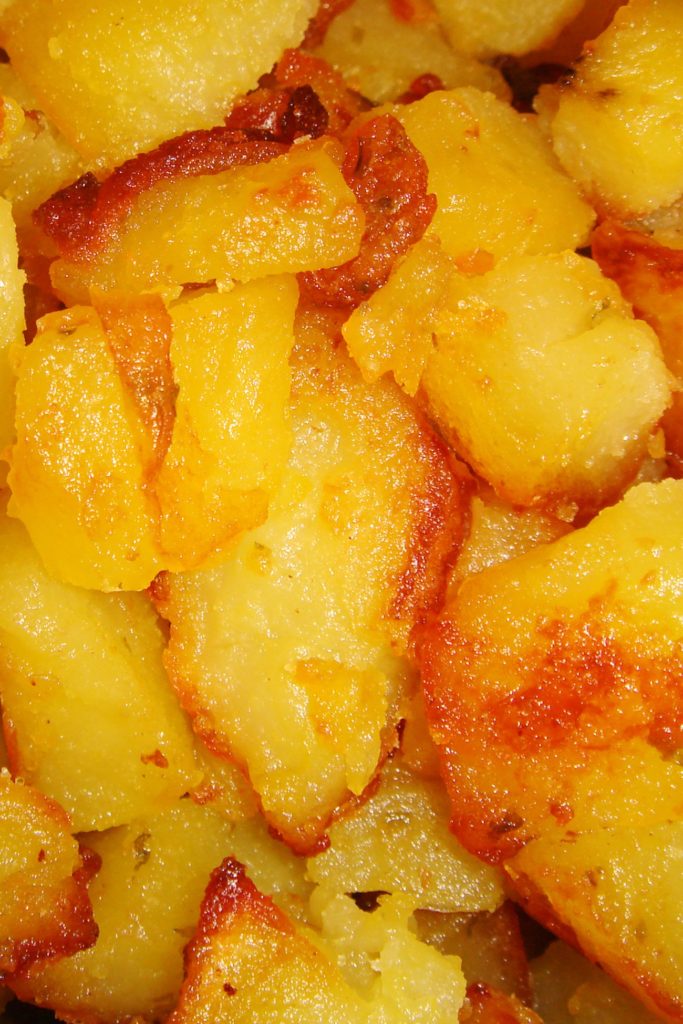 For a fluffy, yet crisp roasted potato, the first thing you want to do is parboil your potatoes. This ensures that instead of having a potato that's just tender and cooked through, you have a potato that's interior is fluffy and light. When you drain the potatoes, make sure to shake them around in the colander a bit. This breaks up the outer edges of the potatoes, which creates more surface area to get golden brown and crispy. It's how you get those irresistible crunchy bits in your pan of tubers.
You don't want to be shy with the oil. Making sure each cube of potato is coated is essential to obtaining maximum crispiness. And don't be shy with the salt either. They can handle a liberal dusting. The potatoes should go into the oven at a fairly high temperature (400°F) and they should be turned part way through baking. (Because you don't want just one crispy side, right?) And have patience. They take a while in the oven to get so nice and crispy, but it really is worth the wait.
To recap:
1. Parboil your tubers

2. Break them up a bit to create more surface area

3. Be liberal with the oil and salt

4. Cook at a high temp and turn them halfway through

And that's it. That's how you get golden potatoes that are crunchy on the outside and fluffy and light on the inside. Every single time.
Golden Potatoes
Serves 4
1 hour 15 minutes
Ingredients
2 lbs potatoes (Russet or Yukon Gold), peeled and cubed
1/4 cup olive oil
Kosher salt & freshly ground pepper, to taste
Preparation
Preheat oven to 400°F and set aside a large rimmed baking sheet.
Place the potatoes in a large pot of salted water and bring to a boil. Let cook until tender, about 8 minutes and drain. Shake potatoes around in the colander to fluff them up a bit and turn them out onto the baking sheet.
Toss potatoes with oil and season them liberally with salt and pepper. Arrange them evenly in a single layer across baking sheet. Place in oven and cook for 20 minutes.
Turn potatoes with a metal spatula and return to oven until golden brown and crisp, shaking them a few times in the pan, about 30-40 more minutes.
Season with additional salt and pepper as needed. Enjoy!
SKM: below-content placeholder
Whizzco for 12T