Autumn will soon be upon us, and with it comes the flavors of the season! While lots of people go crazy for pumpkin spice, I'm more of an apple spice girl. There's just something extra special about that crisp, tart apple flavor mixed with sweet cinnamon and sugar that gets me every time! That's why I've compiled a list of my top 10 favorite apple desserts we've made here on 12 Tomatoes. I hope you find a new fall favorite on this list!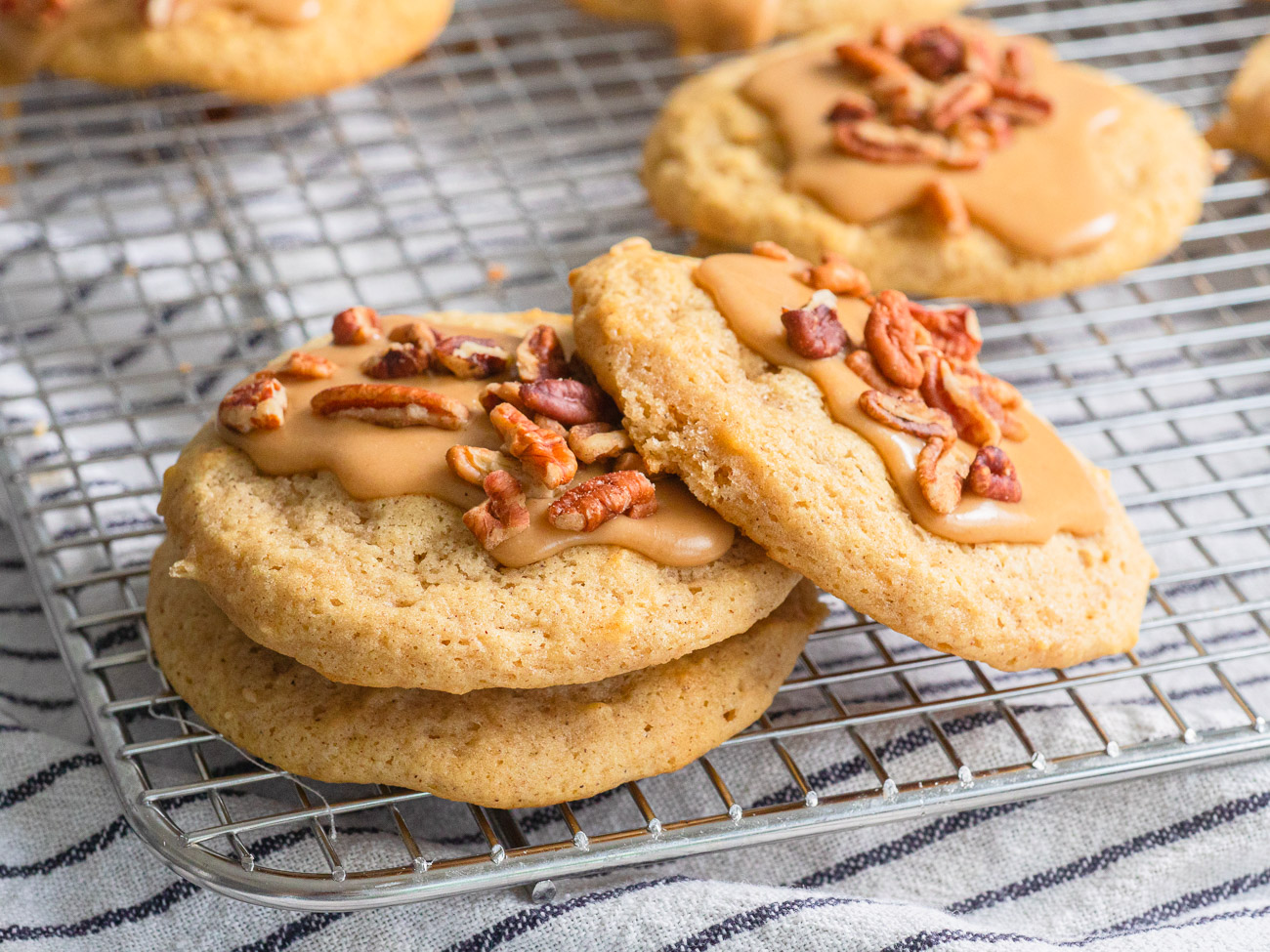 These are my new favorite fall cookies! The batter consists of cinnamon, sugar, vanilla, and applesauce, among other things. But the real treat is in the frosting. Made from an apple cider mix, this stuff is legit! Get the recipe here!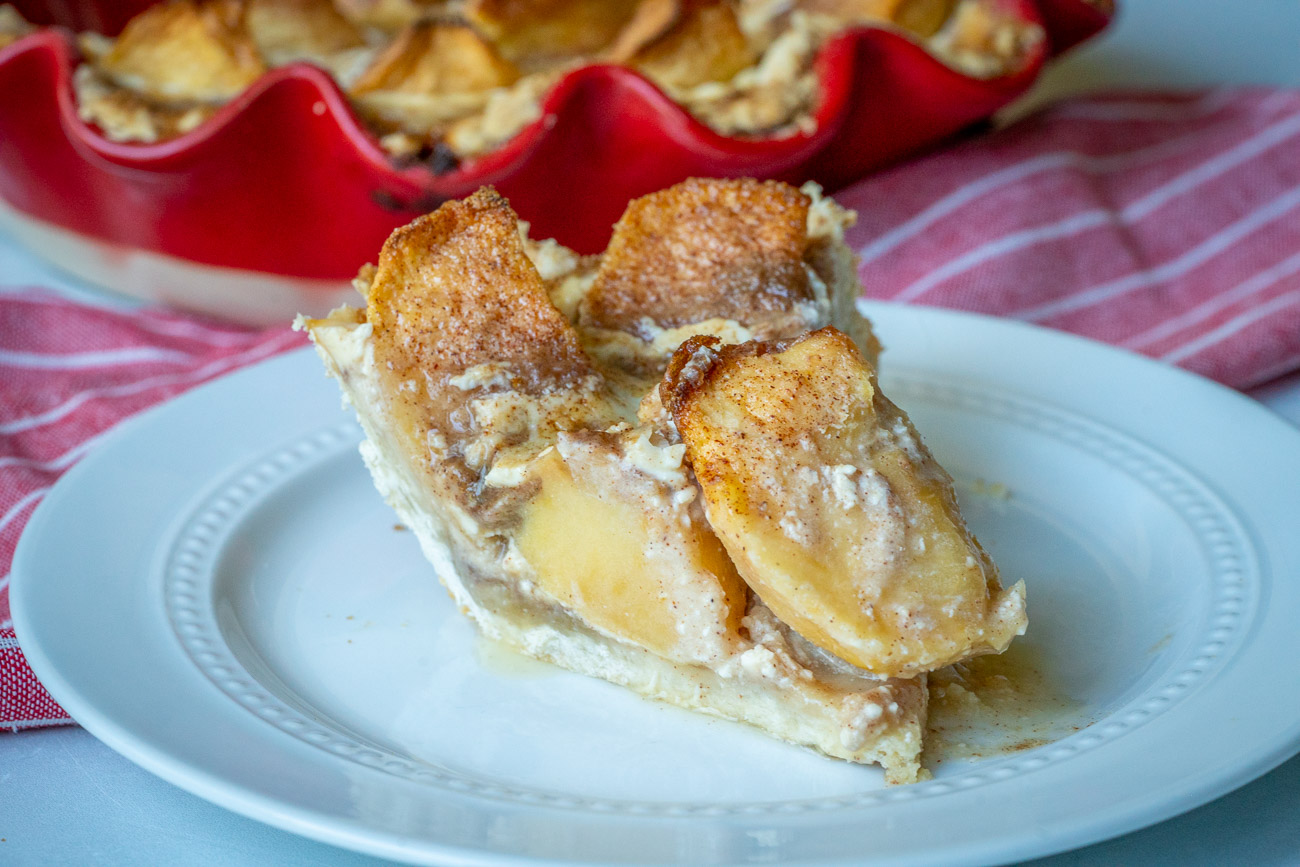 This apple cream pie is a bit different in that you pour cream over the apples and magically a creamy filling emerges in the final product. The recipe has been called the "Petty Aunt Pie" since it was shared by a person whose entire family, including the aunt, refused to give to strangers for the past 100 years. We have the recipe right here!
Apple Cinnamon Roll Lasagna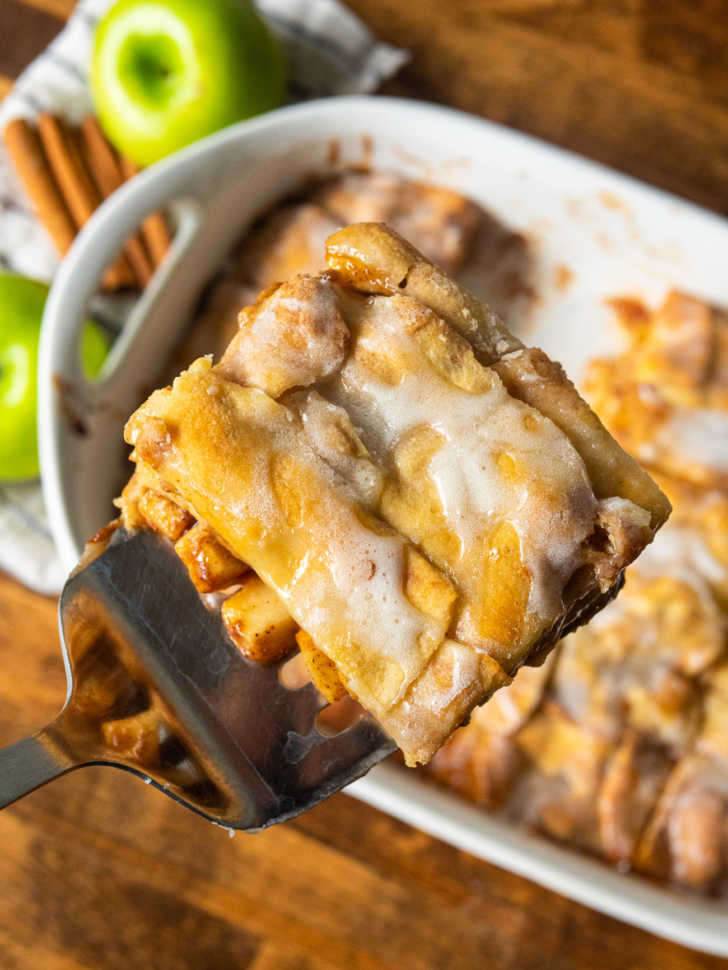 I'm always looking for new cinnamon apple recipes, and trust me, this one does not disappoint. With layers of tart apples, sweet caramel, and buttery, savory cinnamon rolls, what's not to love? Get the easy Apple Cinnamon Roll Lasagna recipe here!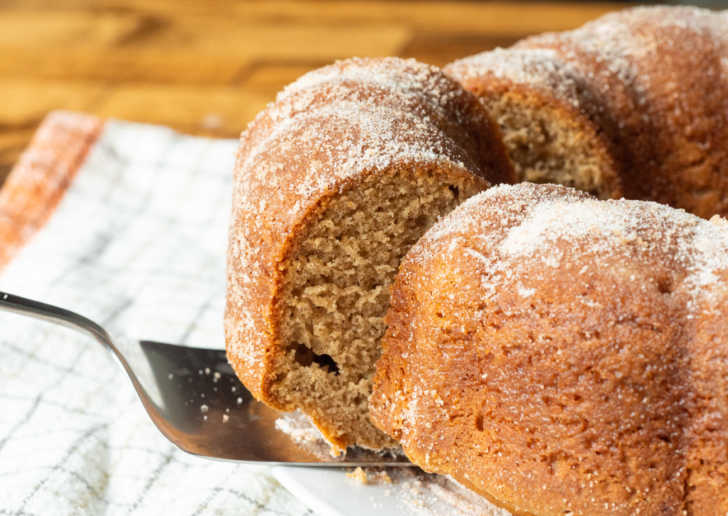 Are Apple Cider Doughnuts the best thing about fall? Arguable, but they're certainly a top contender. And this simple bundt cake? Well, it's kind of like an Apple Cider Doughnut on steroids. Or at least one you can slice up and serve to all of your favorite people. And sharing is caring, after all. The crumb here is a little bit lighter than the cakey texture of an Apple Cider Doughnut but I wouldn't call it fluffy. The batter is made up of the usual baking suspects – flour, baking powder, sugar, eggs etc. – but also relies on cinnamon, apple cider, and applesauce for flavor. Get the full recipe here!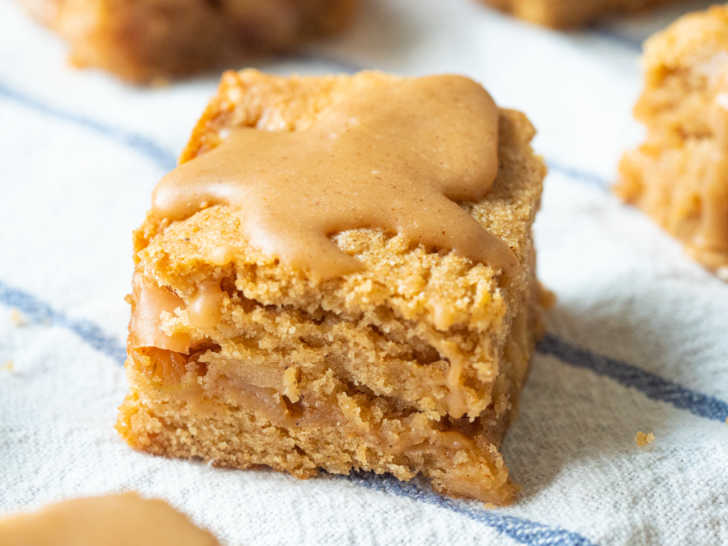 Don't get me wrong, I love a good pumpkin spice latte as much as the next person, but maple-flavored things are at the top of my favorite fall flavors. Add in some brown sugar and apples, and I'm in heaven! That's where these Maple Glazed Apple Blondies come into play. They have everything I love about autumn all wrapped up in a nice little blondie bar. Get the recipe here!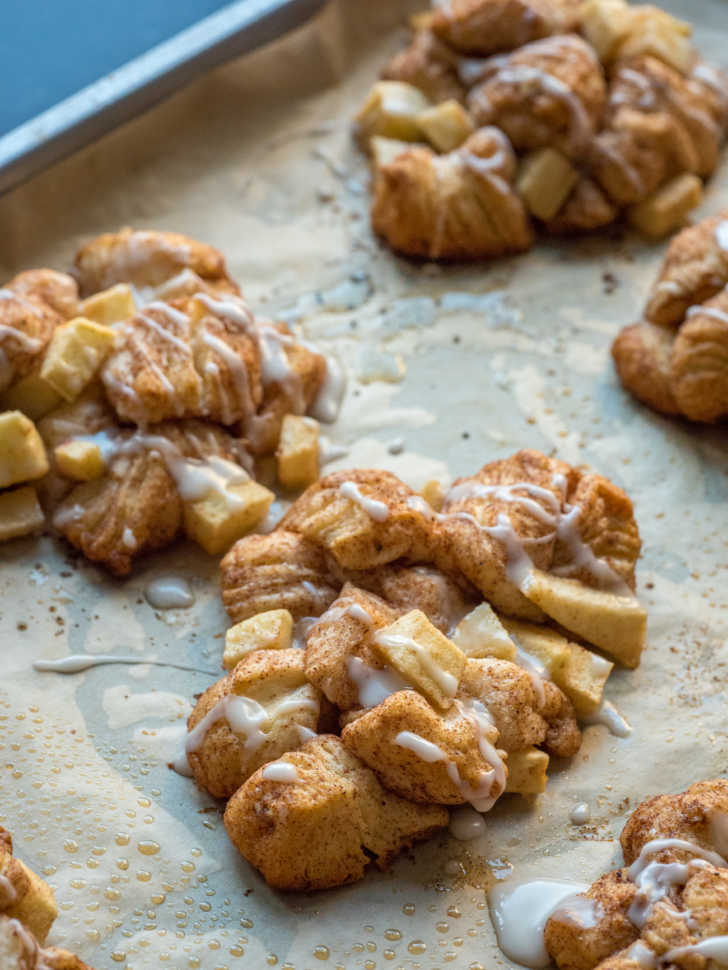 If you're asking me, Apple Fritters are one of the very best things about fall. Every year my family goes apple picking, and on that trip I never fail to get a fresh, warm Apple Fritter from the farm stand. I might look forward to the fritter more than the apple picking, but can you blame me? Fresh apple flavor with that doughy doughnut bite and delicately crisp sugary glaze… there's a lot to love. Except that maybe they aren't right within reach in your home kitchen. But with this recipe, they can be! And you only need your oven and a few simple ingredients to make it happen. Get the recipe here!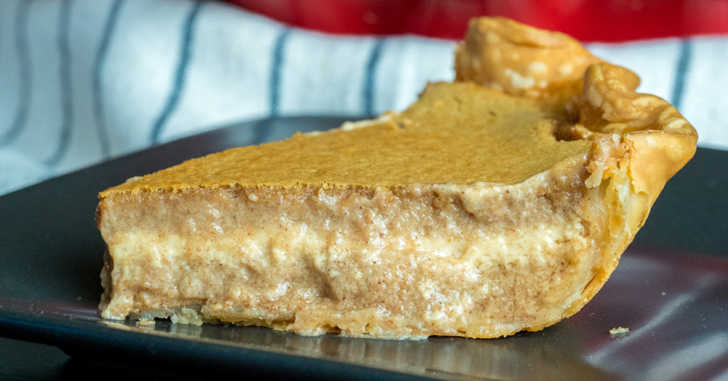 This pie has the same basic texture as pumpkin pie as well as the familiar, comforting hint of cinnamon and sugar, but with a twist. Instead of canned pumpkin, we used apple butter. Now, before we dive any deeper into this recipe, let's talk about apple butter. It's important to note that not all apple butter is created equal. Most kinds of apple butter will work just fine, but you'll get slightly different results depending on the brand and sugar content. Get the full recipe here!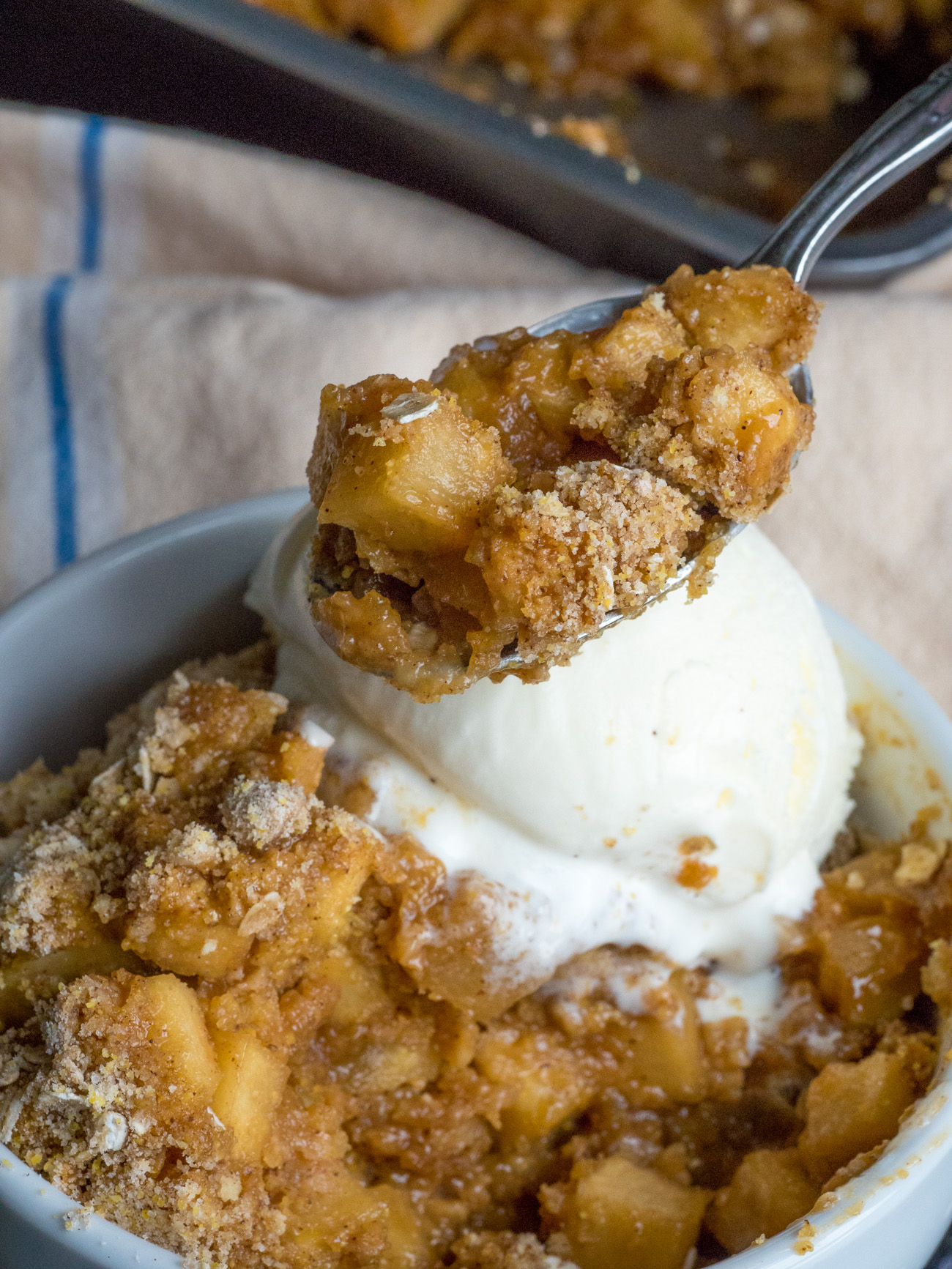 There's something about a fruit crisp (or crumble as some folks call it) for dessert that just really makes the meal, And, this type of recipe is a great way to use up fruits that won't last much longer. In the case of apples, the rich flavors and texture that a crisp adds to the tartness is something special. Make it with cornbread instead of a wheat flour or graham cracker topping and you've got a really special dessert. Get the recipe here!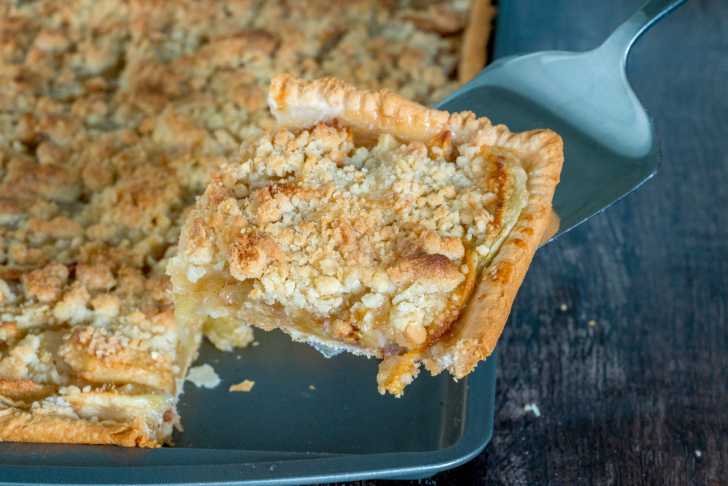 When you're making an apple pie, you always want to be totally sure you have enough to go around, and a slab pie makes that a certainty. If you haven't had "slab pie" before, it's basically just pie that's made in a sheet pan instead of a pie plate, so it's a big ol' rectangle instead of a round. It has seemingly endless slices and a narrower filling to crust ratio and it's a great way to serve a crowd. This apple crumb version is utterly delicious, with tender spiced apples and a buttery streusel topping that'll make even your crankiest aunt happy. Get the recipe here!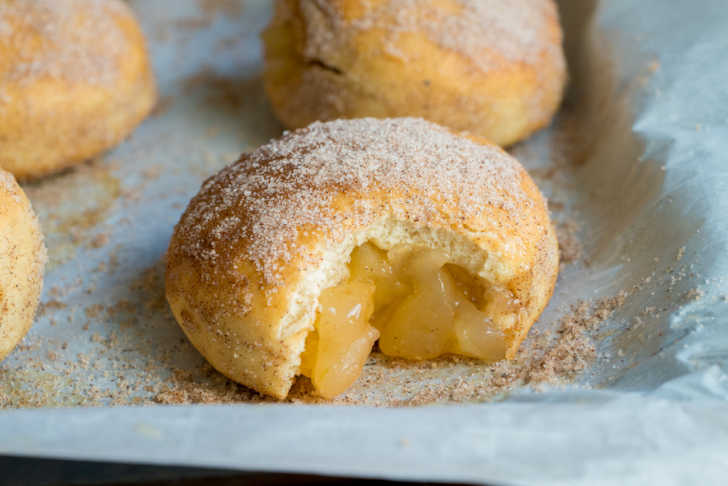 I don't know about you, but donuts aren't a project I often undertake at home because they can seem kind of daunting and donut shops happen to be plentiful. These Apple Pie Donuts, though, are easy enough that making them a regular weekend project wouldn't be out of the question. (And trust me, they're delicious enough to justify it.) They're baked, so there's no frying to worry about and the easy yeasted dough and simple apple filling are no trouble at all. Get the recipe here!
SKM: below-content placeholder
Whizzco for 12T