An easy, baked breakfast treat.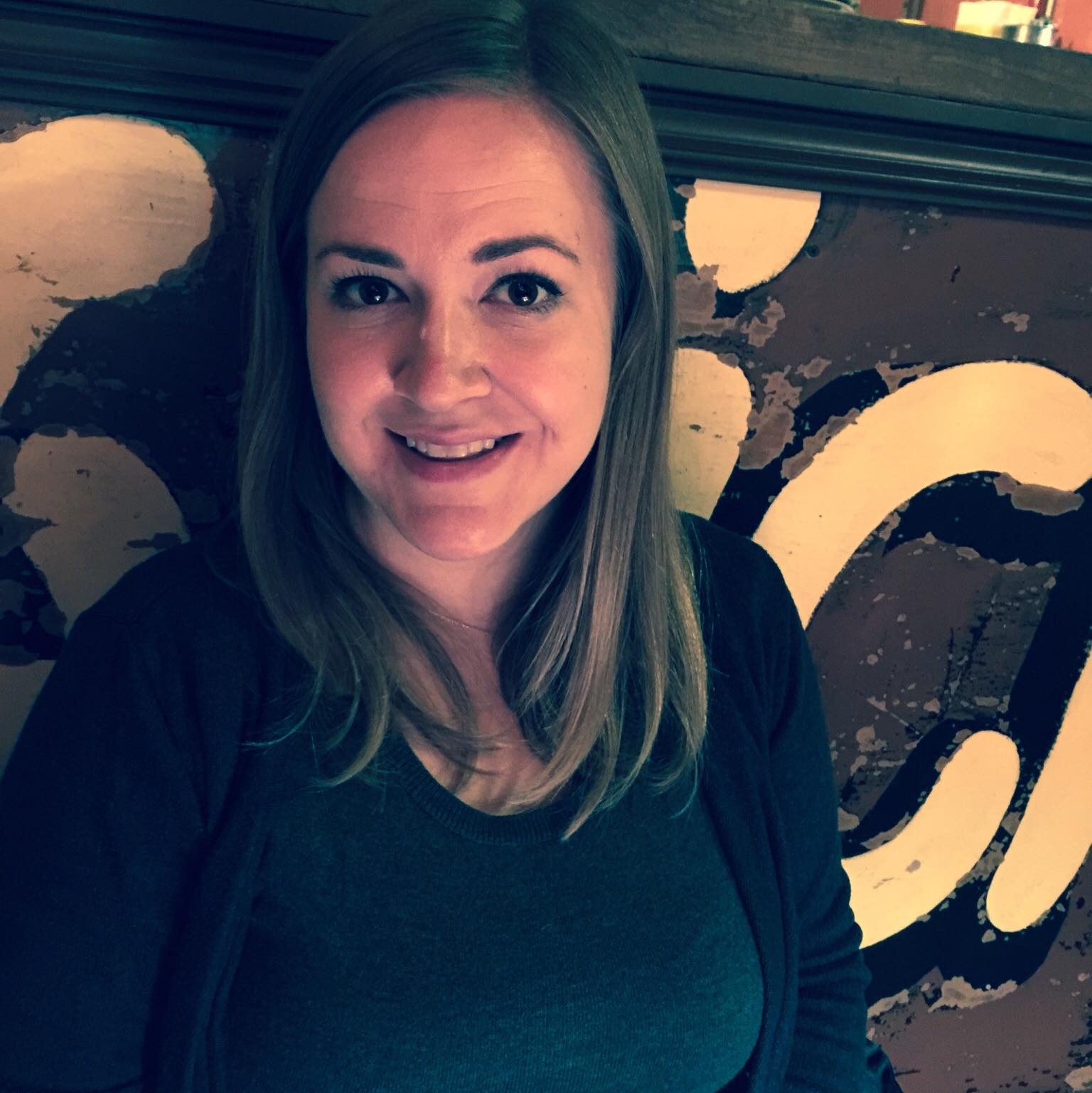 Kristy Norrell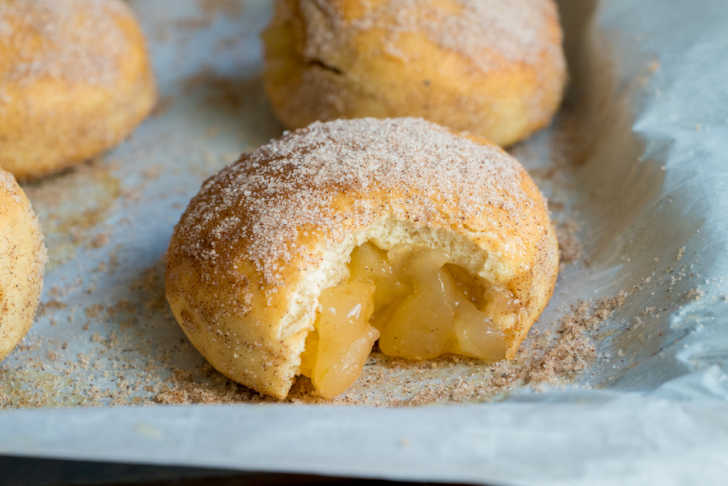 I don't know about you, but donuts aren't a project I often undertake at home because they can seem kind of daunting and donut shops happen to be plentiful. These Apple Pie Donuts, though, are easy enough that making them a regular weekend project wouldn't be out of the question. (And trust me, they're delicious enough to justify it.) They're baked, so there's no frying to worry about and the easy yeasted dough and simple apple filling are no trouble at all.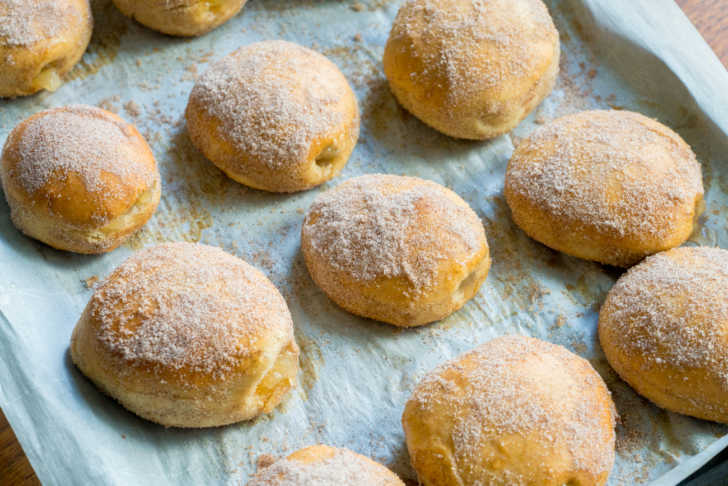 The dough isn't finicky, but it does require some rising time and a little bit of kneading. It's a really flavorful dough – with apple cider as the liquid, plenty of melted butter, and a little cinnamon and nutmeg to spice things up. After its initial rising time, you roll it out, cut it into circles and let it rise a little more. (You want to be sure you have a nice and fluffy donut, after all.)
Once they've risen, they go into the oven to bake just until they're golden and puffy, ten minutes or so. When they're cool enough to handle, you brush them with some melted butter and roll them in some cinnamon-sugar before filling them.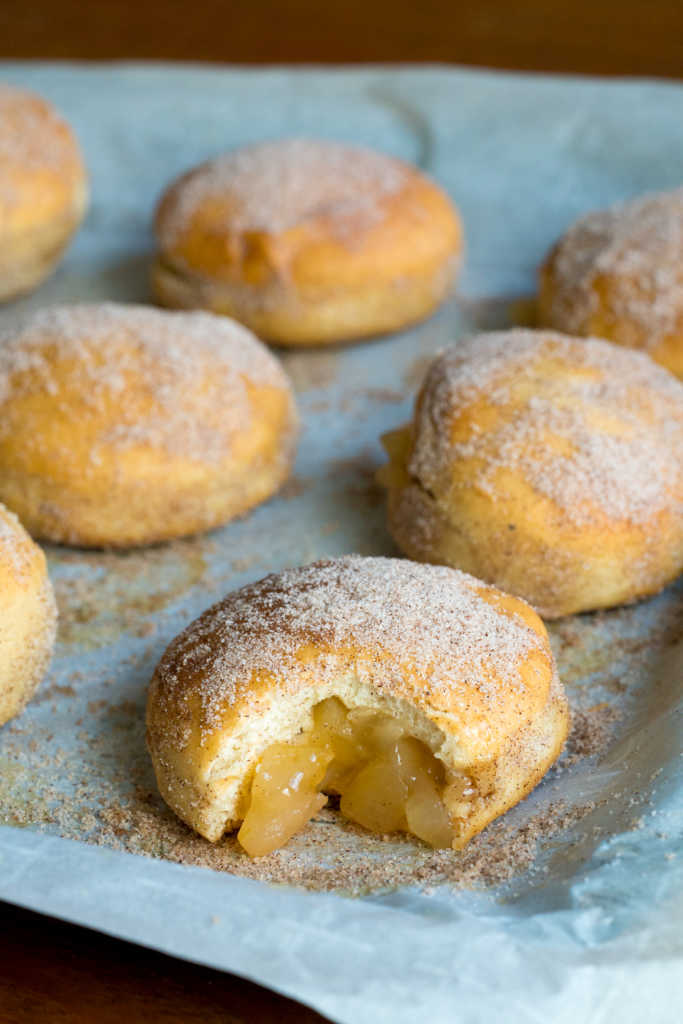 The filling is as easy as it gets – all you have to do is open a can! We use apple pie filling here and it's a great shortcut. The apples are spiced and soft, and all you have to do is make sure that you don't have any large chunks of fruit. If you do, mash the filling up a bit with a potato masher or fork. Make a little slice in each donut, pipe in the filling, and enjoy!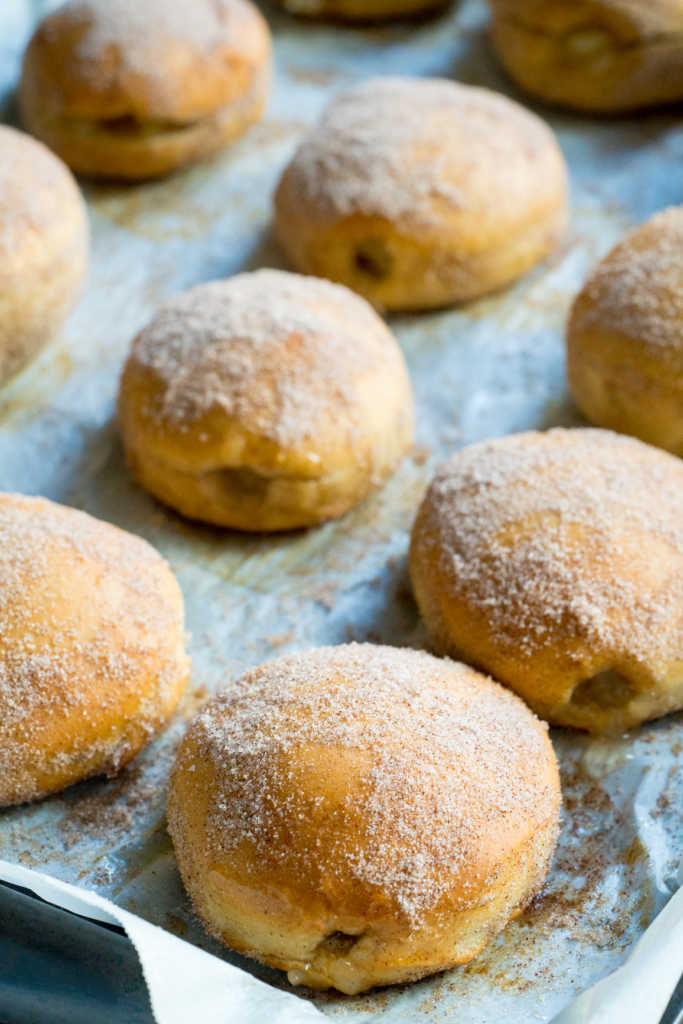 Apple Pie Donuts
Serves 12
2 hours inactive, 40 minutes active
Ingredients
For the donuts:
3 3/4 cups all-purpose flour, divided
2 packages (1/4 oz each) active dry yeast
1 cup warm apple cider (110°F)
7 tablespoons unsalted butter, melted and divided
1/3 cup granulated sugar
3 egg yolks
1/2 teaspoon salt
1/2 teaspoon ground nutmeg
1 teaspoon cinnamon
1/3 cup apple pie filling, no large fruit pieces
For the cinnamon-sugar:
1 cup granulated sugar
1 tablespoon cinnamon
Preparation
When ready to bake, preheat oven to 375°F with a rack in the center of the oven.
Add the yeast and warm cider to a small bowl and set aside until it foams up, about 5 minutes.
In a large bowl, combine the 6 tablespoons melted butter and sugar and whisk until combined.
Whisk in egg yolks, salt, nutmeg, cinnamon, yeast mixture, and 3 cups of the flour. Beat on medium-low speed with an electric mixer or dough hook until smooth.
Add remaining flour and beat until a ball of dough starts to form. Transfer dough to a large bowl that's been greased with oil or nonstick spray. Cover and set aside in a warm spot until dough has tripled in size, about 1 hour.
Gently punch down dough, turn out onto a lightly floured surface, and knead dough 7-8 times until smooth and uniform in texture.
Roll dough out to 1/2-inch thick rectangle, and cut out in circles using a 2 1/2-inch cookie cutter. Re-roll scraps and cut out enough donuts to make 12 total.
Place donuts on a baking sheet lined with parchment paper. Cover lightly with Saran Wrap and let rise until puffy, 45 minutes.
Bake until golden brown and puffed, 10-12 minutes.
In a small bowl, combine the cinnamon and sugar. Brush donuts with remaining melted butter and roll them in the cinnamon sugar mixture.
If your apple pie filling has large chunks, mash it using a fork or immersion blender into small pieces. (It doesn't need to be pureed.) Place apple pie filling in a piping bag, cut a slit in each donut and pipe filling into each one. Enjoy!
Recipe adapted from Baker By Nature.
SKM: below-content placeholder
Whizzco for 12T