The vanilla sugar makes these!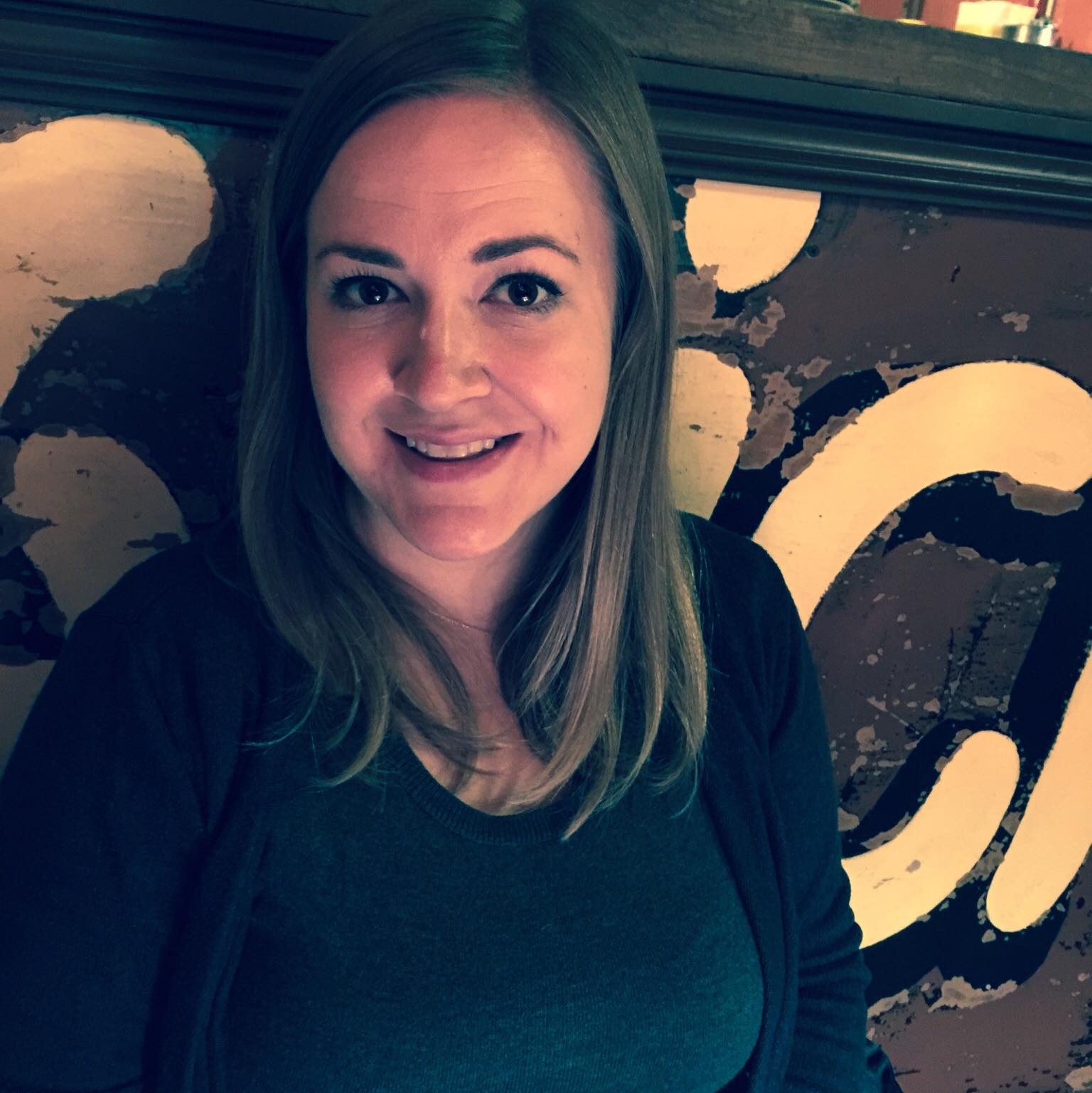 Kristy Norrell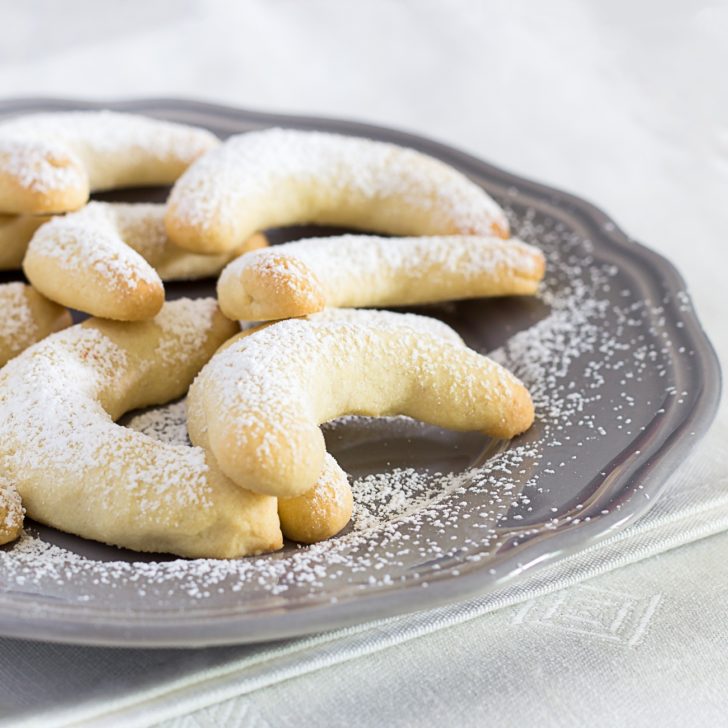 Simple and sweet, with the flavor of vanilla sugar and a melt-in-your-mouth consistency, these lovely little crescent cookies are easy to make and more than easy to enjoy. They're a shortbread type of cookie, with plenty of butter but no egg or leavening agent, so they have a rich, crumbly bite. The flavors are subtle and come mainly from the almond flour and snow-like vanilla sugar, but their balance creates a cookie that's nearly irresistible.
Vanillekipferl originally come from Austria but are well known throughout Europe, showing up in Germany, Hungary, Poland, Czech Republic, Romania, and Slovakia. While they're especially popular around Christmas, in many countries you can find them year-round… and if you can't, you can easily make them yourself!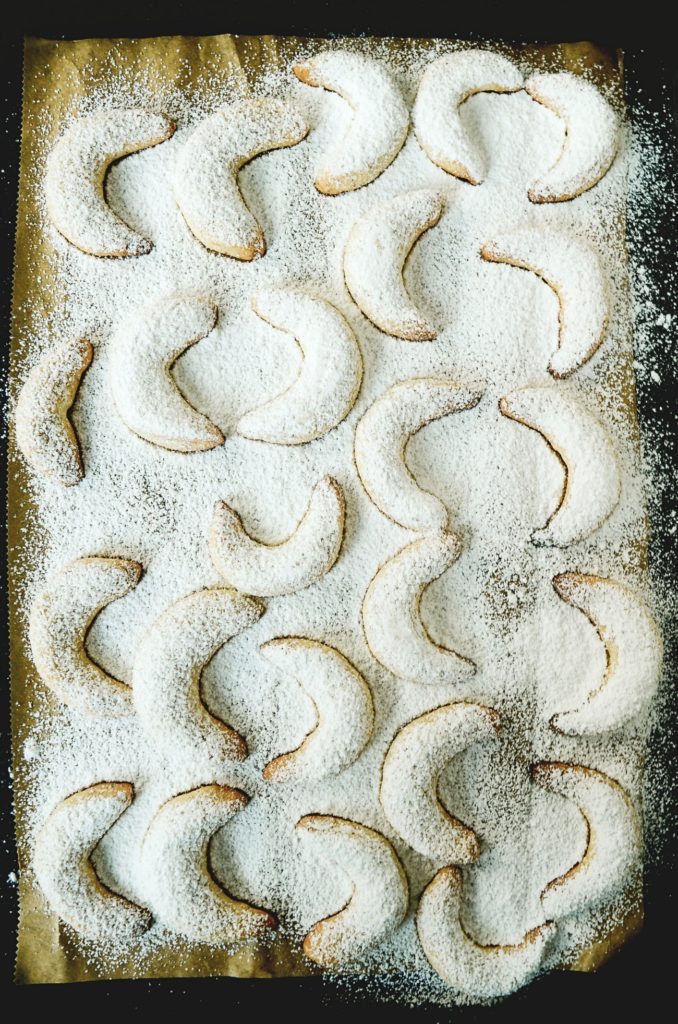 These can be made with ground walnuts, hazelnuts, or almonds. We prefer almonds for their flavor and the light finish they give the cookie, but it really is just a matter of preference – they all give a great end result. The dough is shaped quickly by hand, no cutters or special equipment needed. In fact, the only 'special equipment' you really need is vanilla sugar, which is a signature of this cookie.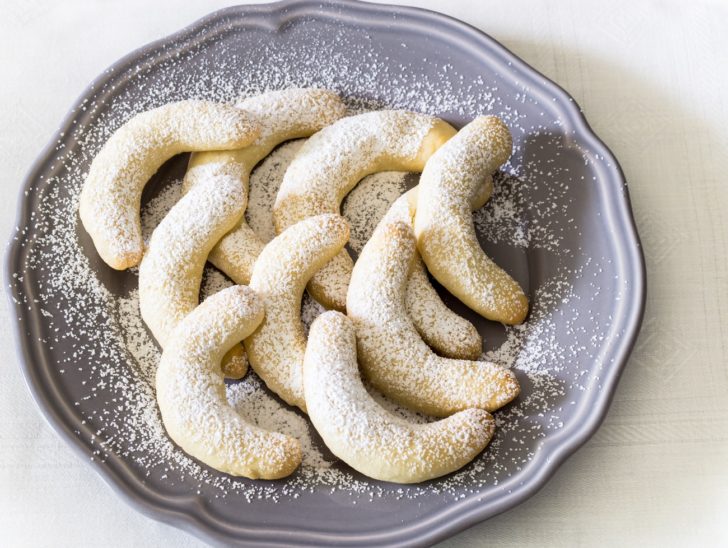 You can buy vanilla sugar, but you can also easily make your own to keep on hand. The simplest method is to mix the seeds from a vanilla bean with granulated sugar, but if you don't have vanilla beans around or don't want to invest in them, you can also get the same effect with the more economical vanilla extract. Just pulse together some vanilla extract and granulated sugar in a food processor and spread it out onto a plate to dry. It will clump a bit as it dries, but you can then return it to the food processor to eliminate any clumps that have formed.
Vanilla Crescent Cookies
Serves 24
30 minutes active, 1 hour inactive
Ingredients
For the dough:
2 cups all-purpose flour
1/2 teaspoon kosher salt
1 cup unsalted butter, softened and cubed
3/4 cup powdered sugar
3/4 cup ground almonds
2 teaspoons vanilla extract
For the dusting sugar:
1/2 cup powdered sugar
1 tablespoon vanilla sugar (see notes at end of recipe)
Preparation
In a medium bowl, combine flour, salt, butter, powdered sugar, almonds, and vanilla, and beat with an electric mixer on medium speed until a crumbly dough forms. If dough doesn't hold together, add 1-2 tablespoons of water.
Press dough together with your hands and form into 4 equal balls. Wrap each ball in plastic wrap and chill in refrigerator for at least one hour, and up to two days.
Preheat oven to 350°F and line a baking sheet with parchment paper.
Remove one ball of dough from refrigerator and roll into a rope, approximately 1/2 inch thick. Cut into 1 1/2 inch pieces and form each piece into a small cylinder, tapering ends into dull points. Shape each piece into a crescent and place on baking sheet about 1 inch apart.
Bake until edges are just golden, about 12-15 minutes. Let cookies rest on baking sheet for 2 minutes while you make dusting sugar.
Mix together powdered sugar and vanilla sugar in a bowl, and evenly dust the warm cookies with the mixture. Move cookies to wire rack to cool completely. Once cool, dust cookies again with sugar mixture.
Leave cookies out overnight to harden, and keep in an airtight container for up to 2 weeks. Enjoy!
Note: To make your own vanilla sugar, mix 1 cup of granulated sugar thoroughly with seeds from 1 vanilla pod. Alternatively, you can pulse together 1/4 cup granulated sugar and 1/2 teaspoon vanilla extract in the food processor. Spread sugar onto a plate to dry. Once dry, return to food processor and pulse again to remove clumps.
Adapted from Plated Cravings.
SKM: below-content placeholder
Whizzco for 12T