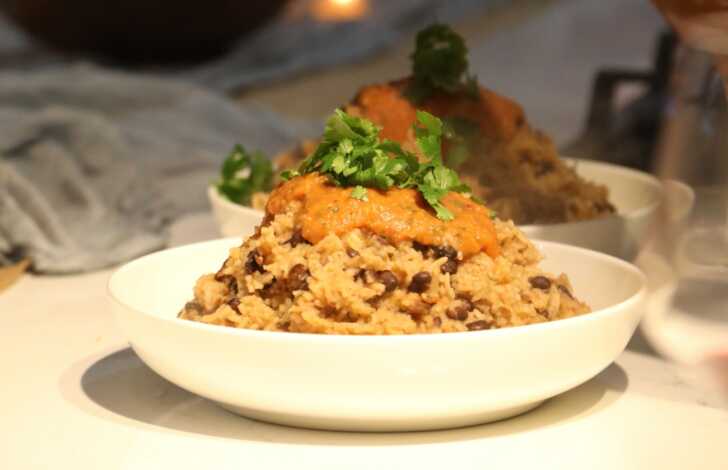 Rice and beans are essential to taco night. As much as I love a good taco, I absolutely must have a side of rice and beans to make the meal whole. I've got a beautiful Spanish Rice and Spiced Black Beans recipe that will be the ideal accessory to my fantastic Carne Asada Tacos recipe. Gone are the plain-tasting Mexican-style steamed rice and beans. This rice is all about flavor, building its base from onions, garlic, and adobo sauce from a can of chipotles. Alongside the rice, Puerto Rican-style black beans are infused with orange juice and spices for an incomparable freshness. No more refried beans and bland rice; this Spanish Rice and Spiced Black Beans will absolutely rock taco night.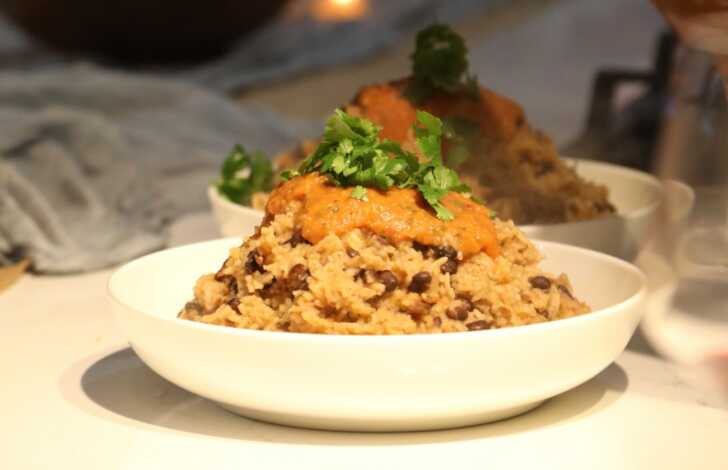 Spanish Rice and Spiced Black Beans are featured in the Table for 12 Mexican Taco Night. For how simple rice is, it can sometimes be really tricky to get right. Much like pasta, it's important to build layers of flavor to an otherwise bland ingredient. I sauté onion and garlic which will soon infuse the rice with flavor.
Next, the rice, and for a moment I don't add any liquid; this gives the rice a chance to toast in the pot, adding even more flavor. Of course, this is a Spanish rice so I'll need adobo as well as tomatoes. These elements all simmer together and infuse the rice with incredible richness. At this point, I can lower the heat and focus on the beans, while the rice becomes its finest self over the next 30 minutes.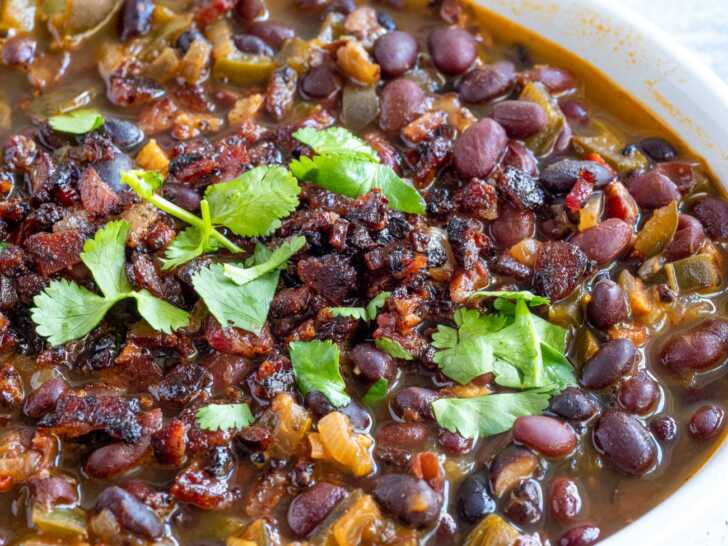 Now, it goes without saying that there must be beans in some form at Taco Night. Spiced Black Beans are a spectacular way to bring beans from bland to bold. I've got canned black beans that are easy to transform into a brilliant side dish. Orange and lime juice add a bright, citrusy flavor, followed by rich, smoky adobo sauce and an earthy combo of cumin and Mexican oregano spices. Citrus and spice are really a match, just like rice and beans! All this goes into one pot to simmer for about 20 minutes and that's it!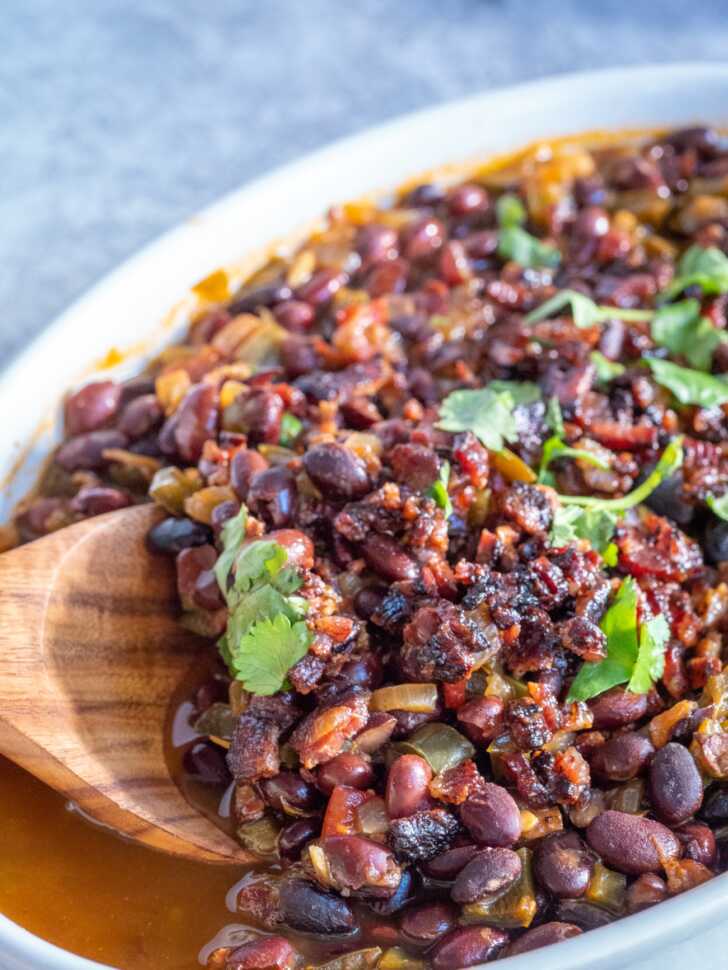 I'm ready to put all of this together to serve. Spanish Rice and Spiced Black Beans are a must-have on any taco night. The two side dishes pair beautifully with my fresh Carne Asada Tacos and Salsa Roja. I like to serve the Spanish rice with the salsa roja on top, and maybe reserve some of the black beans for the rice as well, one can never go wrong with salsa roja, rice, and beans all together in one beautiful bowl of goodness!
Can taco night get any better? Yes, it can, with recipes like these served in beautiful combination with one another. None of what we're doing here is stretching the culinary chops of the everyday cook. All I want is to bring flavor and freshness and something a little more elevated to the typical taco night. Enjoy!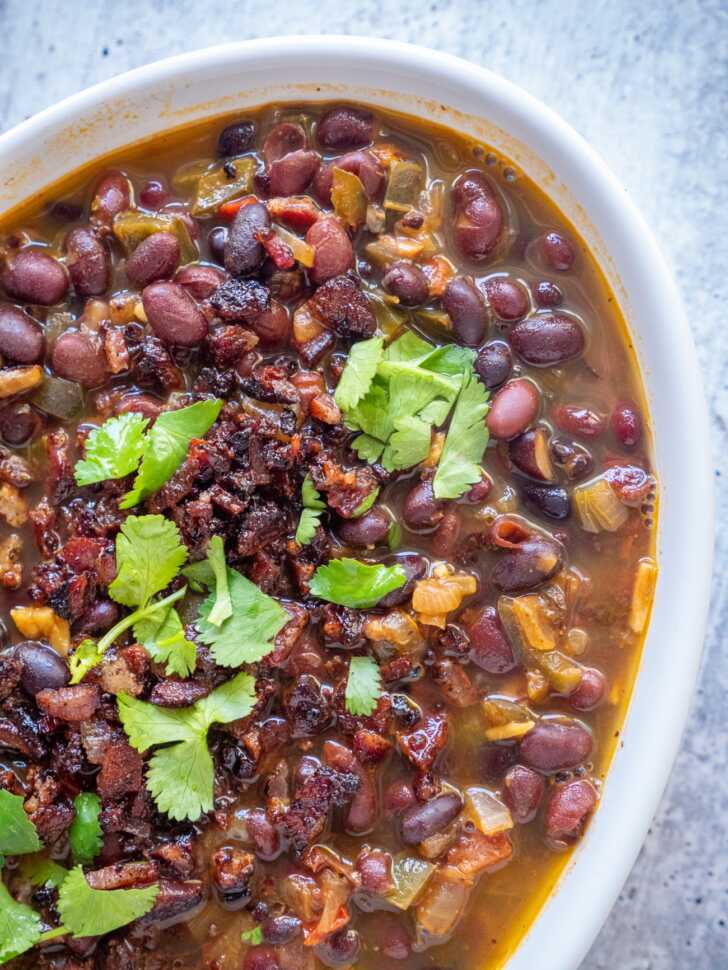 Spanish Rice and Spiced Black Beans are from the Mexican Taco Night at Table for 12. It's served with Carne Asada Tacos, Crunchy Street Corn Salad, and Dulce de Leche Churros.
Spanish Rice and Spiced Black Beans
Serves 6
10m prep time
30m cook time
Spanish Rice
2 tablespoons olive oil
1/2 yellow onion, diced
2 garlic cloves, minced
1 tablespoon adobo sauce
1 1/2 cups jasmine rice
2 cups vegetable stock
1 cup whole peeled tomatoes, crushed
Spiced Black Beans
28 oz. black beans, drained and rinsed
1/2 cup orange juice
1 tablespoon adobo sauce
1 teaspoon Mexican oregano
1 teaspoon ground cumin
1 tablespoon fresh lime juice
Cilantro sprigs, for garnish
Kosher salt and freshly cracked black pepper, to taste
Preparation
In a large pot over medium-high heat, add olive oil. Sauté onion, and garlic cloves in the pan for 2 - 3 minutes or until onions are translucent.
Add in the adobo sauce, jasmine rice, and toast for 1 minute using a wooden spoon. Season with salt and pepper.
Pour in the stock and crushed tomato to the rice and bring mixture up to a simmer, cover and let cook for 25 - 30 minutes.
In another pot over medium-low heat, add black beans, juice, oregano, and cumin to the pan. Let the beans come up to a simmer and let cook for 15 - 20 minutes. Lightly smash black beans in the pot with a wooden spoon & season with salt and pepper.
Remove from both pots from heat and let the rice rest, covered for 10 minutes and finish the beans with lime juice and cilantro.
Garnish rice with fresh salsa roja and cilantro sprigs.
This recipe is from Mexican Taco Night at Table for 12.
SKM: below-content placeholder
Whizzco for 12T