Fresh in every way, these carne asada tacos are truly extraordinary!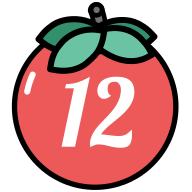 Dom Ruane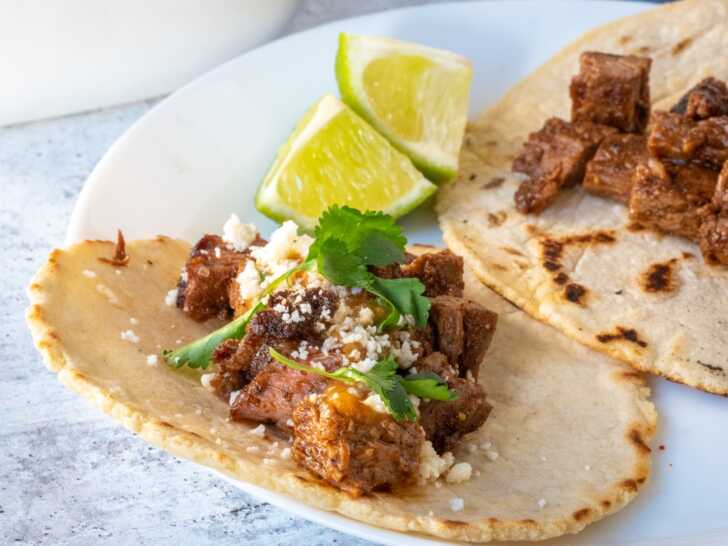 Make your next taco night a little more glam with this fresh and easy carne asada and fresh salsa recipe. I make this salsa for my family every year at Christmas and they practically fall over each other to get to it. Clearly you can make this year-round so think summer grilling when you imagine carne asada with fresh salsa and homemade tortillas! And who needs store-bought salsa when you can make your own that tastes much better? This whole meal is from-scratch; homemade tortillas, a custom carne asada spice blend, and fresh-made salsa. What better way to upgrade your taco night? Let's get cookin'!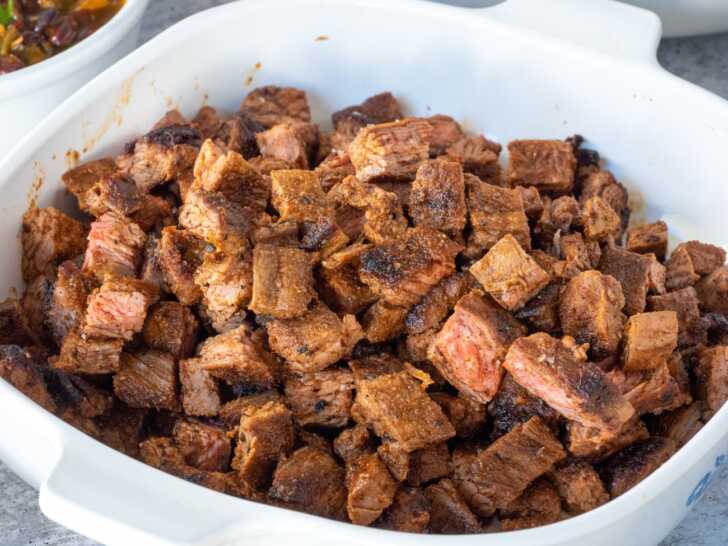 The marinade for the carne asada is the first step; 30 minutes or longer (if possible) is essential to infuse the steak with flavor. A fundamental advantage to a homemade spice rub is that you control 100% of the flavor. I am all for a homemade spice rub and I usually try to make a little extra and save it for later, stored in an airtight container. A homemade spice rub is going to make a difference. Most of us will have these spices in our spice drawer; the only "specialty" items might be the tajin spice and Mexican oregano. Use regular oregano in a pinch but get yourself a little tajin; you'll be pleasantly surprised at what a dash or two can add to your breakfast eggs or on top of avocado toast.
Ok, on to the salsa roja. You can grab fresh salsa at the grocery store, but making your own is quite simple. Roasting the veggies will add amazing flavor to this salsa roja, a kind of smokiness that will add wonderful depth. I like to have some heat in my salsa so I'm using two jalapeños in this recipe. You can modify it as needed for your own tastes, but fresh jalapeño in this fresh salsa served over the top of our beautiful steak will positively sing on the tastebuds. All the salsa ingredients are blended together (an immersion blender is my favorite but you can use a standard blender) and then set aside to give those beautiful flavors time to become friends.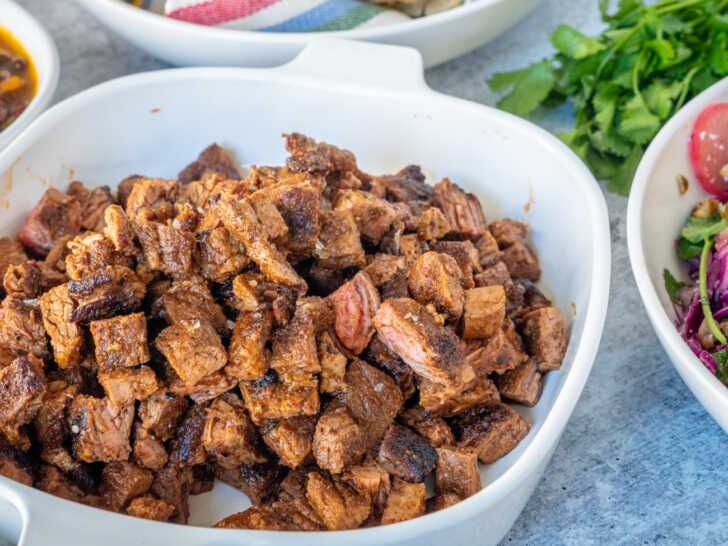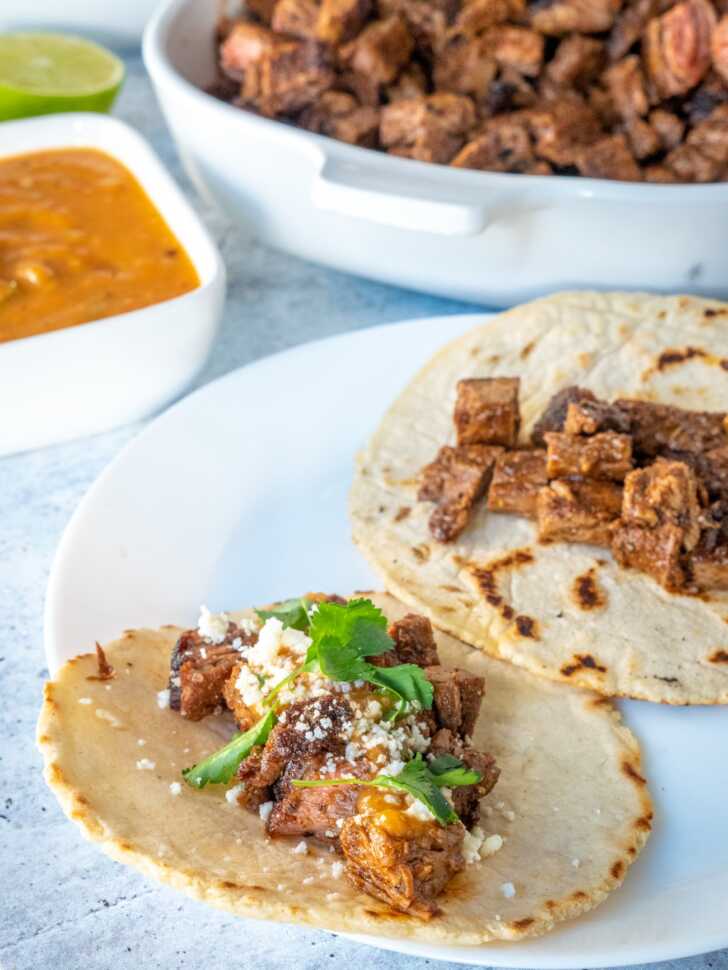 Once again, you can buy tortillas at the grocery store but a fresh corn tortilla is a whole different experience. I'd say the biggest difference is in the texture of the tortillas, something you'll notice almost immediately. Two ingredients, that's it! Masa harina and warm water, maybe a pinch of salt. The dough will come together after a few minutes of kneading. I'll divide these into about 12 evenly-sized pieces and then roll them into a ball. A tortilla press will make these a little bit faster but you can also use a rolling pin to shape the tortillas. Each tortilla is toasted quickly in a pan and then set to rest under a damp towel to await its final presentation.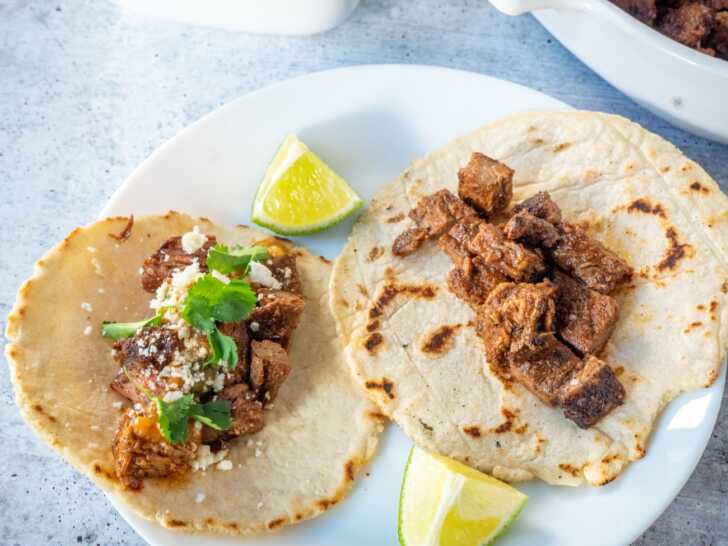 The star of the show is the meat and a beautifully grilled steak – carne asada – is now centerstage. The meat doesn't take long to cook, just a few minutes on a hot grill or skillet, and then a few minutes to rest – and the rest time is essential. Slicing into the meat too soon will release the juices that keep the meat so tender; a few minutes to rest on a cutting board will give those juices the time to draw back into the meat and ensure a beautiful finishing cook. Cook your steak to your desired doneness but I do prefer a medium-rare on my carne asada. Then, I'll either slice on the slant to carve beautiful strips of this tender meat or dice into more bite-sized pieces. Are you drooling yet?!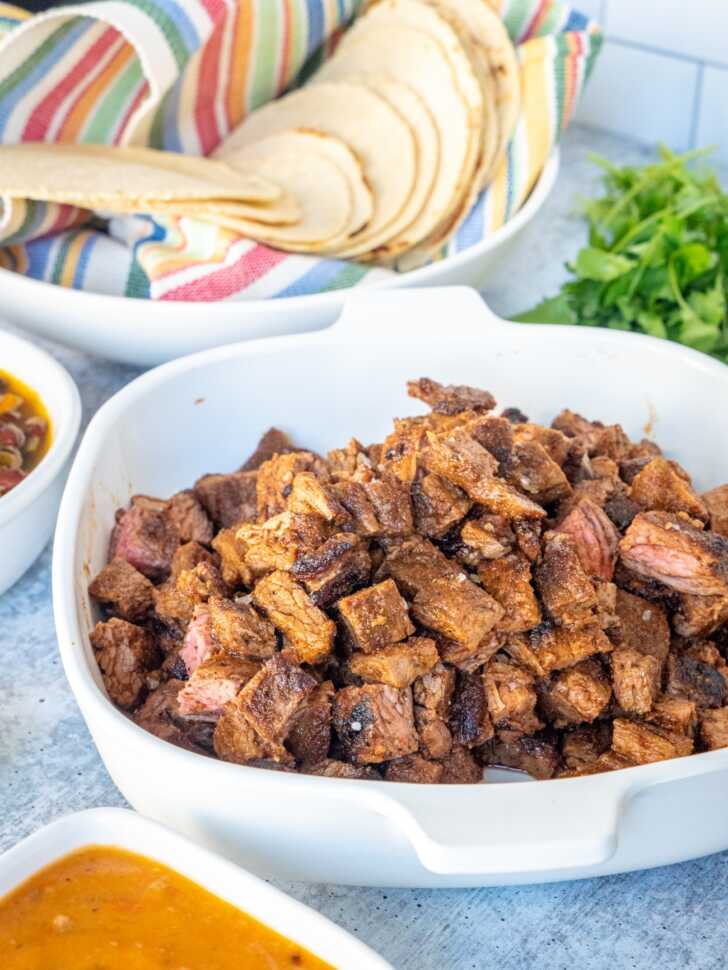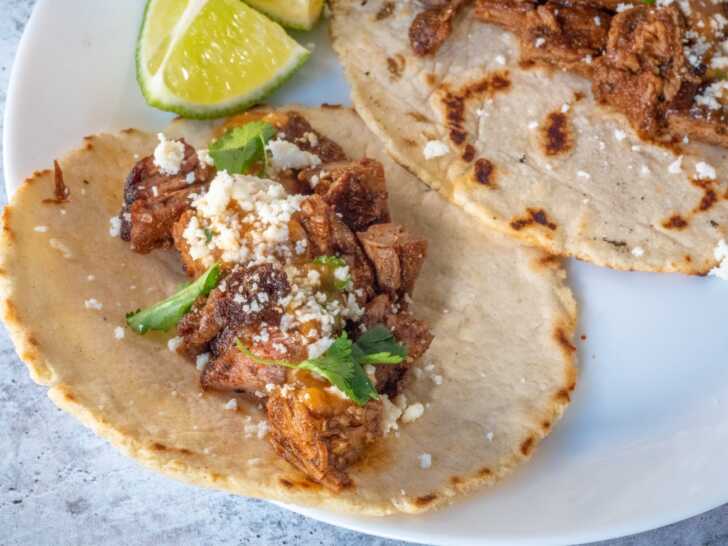 Now we put it all together! A fresh tortilla, still just warm from under the kitchen towel, the carne asada, and a dollop of fresh salsa roja, with cotija cheese and cilantro to garnish. Three words: colorful, flavorful, fresh, and easy. And that's really been the theme of this whole meal: fresh and easy. From the tortillas to the spice rub to the salsa roja, each is made from scratch in a way that is simple and accessible. You will taste the difference. If you think all of this from scratch sounds intimidating, I'm gonna say, just give it a try. If you pace and prepare each dish in a timely fashion, it really isn't that much more time-consuming, and the end result is an absolutely beautiful meal.
Carne Asada Tacos are a part of the Mexican Street Tacos menu at Table for 12. The menu also includes Crunchy Street Corn Salad, Spanish Rice and Spiced Black Beans, and Churros with Dulce de Leche Sauce.
Carne Asada Tacos
Serves 6
20m prep time
30m cook time
For the corn tortillas:
2.5 cups masa harina
2 cup warm water
For the carne asada:
1 tablespoon chili powder
1 tablespoon garlic powder
1 tablespoon onion powder
1/2 tablespoon tajin
1 teaspoons ground cumin
1 teaspoon Mexican oregano
1/2 teaspoon ground black pepper
1/2 teaspoon ground coriander
2 lbs. flank steak, butterflied
Vegetable oil, for grilling
Kosher salt and freshly cracked black pepper, to taste
For the salsa roja:
2 tablespoons vegetable oil
2 jalapenos, rough chopped
4 tomatoes, chopped in pieces
1/3 yellow onion, rough chopped
2 garlic cloves, crushed
2 tablespoons vegetable oil
2 limes, juiced & zested
1/4 cup cilantro, lightly chopped
Pinch of ground cumin
Kosher salt and freshly cracked black pepper, to taste
For assembly:
1 tortilla
2 tablespoons salsa
1/2 cup cotija cheese
1 cup sour cream
For the carne asada:
Combine all the spices in a spice grinder.
Rub the spices all over carne asada, making sure to reserve 1 tablespoon of spice rub and let marinade for 30 minutes.
When ready to cook: Preheat the griddle pan, grill, or cast iron over medium-high heat for 3 - 4 minutes. Season rubbed steaks with salt and pepper.
Brush the pan lightly with vegetable oil and sear skirt steak for 4 - 6 minutes on one side and 2 -3 minutes on the other.
Let the steak rest for 10 minutes on a sheet tray.
Dice the meat up and toss with reserved spice rub.
For the salsa roja:
Preheat the oven to 400 °F.
Toss the tomatoes, jalapeños, onion, and garlic in a large bowl with 2 tablespoons of vegetable oil.
Season with salt and pepper and arrange on a sheet tray.
Roast vegetables in the oven for 15 - 18 minutes. Vegetables should look charred.
Blend using an immersion blender with lime juice and cilantro.
Taste for seasoning. Let cool before serving.
For the corn tortillas:
In a medium-sized mixing bowl, combine masa, salt, and warm water. Mix until the tortilla dough comes together.
Knead the dough for 5 minutes, then portion the dough into 12 equal pieces.
Using a tortilla press lined with plastic, flatten each tortilla ball evenly into a round disc.
Cook the tortillas on a nonstick sauté pan or flat top over medium-high heat for 30 - 45 seconds.
Flip the tortillas and cook for 30 seconds on the other side.
Remove hot tortillas to a clean kitchen towel and cover to let the steam make them soft.
For assembly:
Take one tortilla and spread a layer of salsa roja. Fill with pieces of carne asada then top with cotjita cheese and cilantro. Serve with a side of sour cream.
This recipe is from the Mexican Taco Night Menu at Table for 12.
SKM: below-content placeholder
Whizzco for 12T