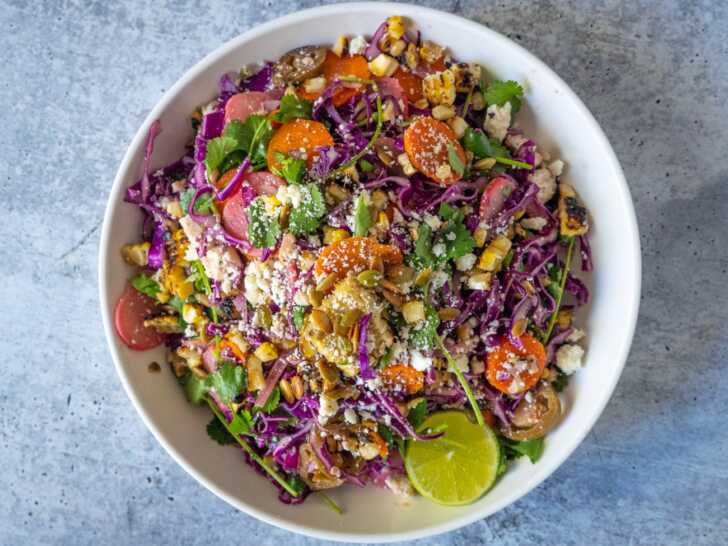 This is a salad that I could absolutely eat every day. It is this amazing combination of smoky, sweet, vinegary, and crunch that has a tangible impact on every taste bud. Crunchy Street Corn Salad represents everything good about fresh slaw and street corn. I wanted to create a salad that captures the dive-bar feel of a Mexican cantina, and everything is about color, texture, and flavor. I've made a simple escabeche (pickled veggies), grilled the corn to get a nice smokey char, then cool-crisp green romaine lettuce and earthy-purple shards of cabbage. All of these come together – with the right amount of "accessories" to really make this salad an absolute knock-out.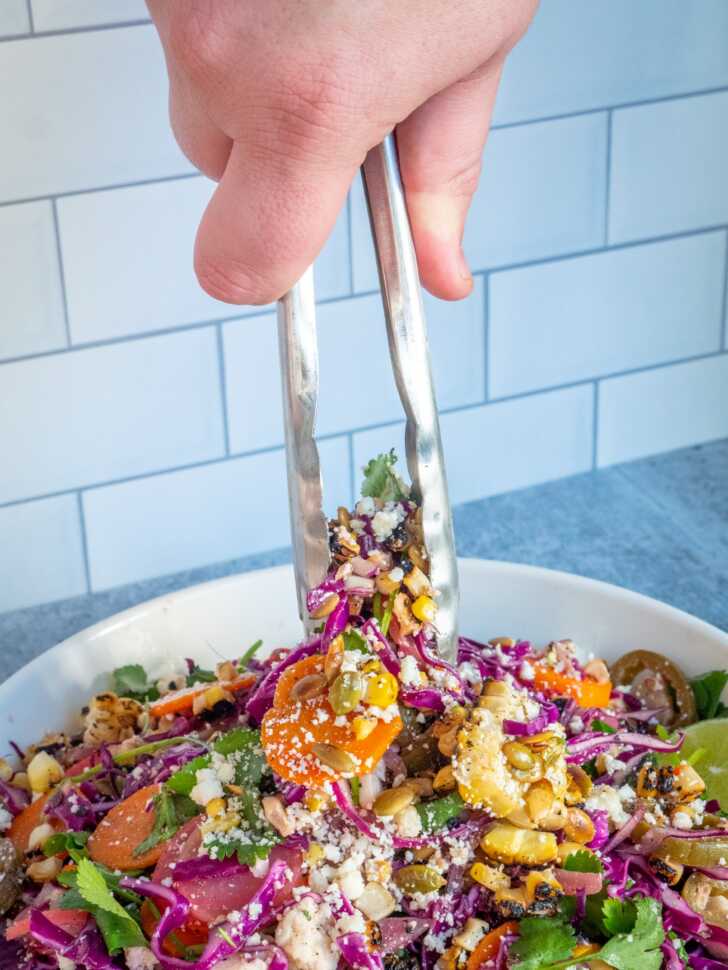 I'll start by making the escabeche, a pickled vegetable often served at a Mexican cantina as a kind of pre-meal nibble. Radish, red onion, carrot, and jalapeño are boiled with garlic, vinegar, salt and pepper then set to cool and soak up amazing flavor. These will go on top of the salad as a garnish and it will be that "chef's kiss" moment when you first bite into the salad. What I love about an escabeche is that pickled-vinegary flavor that adds tang and bite – if you will – to the salad.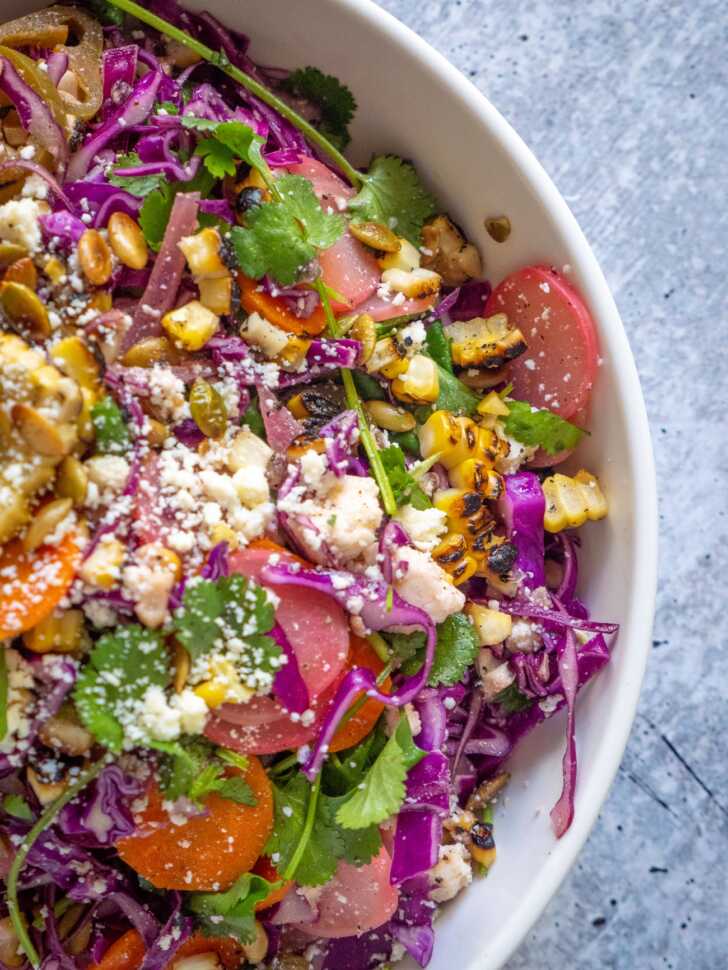 This street corn salad is all about building layers of flavor. We've got the escabeche going and now I'm working on the next layer, the corn. I just love the smoky sweetness that emanates from these charred sweet pops of the corn kernels. To get that char, set the corn on top of an open flame, such as on the burner of a gas grill top or barbecue; but you can also do this using the broiler in the oven.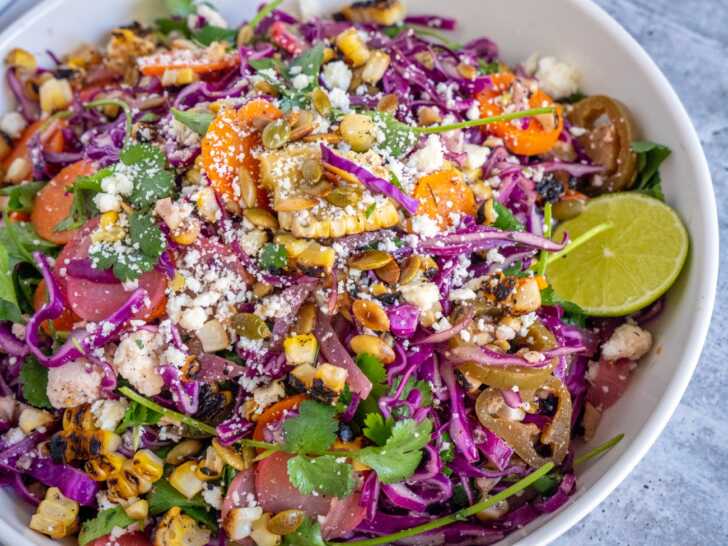 Now it's time to bring all of these layers together; the crisp green romaine and rich purple shards of cabbage first. I also like to add some earthy cilantro into the mix – you can skip this if you're cilantro-adverse. Diced red bell peppers and pepitas add crunch and a little bit of nuttiness, although the pepitas aren't nuts. Pepitas are pumpkin seeds that kind of remind me of a sunflower seed in terms of texture and flavor. I love the little pop that they add when you bite into the salad.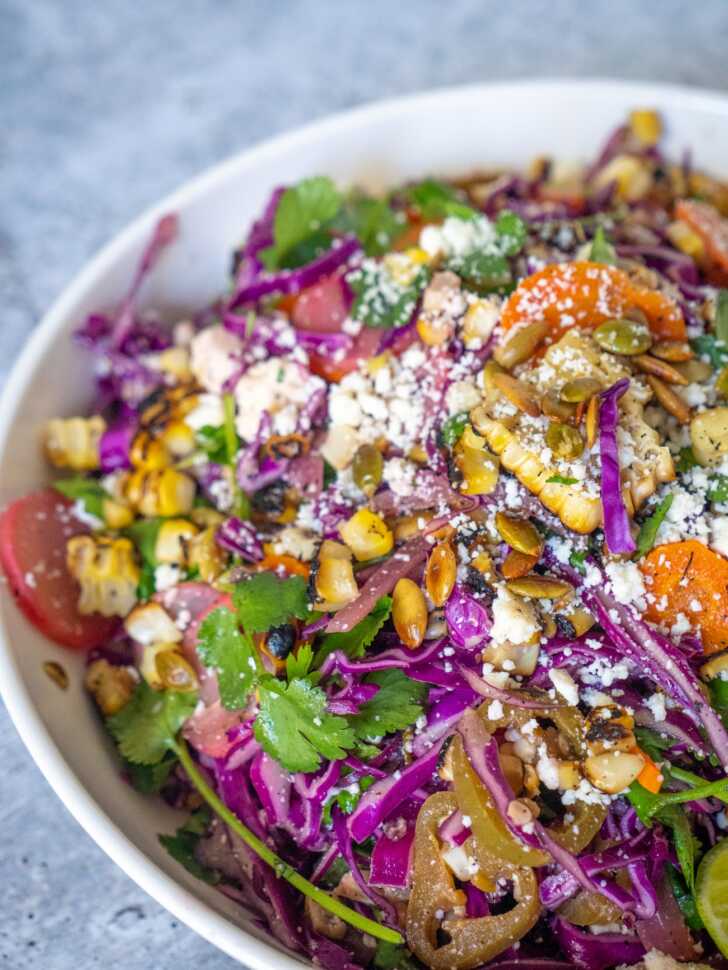 As much as corn is the highlighted ingredient, every part of this salad contributes to an all-star performance. For the finale, I top the salad with escabeche, creamy cojita cheese, and a little cilantro for garnish. A simple salad dressing of lime juice, honey, and olive oil for a final flourish and curtain call. End scene! This incredible Crunchy Street Corn Salad hits the high notes when it comes to color, texture, and flavor. I could eat this by itself all day every day, but I prefer to party with friends, and so this salad is a must-have accompaniment with my Carne Asada Tacos. The salad is crisp, flavorful, and an absolute delight!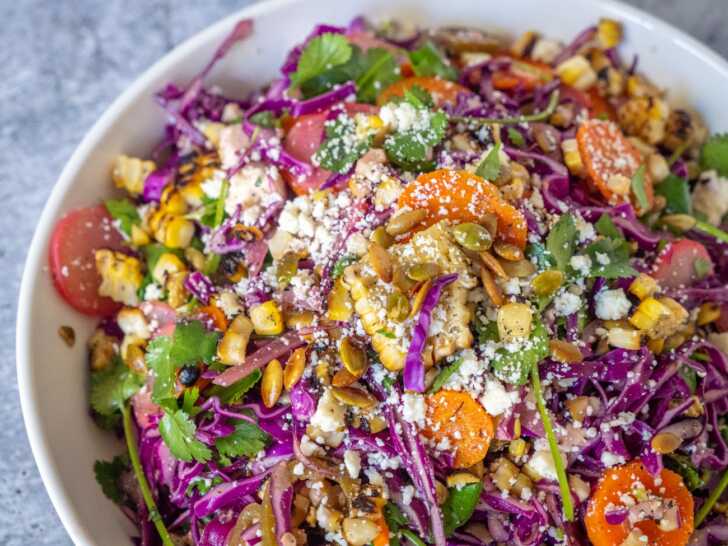 Crunchy Street Corn Salad is a part of the Mexican Street Taco Menu at Table for 12. It is served with Carne Asada Tacos, Spanish Rice and Spiced Black Beans, and Churros with Dulce de Leche Sauce.
Crunchy Street Corn Salad
Serves 6
15m prep time
20m cook time
For escabeche:
1/4 red onion, sliced thin
2 carrots, peeled and sliced thin
2 jalapeños, sliced thin
1/2 cup radishes, sliced thin
1 teaspoon dried Mexican oregano
3 garlic cloves, crushed
1 cup white vinegar
1 cup water
1 1/2 tablespoons kosher salt
For salad:
2 ears of corn, charred and cut off cob
1 cup cilantro sprigs and stems, lightly chopped
2 cups (1/4 head) red cabbage, sliced thin
1 head of romaine, washed, torn into pieces
1/2 red bell pepper, sliced thin
1/4 cup extra virgin olive oil
1/4 cup fresh lime juice (2-3 limes, depending on size and juiciness)
1 tablespoon honey
1/2 cup pepitas, toasted
1/2 cup cotija cheese, crumbled
Kosher salt and freshly cracked black pepper, to taste
Preparation
Combine radishes, onion, carrots, jalapeños, oregano, garlic cloves, black pepper, white vinegar, and water in a small sauce pot. Bring the mixture to a boil and remove from heat. Set aside to allow the vegetables to cool.
Mix together honey, lime juice, and olive oil for a vinaigrette. Season with salt and pepper.
Lightly toss lettuce, cabbage, corn, cilantro, bell pepper, and half of the escabeche in a big bowl with the vinaigrette. (Remaining escabeche is reserved for the Carne Asada Tacos.)
Garnish with cilantro, pepitas and Cotija cheese. Enjoy!
Crunchy Street Corn Salad is a part of the Mexican Street Taco Menu at Table for 12.
SKM: below-content placeholder
Whizzco for 12T