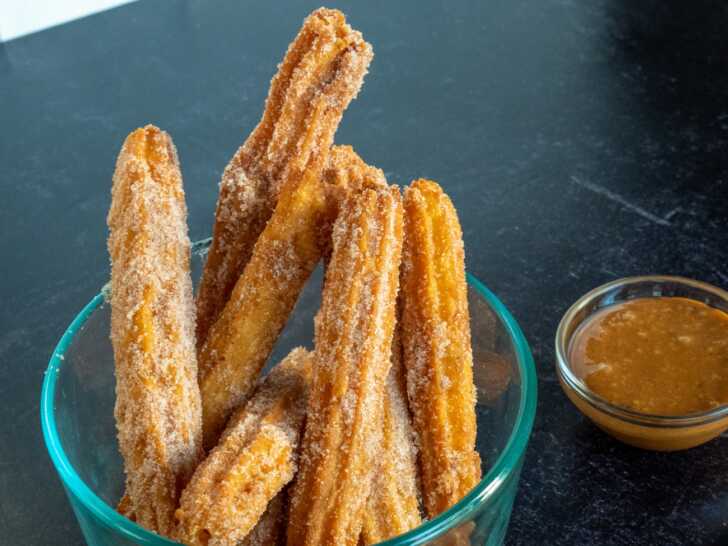 I can't think of a better way to end Taco Night than with fresh churros. Fried dough tossed in a generous coating of cinnamon and sugar…come on now! Churros are often paired with a dipping sauce, like chocolate or caramel; for these, I'm serving my churros with a homemade dulce de leche sauce. The churros are made using a French technique for a batter called pate-a-choux. Fresh cinnamon-sugar churros with a sweet-salty sauce are a delightful way to finish a beautiful meal.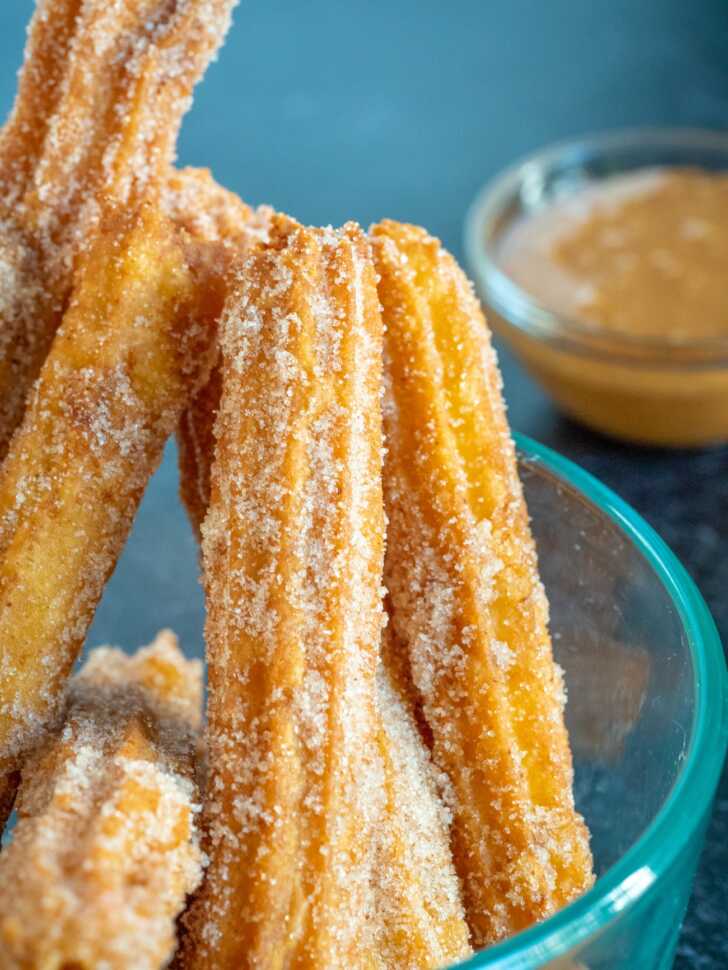 A lovely French-style dough batter is what makes the churros so particularly good. A pate-a-choux is ideal for this purpose. A choux (sounds like "shoe") is made with just four ingredients: flour, butter, water, and eggs. These come together to create a bit of a sticky dough that is then transferred into a piping bag. I pipe the churros onto a parchment paper-lined baking sheet. The churros will spend a few minutes in the freezer, allowing the dough to set and maintain its shape.
Cinnamon and sugar are like peas and carrots; they just naturally go together. Cinnamon brings a spicy warmth while sugar adds the obvious sweetness. The cinnamon and sugar will cling to the freshly fried churros, still warm from the hot oil. Crispy fried dough and that savory-sweet granular sugar make for a delightful combination of texture and flavor, and the dough itself is so light, even after frying, that they don't feel heavy or greasy, they're practically perfect.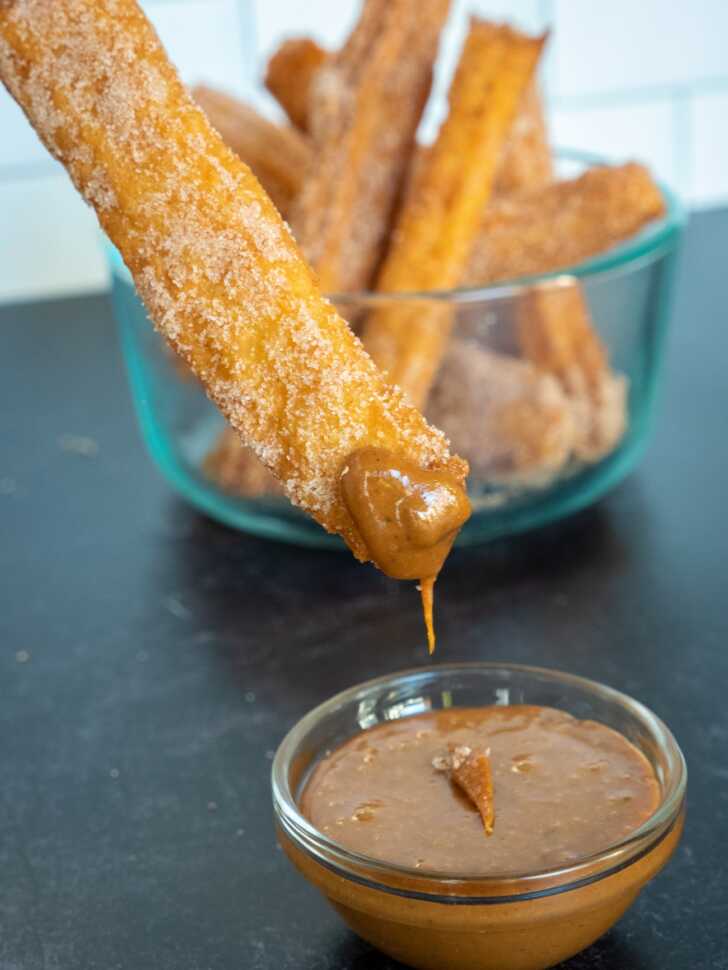 Next, the caramel sauce. While a simple shortcut is to buy a premade sauce, making your own is not only delicious but also renders a feeling of culinary accomplishment. Sugar and water, heavy cream, butter, and salt are simple, readily accessible ingredients and are gradually transformed into this drool-worthy dipping sauce. It's luxurious, sweet, salty, and the best way to serve up a fresh batch of churros. I love the spiced-salty-sweet trifecta – cinnamon, sugar, and salted caramel are in perfect harmony.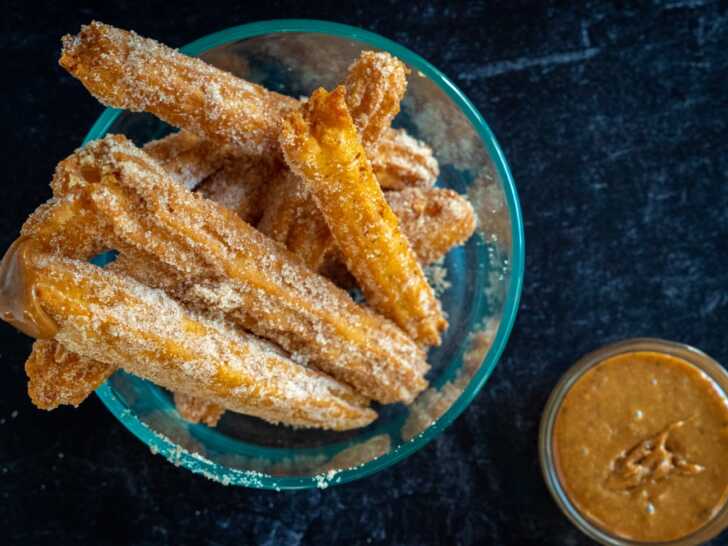 Need I say more? Taco night's curtain call is with this show-stealing dessert, all homemade and delicious. If you're lucky, you'll have some extra sauce that can be stored in an airtight container and refrigerated…that is IF you're lucky enough to have any left after dipping every bite of the churro into this golden deliciousness!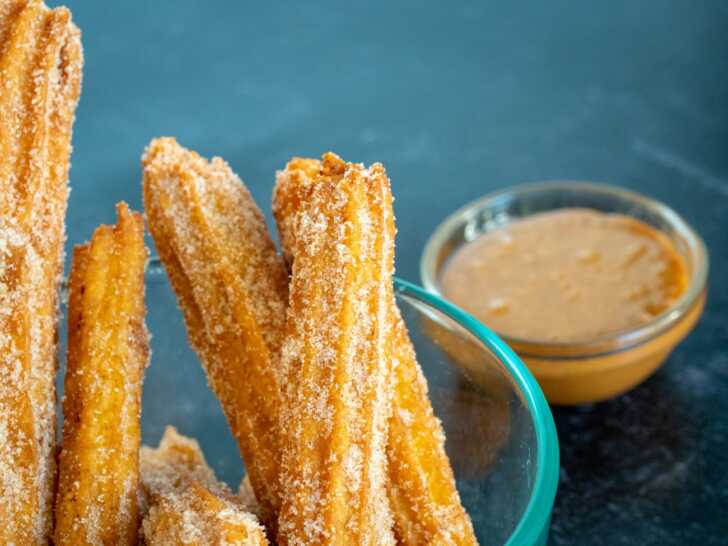 Fresh Churros with Dulce de Leche Sauce are from the Mexican Taco Night menu at Table for 12. The menu also includes Carne Asada Tacos, Spanish Rice and Spiced Black Beans, and a Crunchy Winter Street Corn Salad.
Churros with Dulce de Leche Sauce
12-16 6" churros
30m prep time
20m cook time
45m inactive
Pate-a-Choux
2 cups water
1 cup butter
2 cups flour
4 eggs
Topping
1 cup sugar
2 teaspoon cinnamon
Dulce de Leche
1 1/3 cup sugar
2/3 cup water
1/2 cup unsalted butter, sliced into tablespoon-sized squares
2/3 cup heavy cream
1/2 teaspoon salt
Preparation
In a sauce pot, bring water, sugar and butter to a boil. Remove from heat and add in flour until a batter forms.
Add in eggs and stir until a sticky dough forms in the pan.
Remove the batter from the pot into a piping bag fitted with a large star tip. Use a cup to hold the bag upright. Pipe churros onto a parchment-lined sheet tray around 6 inches in length and freeze for 45 minutes.
Heat a pot of frying oil to 350 °F and fry 2 churros at a time until golden. Make sure to maintain that same heat. Remove the fried churro to the bowl of cinnamon sugar and toss. Set aside onto a plate or dish and continue the process until all of the churros have been fried.
Make the caramel with a small saucepan over medium high heat. Stir together the sugar and water until it dissolves.
Whisk the caramel until it starts to turn golden in color, then gently, with a swirling motion, shift the saucepan to evenly brown the sugar. Slowly add in the heavy cream and salt, then turn off the heat. Add butter one tablespoon at a time until incorporated.
Pour the sauce into a serving bowl. Plate the churros and serve.
This recipe is from the Mexican Taco Night Menu at Table for 12.
SKM: below-content placeholder
Whizzco for 12T