Every once in a while, we like to add a little kick to some of our favorite dishes. Stuffing (or dressing, to be accurate, since it's not actually stuffed inside the turkey) can make or break a big dinner party and, for some people, it's the best part of the entire feast. This jalapeño cornbread stuffing is so good, it'll knock everybody's socks off.
To all of you who aren't stuffing snobs, well done; to the rest of you, this dressing recipe is your ticket to winning the family meal game. You can make it as mild or as spicy as you like, but we promise: this blend of veggies and homemade cornbread will make everyone go wild! You'll definitely want to make two batches and you'll probably want to bring the recipe with you as well, since so many people will be clamoring for it! Go ahead and bask in the glory of this delicious dish, just make sure to tell people where you got it!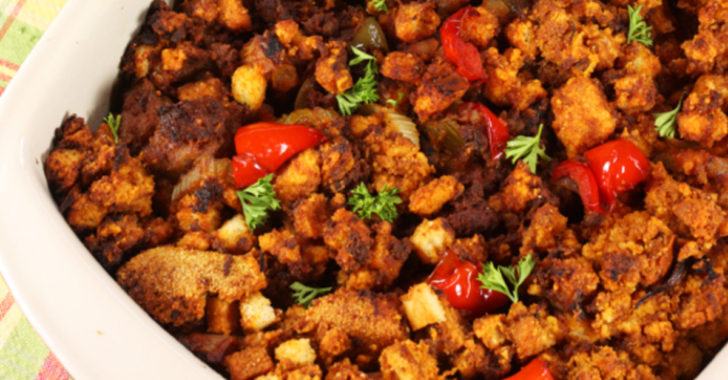 Jalapeño Cornbread Stuffing
Yields approx. 4 cups
Ingredients
3 cups cornbread, dried out and cubed (store-bought or homemade; see recipe below)
1 onion, diced
1 stalk celery, diced
1 red bell pepper, diced
1 green bell pepper, diced
2 jalapeños, finely chopped
2 cloves garlic, minced
1/2 cup chicken stock
2 tablespoons olive oil or butter
kosher salt and freshly ground pepper, to taste
cilantro, garnish
Cornbread:
1 cup all-purpose flour
1 cup cornmeal
1 cup buttermilk
1 cup cheddar cheese
1/3 cup sugar
2 large eggs
1 stick unsalted butter
3/4 teaspoon salt
1/2 teaspoon baking soda
Directions
For the cornbread:
Preheat oven to 375º F and grease an 8×8 or 9×9-inch baking dish.
Combine flour, cornmeal, salt and baking soda in a medium bowl and mix together.
In a large bowl, beat together eggs, buttermilk, sugar and butter until smooth.
Slowly add the dry ingredients to the egg mixture. Mix until just incorporated.
Gently fold in cheddar cheese.
Pour mixture into baking dish and bake for 35 minutes, or until toothpick inserted in center comes out clean.
Remove from oven and let cornbread cool completely.

Note: for best results with stuffing, make cornbread 1-2 days ahead of time.
For the stuffing:
Preheat oven to 350º F and grease a 9×13-inch casserole dish.
Heat olive oil in a large pan or skillet over medium heat and saute onions, celery, bell peppers and jalapeños until softened. About 12 minutes.
During the last few minutes of cooking, add minced garlic, stirring frequently to prevent burning.
Stir in cubed cornbread and chicken stock and mix until liquid is completely absorbed by bread and vegetables.
Season with salt and pepper.
Pour cornbread mixture into baking dish and bake for 20-25 minutes, or until browned, crispy, and cooked through. (Bread should be crisp but still moist.)
Garnish with cilantro and serve immediately.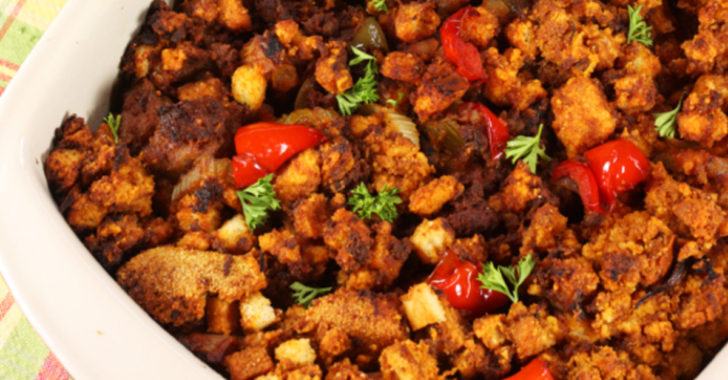 Recipe adapted from Damn Delicious
SKM: below-content placeholder
Whizzco for 12T