It's fresh, a little spicy, super delicious, and super easy to make!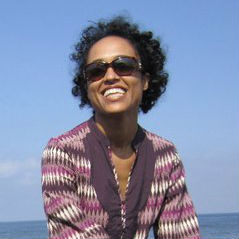 Sarah Cool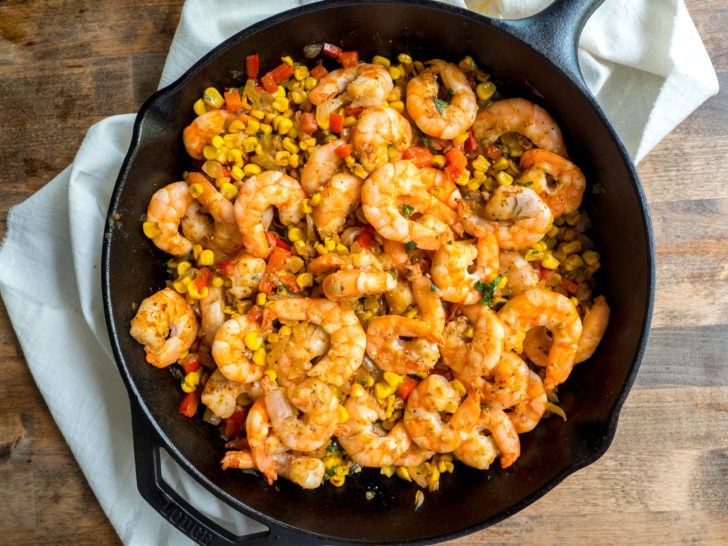 As much as we love a short cut meal, and as many times as we've caved and ordered take out in a pinch, there's no replacement for a good home cooked meal. This does not mean that we need to slave over a hot stove making a meal from scratch, and for that reason, we like to choose ingredients that come together quickly and are packed with flavor. Our roasted shrimp is one of those meals; it requires very little prep time and is out-of-this-world delicious.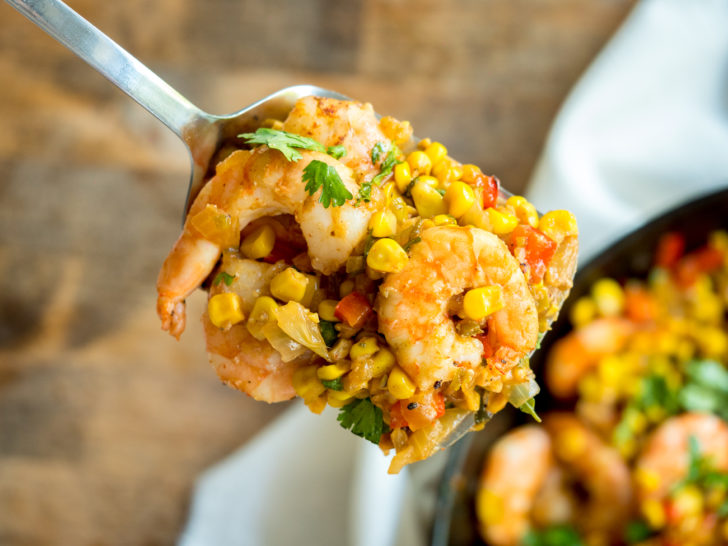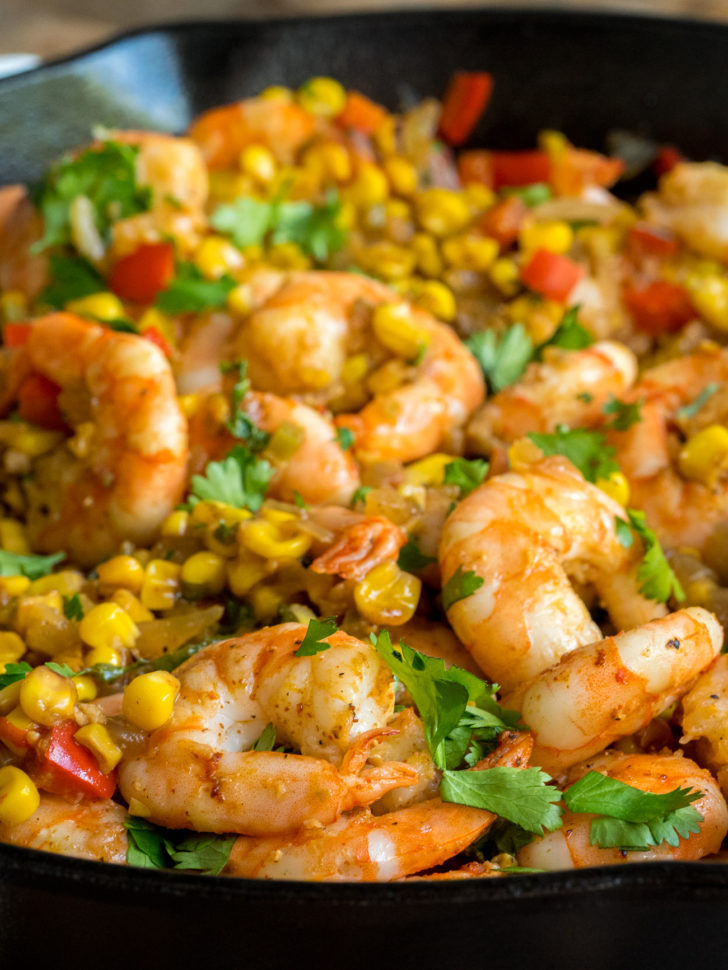 Roasted shrimp has to be one of the quickest meals out there. The shrimp cooks up in less than 10 minutes and is easily seasoned. Keep it simple with olive oil, salt, and pepper, or jazz it up a bit with spices that will add some kick. We chose a spicier theme this time, adding chili powder and cumin for a little warmth. We particularly love roasted corn, and when it's in season, we will definitely use fresh ears of corn – the flavor of fresh sweet corn is unbeatable. But it's nice to know that when fresh ingredients, like corn, aren't in season, we can look to our freezer for reinforcement.
A bag of frozen corn is the perfect substitute, especially because those kernels are often frozen and packaged to maximize flavor and freshness. We give the corn a boost as well, with vibrant flavor and color from diced jalapeño and red bell pepper. Again, this is easily done on a grill, but when the weather isn't ideal for grilling, our skillet will achieve similar results. The corn still gets rich color and flavor in the sauté pan, and we get that roasted look and taste we wanted.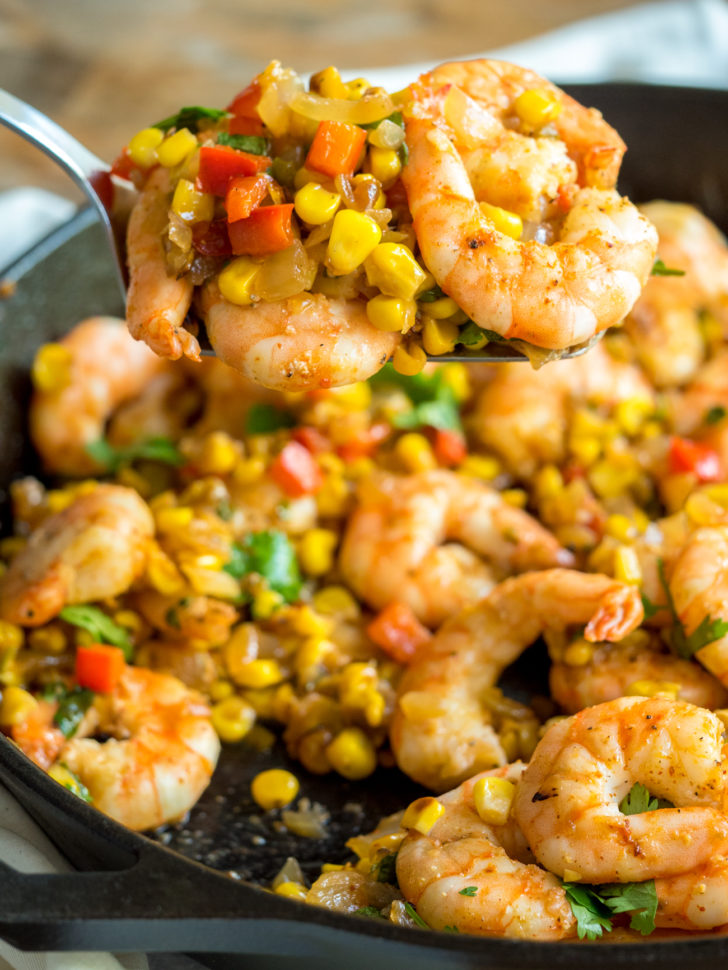 If we ate by colors alone, this dish would be one attractive meal! The roasted pink and red of the shrimp, paired with vibrant yellow, green, and red from the roasted corn salsa, then a bed of rich Mexican rice for all of this to sit on and yeow-za…What a meal! A few fresh ingredients paired with some store bought short cuts and we had dinner on the table in no time, and it met with rave reviews.
Roasted Shrimp With Corn Salsa
Ingredients
1 (8 oz) box Mexican rice, prepared
2 pounds shrimp, peeled and deveined
2 tablespoons olive oil, divided
2 teaspoons chili powder
½ teaspoon cumin
½ teaspoon garlic powder
2 limes: 1 juiced and divided, 1 sliced for garnish
½ bunch cilantro, divided
1 (16 oz) bag frozen whole kernel corn
1 yellow onion, diced
1 jalapeño, seeded and diced (optional)
1 red bell pepper, seeded and diced
1 teaspoon salt, divided
1 teaspoon pepper, divided
Preparation
In a large bowl, toss corn with onion, jalapeño, and bell pepper with 1 tablespoon olive oil. Season with ½ teaspoon salt and ½ teaspoon pepper, then pour into a skillet on medium-high heat, spreading evenly around pan. Roast for 5 minutes, or until corn begins to brown slightly, then stir and continue cooking for 3-5 minutes, or until corn is golden roasted. Remove from heat and add ¼ cup chopped cilantro, juice from ½ lime, and salt and pepper (to taste).
While corn roasts, preheat oven to 400°F and line a baking sheet with aluminum foil. Mix ½ teaspoon salt, ½ teaspoon pepper, chili powder, cumin, and garlic powder together in a small bowl.
Pour 1 tablespoon olive oil over shrimp and toss. Cover shrimp with seasoning mixture and toss to thoroughly combine. Spread shrimp evenly around baking sheet.
Roast for 5-7 minutes, slightly longer if for larger shrimp. Remove from oven and toss with corn salsa, juice from ½ lime and reserved cilantro.
Serve with side of Mexican rice. Enjoy!
Recipe adapted from No.2 Pencil
SKM: below-content placeholder
Whizzco for 12T