A delightful contrast between sweet and salty flavors that's perfect for an easy to please light meal!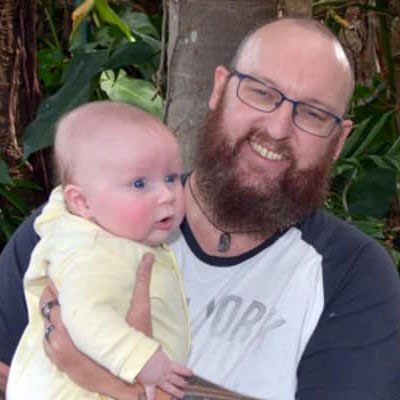 Jono Elderton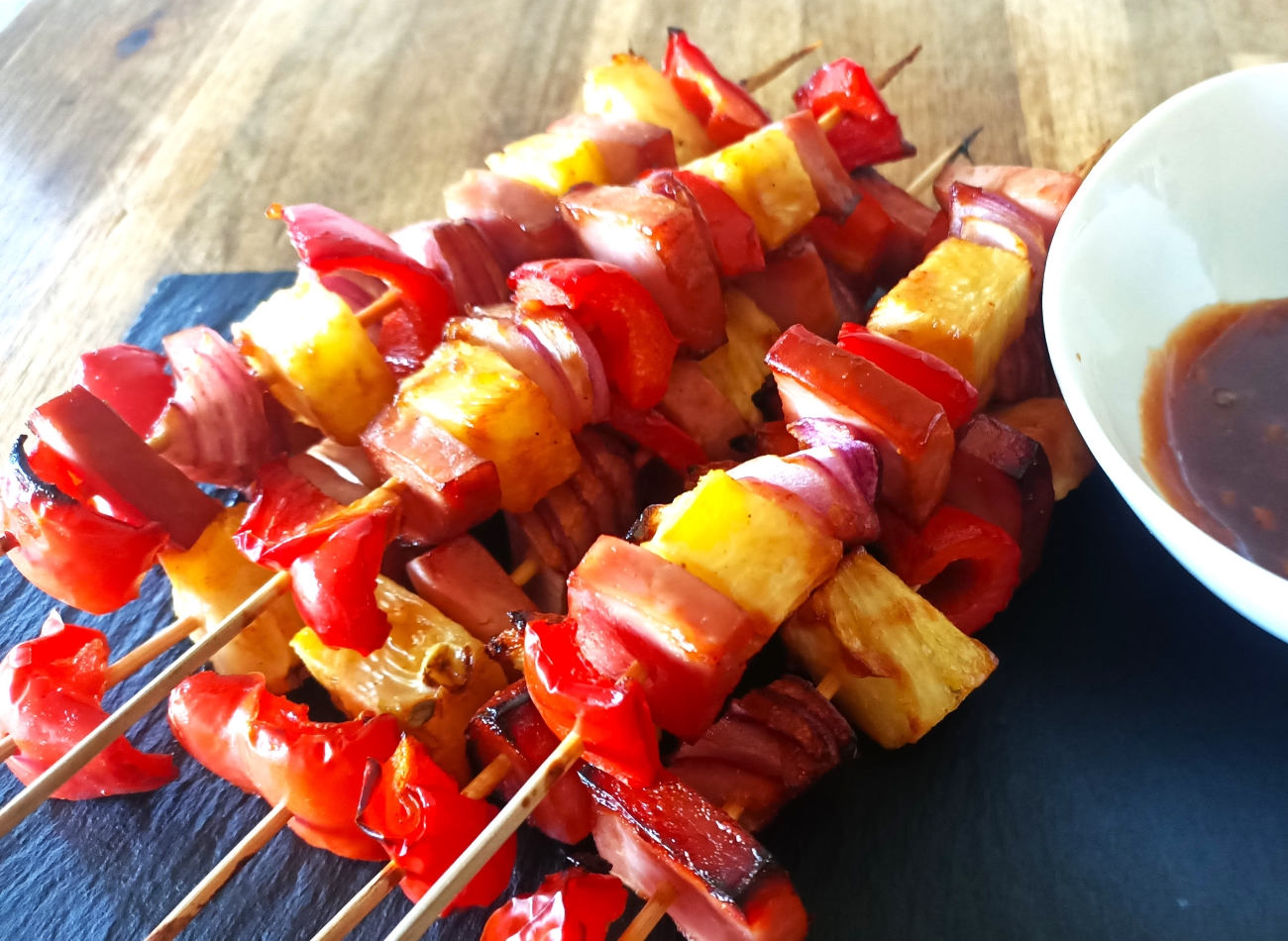 Hawaiian skewers are fun for summer parties or an exciting island-inspired weekend dinner. They are super satisfying kebabs made with bright pineapple, red onion, bell pepper and ham steaks, all coated in a thick and tangy BBQ marinade.
I like to whip up the Hawaiian skewers marinade ahead of time by combining the spices and various oils and juices, and then painting it on to the skewers before (and after) popping them in the fridge for 30 minutes to allow them to work their way through the other components and stick. You can easily use a store bought bbq sauce to speed up the preparation process and make a great tasting marinade. However, I like to add additional subtleties in the sauce that can bring out other flavors.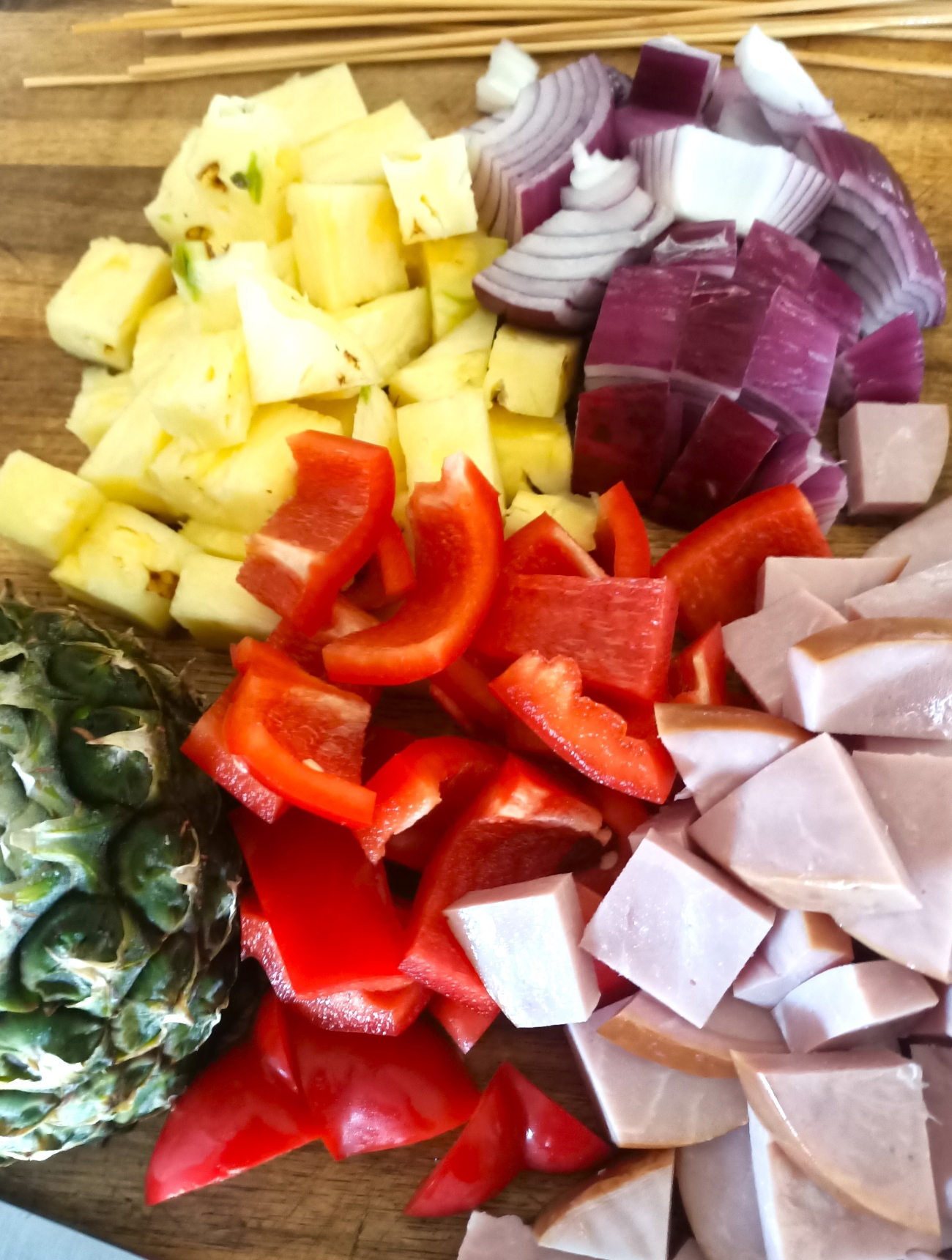 After soaking up the seasoning from the marinade the Hawaiian skewers are perfect for the sheet pan, where they can be cooked slowly and with minimal oversight to get the vital, subtle flavor changes that grilling (and the resulting char) may miss. With sheet pan baking, the light sweetness and bright tang soften the saltiness of the ham, making it perfectly flavorful and tender, while allowing all the different elements to coalesce.
I also recommend that you use fresh pineapple rather than anything you can get in a can. Freshly baked pineapple is much firmer on the skewer, and gains a lovely caramelization when it cooks. Its sweet-tartness develops into a rich, delicious marriage of sweetness when mixed with the barbecue marinade. Having pineapple snuggle against the ham steaks intensifies the sweet-salty distinction on your palate.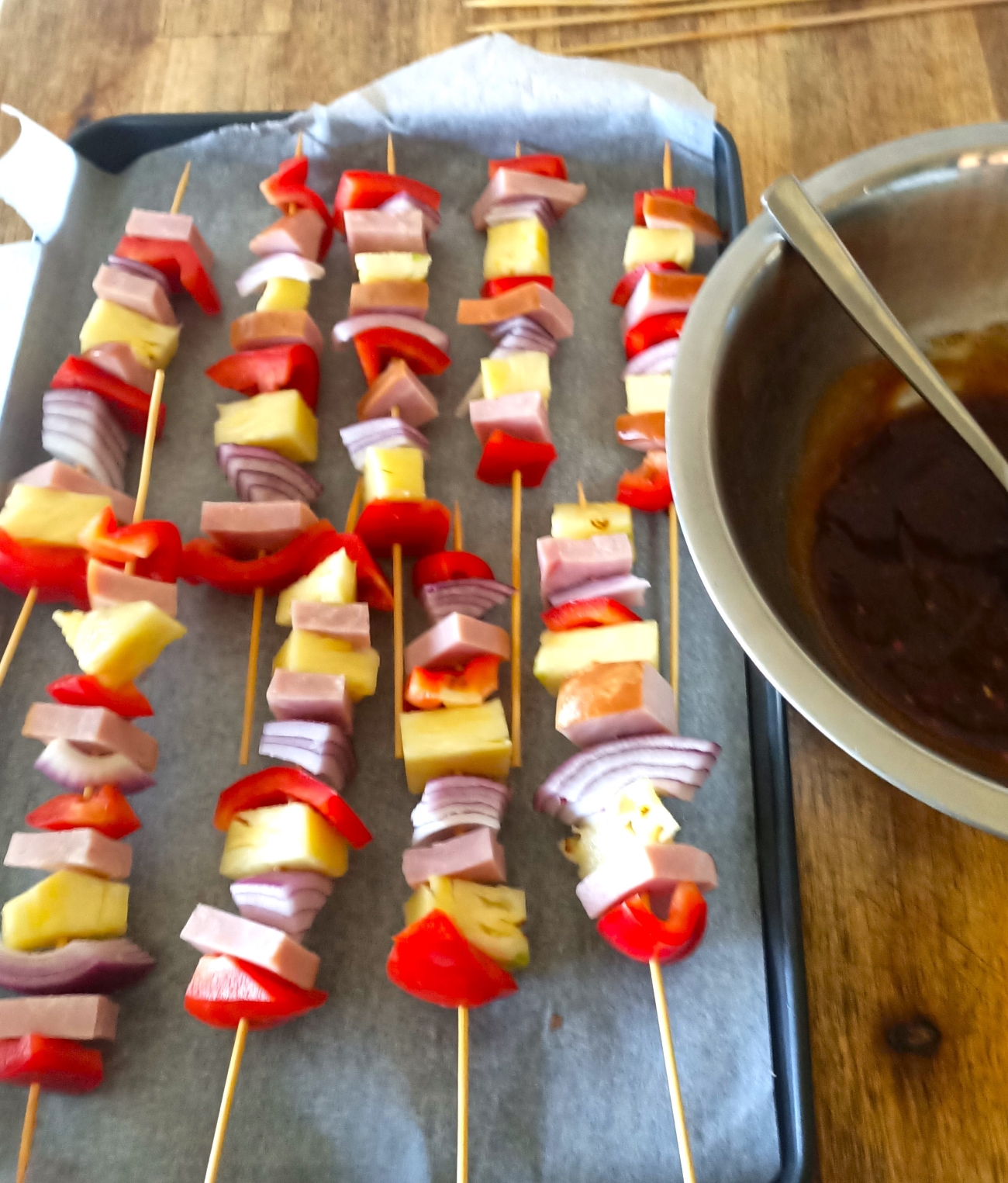 I also try to always make sure there's enough marinade left over, so that I can use it as a sauce when serving the Hawaiian skewers. You may enjoy the skewers by themselves (this recipe makes 10-12), but they also work great with a green side salad or a bowl of freshly cooked fried rice.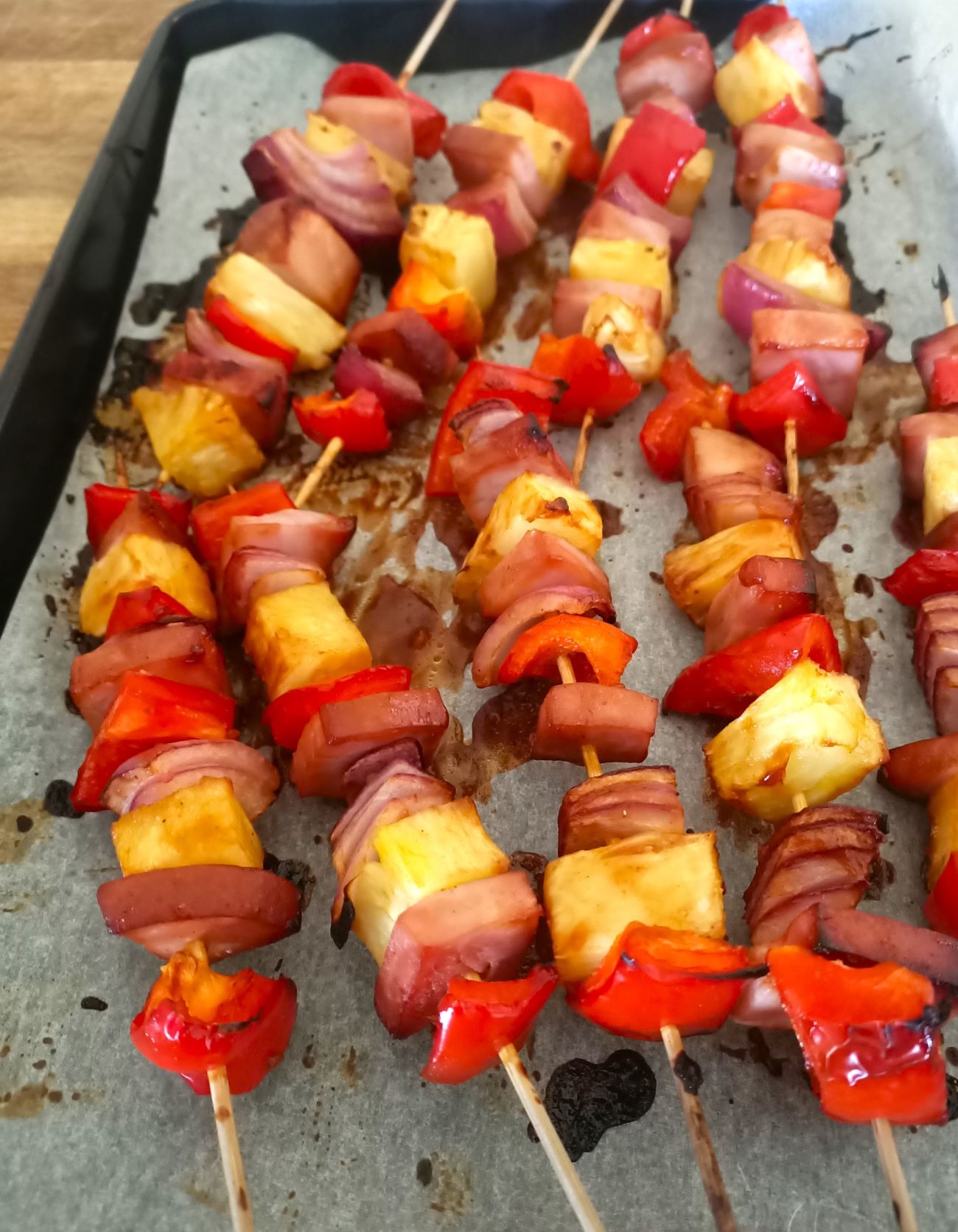 Sheet Pan Hawaiian Skewers
Makes 10-12 skewers
15m prep time
25m cook time
30m inactive
For the Marinade
1/2 Cup BBQ Sauce
1-2 tablespoons ketchup
1 teaspoon ground chili
1 teaspoon cumin
2 teaspoons onion flakes
1 teaspoon garlic powder
2 teaspoons apple cider vinegar
Kosher salt and black pepper, to taste
For the Skewers
10-12 bamboo skewers, pre-soaked in water for 30 mins
1/2 small pineapple
12 oz ham steaks (can use back bacon)
1 red bell pepper
1 small red onion
Preparation
Put all marinade ingredients in a mixing bowl and combine thoroughly. Set aside. Cut skewer ingredients into cubes, then thread them in the desired order.
Once skewers are all threaded, use a brush to paint each one thoroughly with marinade. Place skewers on a sheet pan covered with parchment paper, and refrigerate for a minimum 30 minutes to allow marinade time to work into the skewers.
Remove skewers from the refrigerator and paint again with marinade. In an oven preheated to 350°F, cook for 20-25 minutes, turning occasionally.
Serve skewers immediately on their own, or with side salad. The remaining marinade can be used as a dipping sauce.
Recipe adapted from The Kitchn
SKM: below-content placeholder
Whizzco for 12T