I feel like this meal is a win-win, the meal is easy to make, delicious to eat, and everyone eats their vegetables!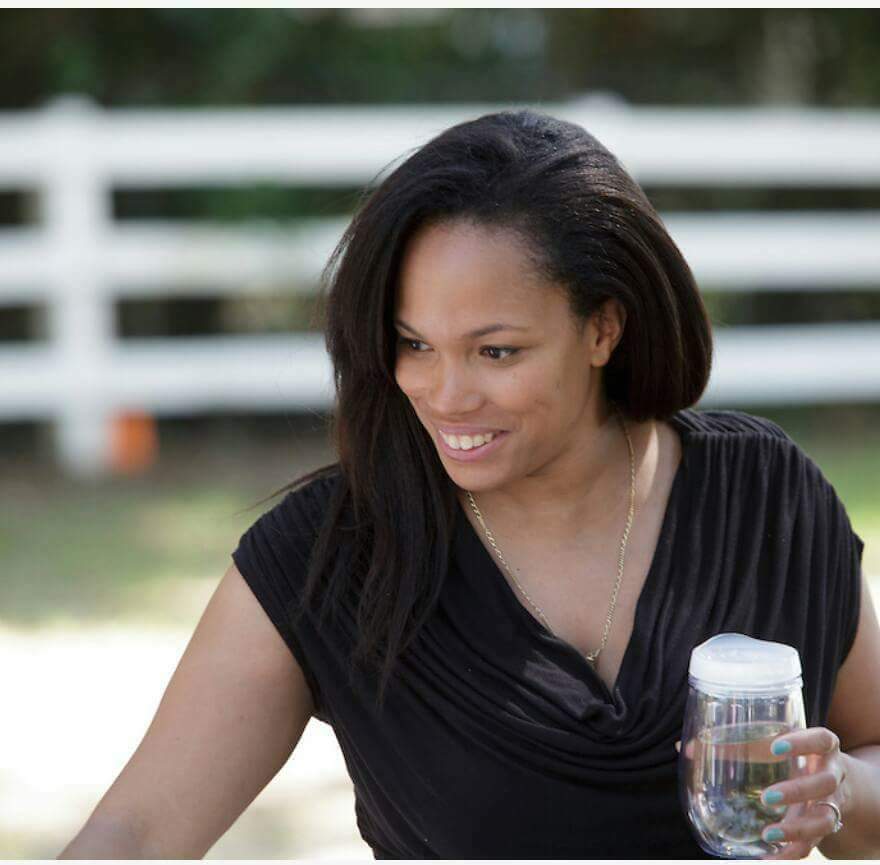 Ajza Case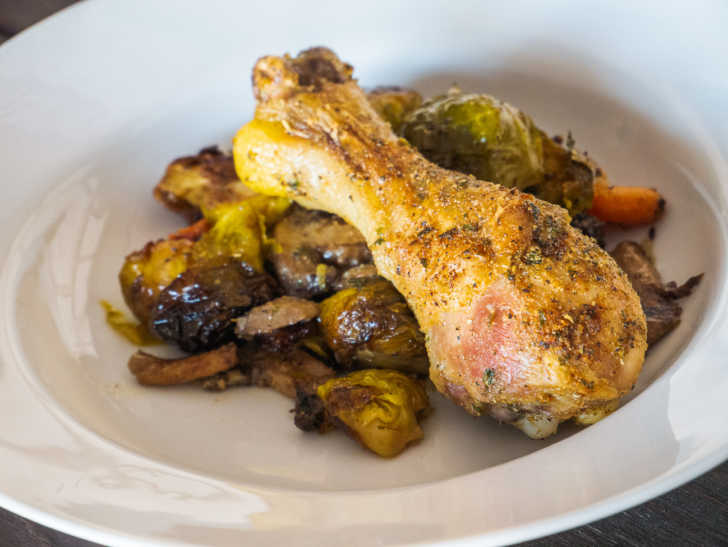 If you've not yet jumped on the Brussels sprout bandwagon, maybe this will inspire your tastebuds to give them a try. One of my favorite ways to serve chicken is via drumstick, skin on for extra flavor and crispiness, too. The combination of the flavorful chicken, savory Brussels sprouts, roasted sweet carrots, earthy mushrooms, and caramelized shallot – I could go on and on about all the flavors here but the magic is in the mix and you'll have to taste it to believe it.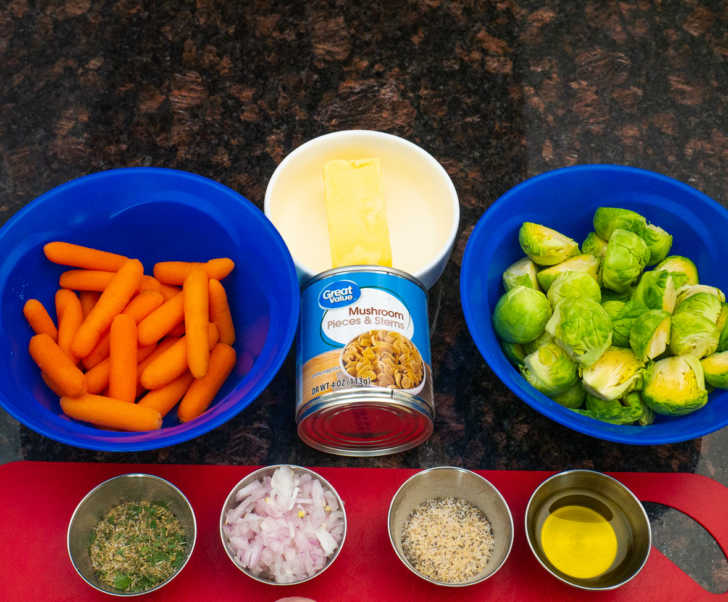 I think what makes folks so wary of Brussels sprouts was that they were often prepared in a way that made them soggy and flavorless. Roasting well-seasoned Brussels sprouts will make a HUGE difference in the Brussels sprout experience. I've combined them with carrots and tossed them all with mushrooms, salt, and pepper, and an absolute must: shallot. It's got a subtle flavor that brings a layer of beautiful sweetness to the roasted veggies.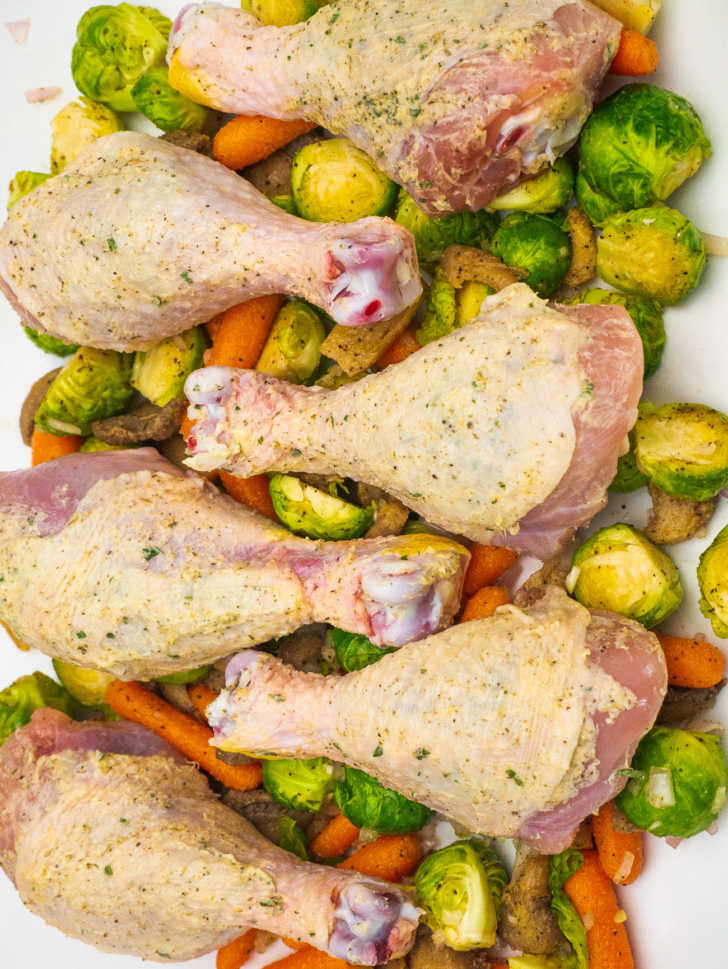 Not to be neglected, my chicken drumsticks. Any time you're cooking with dark meat, on the bone and with the skin on, that means you're already dealing with big flavor. I could use just salt and pepper but butter is better, and an herb-seasoned butter is best. Much like I do with my turkey at Thanksgiving by rubbing an herb butter under the turkey skin, I do the same here with my chicken drumsticks. The chicken will come out with a crisped, golden skin, and tender meat. The Brussels sprouts will benefit from the juices released from the skin and the chicken meat, making this a meal to remember.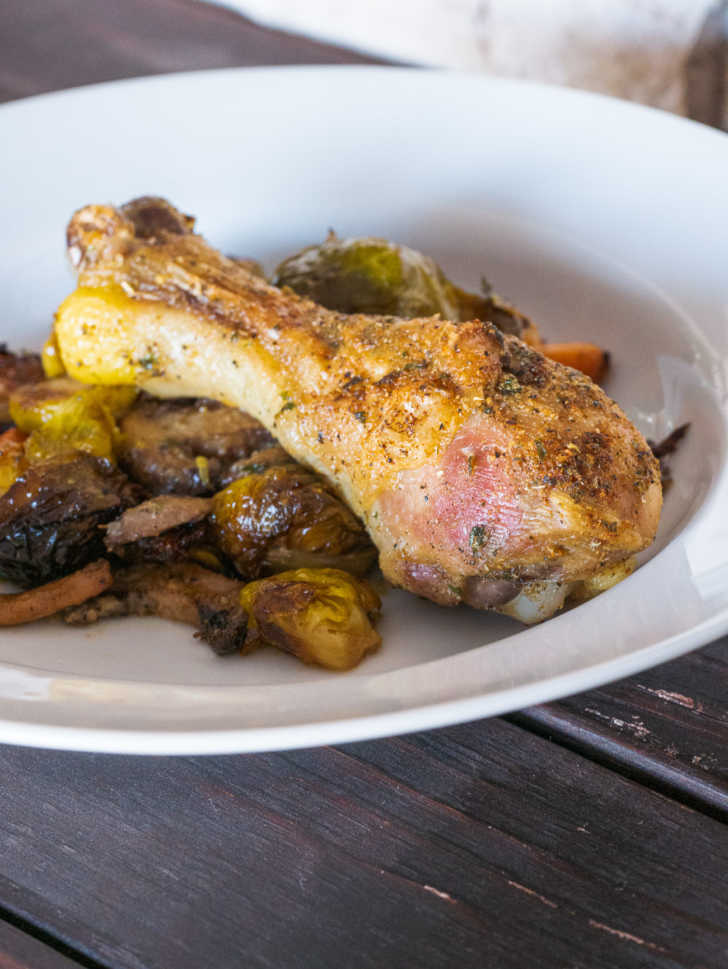 I feel like this meal is a win-win, the meal is easy to make, delicious to eat, and everyone eats their vegetables! I couldn't ask for more, except for an extra serving! Roasted chicken drumsticks with Brussels sprouts (and friends) will be a dinner that pleases your hungry crowd, hopefully as much as it pleases my own.
Roasted Chicken Drumsticks and Brussels Sprouts
Serves 4-6
15m prep time
45m cook time
Ingredients
1lb Brussel sprouts, trimmed and halved
1 ½ tablespoon olive oil
1 teaspoon sugar
½ teaspoon lemon powder
½ teaspoon garlic powder
2 teaspoons kosher salt, divided
1 teaspoon black pepper, divided
1 cup baby carrots
1 shallot, minced
4oz can of sliced mushrooms
6 chicken drumsticks, with skins
½ stick of unsalted butter
½ teaspoon dried sage
1 teaspoon garlic powder
½ teaspoon dried parsley
Preparation
Preheat oven to 425°F. Line sheet tray with parchment paper.
In a large bowl, add olive oil, sugar, lemon powder, garlic powder, 1 teaspoon kosher salt, and ½ teaspoon black pepper.
Add Brussels sprouts, baby carrots, shallot, and mushrooms to the olive oil mixture. Mix together to coat vegetables.
Spread veggies onto the prepared sheet tray.
Soften 1/4 stick of butter in a bowl.
Add half of the sage, garlic powder, 1 teaspoon kosher salt, ½ teaspoon black pepper, and parsley to softened butter. Mix together.
Spread seasoned butter under the skin of each of the drumsticks.
Place drumsticks on top of the vegetable mixture.
Melt remaining 1/4 stick of butter in a bowl. Add remaining spices to melted butter.
Brush melted butter onto the skin of the drumsticks.
Bake at 425°F for 30 minutes. Rotate pan. Reduce temperature to 350°F; bake for an additional 15 - 20 minutes.
SKM: below-content placeholder
Whizzco for 12T