A delicious dinner in virtually no time makes this an ideal weeknight meal.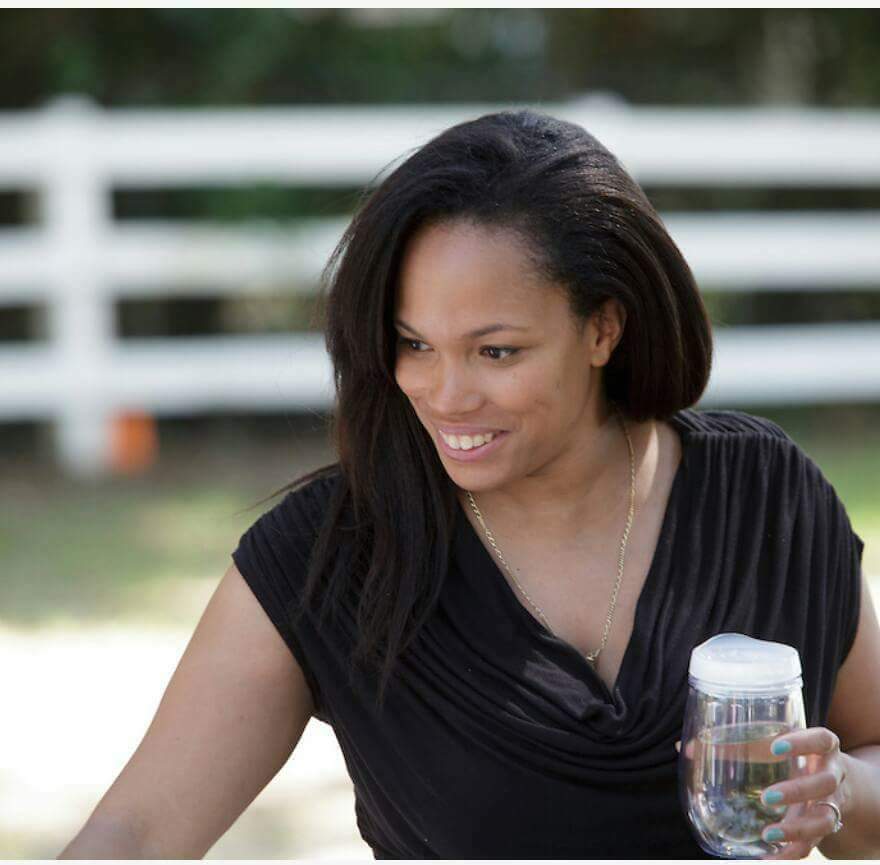 Ajza Case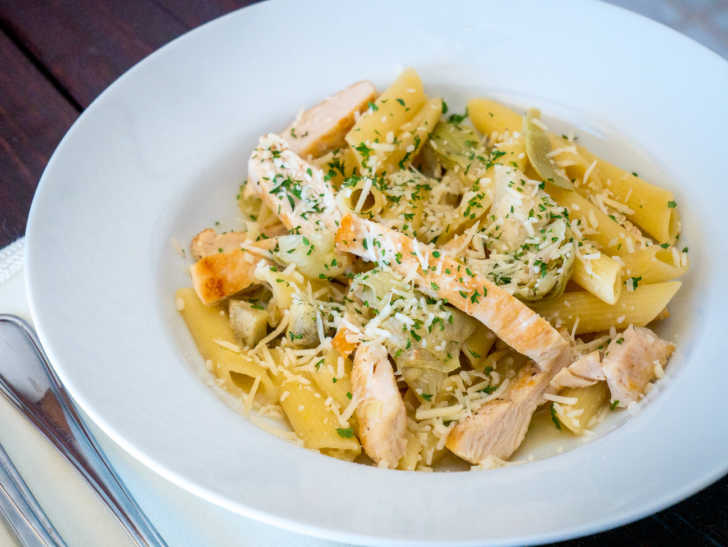 Good food puts me in a good mood. One of those good-mood-foods that I love to make is penne with chicken and artichokes. It's super flavorful, but more importantly, it's also quick and easy. I need some pantry staples and a few fresh ingredients to whip up what I think is a deliciously satisfying dish. When time allows, I'm all for slow-cooked meals that give me the opportunity to test my culinary stamina. Usually, though, I'm just looking to get good food on the table that my family loves. Cue the penne with chicken and artichokes!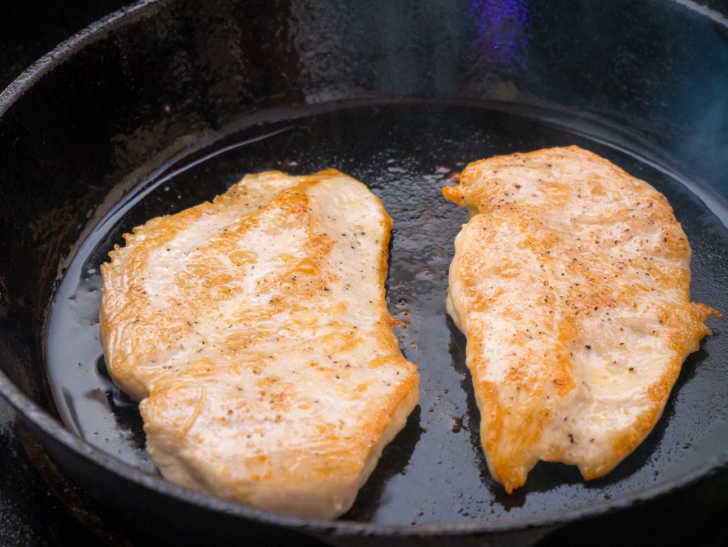 Here's the thing about this dish, it's got this magical sauce that couldn't be easier to make. But before I get to the sauce, I just cook a box of pasta. While that gets started, I'll fillet my chicken breasts and pan fry them; the thinner they are, the more quickly they'll cook. Once the chicken is golden brown on both sides, I'll remove the chicken and let it rest on a plate. In the same skillet or large pot, I'll now make that magical sauce by adding butter and garlic, a dry white wine, and onions. It's important to choose a wine that you'd like to also drink, so a pinot grigio or even a sauv blanc will work. If you're sensitive to the taste of wine in your food, you could substitute chicken stock.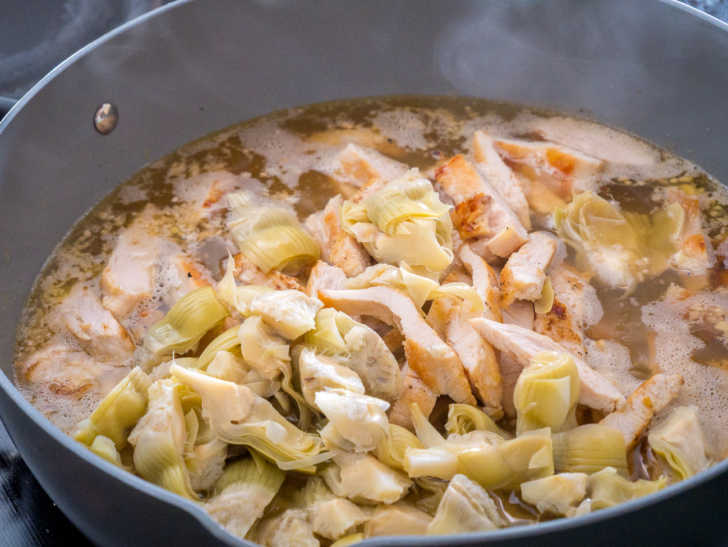 So, the sauce, punctuated with fresh lemon juice for acidity and freshness, and meaty artichokes, will bubble and simmer. I really like the flavor and texture that the artichokes add to the dish. They're canned and have a little bit of liquid, which I will drain. The briny-salty artichokes will give, that I've roughly chopped, will complement the chicken and sauce.
While I wait for it to thicken, I'll slice my chicken and toss the pieces back into the skillet. Don't throw away those juices left on the plate! Pour that right back into the skillet – we never waste flavor. Then it's time for the pasta to join in the fun! I'll add it and gently mix and toss so that the noodles are evenly coated in this beautiful sauce.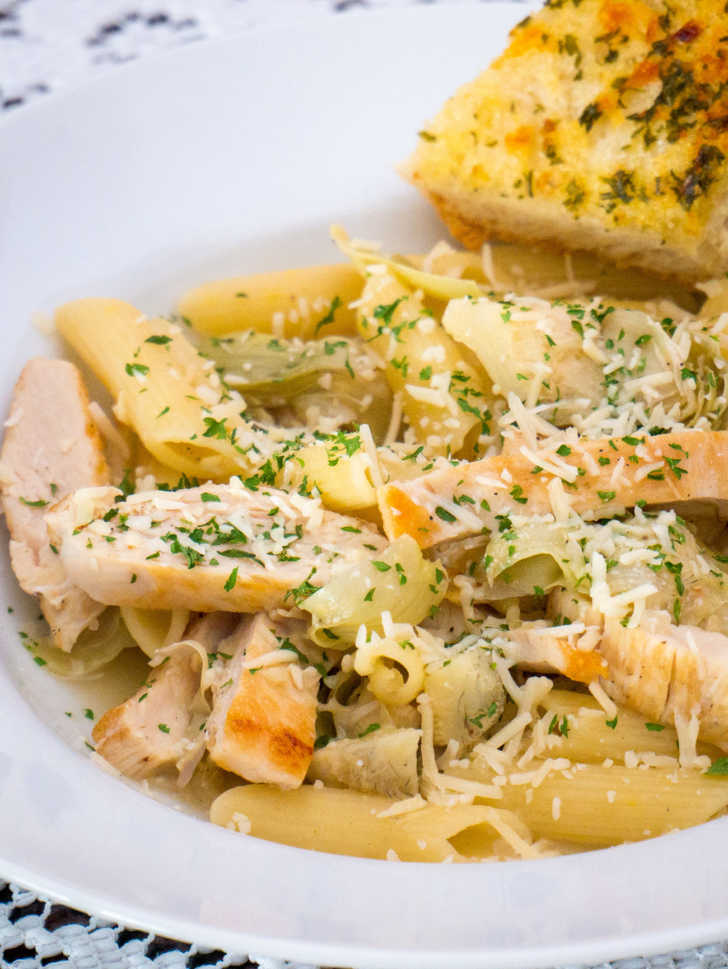 I love everything about this dish, from the tender pieces of chicken to the perfectly cooked pasta and artichokes. When I want to eat well (and quickly) then a dish like my penne pasta with chicken and artichokes is just what I'm looking for.
Creamy Penne with Chicken and Artichokes
Serves 4
10m prep time
30m cook time
Ingredients
½ box penne (about 3 to 3 ½ cups)
2 boneless chicken breasts, sliced in half lengthwise (filleted)
Kosher salt
Black pepper
1 tablespoon olive oil
2 tablespoons unsalted butter
1 tablespoon minced garlic
¼ cup diced onion
2 cups chicken broth
¾ cup Pinot Grigio or a dry white wine
1 lemon, squeezed; no seeds
1 (8oz) can artichoke quarters, drained and rinsed
Parmesan cheese and dried parsley, to garnish
Preparation
Cook pasta according to directions on the package.
Heat oil in a deep bottomed pan.
Season the sliced chicken breasts 2 teaspoons with kosher salt and ½ teaspoon pepper. Brown chicken on both sides; about 3 minutes per side. Set aside.
Turn heat down on the pan. Add the butter. Once melted, add the garlic and sauté until fragrant, about 1 minute.
Add chicken broth, wine, lemon juice, and onion. Bring to a simmer, about 10-12 minutes. The sauce should begin to reduce and thicken.
Slice chicken and return the pieces to the pan, including the juices. Add the artichokes, stirring to combine. Continue to simmer for 5-7 minutes.
Add the cooked pasta and mix to coat with the sauce.
Season with additional salt and pepper, to taste. Optional: garnish with parmesan cheese and dried parsley.
SKM: below-content placeholder
Whizzco for 12T