So good you might think it came from a fancy pastry shop.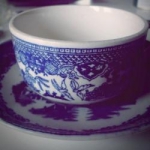 Rose Heichelbech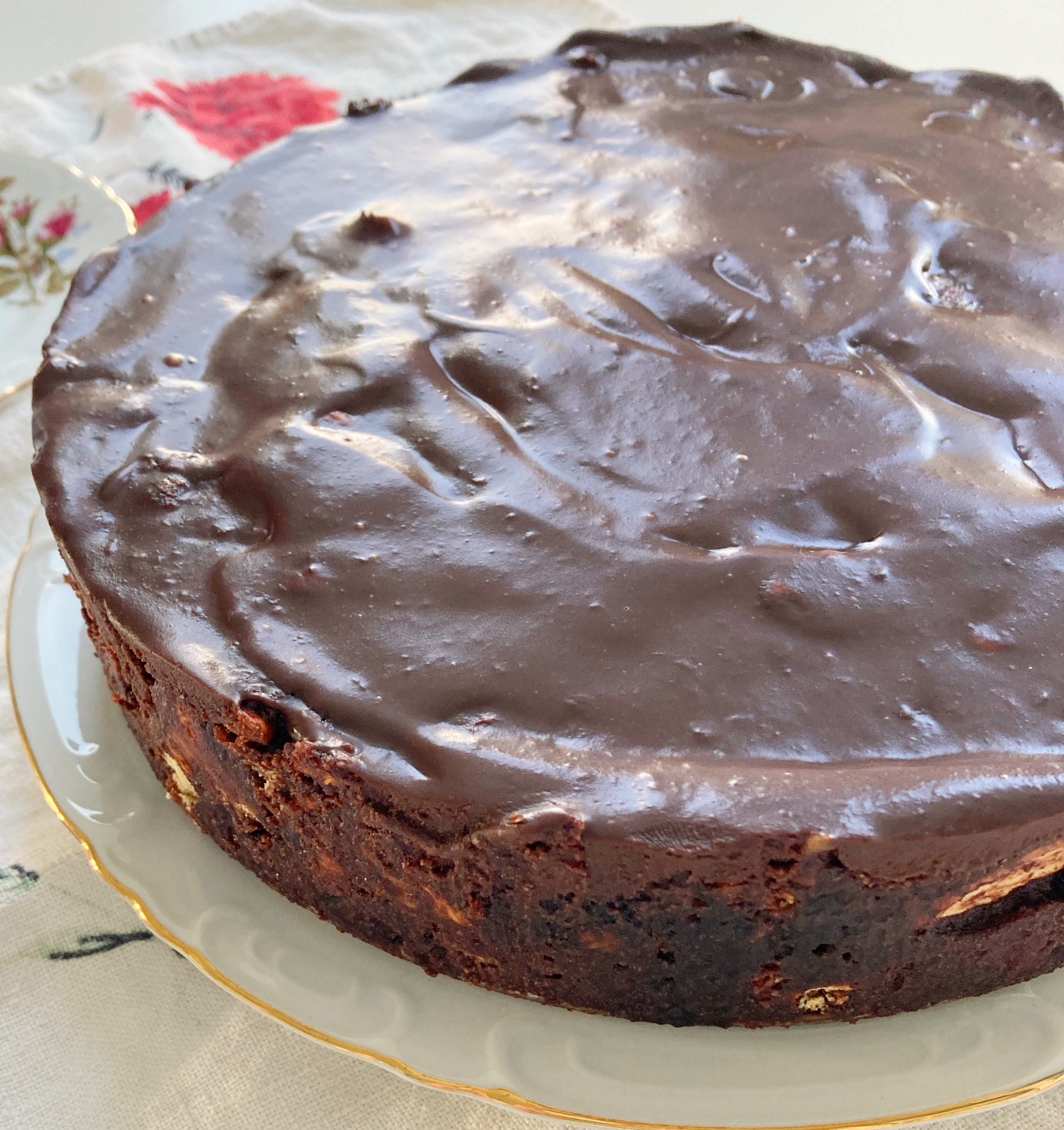 We love a good refrigerator cake at my house, and without having to heat up the oven a cake like this has a lot of advantages. It's ideal for get togethers where the oven will be in use for main dishes and it's great for hot days when you can't even think of heating up the kitchen. Plus, the flavor of this wonderful dessert rivals a gourmet sweet bought from a special shop. Yes, it's that good!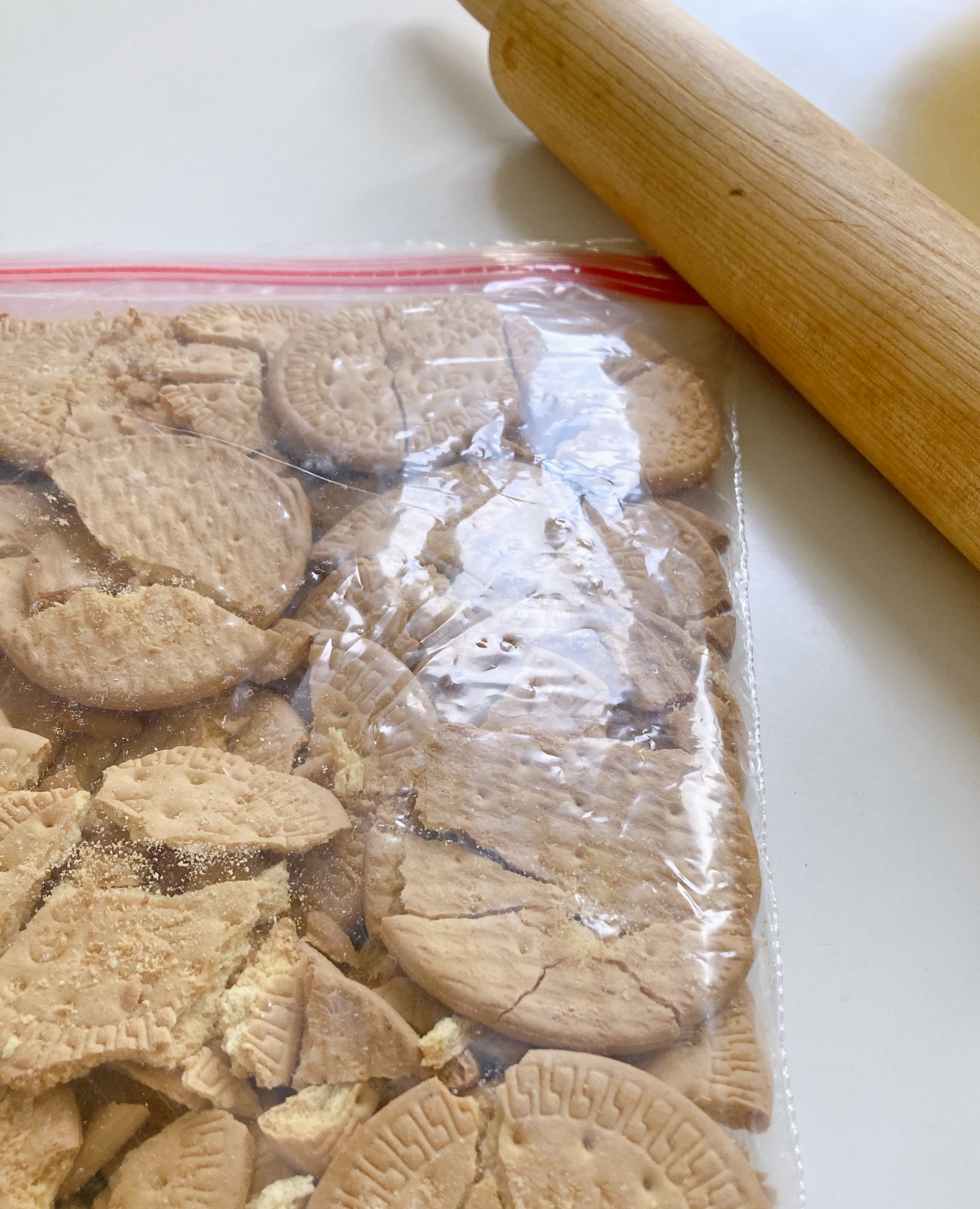 The base of the cake starts with Maria cookies. These simple, slightly sweet cookies are common across Europe and Latin America. They have a taste simliar to unglazed animal crackers, except they're thinner.
For this recipe you'll need to break up 3 sleeves of these cookies. You can do this by hand, but it takes a lot less time to put them into a large freezer bag and smash them with a rolling pin or the bottom of a cup. I did this, but I had to split them into 2 batches so that the bag didn't burst open.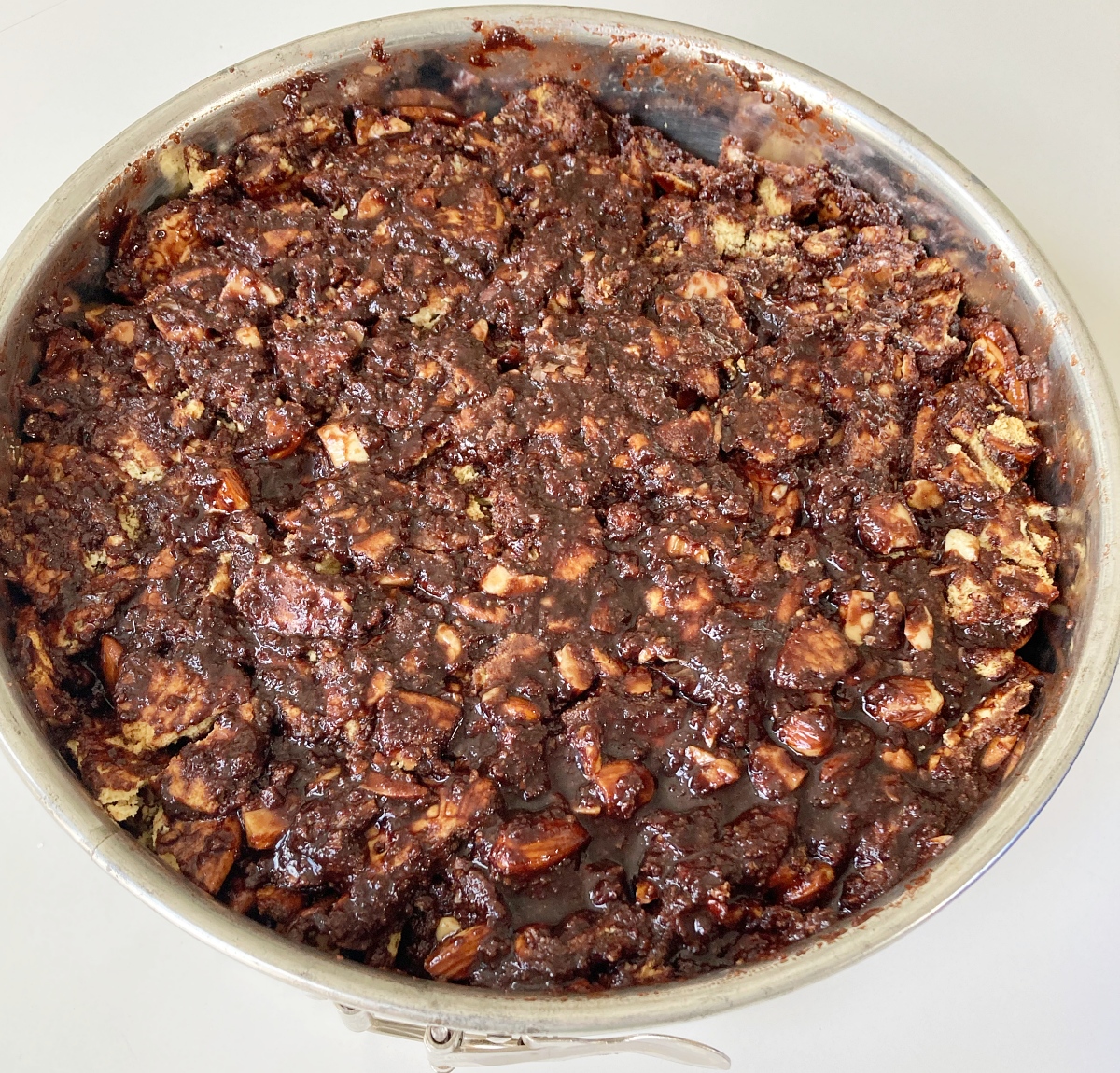 You don't want to turn the cookies into crumbs, just smaller pieces. Once you've got them ready you can begin making the chocolate filling. This is very simple and only contains cocoa, sugar, butter, and water to start. You'll need to sift the cocoa and then break up any lumps with a rubber spatula as it heats up.
Then remove it from the heat and allow it to cool off before adding in the flavor extracts. You can add lemon or rum, but I found that orange is the one I like best There's just something so magical about chocolate and orange together.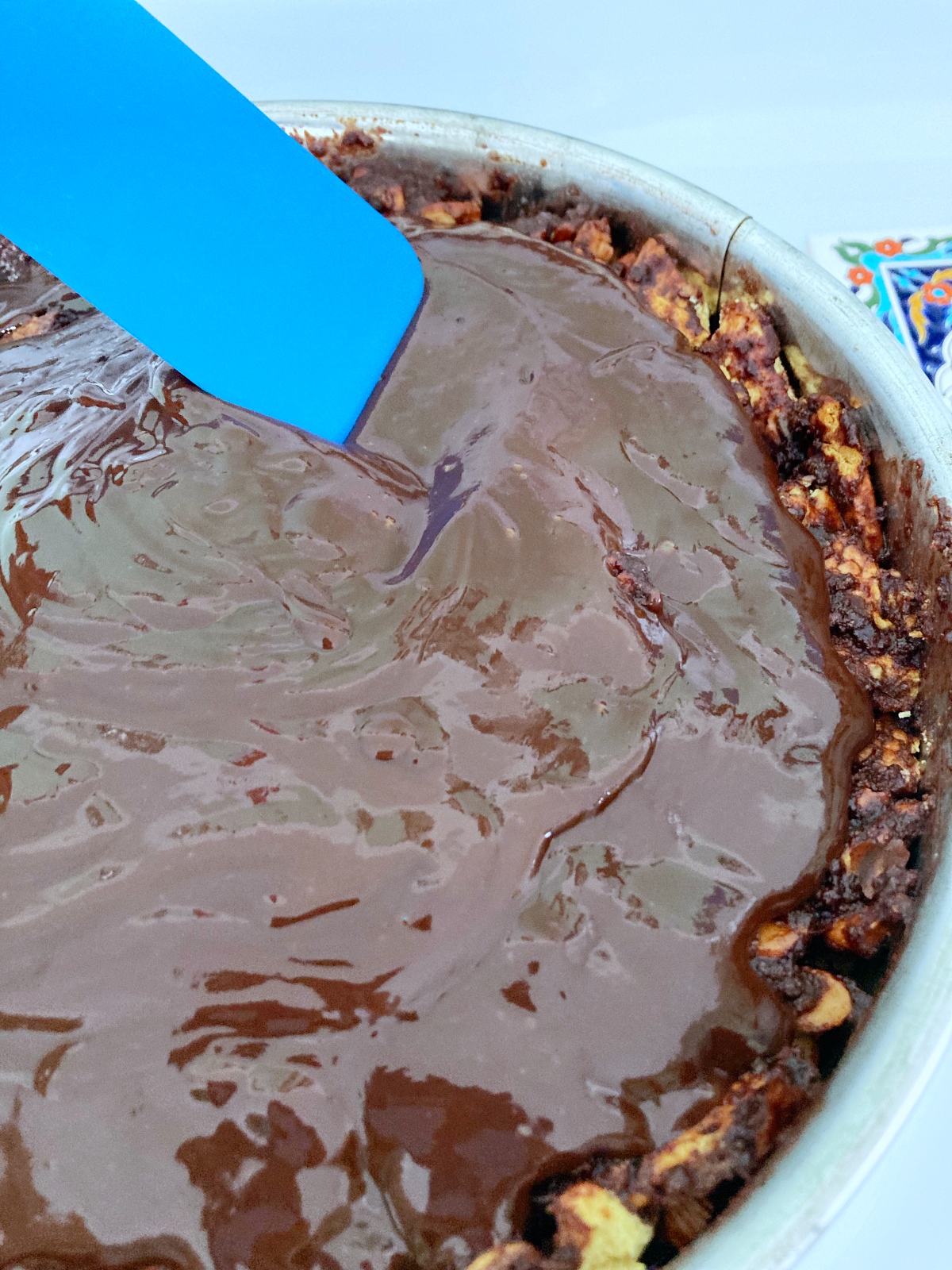 Combine the cookie pieces with some chopped, toasted almonds and then toss with the filling. Pour this into a 9″ springform pan. You'll need to smash down the filling with the bottom of a cup. This not only makes it level on the top, it also gets out any voids in the form. Since the sides of your cake will be visible it's better to avoid these any gaps if possible.
This gets chilled before a ganache of heavy cream and chocolate chips goes on top. Bring the heavy cream to the very beginnings of a low boil. Then you whisk in chocolate chips and stir until a smooth mixture forms. Pour this over the top and level it off.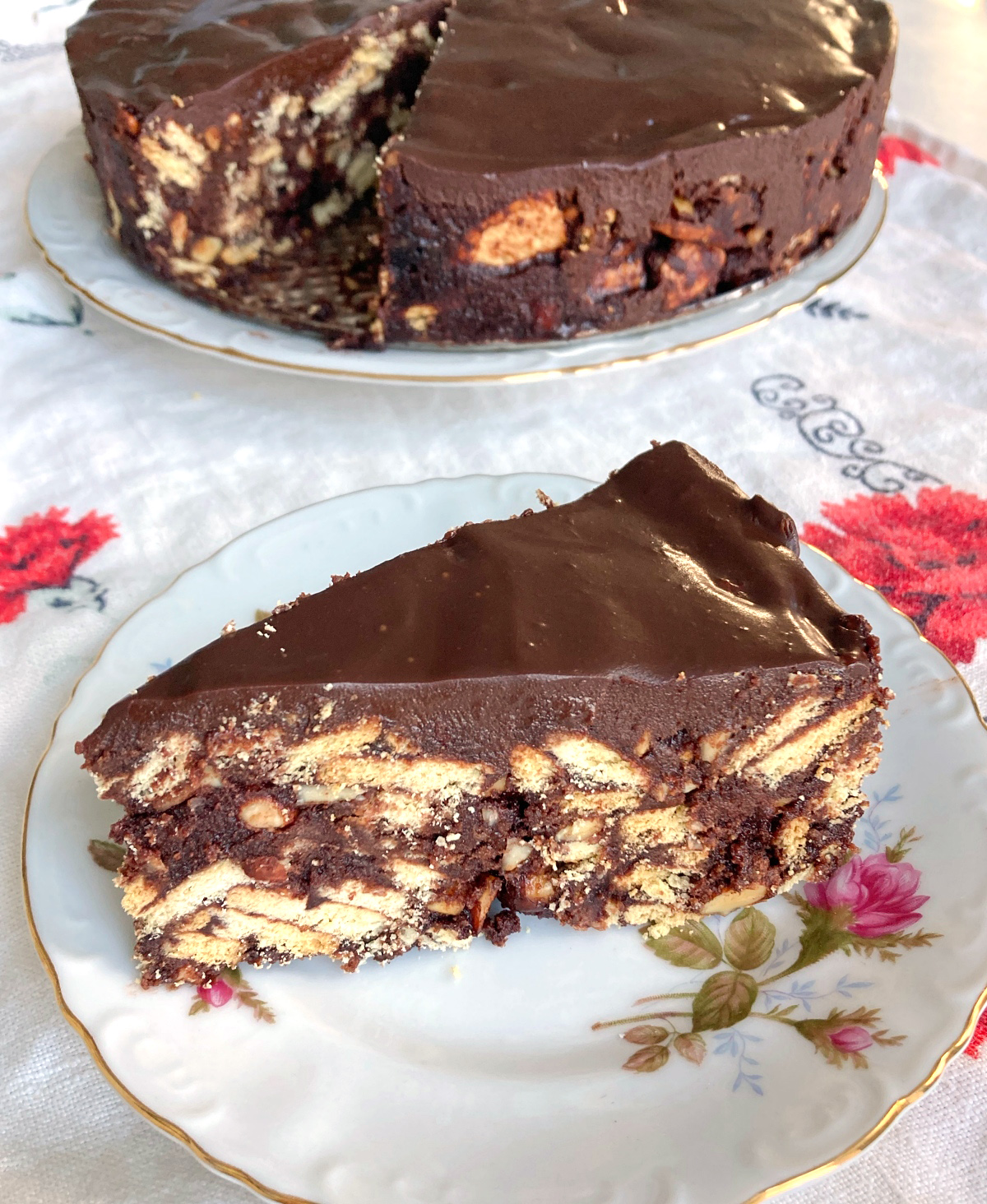 The final step to this recipe is to simply let it chill for 3-4 hours or overnight. The more time you can give it the better, but it can be hard to wait. It's worth it in the end since the texture will be firmer the longer it chills.
The crunchy almonds and the mildly sweet biscuits are offset by the dazzling combo of sweet chocolate and orange. It's a match made, not in heaven, but in the fridge!
No-Bake Chocolate Cookie Cake
Serves 12-16
20m prep time
12m cook time
4h inactive
496 calories
For the cake:
1 cup granulated sugar
1/2 cup cocoa powder
1 cup cold water
2/3 cup butter, softened
1 teaspoon vanilla extract
1 teaspoon rum, lemon, or orange extract
3 sleeves vanilla Maria cookies or graham crackers (22 oz)
1 cup toasted almonds, chopped
For the ganache topping:
1/2 cup heavy cream
1 cup semi-sweet chocolate chips
For the cake:
In a saucepan combine sugar, cocoa, water, and butter. Set burner to medium and simmer for 5-7 minutes, stirring constantly. Remove from heat and allow to cool for at least 10 minutes. Add flavor extracts and almonds and stir well.
Break cookies into medium pieces and place in a bowl. Add almonds. Pour chocolate filling over cookie pieces and almonds and toss to combine. Pour mixture into a 9" springform pan. Press down slightly to compact. Refrigerate for at least 1 hour.
For the topping:
Bring cream to a low boil. Remove from heat and whisk in chocolate chips. Stir until melted. Pour over cake and smooth with rubber spatula. Refrigerate for 3-4 hours or overnight. Cut into pieces and keep any unserved portions in the refrigerator.
Recipe adapted from The Bossy Kitchen.
SKM: below-content placeholder
Whizzco for 12T