The 8th ingredient adds such a nice kick!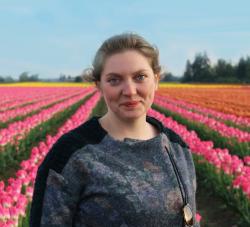 Decatur Macpherson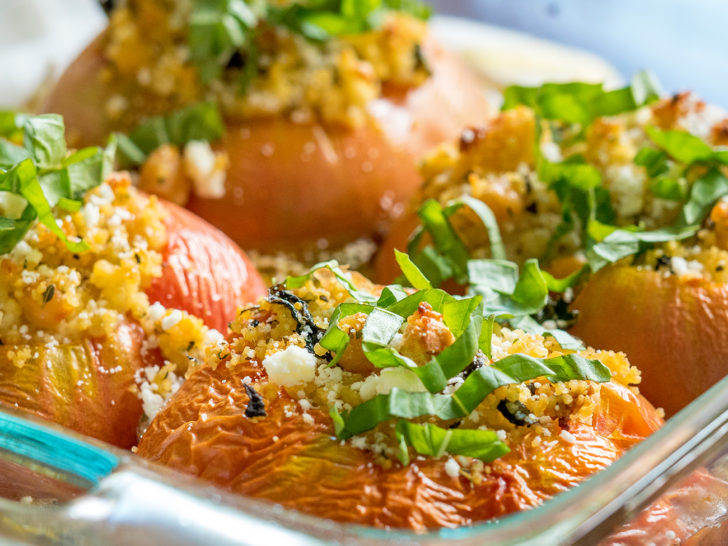 We all love a good hearty dinner, but sometimes it's nice to lighten things up and have a dinner that leaves us feeling pleasantly satiated without being absolutely stuffed. Instead of a casserole that's covered in cheese – though there's nothing wrong with that – we've got a dish that's heavy on the veggies, with the perfect hint of cheese that complements everything without overpowering it. Instead of doing the classic rice-stuffed peppers, we chose couscous and tomatoes instead, going for a Mediterranean approach with feta and Greek herbs.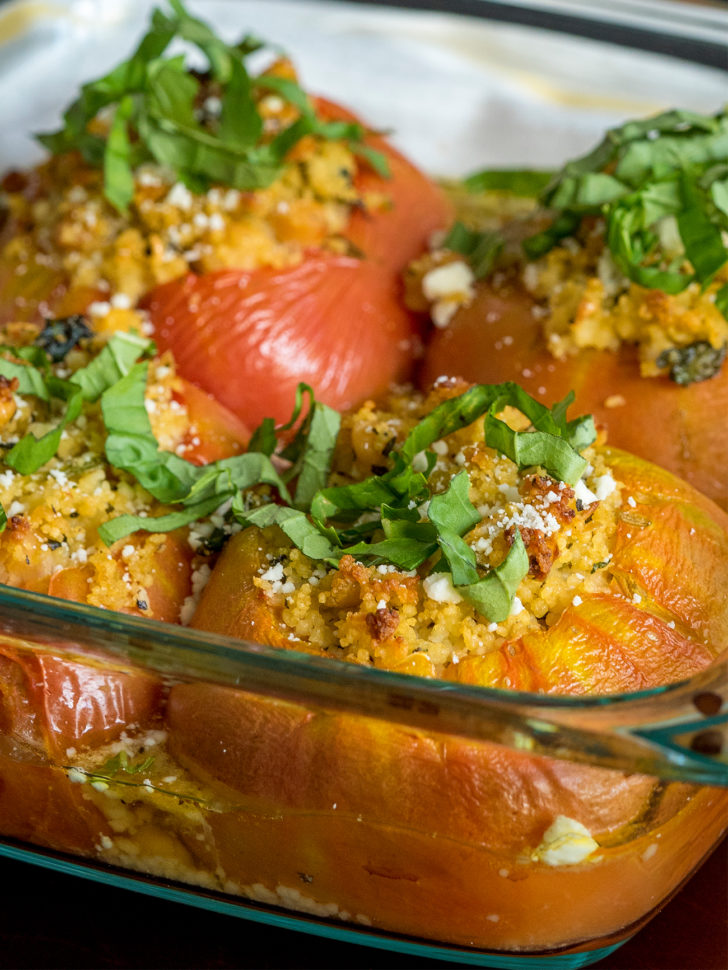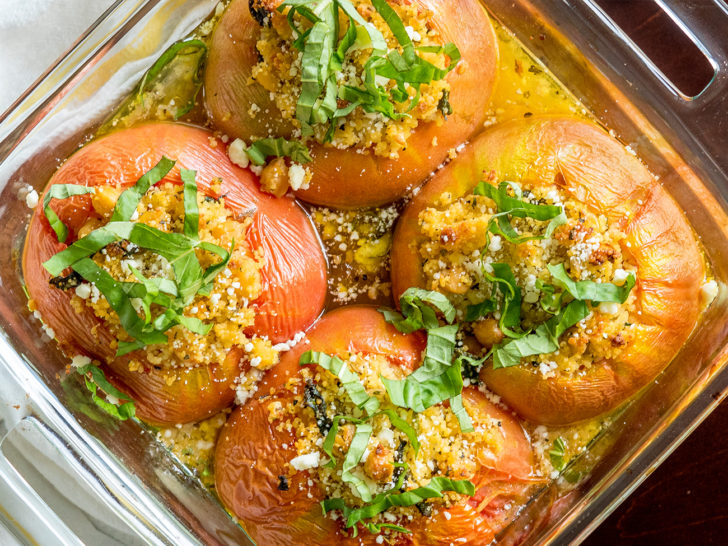 What we love about this is the ability to highlight perfectly fresh tomatoes and a stuffing that's seriously light and refreshing. Now, the thing to be aware of with tomatoes is that they've they're super juicy, so whether that means doing your best to scoop out (and hopefully save) most of the centers of the tomatoes or just embracing the juicy nature of the dish is up to you. This makes for a great lunch or dinner, especially on a hot day when cold leftovers hit the spot, but there's really no bad time to enjoy this tasty Mediterranean-inspired meal. Enjoy!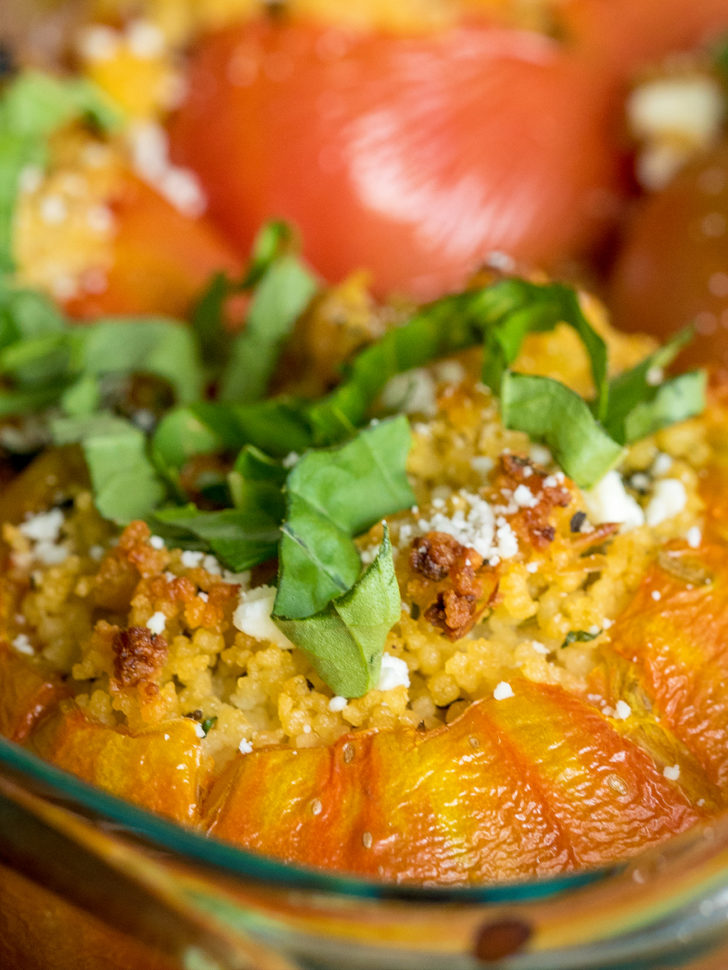 Mediterranean Stuffed Tomatoes
Ingredients
4-6 large tomatoes
1 1/4 cups vegetable or low-sodium chicken stock
1 cup fresh spinach, chopped
1 cup chickpeas, optional
1 (5.9 oz.) package couscous, parmesan, if desired
1/2 cup feta or goat cheese, crumbled, plus extra for garnish
4 cloves garlic, minced
2 teaspoons lemon juice
1 teaspoon onion powder
1 teaspoon dried oregano
1 teaspoon dried basil
1/4 teaspoon red pepper flakes, optional
extra-virgin olive oil, as needed
kosher salt and freshly ground pepper, to taste
fresh basil, chopped, garnish
Preparation
Preheat oven to 350º F.
Slice tops off of tomatoes and gently scoop out insides of each one. Place tomato filling in a separate bowl and set aside or discard.
Place hollowed out tomatoes in an 8x8 or 9x13-inch baking dish and lightly brush with olive oil and sprinkle with salt, if desired.
Combine couscous, vegetable broth and 1 tablespoon olive oil in a microwaveable bowl.
Cover bowl and cook for 5 minutes, or until couscous has absorbed all liquid. Remove cover and fluff couscous with a fork. Add parmesan packet, if using.
Heat 2 tablespoons olive oil in a large pan or skillet over medium-high heat and sauté garlic for 1-2 minutes, or until fragrant.
Add spinach leaves, lemon juice, onion powder, oregano, basil and red pepper flakes, if using, and cook for 4-5 minutes, or until wilted.
Add chickpeas and cook for another 1-2 minutes, then stir in 1/2 cup feta.
Spoon mixture into hollowed out tomatoes, the top with a drizzle of olive oil and place in oven.
Bake for 30-35 minutes, or until tomatoes have softened.
Remove from oven and top with feta and fresh herbs. Serve hot and enjoy.
Recipe adapted from The Kitchn
SKM: below-content placeholder
Whizzco for 12T