"Rooster and wine," arguably the most famous dish from Child's seminal book, Mastering the Art of French Cooking.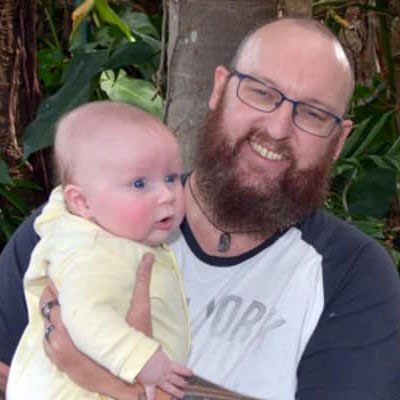 Jono Elderton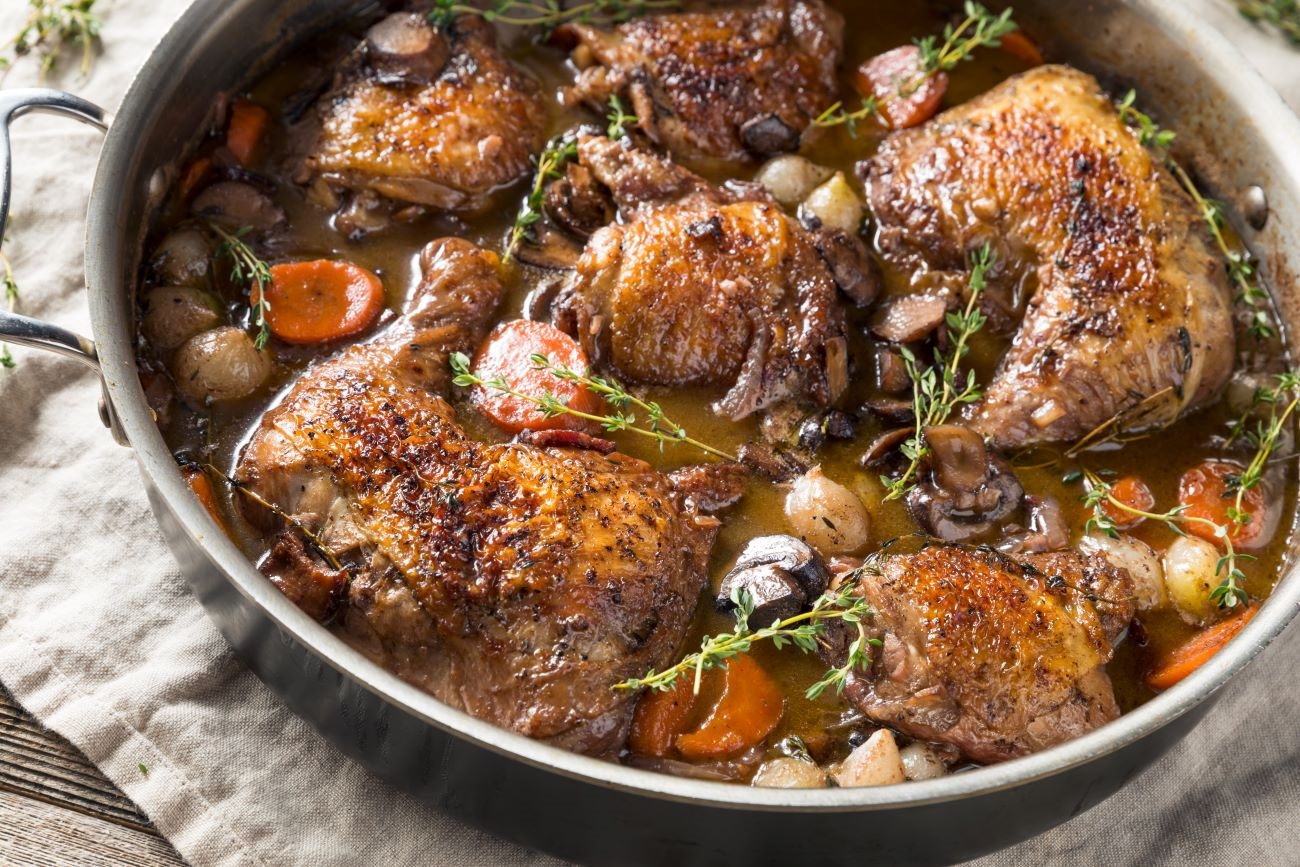 The brilliance of Julia Child was her ability to make French cooking accessible for American home cooks. Child had a tremendous ability to smooth out the stuffier, more rigid French recipes that she worked magic with, creating simpler adaptations that appealed to busy households across the Western world for over sixty years. It's this supreme skill, and her amazing personal style, that keeps Mastering The Art of French Cooking on top of best-seller lists, and made Child herself a cultural icon in print and on screens.
Coq Au Vin, or "rooster with wine," is one of Child's greatest recipe adaptations. It even features in season 1 of the HBO series Julia, a tremendous show that I can't recommend highly enough. Child is able to take the seemingly difficult and laborious dish, streamlining the process to create a stunningly flavorful recipe that can headline dining tables, family get-togethers, and dinner parties, for its elegance, grace, and taste.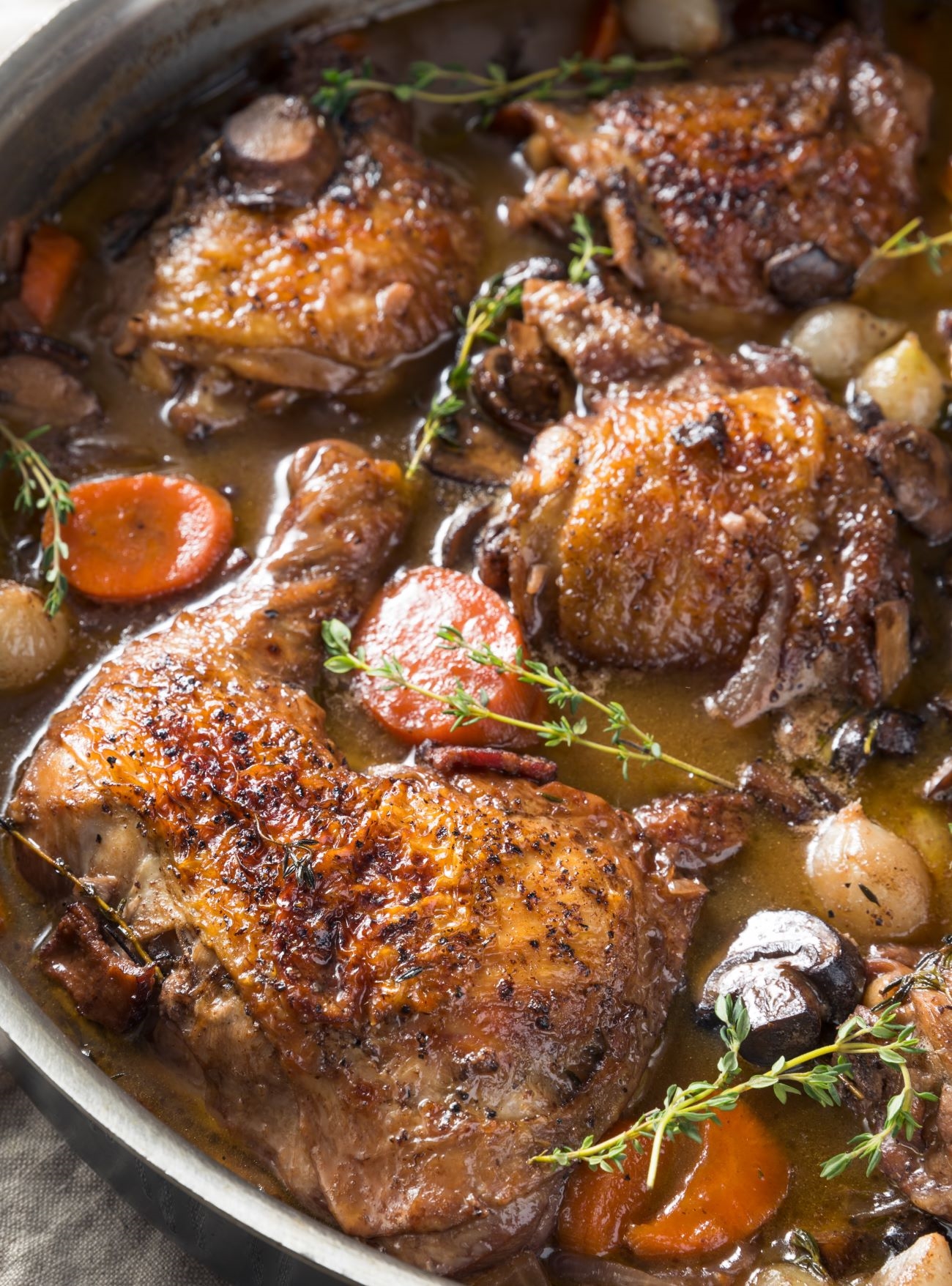 I've made one significant adjustment to Child's original in the recipe below, replacing the bacon drying, trimming, and cooking by incorporating lardons. Lardons are bacon chunks that can be store-bought for precisely the purpose intended by Child in her recipe. Using lardons saves time at the start of your process, and makes cooking Coq Au Vin more efficient.
I've also done away with preparing brown chicken stock, a homemade version crafted from searing chicken that is more time-consuming. In this era, I feel you can replace the brown stock with a quality store-bought version that will provide you with ample flavor for the dish.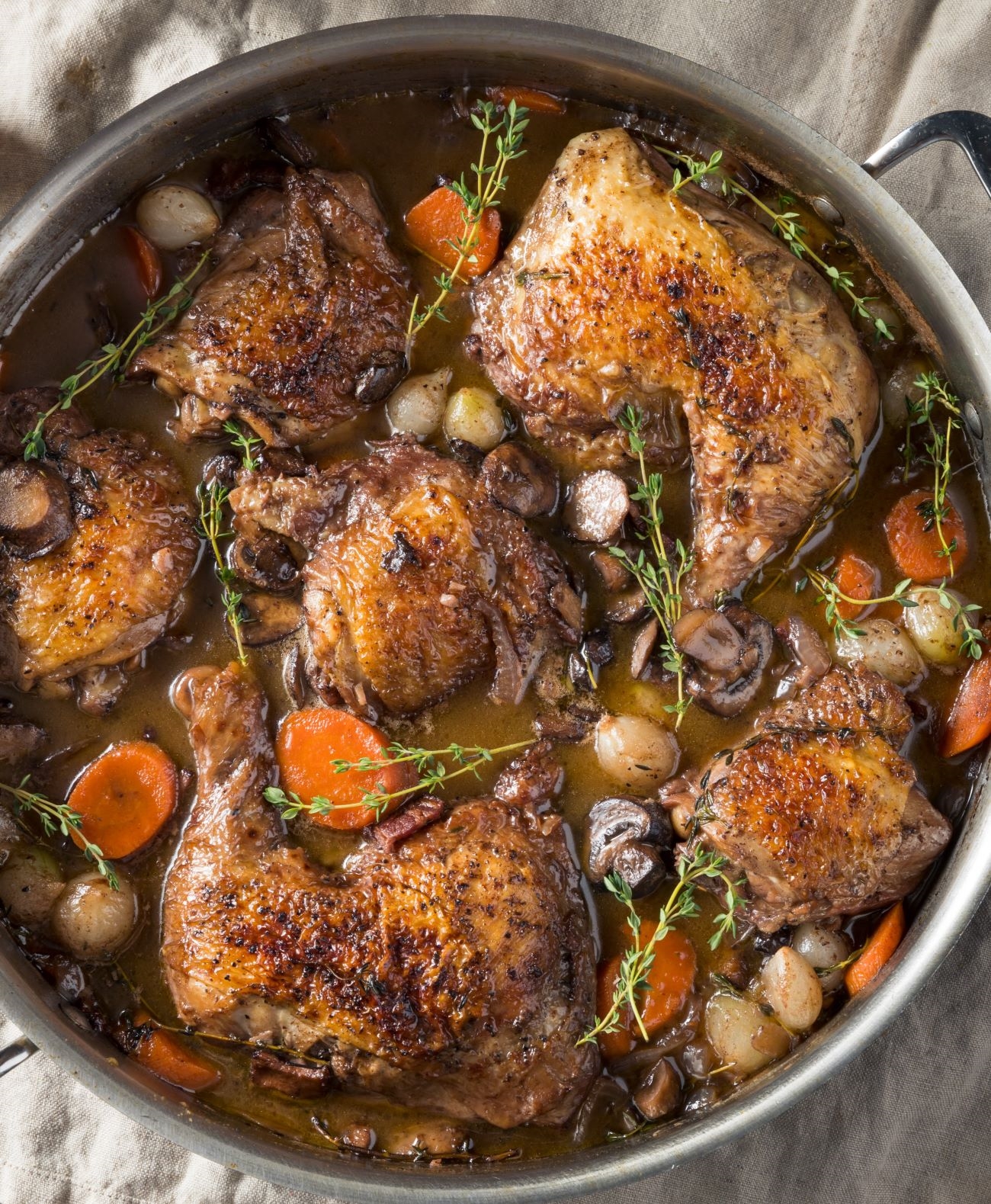 Coq Au Vin can be made with white wine, however, it lacks some of red wine's more hearty and robust characteristics. In her book, Child writes that the wine should be "a young, full-bodied red Burgundy, Beaujolais, or Cotes du Rhone." The best thing about these French reds is that they are both affordable and perfect for enjoying along with the meal.
If you want to create great French meals in a more streamlined process, then following Julia Child's recipes is an ideal starting point. Coq Au Vin may seem like a difficult task, yet Child's recipe makes it an enjoyable process with truly delicious results.
Bon Appetit!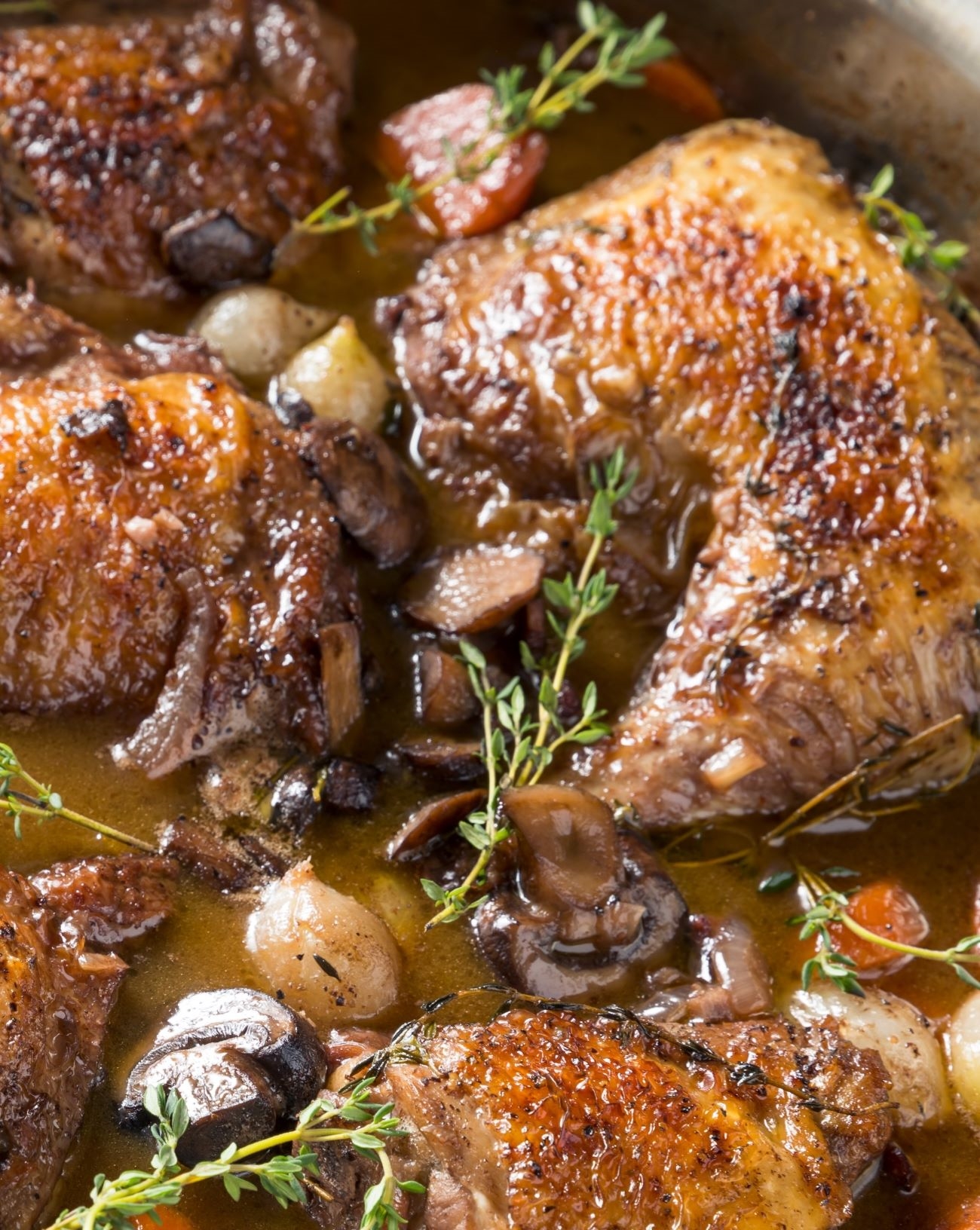 Julia Child's Coq Au Vin
Serves 4-6
30m prep time
1h cook time
Ingredients
3-4 oz bacon lardons
2 tablespoons butter
2½ - 3 lb chicken pieces (legs and breast)
1/2 teaspoon Kosher salt
1/4 cup French Cognac
3 cups French red wine
1-2 cups chicken stock
1/2 tablespoon tomato paste
2 cloves minced garlic
1/4 teaspoon thyme
1 bay leaf
12-24 pearl onions
8 oz porcini mushrooms
3 tablespoons flour
2 tablespoons softened butter
Kosher salt and black pepper, to taste
Preparation
Using a Dutch oven or casserole pot, saute the bacon lardons slowly in hot butter until they are very lightly browned, then set aside. Dry the chicken thoroughly then brown it in the hot fat of the casserole dish.
Season the chicken, then return the bacon to the casserole dish. Cover and cook slowly for 10 minutes, turning the chicken once.
Uncover the chicken and pour in the cognac, then ignite with a lighted match (keep away from your face). Shake the casserole side to side until the flames dissipate.
Pour in the the red wine, then add stock to cover the chicken. Stir in the tomato paste, garlic, herbs, and bring to a simmer. Cook for 25 to 30 minutes, or until the chicken is tender and its juices run a clear yellow. Set chicken aside.
While the chicken is cooking, boil the pearl onions until tender and sauté the mushrooms in a frying pan.
Simmer the chicken cooking liquid for 1-2 minutes, skimming off any fat and discarding. Raise heat and boil to reduce the liquid to 2¼ cups. Correct seasoning. Remove from the heat, and discard the bay leaf.
Blend the butter and flour together into a smooth paste then add to the hot liquid, stirring in with a wire whip. Simmer for two minutes until the sauce is thickened enough to coat a spoon.
Arrange the chicken, mushrooms and onions in the dish and baste with the sauce. Shortly before serving, bring to the simmer, basting the chicken with the sauce. Cover and simmer slowly for 4 to 5 minutes, until the chicken is hot and ready to serve.
Serve Julia Child's Coq Au Vin from the casserole dish or arrange on a hot platter. Decorate with fresh parsley, and enjoy with mashed potatoes.
Recipe adapted from PBS
SKM: below-content placeholder
Whizzco for 12T