This coddle answers all your comfort food prayers.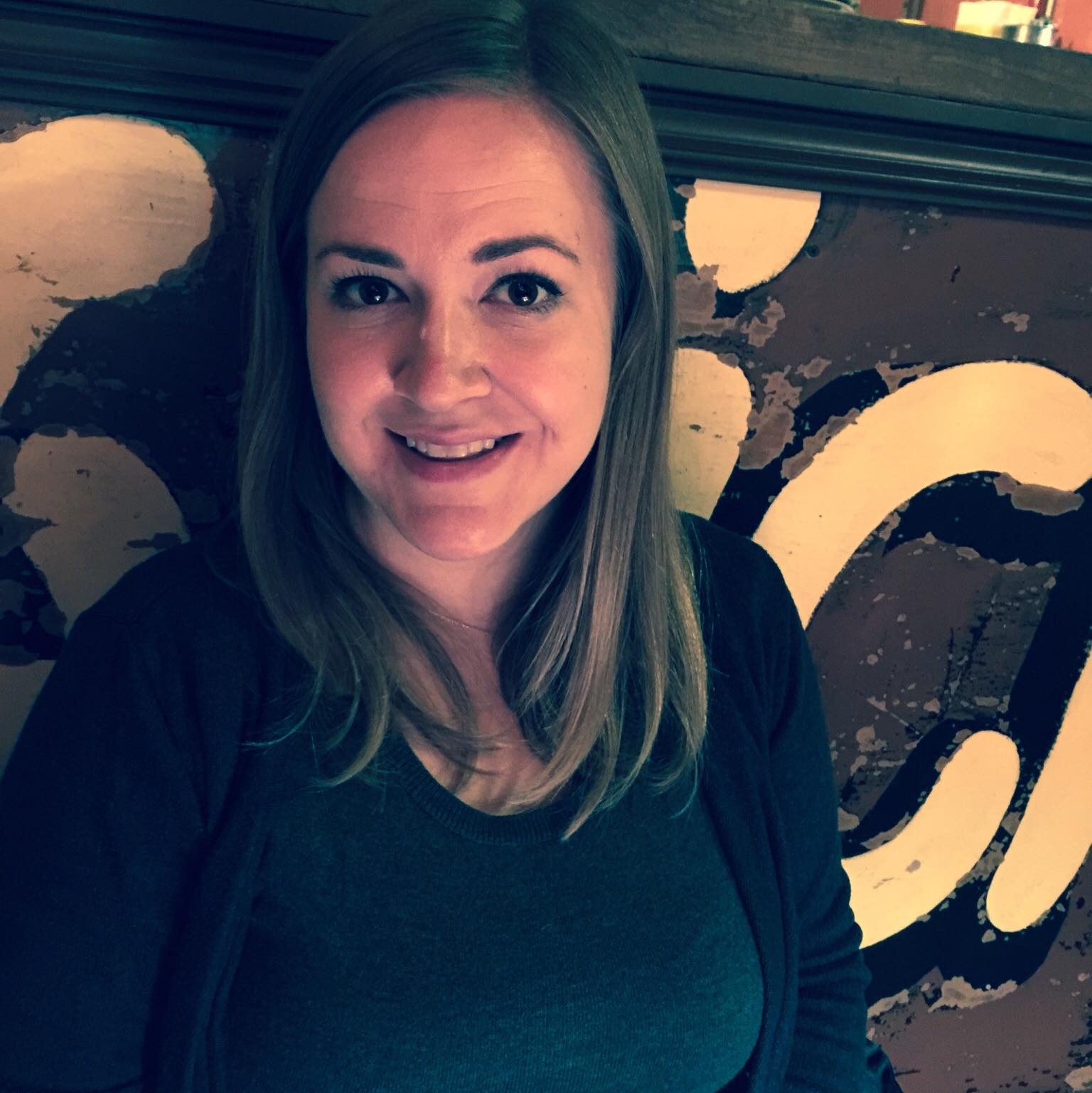 Kristy Norrell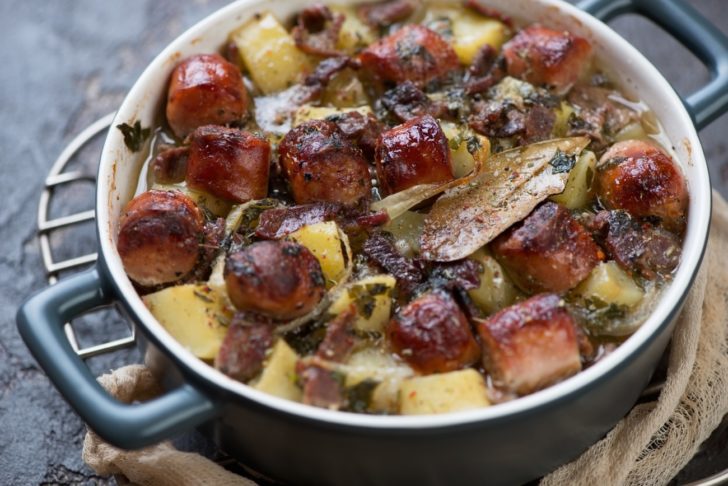 What's a coddle, you ask? It's basically just the process of cooking something low and slow in a liquid that hasn't quite reached the boiling point. If we've learned anything in the kitchen, it's that cooking something low and slow always garners excellent results and that homey, rustic dishes satisfy the soul and the stomach. In a nutshell, we're all about dishes like this Traditional Irish Coddle.
Reminiscent of a stew, Irish Coddle is comprised of hearty bacon and pork sausage, onions, and potatoes cooked together slowwwwwwly in a rich gravy until everything is tender and infused with savory flavor. It's perfect served with some soda bread on the side or just by itself. It's hearty, it's easy to put together, and it's totally delicious.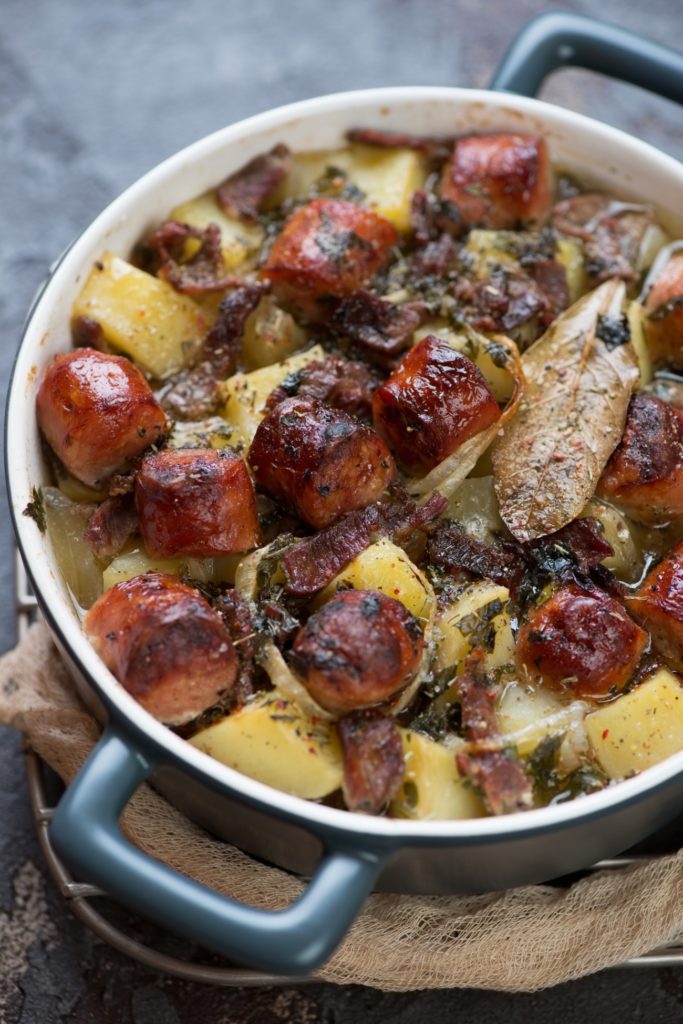 You start by browning some bacon in a large Dutch oven. Once the fat has rendered, you remove the bacon and replace it with the sausage, letting it get nice and golden brown in the bacon fat. (A note on the sausage: you want to find good quality pork sausage here. If you can find 'bangers,' they work great, but your favorite basic pork sausage will do just fine.) You remove the sausage and then make a quick gravy with the drippings. Guinness adds an incredible layer of flavor, but if you'd like to avoid the beer you can just use whatever stock or broth you're using for the rest of the recipe.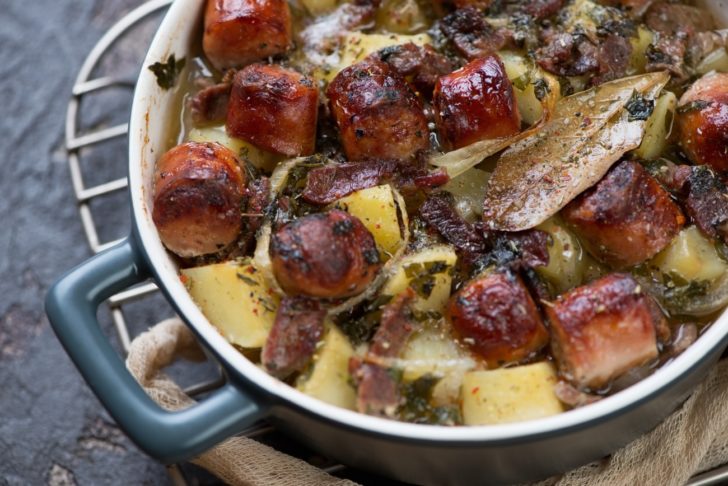 From there, you layer potatoes, onions, garlic, parsley, and the bacon and sausages in the gravy, and then top it off with beef or chicken broth. (Any other kind of broth or stock works just fine, too.) You transfer the whole thing to the oven and let it do its thing. While you want to leave it to cook for at least two hours, you can leave it in the oven for up to five; it's certainly not something you have to be delicate about. The end result is one incredibly tasty hot-pot that will cure any comfort food craving.
Irish Coddle
Serves 4-6
20 minutes active, 2 hours inactive
Ingredients
4 lbs potatoes, peeled and chopped
1 lb pork sausage
1 lb bacon, chopped
2 cups beef or chicken broth
1 bottle (12 oz) Guinness or dark stout beer (optional)
2 large onions, sliced
3 tablespoons fresh parsley, chopped
2 bay leaves
3 cloves garlic, minced
1 tablespoon all-purpose flour
Kosher salt and freshly ground pepper, to taste
Preparation
Preheat oven to 300°F.
In a large oven-safe Dutch oven, cook the bacon until crisp, about 5 minutes. Remove bacon to drain on paper towels; do not drain grease.
Add sausages to pot and cook until golden brown on each side, taking care not to crowd pan. (You don't need to cook them all the way through at this point.) Remove to a plate and slice into pieces, once cool enough to handle.
Reduce heat to low and whisk in flour. Cook for 2 minutes, just to remove the floury taste, whisking constantly. Remove pot from heat and whisk in Guinness. (Note: if you don't want to use beer, just use additional broth in its place.)
Add half of the potatoes to the pot, followed by half of the onions, half of the garlic, half of the bacon, half of the sausages, half the parsley, one bay leaf, and season with salt and pepper. Repeat layers with remaining ingredients and season once more.
Pour broth over the top and cover with a tight fitting lid. Bake for a minimum of 2 hours, but it can stay in for up to 5 hours if you'd like. Enjoy!
Adapted from Wholefully.
SKM: below-content placeholder
Whizzco for 12T