A wonderfully fragrant and tasty vegetarian rice dish for lovers of classical Indian food.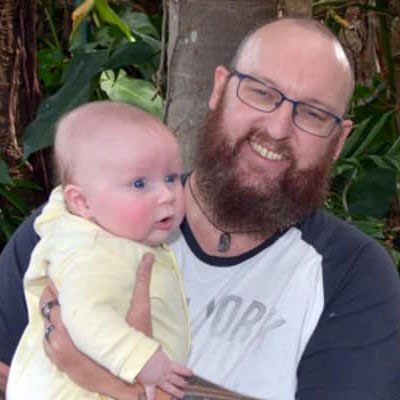 Jono Elderton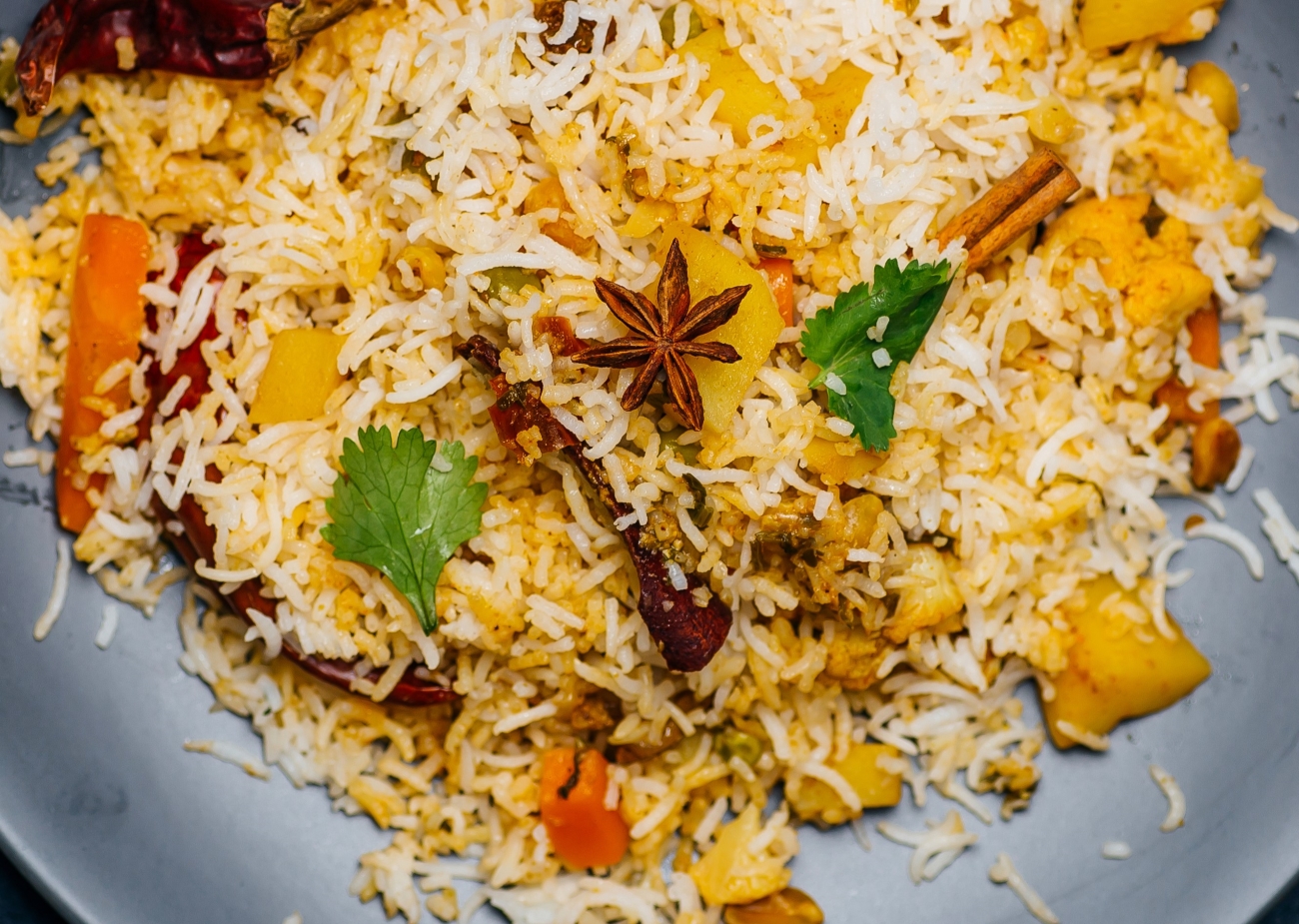 Vegetable Biryani is a hugely popular dish across the entirety of India, with many interesting and delicious regional variations that create fun and flavorful interpretations. Our fragrant biryani is cooked using basmati rice and is packed with veggies, spices, and herbs. It's a great way to match popular Indian flavors in a recipe that can appeal to both veggie lovers and curious carnivores!
While many Indian curries are rich, heavy, and just perfect for sticking to your ribs, our Vegetable biryani recipe is comparatively light, which makes it a great option as a yummy accompaniment for curries, for use as a standalone meal, or for making a big pot well ahead of when you need to eat it.
Vegetable biryani has several steps and lots of cool ingredients, yet the process of making this meal is quick and straightforward. If you take the time to thoroughly measure out and prepare the ingredients before starting the meal, you'll find that following the recipe will be easier and ensure a great-tasting, hugely enjoyable result.
Our recipe adaptation features an array of contrasting flavors layered into the rice. Whole spices such as bay leaf, star anise, cardamom, and cinnamon are prominent, while biryani masala acts as a central component. There are also lots of common pantry flavors- garlic, ginger, and onion – which tie in delightfully, without making the dish an overwhelming and poorly mixed melange of herbs and spices!
A great Vegetable biryani should showcase veg that likes to soak up flavor – this means cauliflower and potatoes are an absolute must! Peas, red onions, and carrots are also in this mix, however you can substitute with many other options, including chickpeas, mushrooms, beans, and corn. From my perspective, if it's a veggie that can take on the flavors of the dish, then it's a great fit for a vegetable biryani!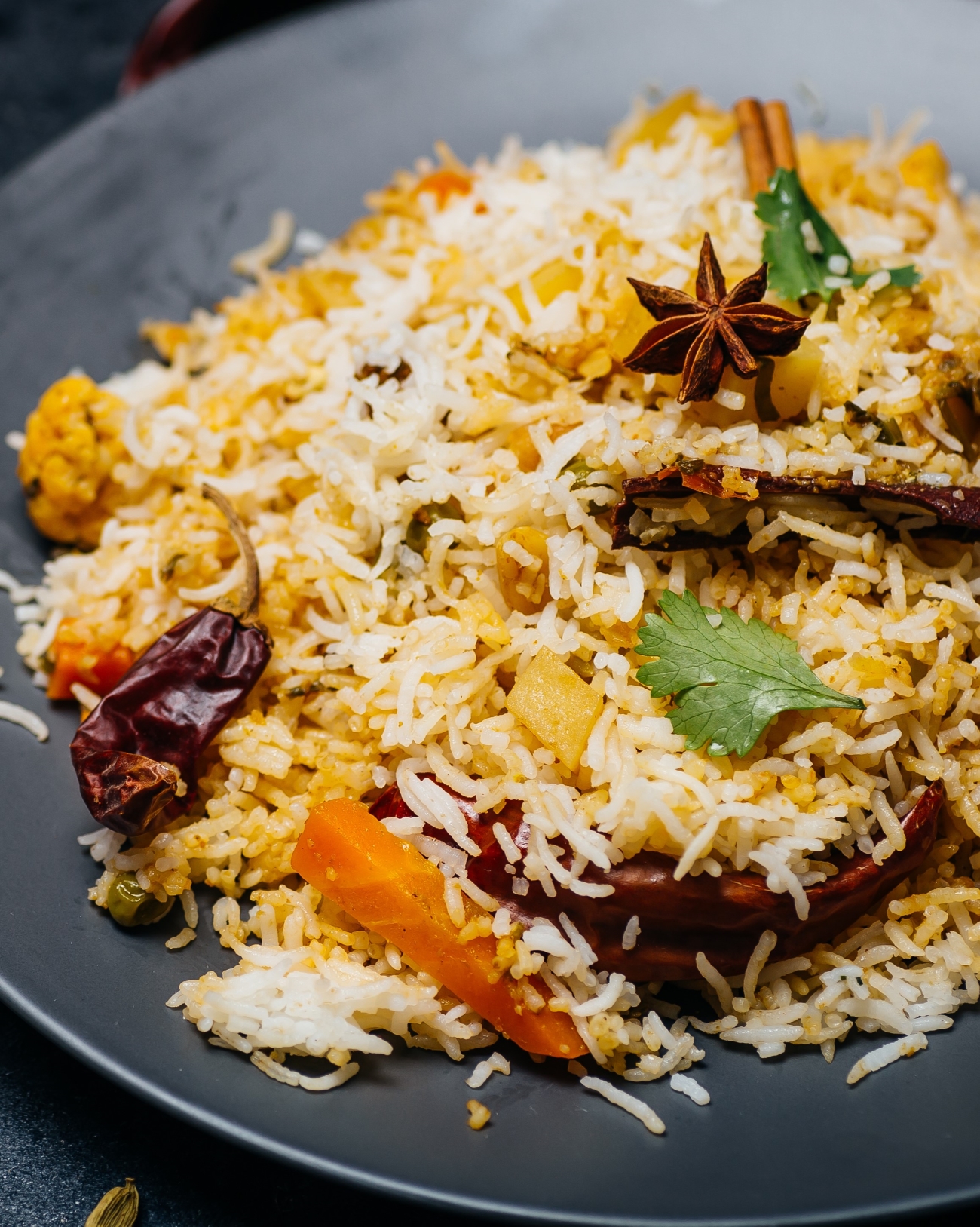 Vegetable Biryani
Serves 4-6
20m prep time
30m cook time
32m inactive
Ingredients
1 lb basmati rice
3 tablespoons vegetable oil, divided
1 star anise
1 bay leaf
1 cinnamon stick
1-2 green chilies, deseeded and finely chopped
1 large red onion, thinly sliced
1 tablespoon garlic ginger paste
1 tablespoon biryani masala powder
2 teaspoons mustard seed
1 teaspoon ground cardamom
1 cup cauliflower florets
2 Yukon gold potatoes, peeled and cut into 1/2 inch cubes
1 carrot, cut into 2 inch sticks
1/4 cup peas
4 cups liquid vegetable stock
1/4 cup lemon juice
2 tablespoons fresh cilantro, chopped roughly
2 tablespoons fresh mint, chopped roughly
Preparation
Pre-soak the basmati rice for 20 minutes in cold water, then drain and set aside.
Heat two tablespoons of the oil in a large heavy-based saucepan over medium heat. Add the star anise, bay leaf, cinnamon stick, green chilies, red onion, ginger and garlic. Cook, stirring occasionally, for 10 minutes or until the onions are soft and golden brown. Transfer to a bowl and set aside.
Heat remaining oil in the pan over medium heat. Add the vegetables, rice, half the onion mixture, and remaining herbs and spices. Cook, stirring thoroughly, for 1-2 minutes or until coated and aromatic.
Add the vegetable stock, lemon juice and remaining onion mixture, and bring to the boil. Reduce the to low and cover, cooking the vegetable biryani for 10 minutes or until the rice and vegetables are tender. Remove from the heat and allow to stand, covered, for another 5-10 minutes.
Fluff the rice with a fork to separate, then season with salt, pepper, mint and chopped cilantro as desired. Serve hot with naan bread and raita.
Recipe adapted from Taste
SKM: below-content placeholder
Whizzco for 12T