A genius shortcut to one delicious cake.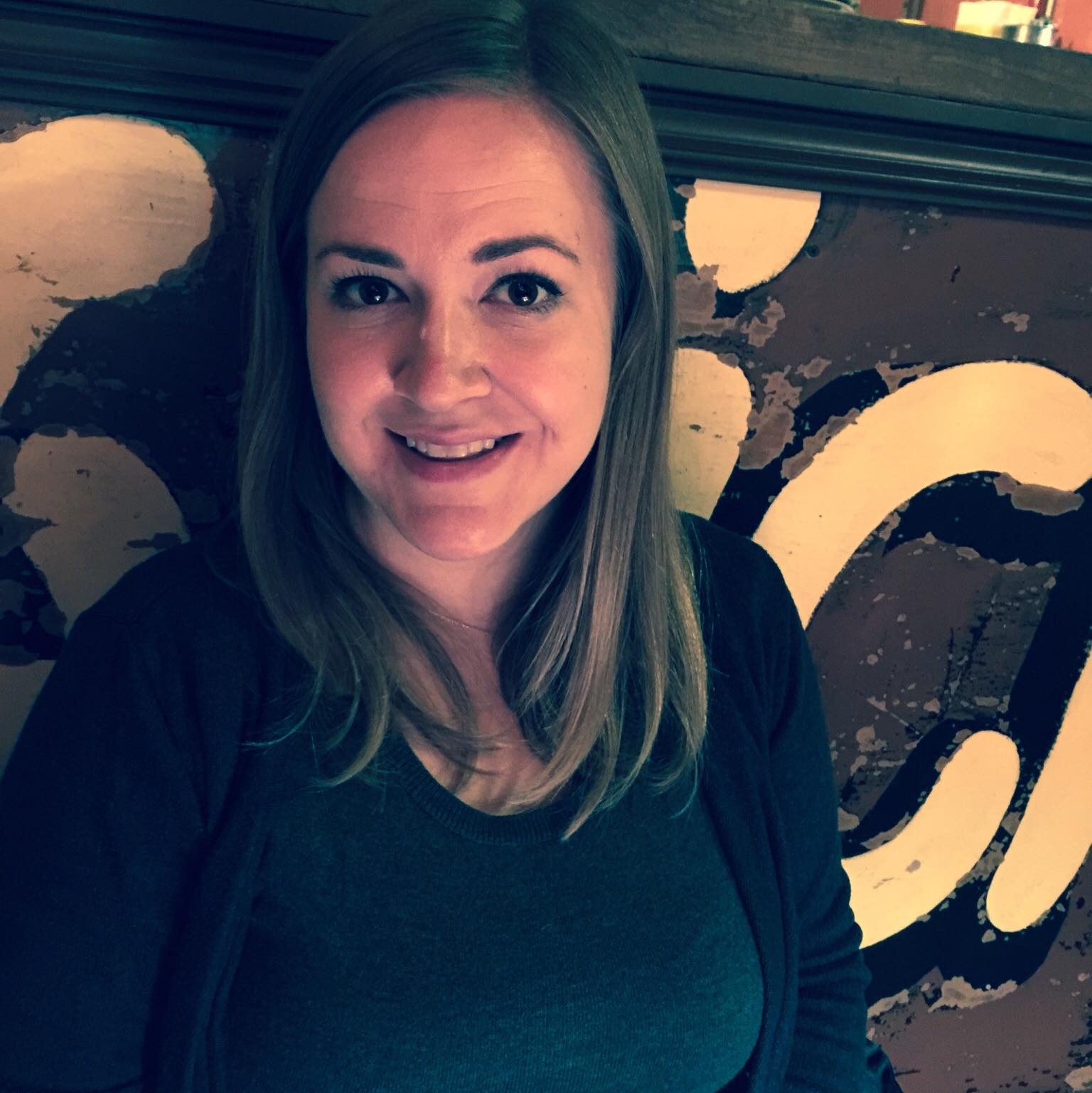 Kristy Norrell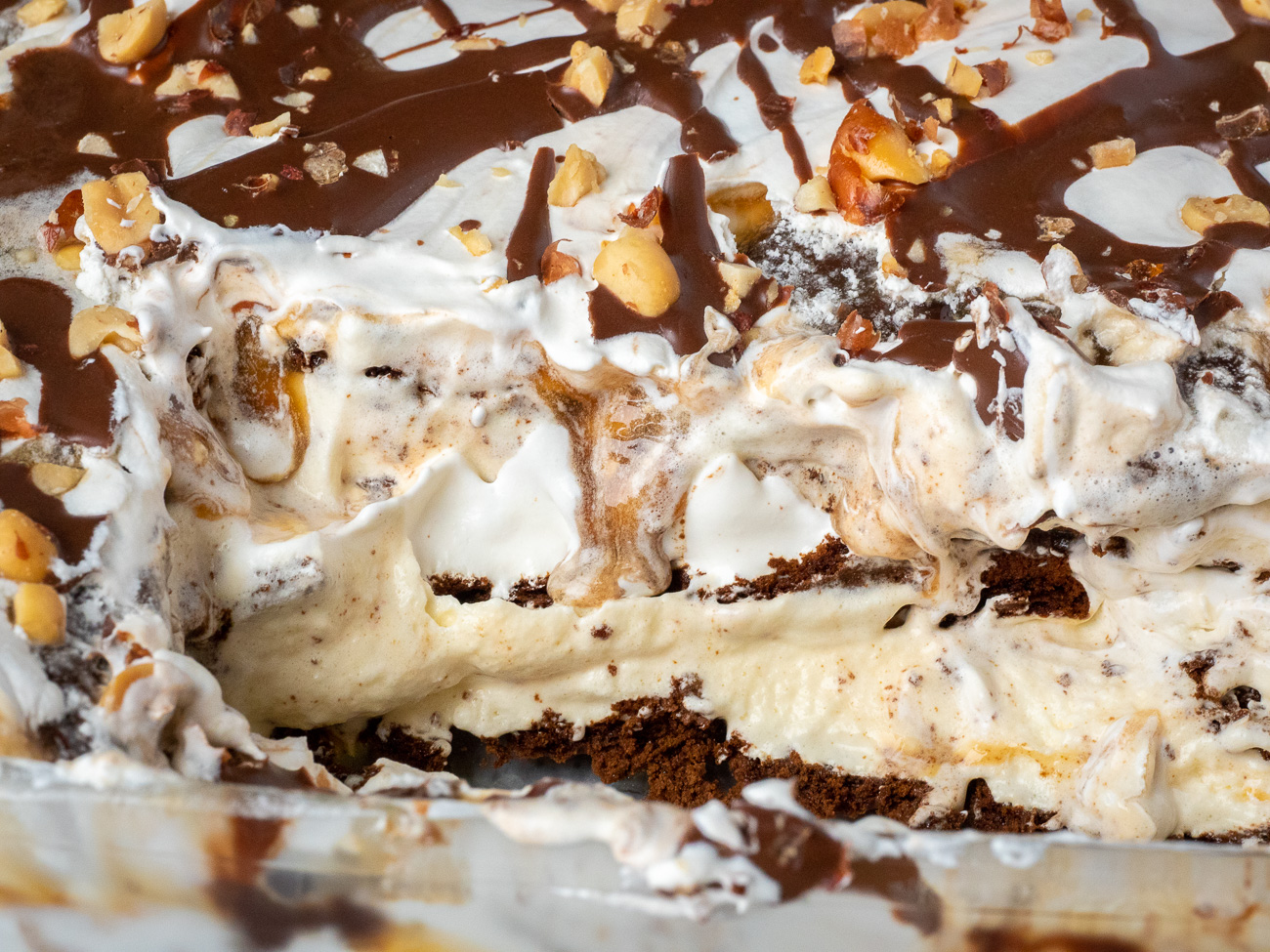 An ice cream cake can be a little bit daunting to make yourself, but you know what's not daunting in the slightest? This Ice Cream Sandwich Cake. See, in a genius shortcut move it uses ice cream sandwiches as its base, so you still end up with a cake that's celebratory but it also happens to be one that only took you about ten minutes to assemble. I don't know about you, but ten minutes of work to get to a creamy, dreamy, chocolatey, ice cream layered confection sounds pretty good to me. Here's how you go about it: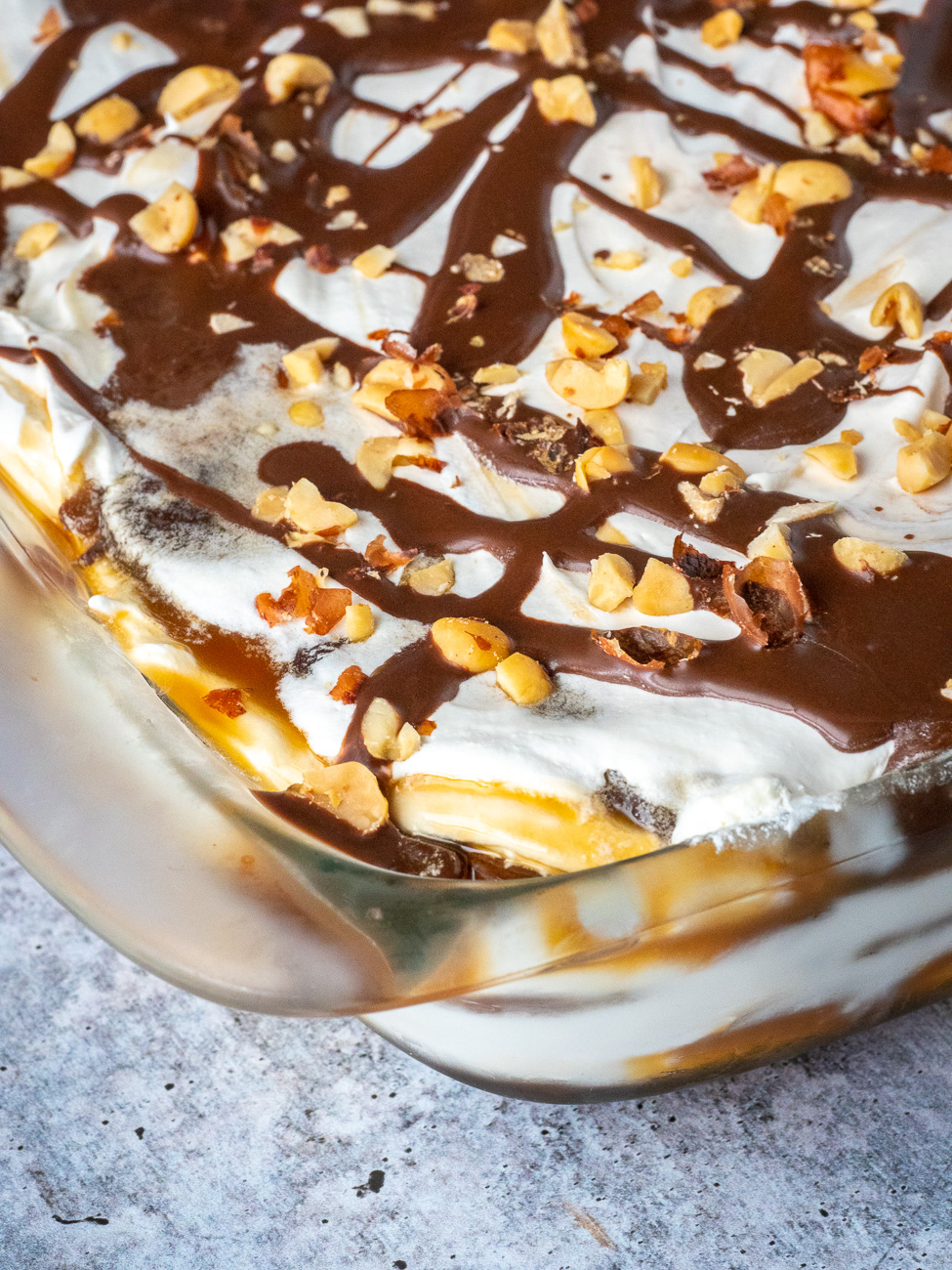 This will serve around nine if you're being very generous with your portions but more like twelve if you're doling out more reasonable sizes at something like a birthday party. You do need twenty-four ice cream sandwiches, which, yes, is a lot but this is a mighty fine place to turn to the store brand option. You don't need anything fancy here — it's all about the layering of ice cream and soft chocolate cake and whipped cream and fudge and caramel sauce…. Need I say more?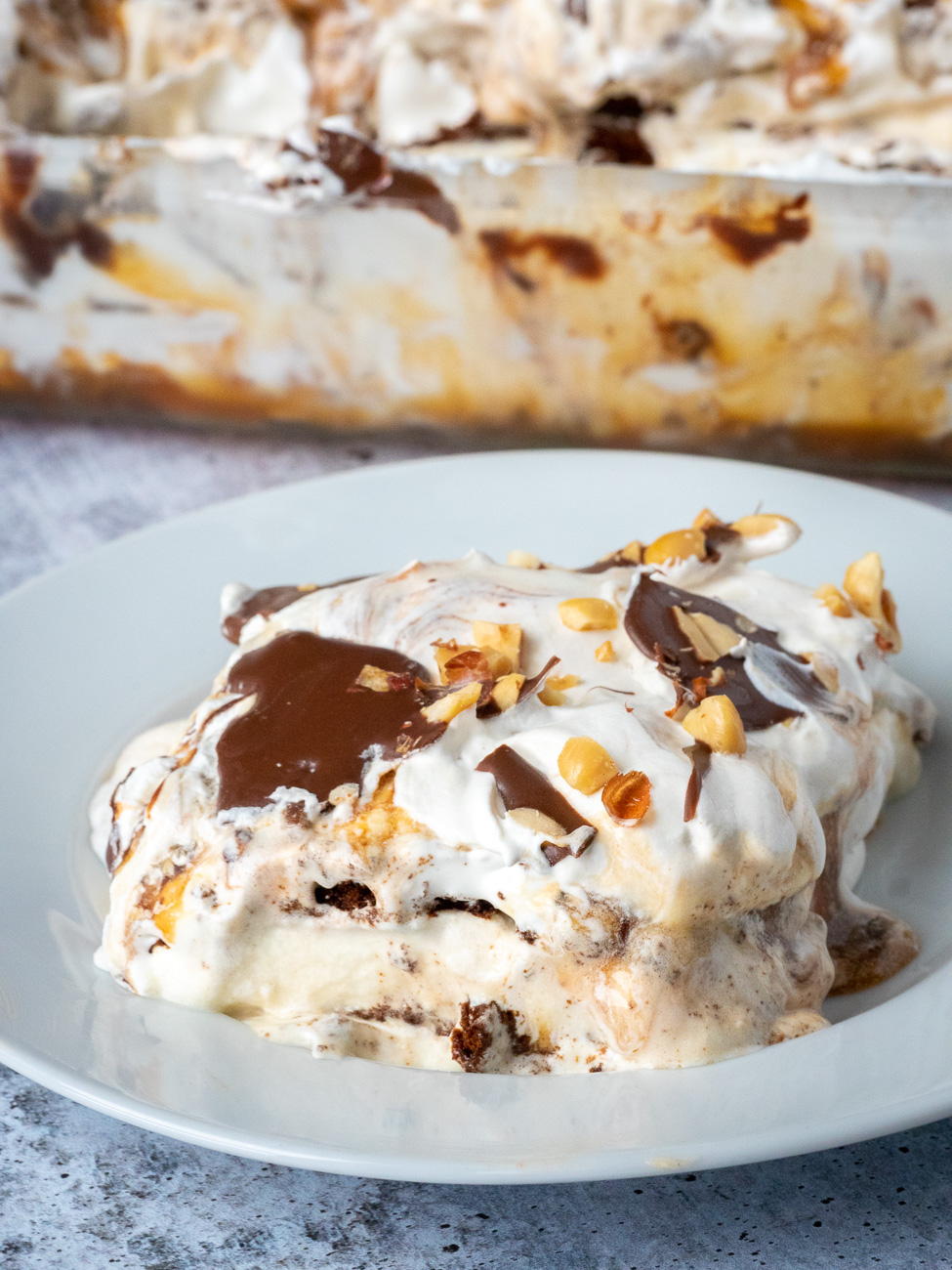 I guess I do, because I need to tell you how to make this, but that shouldn't take long as it's impossibly simple. Here goes:
You want to layer twelve of those ice cream sandwiches in a casserole dish. Let them sit and soften a bit and then smoosh them down a bit with the back of a spoon. Top them with some thawed whipped topping and then some hot fudge topping and caramel topping. If the sauces don't drizzle easily, you can heat them up a bit first for pourability.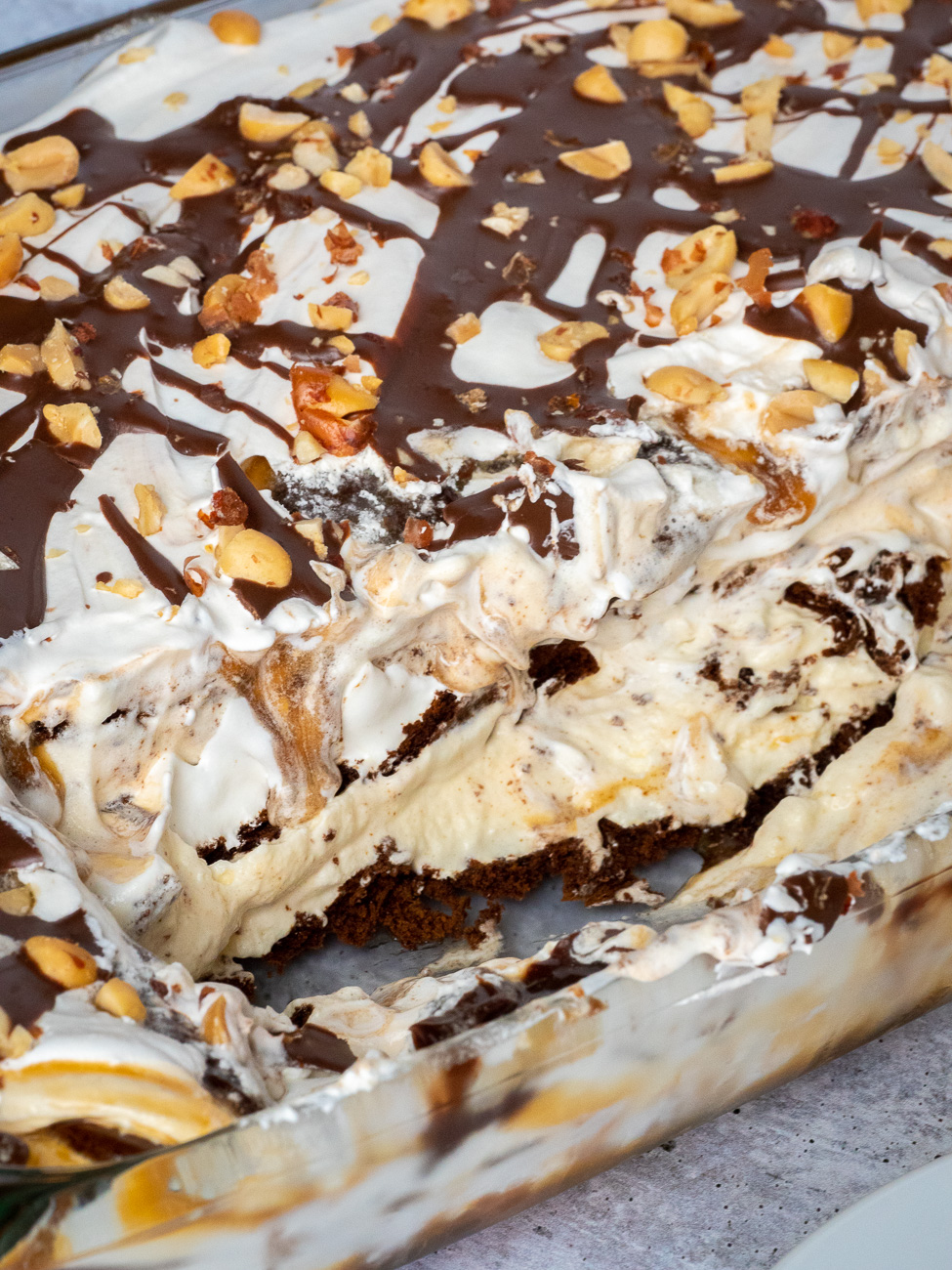 Then, you layer again. More ice cream sandwiches, more whipped topping, more fudge, and more caramel. One more layer of whipped topping and a final flourish of chopped peanuts and magic shell topping and your work is done. Pop the whole thing in the freezer until it's solid enough to serve and you've got a dessert that's fit for any celebration. That celebration can be as simple as, say, a nice warm day, because you'll be looking for plenty of excuses to make this cake.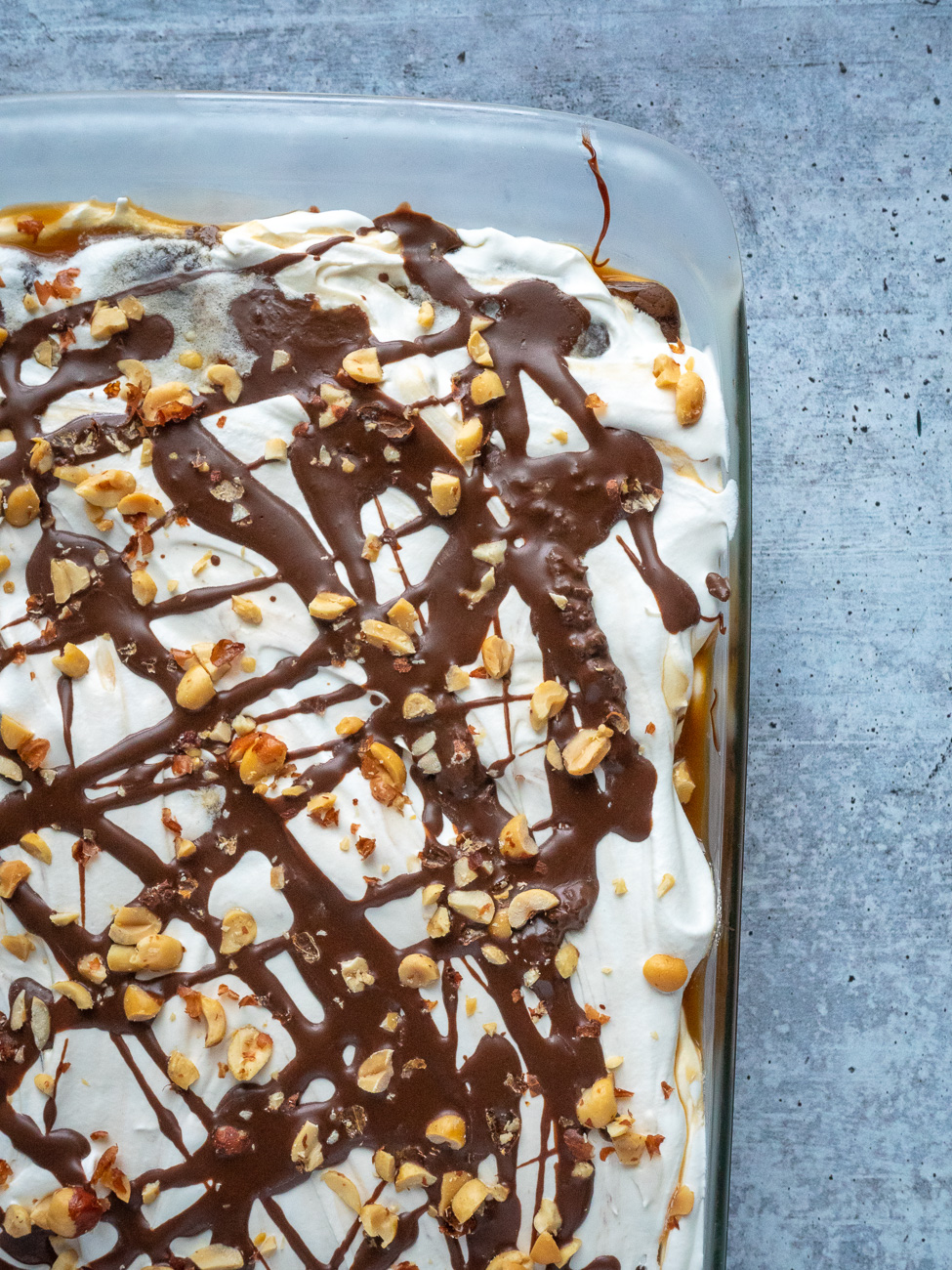 Ice Cream Sandwich Cake
Serves 9
10m prep time
30m inactive
Ingredients
24 vanilla ice cream sandwiches
16 oz Cool Whip, thawed
1 (12 oz) jar hot fudge topping, warmed
1 (12 oz) jar caramel topping, warmed
1/2 cup chopped peanuts or other nuts, optional
Magic Shell chocolate topping, optional
Preparation
Arrange 12 of the ice cream sandwiches in a layer in the bottom of a 9x13-inch baking dish. You will need to cut the last sandwich in half in order to fit it in.
Let ice cream sandwiches soften for a few minutes, then press down on them gently with a spoon.
Spread one third of the whipped topping over the ice cream sandwiches.
Drizzle with half of the hot fudge topping and half of the caramel topping.
Repeat another layer of ice cream sandwiches, followed by a third of the Cool Whip, and another layer of the hot fudge topping and caramel topping.
Spread a final layer of Cool Whip over the top, then top with chopped peanuts and magic shell topping.
Cover dish with aluminum foil and freeze at least 30 minutes and up to 1 week. Slice, serve, and enjoy!
Recipe adapted from All Recipes.
SKM: below-content placeholder
Whizzco for 12T