Summertime grilling has never looked more colorful!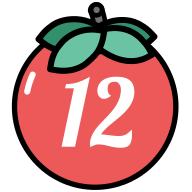 Dom Ruane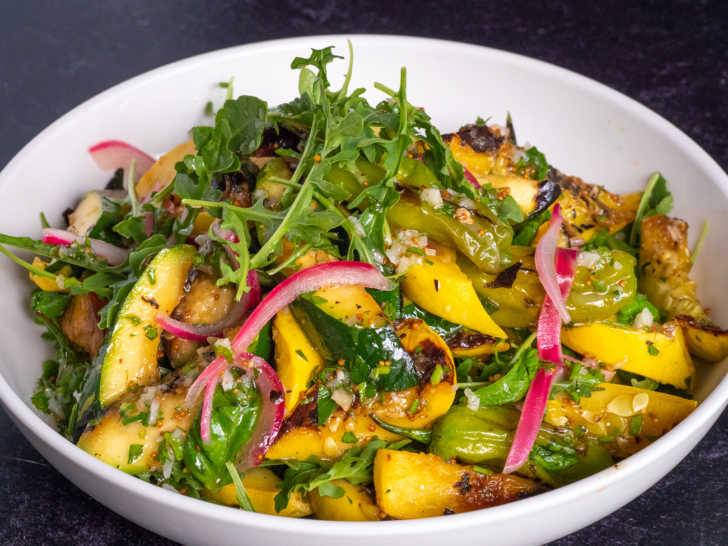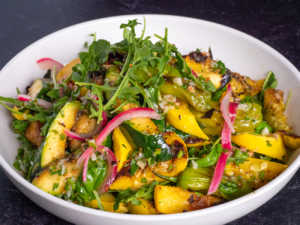 Summertime is for the grilled veggies! I have had my fair share of grilled meats and it's so boring nowadays without a light and bright garlicky vegetable side dish. That's right, with summer quickly approaching, summer vegetables are here to be enjoyed at their maximum potential! I'm bringing you a very easy, yet elegant salad you'll be sharing all summer long. Squash is a neutral flavor sponge and the best way to prepare it is by grilling. The char flavor from the grill topped with a garlicky mustard vinaigrette brings this vegetable to life and arugula is used here for visual appeal, but also for that peppery flavor that clings to citrus so well.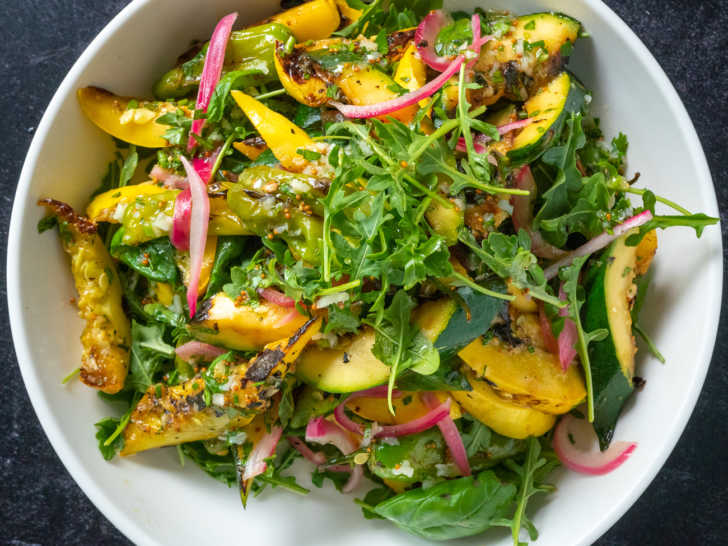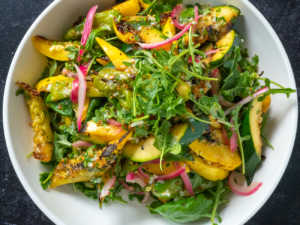 What's the difference between summer squash and zucchini, Dom? OMG, great question! So there is no difference, isn't that wild? Yellow squash is completely interchangeable with zucchini. It adds color, phytonutrients, and access when zucchini isn't available. Did you know the name zucchini is Italian?! All squash gets labeled under one name and then zucchini gets a cute lil special name? I believe squash that isn't green like zucchini falls into a category that is left to be undesired. It's a watery vegetable that's significantly lower in calories than say potatoes, but no more nutritious than potatoes. What does that mean to me? I believe that it just means that squash needs to be dolled up a bit! We're entering this dream era of cooking where we just HAVE on-hand roasted vegetables to add to our final dishes, stews, and salads. Char your squash and keep it in the fridge, it will set you up for success and you'll be so happy you made some magic with it.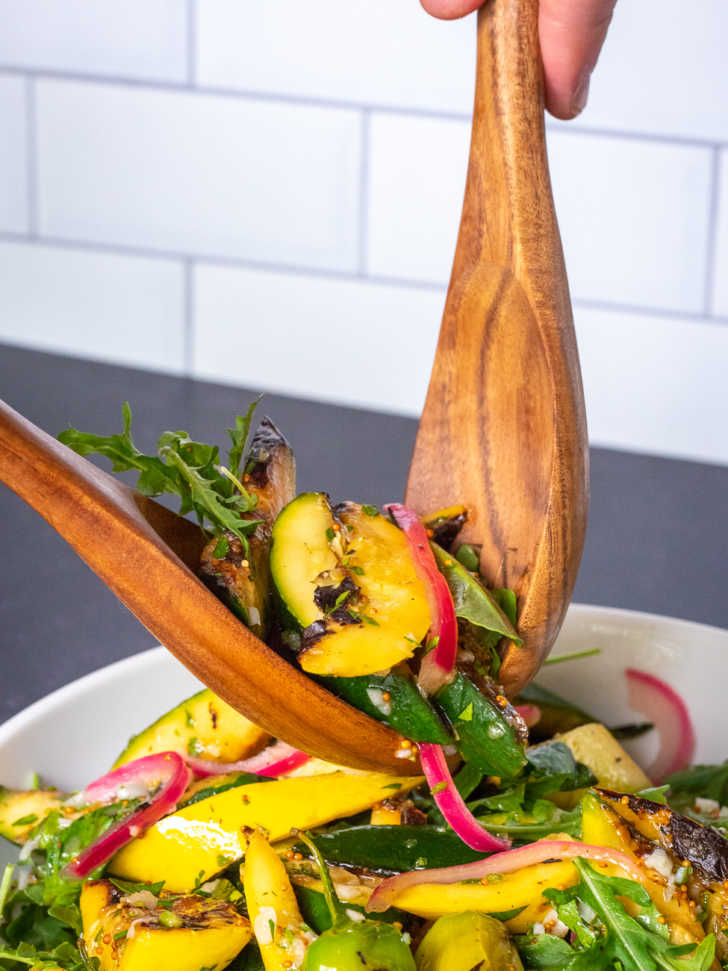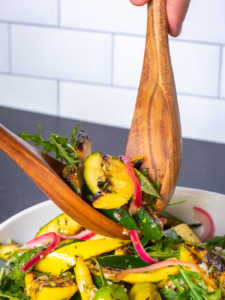 Vinaigrettes babyyy! They are not just for your typical salad. Something I learned about us Americans over my career is that we love a sauce. We want a sauce to lick up, to make our food sexy looking, and to sometimes rub it all over our bodies cuz that's our business as Tabitha Brown says. In this recipe, you'll grill vegetables with just salt to caramelize flavors and cook out some water, then we'll reintroduce flavor in the end with a vinaigrette. Does that mean you can do this with any vegetable you think of? ABSO-TOOTLEY! My hottest tip for this recipe is liberally salt your cut squash to remove moisture ahead of time, it makes grilling a breeze.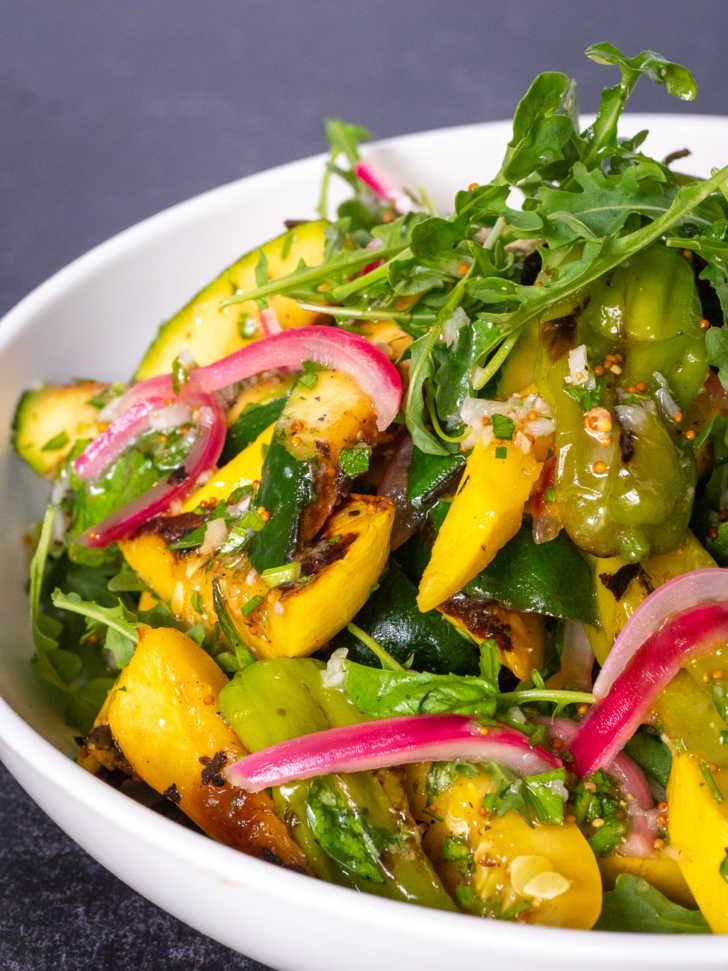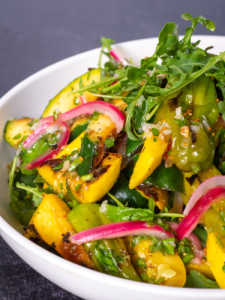 **Use something heavy to weigh down the squash when searing them, it will help create more surface charring which gives us more flavor.**
Grilled Summer Squash Salad
Serves 6
5m prep time
30m cook time
10m inactive
For salad:
3/4 lb zucchini, cut in half lengthwise
1 lb summer squash, cut in half lengthwise
1/2 pint shishito peppers
1/2 cup basil leaves, lightly torn
2 cups baby arugula
Kosher salt & freshly cracked black pepper
For vinaigrette:
1/4 cup olive oil
1 lemon, juiced
1 tablespoon grainy mustard
3 garlic cloves, grated
2 tablespoons fresh parsley, minced
Kosher salt & freshly cracked black pepper
For pickled onion:
1/4 red onion, sliced thin
1/2 cup white vinegar
2 tablespoons sugar
1 teaspoon salt
1/4 teaspoon black pepper
Directions:
In a small plastic bowl, whisk together vinegar, sugar, salt and pepper. Toss in onions and let pickle for 20 - 30 minutes.
In another bowl, mix vinaigrette with lemon juice, olive oil, mustard, garlic cloves and parsley. Season with salt and pepper to taste and reserve.
Preheat a cast iron pan or grill on high heat for 4 to 5 minutes, and season squash cut side facing up with salt and let rest for 5 minutes.
When the cast iron/grill is hot, use a paper towel to scrape off moisture and salt on squash, and sear cut side down for 4 - 5 minutes and 1 - 2 minutes on skin side. Remove from heat and let cool for 3 - 4 minutes before cutting into pieces.
Grill shishitos on 2 -3 sides for 1 minute and remove from heat.
Toss the greens in 2 tbsp of vinaigrette and plate onto a platter, add grilled vegetables, then pickled onions, torn basil and drizzle with vegetables with vinaigrette.
Enjoy warm or cold!
Recipe adapted from Food and Wine.
SKM: below-content placeholder
Whizzco for 12T