A light yet filling shrimp and feta dish cooked in an enjoyably flavorsome tomato-based sauce.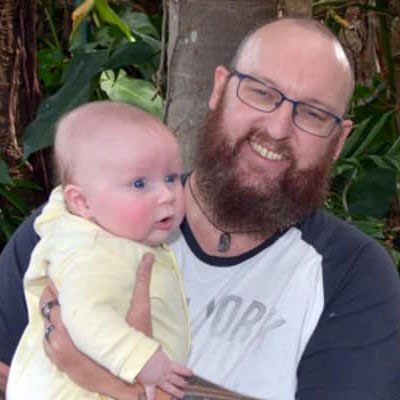 Jono Elderton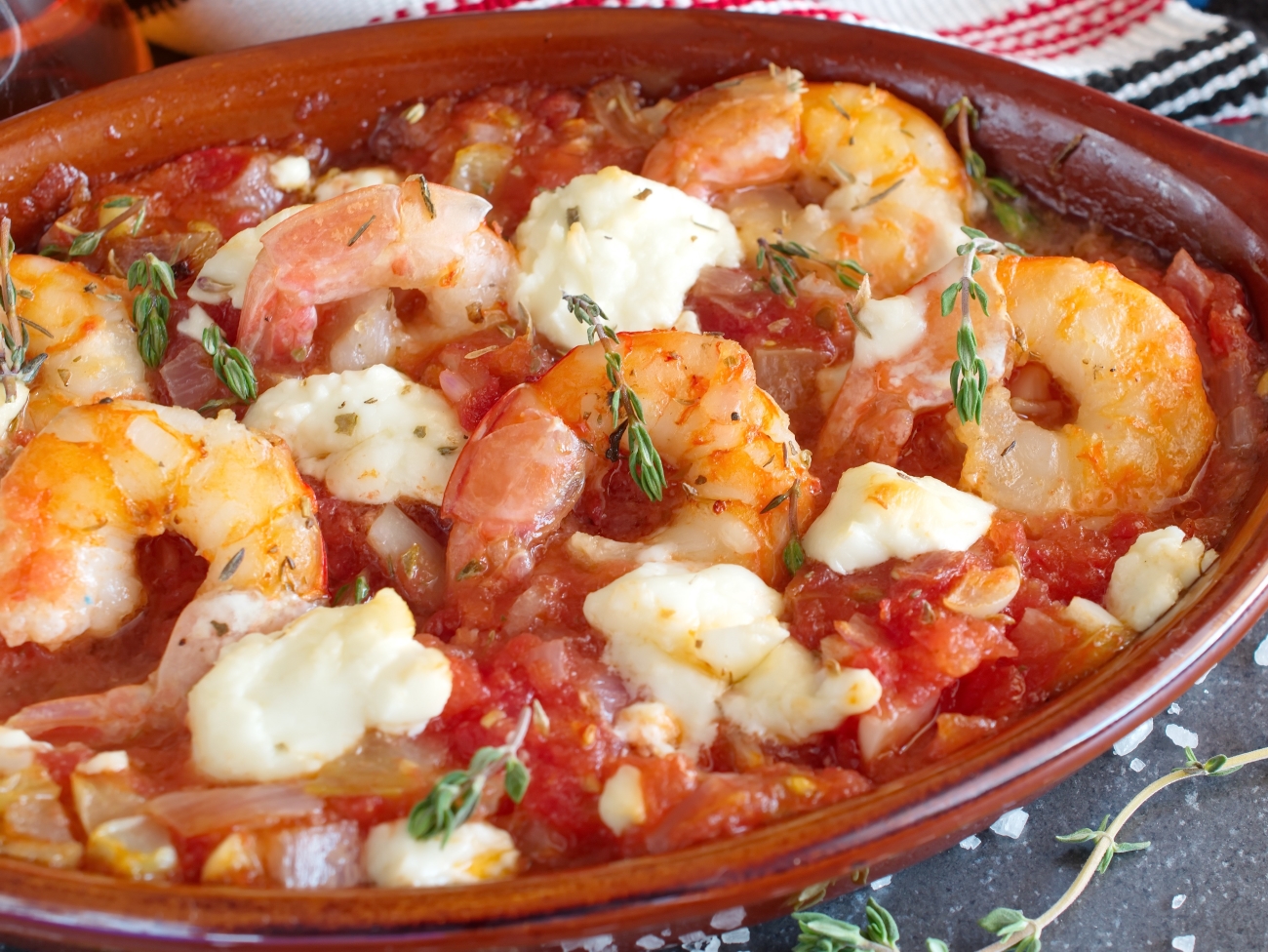 Greek Style Baked Shrimp, traditionally known as shrimp saganaki (named for the traditional two-handled frying pan called sagani), is a classic Mediterranean meal of shrimp in a spicy tomato sauce with feta cheese. It's simple, rich, and delicious, coming together almost entirely from pantry favorites.
While the recipe below doesn't use ouzo to deglaze the shrimp, it still retains a lot of the original authenticity. The herbs and spices – garlic, chili flakes, cumin and celery salt – create a lovely balance between sweet and warming flavors, which helps to enhance the briny aspects of the shrimp. Cooking the sauce up on the stovetop before you bake the feta and shrimp helps create a depth and richness of flavor that you can draw on after adding the cheese and seafood (whether fresh or frozen).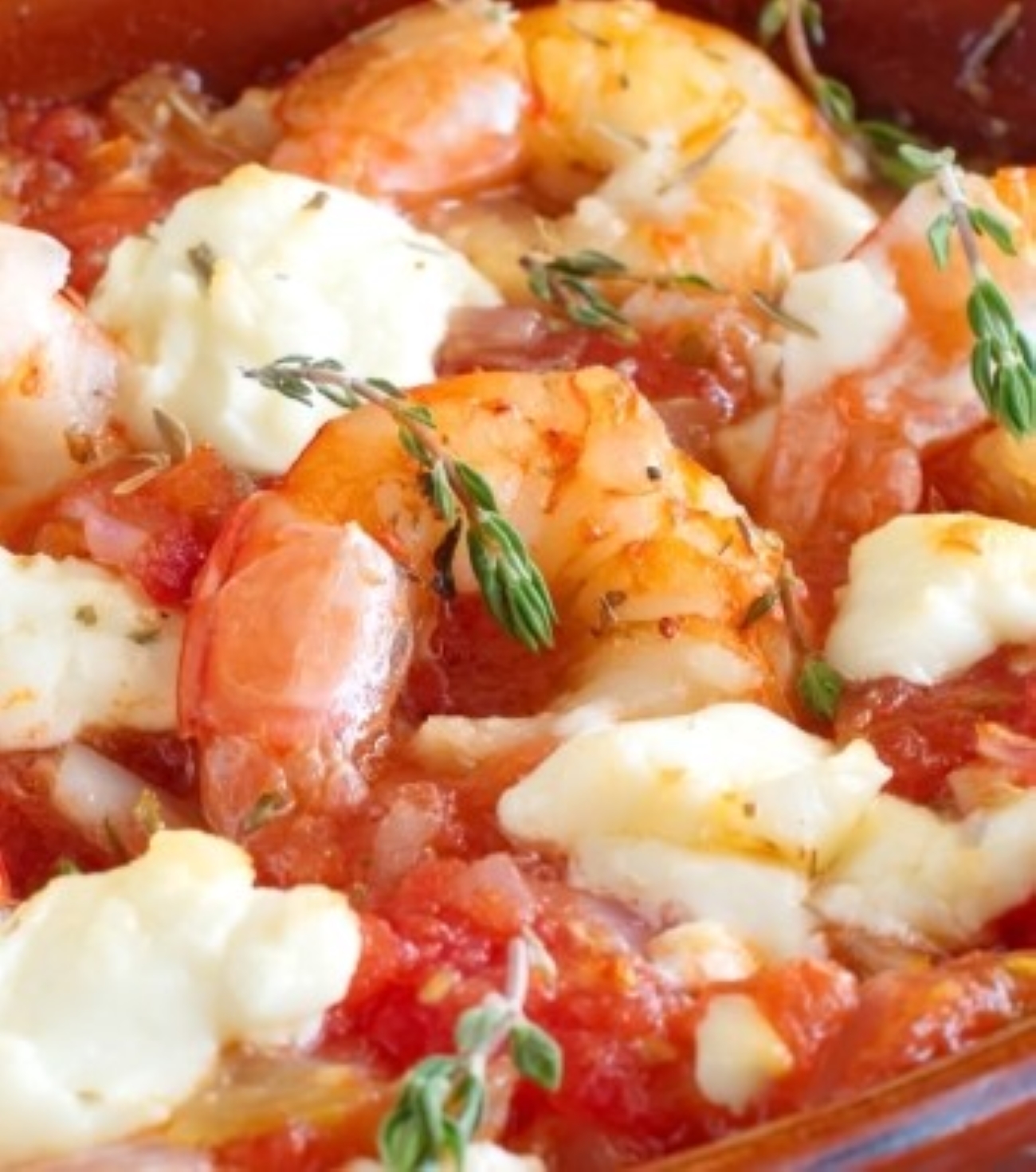 I understand that some can't (or don't like to) always cook with fresh shrimp, which is perfectly okay when cooking saganaki. If you do go the frozen route, don't worry about giving it a pre-grill before putting it into the tomato sauce, you can put it in at the baking stage. First, the shrimp are likely to be much smaller – meaning they will cook much quicker -and second, they've been partially cooked prior to freezing! As long as the seafood cooks through properly, you'll still have a delicious and enjoyable meal.
While traditionally a Taverna-style appetizer of small portions, Greek Style Baked Shrimp works equally well as a main when served with crusty bread, creamy mash, or even with a pasta side. It's a great tasting, quick and easy meal for when you have shrimp that you want to cook up quickly for the whole family with ingredients you have on hand.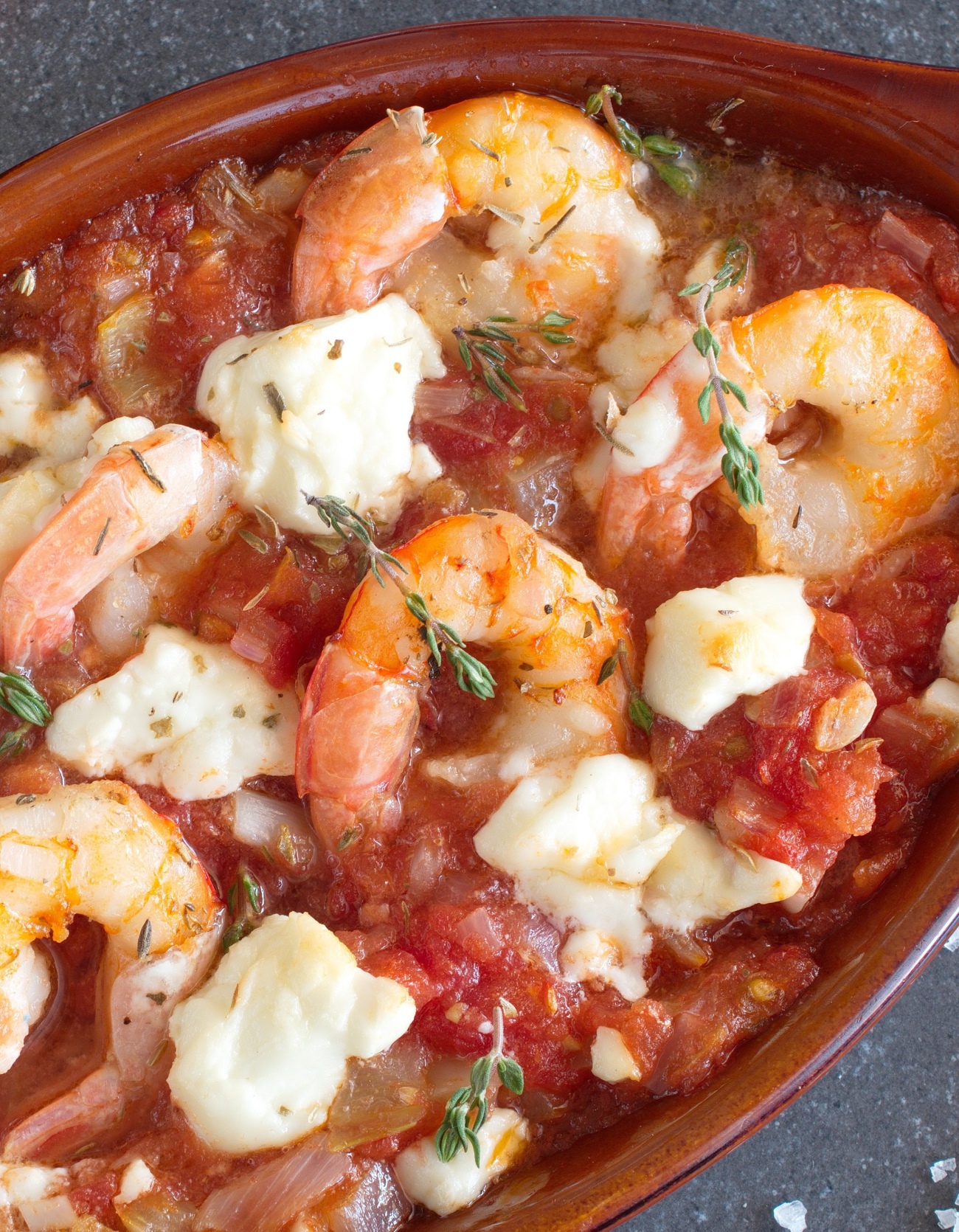 Greek Style Baked Shrimp (Shrimp Saganaki)
Serves 4
10m prep time
25m cook time
Ingredients
Olive oil spray, for cooking
1 red onion, chopped finely
2-3 tablespoons minced garlic
2 teaspoons chili flakes
1 teaspoon cumin
1 teaspoon celery salt
2 tablespoons tomato paste
1/2 cup dry white wine
1 x 28 oz canned tomatoes can chopped tomatoes
1 lb oz raw extra large shrimp, peeled and deveined (18-20)
Cooking oil spray
6 oz Greek feta cheese, crumbled
3 tablespoons fresh oregano, chopped roughly
Kosher salt and black pepper, to taste
Garnish: 2 tablespoons fresh mint, chopped finely
Preparation
Preheat the oven to 350°F.
Spray a non-stick frying pan liberally with cooking spray and heat at medium temperature. Cook onion and garlic, stirring, for 3 minutes or until soft and translucent.
Add the chili flakes, cumin, celery salt and tomato paste then cook for 1 minute. Add the wine and cook for another two minutes, stirring continuously. Add the tomatoes and simmer for 10 minutes, or until the mixture thickens considerably.
While the sauce is simmering, heat a small frying pan at medium-high heat. Spray liberally with cooking oil spray, then add the shrimp and fry for 1-2 minutes. Take the shrimp out of the pan, then set aside.
Remove the tomato mixture from the pan and put it into an ovenproof casserole dish. Top with the shrimp, feta cheese, oregano, salt and pepper. Bake for 10 minutes, or until the seafood is cooked through.
Take the Greek style baked shrimp from the oven, ensuring the shrimp has cooked. Sprinkle it with mint to garnish, then serve immediately with crusty bread and/or a green salad.
Recipe adapted from Taste
SKM: below-content placeholder
Whizzco for 12T