We got the sauce perfectly thick and sticky, just how we like it!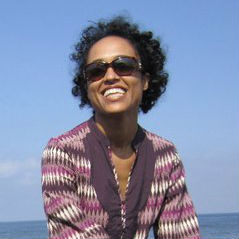 Sarah Cool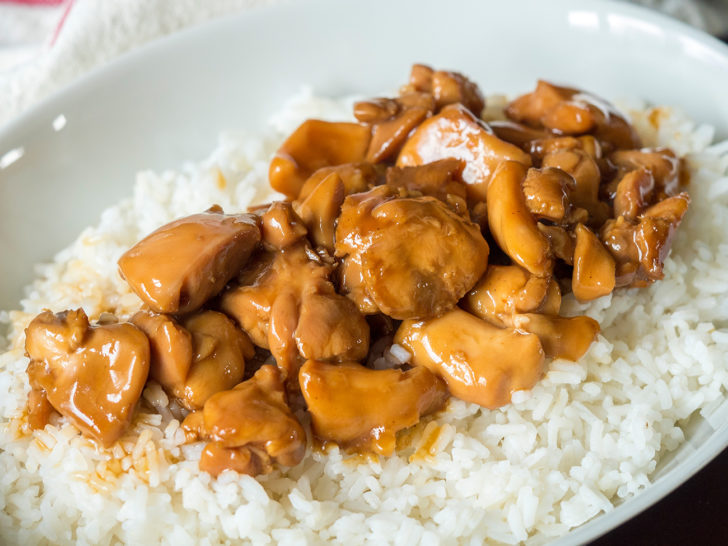 We were out to dinner recently at a Golden Corral and ordered their Bourbon Street Chicken. And wow…was it delicious! In fact, we loved it so much, we thought we'd try to come up with our own version right at home. For that we needed chicken thighs and some brown sugar bourbon seasoning. Thigh meat is one of chicken's best parts; dark meat has more fat, but also (believe it or not) more nutrients than white meat, making it all the more flavorful and delicious. And they're less expensive than breast meat, so they're a great choice for budget friendly meals. But what we're really looking for with this recipe is flavor, and there's really no better choice than darker thigh meat for our version of Bourbon Street chicken. Dark meat is naturally sweeter, and therefore the perfect choice for our marinade of sweet teriyaki sauce, honey, and brown sugar seasoning. Are you drooling yet?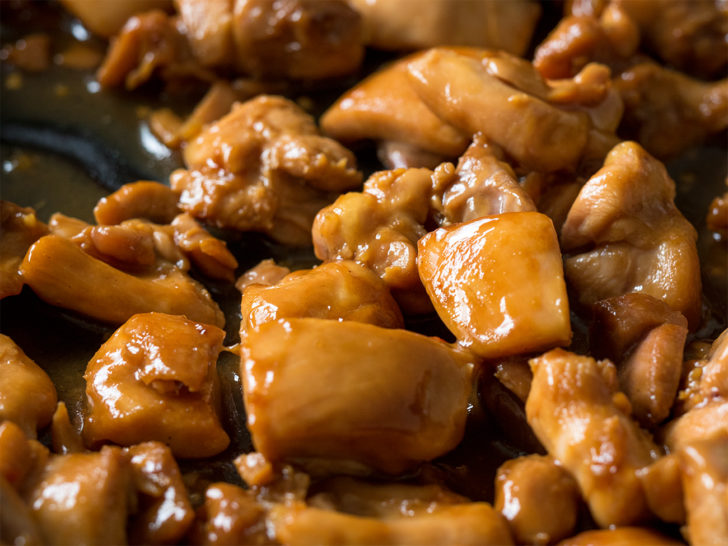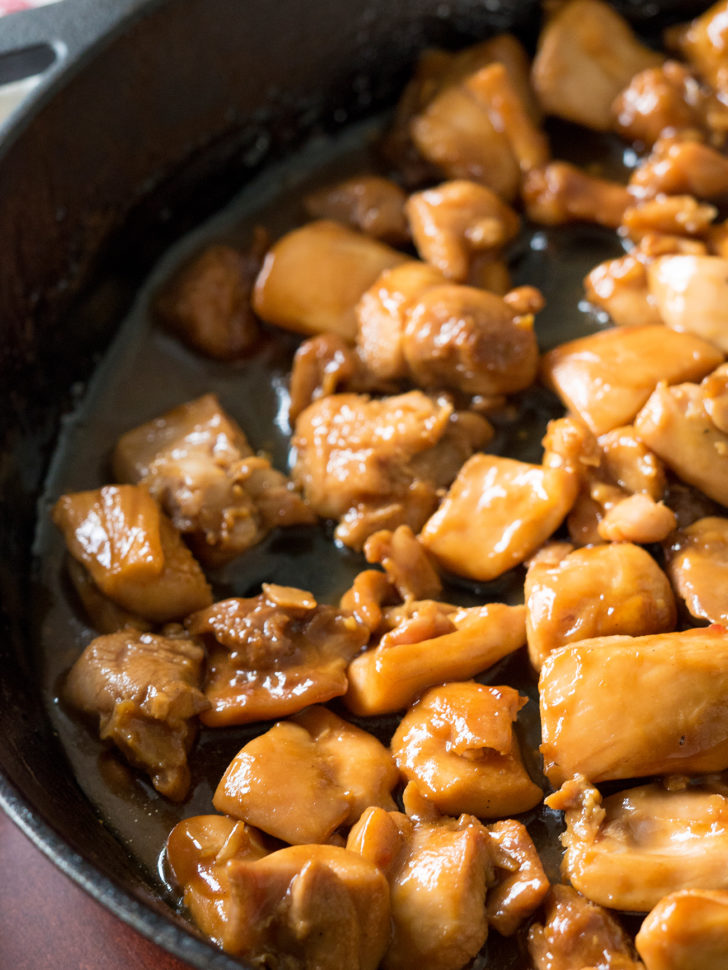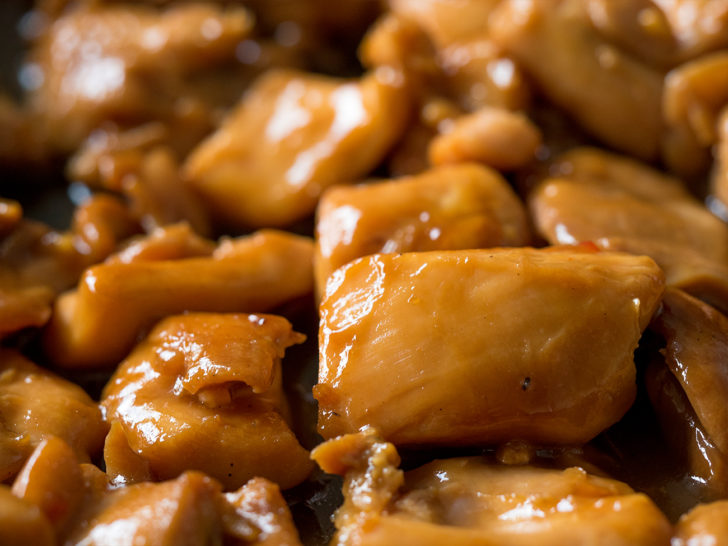 We grab a package of skinless thigh meat from the grocery store, slice it into strips, then give it time to marinate in a sweet glaze. Once the meat has absorbed the flavor from the marinade, it goes onto a hot skillet or grill pan and starts to sizzle; we love how the sugars help caramelize the already tender meat. Once cooked, everything is ready to serve, piping hot and scrumptious from the pan. We like this served over rice or with a crisp side salad. This is one of those meals that everyone will dive right into.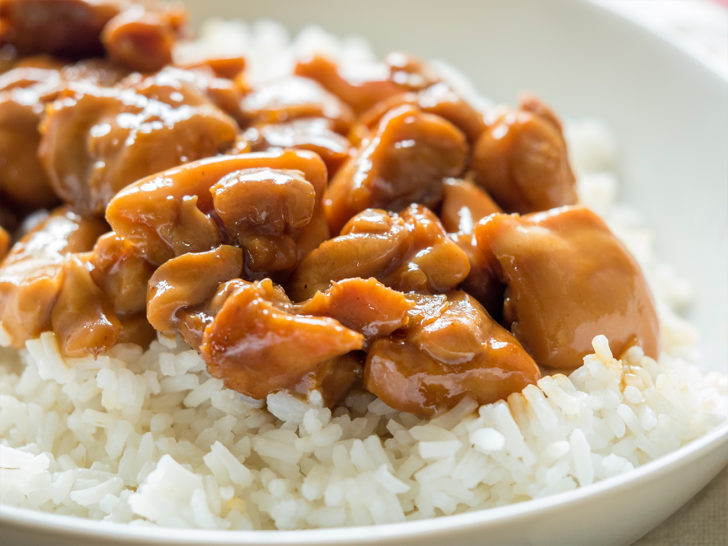 When we're looking for a meal that's a little bit different, but easy to make and just darn good to eat, then we reach into our recipe box for little gems like this. If you've got someone who doesn't like dark meat, give this recipe a try; it's almost guaranteed to convert even the most ardent chicken breast lover. This is another recipe that we can easily get at a restaurant, but instead we settle down to a lovely meal in our own home. As they say on Bourbon Street, "Let the good times roll" and this chicken recipe helps to put us into that frame of mind.
Golden Corral Bourbon Street Chicken
Ingredients
2 pounds boneless chicken thigh meat, cut into thin strips
3 teaspoons brown sugar bourbon seasoning, divided (2 teaspoons; 1 teaspoon)
1 1/4 cup teriyaki sauce, divided (1 cup; 1/4 cup)
1/4 cup honey
1 teaspoon cornstarch, dissolved in 2 tablespoons cold water
Preparation
Cut thigh meat into thin strips. Pat dry and place into plastic freezer bag.
In a small bowl, whisk 1 cup teriyaki sauce and 2 teaspoons of brown sugar bourbon seasoning. Pour over chicken and seal plastic bag. Massage bag to coat chicken, then place in refrigerator to marinate (at least 30 minutes or overnight).
To cook chicken: lightly coat skillet or stovetop grill with oil. Add chicken in a single layer and sprinkle with 1 teaspoon of brown sugar bourbon seasoning. Stir regularly until chicken is browned and cooked through.
As chicken cooks, prepare corn starch slurry by dissolving 1 teaspoon of cornstarch into 2 tablespoons of cold water, set aside. In a small saucepan on medium heat, combine 1/4 cup teriyaki sauce with honey, stirring to incorporate. Bring to a simmer.
Add cornstarch slurry and stir to incorporate. Continue cooking for 2 minutes or until sauce has thickened.
Transfer cooked chicken to a serving platter. Drizzle with prepared glaze just before serving.
Recipe adapted from Onion Rings And Things
SKM: below-content placeholder
Whizzco for 12T