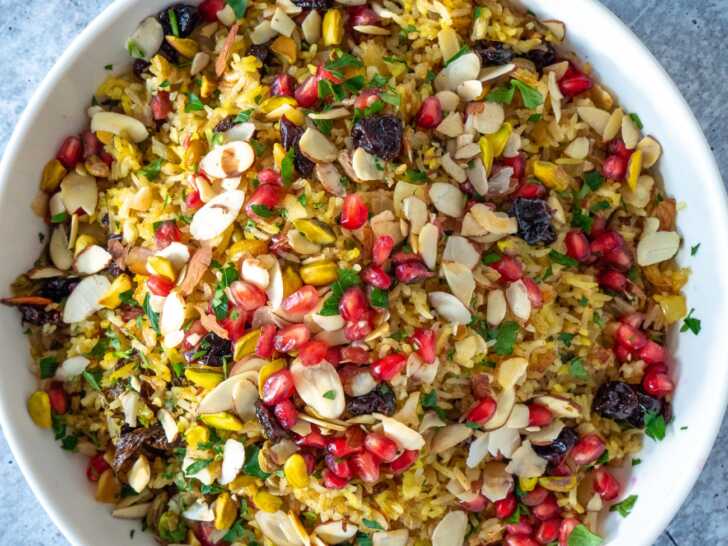 Vibrant colors mixed with savory flavor. Fluffy Persian Jeweled Rice is all of these things. Do not, I repeat, do not let the list of ingredients deter you from making this dish. Each one brings something essential to the entire experience and one bite will have you instantly and utterly hooked. It's hard to believe something this beautiful is a side dish but it truly shines alongside the rest of the meal.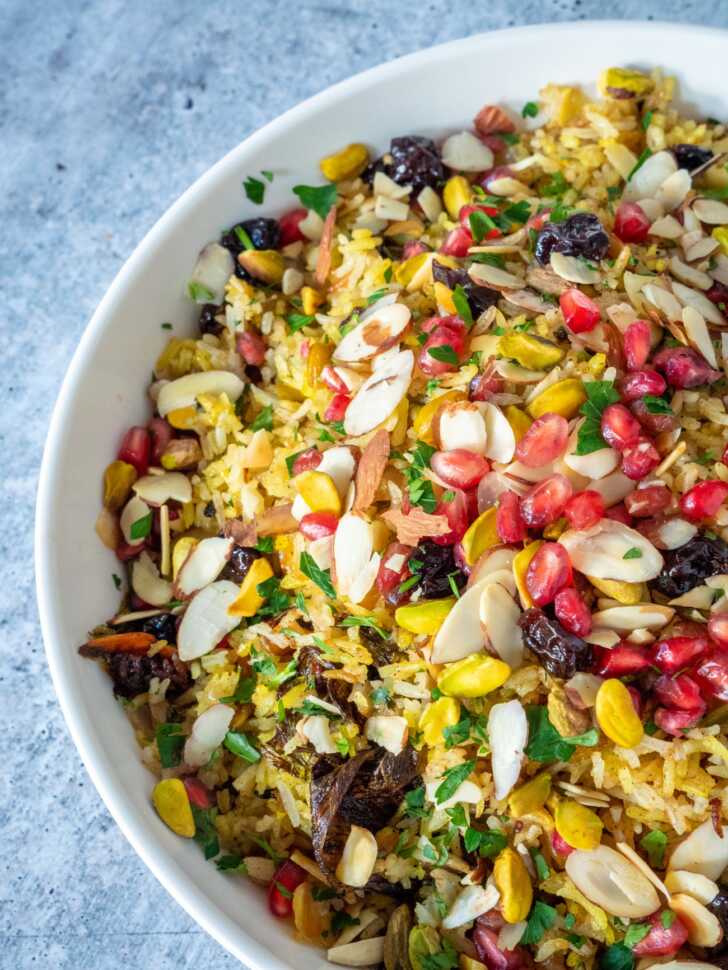 Rice is obviously the principal ingredient, so the process begins with a parboil of the rice, cooking it for a few minutes before removing it from the heat to eventually make a bold return. That bold return involves cinnamon, cardamom, cumin, and onion that are sautéed until the onion is translucent. The awaiting rice will return to this savory mixture and get a good toss to coat it with flavor. Now that we've achieved taste, it's time to add some color. Turmeric will stain the rice a beautiful yellow hue, turning the rice into a golden crown awaiting its jewels.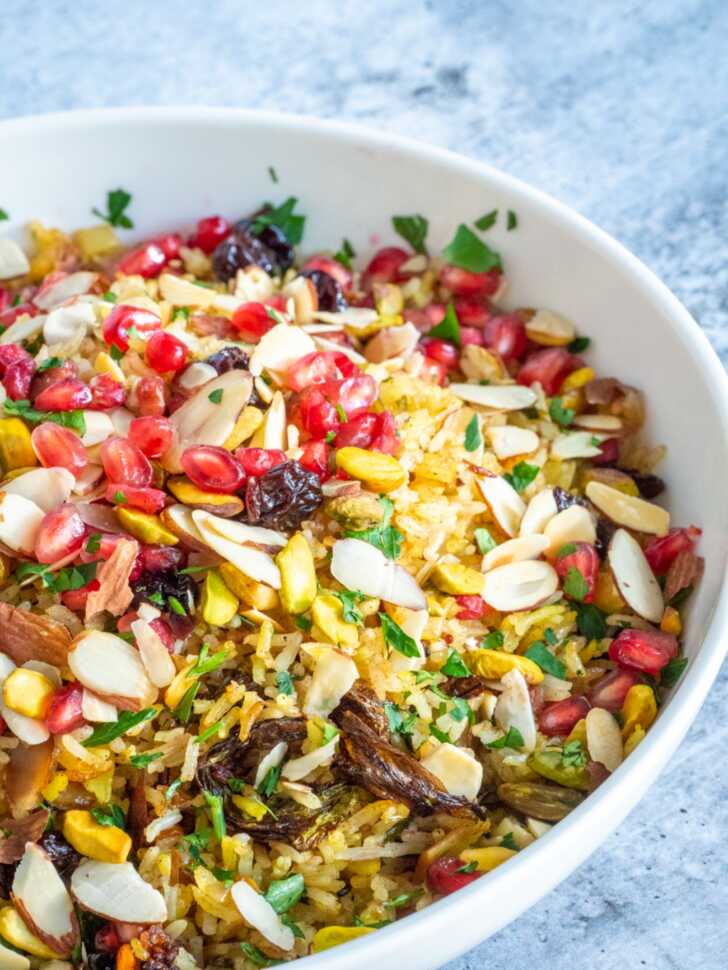 About half of the rice will take a soak in a turmeric bath, and then the rice is returned to a pot lined with lettuce leaves; these leaves will help prevent the rice at the bottom from burning. Half of the rice will go down first, followed by a layer of dried cherries, pistachios, and almonds. I love this trifecta of color, texture, and flavor that comes with introducing sweet-tart garnet-red cherries along with the slightly sweet pistachio and woody almonds. I'll repeat this once more with the rest of the rice, cherries, and nuts. Be sure to reserve some of the nuts for the final garnish. A lid goes on the pot and the rice finishes cooking for another 30-45 minutes.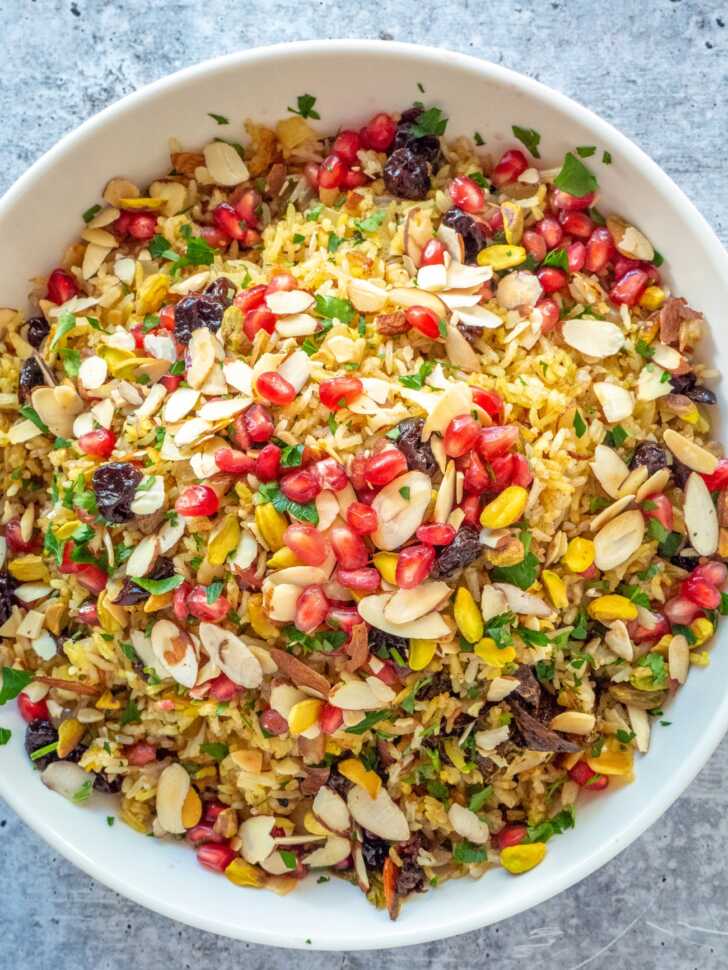 To serve, I'll fluff the rice in the pot and then transfer it to a platter, where two more jewels are placed in its crown; emerald-green parsley and ruby-red pomegranate seeds. Expect to hear gasps once this is set on the table as food this good is visually and tastefully impressive.
Middle Eastern countries are known for utilizing their most popular grain, rice, in many delicious ways. This is a winter celebratory rice packed with flavor and add-ins, like cinnamon, cardamom, and cumin, a common flavor profile found in most Persian and Syrian cooking and pairs wonderfully with grilled meat. Ditch the rice cooker and take a chance on this gorgeous recipe.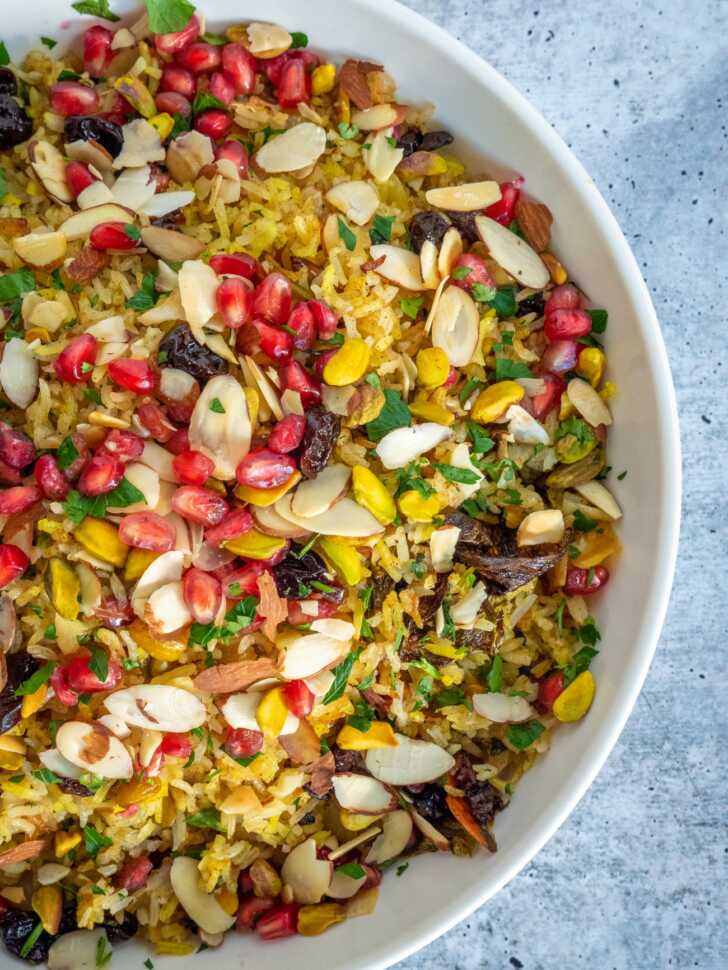 Fluffy Persian Jeweled Rice is from the Winter in the Middle East menu at Table for 12. It was served with Yogurt-Marinated Grilled Chicken, Halloumi Pomegranate Greens Salad, and a Black Sesame Marbled Tahini Cake.
Fluffy Persian Jeweled Rice
Serves 6
10m prep time
45m cook time
Ingredients
2 tablespoons extra virgin olive oil, plus extra for drizzling
1 large onion, small diced
1 1/2 teaspoons cinnamon
1 1/2 teaspoons ground cumin
1 teaspoon ground cardamom
3 - 4 head lettuce leaves, for cooking
6 tablespoons unsalted butter
2 cups Basmati rice, rinsed
1/2 teaspoon turmeric
1 tablespoon water
1/2 cup dried cherries
1/2 cup chopped parsley
1/3 cup sliced almonds, toasted
1/3 cup chopped pistachios
1/4 cup pomegranate seeds
2 tablespoons fresh lemon juice
Kosher salt and freshly cracked black pepper, to taste
Preparation
Par boil the rice in salted hot water for 7 minutes. Drain and let cool.
Sauté the onion with cinnamon, cumin, and cardamom until onions are translucent. Remove from heat.
Add the rice to the pan and toss to combine.
In a small bowl, combine water and turmeric until a yellow water is formed. Toss half the rice in the water to dye the rice yellow.
In a large pot with a lid, melt 2 tablespoons of butter over medium-low heat. Line the bottom of the pot with the lettuce leaves to prevent any rice from burning.
Layer half the white rice and half the yellow rice at the bottom, top with 2 tablespoons of butter, half the cherries, almonds, pistachios, and parsley. Repeat the process with remaining rice.
Cover the rice with a lid and let cook for 30 - 45 minutes until tender.
Finish with lemon juice. Serve with parsley, pomegranate, and remaining nuts.
This dish is from the Winter in the Middle East menu at Table for 12.
SKM: below-content placeholder
Whizzco for 12T