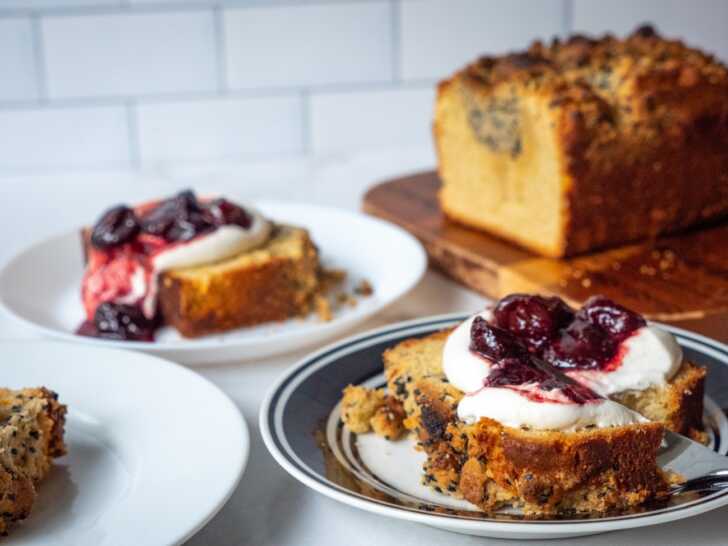 I like taking something simple and classic, like a quick bread, and changing up the ingredients slightly to make the familiar fresh and new. Black Sesame Marbled Tahini Cake takes your basic quick bread recipe but uses sesame paste (tahini) to introduce a salty-sweet flavor. Tahini gives the cake that alluringly irresistible taste. I like to serve this with freshly made salted whipped cream and a dollop of cherry compote. Every bite is a delightful combination of nutty-salty-sweet-and-tart, and all of it is so good.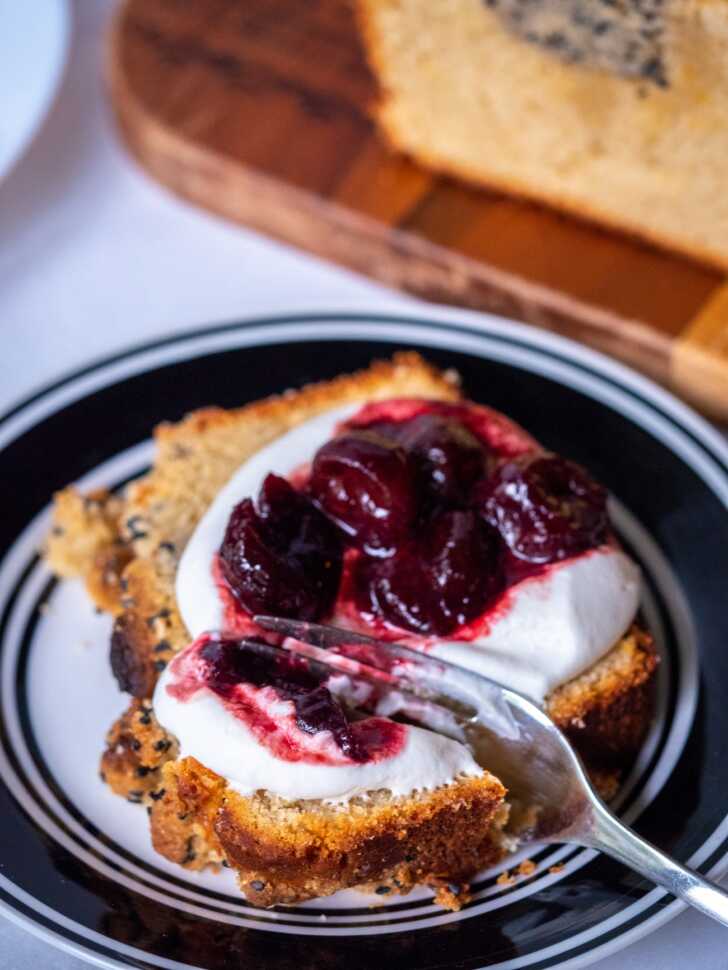 Tahini isn't the only secret ingredient to this cake; I also like to add a hint of citrus flavor by incorporating grated orange zest into the cake batter. Tahini and orange zest transform the quick bread into something a little bit more elevated and flavorful. And if the cake alone isn't enough to entice you, picture a fabulous strudel over the top to give the cake a little extra oomph.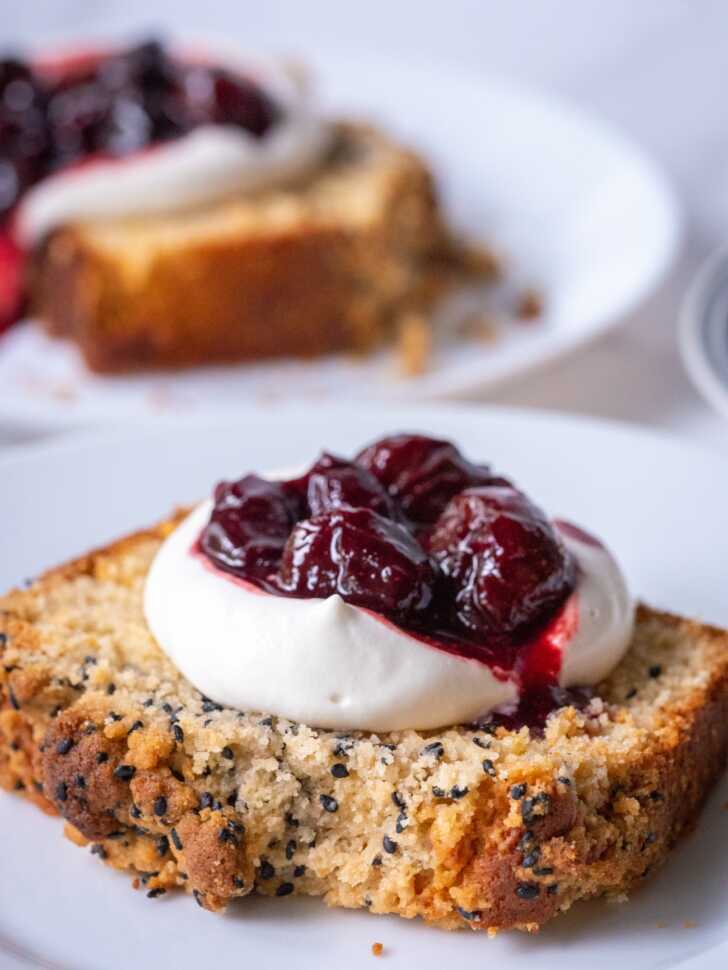 I've used black sesame seeds in the streusel mixture. Black sesame seeds are a little bit bitter in flavor compared to white sesame seeds; the seeds offer texture, subtle flavor, and a little bit of elegance to the streusel topping. On its own, this cake is a delight, something that's lovely as a dessert with the rest of the Winter in the Middle East menu, and even better with my coffee the next morning.
I'm absolutely in love with salted whipped cream. A freshly made whipped cream is simple and satisfying. Adding salt takes the whipped cream on a journey to deliciousness. Just a pinch, nothing more, or the salt will be overwhelming. I'm searching for a subtle hint of salt, noticeable but appropriate. Rather than granulated or powdered sugar to sweeten the cream, I like to use honey to mirror the sweet-savory flavors that are already at work in the cake. I could eat this entire bowl of whipped cream!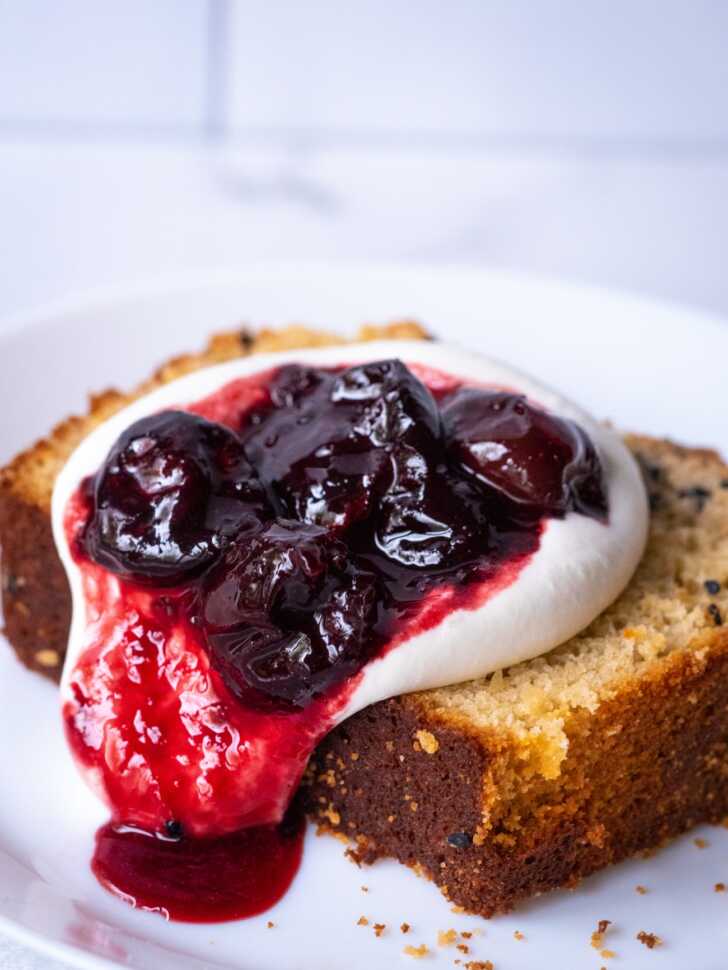 The cake is independently lovely, and with the salted whipped cream it becomes elevated, but with a fresh cherry compote on top, the Black Sesame Marbled Tahini cake becomes otherworldly. Fresh cherries will do if it's cherry season but frozen actually work quite nicely. The cherries, orange juice, sugar and cinnamon go into a pot to bubble and break down into a rich, ruby-red compote. To serve, I take a slice of the tahini cake, top it with a dollop of salted whipped cream and a spoonful of the cherry compote. On their own each of these is a treat, but together become absolute perfection.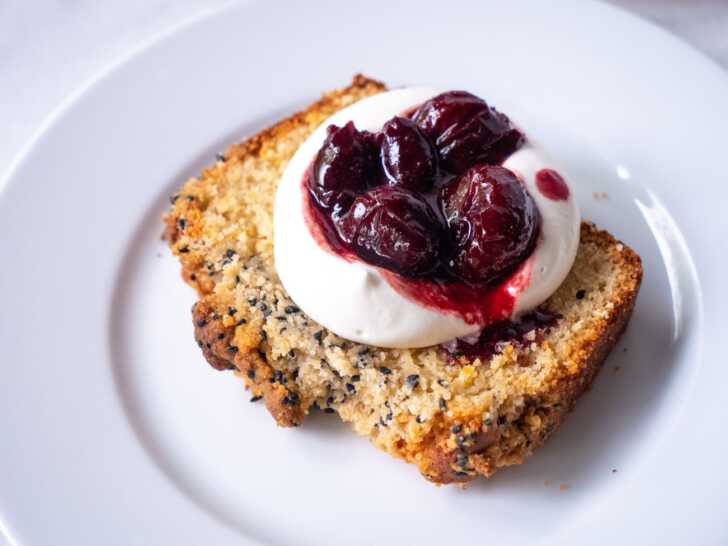 Everything about this dessert is familiar, from the cake to the whipped cream and the the fruit topping, but it's also fresh and new. Tahini paste and salt have transformed the standard dessert into something memorably delicious.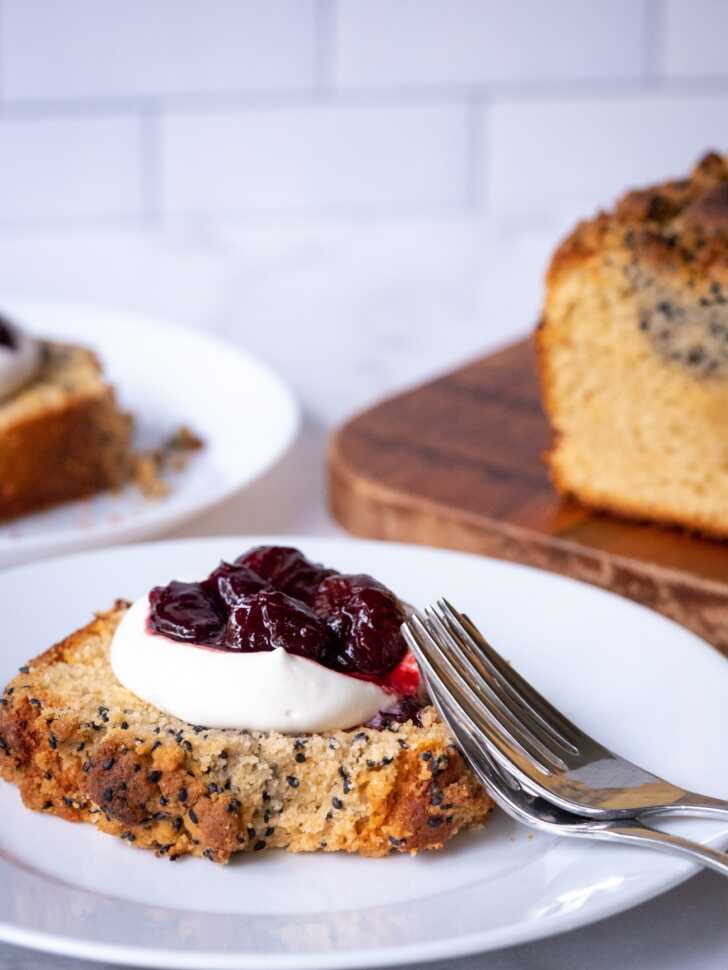 Black Sesame Marbled Tahini Cake is from the Winter in the Middle East menu at Table for 12. It was served with Yogurt-Marinated Grilled Chicken, Halloumi Pomegranate Greens Salad, and a Fluffy Persian Jeweled Rice.
Black Sesame Marbled Tahini Cake
Serves 10-12
15m prep time
45m cook time
20m inactive
For the cake:
3 cups all-purpose flour
4 teaspoons baking powder
1 teaspoon kosher salt
1 teaspoon orange zest
1 cup sugar
4 eggs
1 cup vegetable oil
2 teaspoon vanilla extract
1 cup plain yogurt
1 cup tahini
For the streusel topping:
1/2 cup black sesame seeds, toasted
1/2 cup all-purpose flour
1/3 cup sugar
4 tablespoons unsalted butter, melted
3 tablespoons tahini
For the compote:
1 (10 oz) fresh or frozen cherries, pitted
1/2 cup orange juice
1/4 cup sugar
1/4 teaspoon cinnamon
For the whipped cream:
1 1/2 cups heavy cream
2 tablespoons honey
1 teaspoon vanilla extract
1/4 teaspoon salt
Preparation
Preheat the oven to 350 °F and prepare two 8x4 loaf pans with non-stick spray.
In a bowl, whisk together the dry ingredients for the cake including flour, baking powder, salt, and orange zest. Set aside.
For streusel topping, combine all ingredients using a fork until a crumbly mixture forms. Set aside.
Using a stand mixer or hand mixer, mix the sugar, eggs and vanilla together until the mixture has turned pale yellow and ribbony.
Slowly incorporate the vegetable oil. Add the tahini and Greek yogurt into the batter. Fold in the flour mixture until incorporated.
Divide batter between both prepared loaf pans and top with streusel topping. Bake for 45 - 50 minutes or until a toothpick comes out clean from the center. Let the cake cool for 15 - 20 minutes before cutting into it.
While the cake bakes, cook the cherries in a pot with all ingredients over medium-low heat until the cherries start to break down into a compote. Remove from heat and let cool.
Whip the cream using a hand blender or stand mixer by whisking the cream with honey and vanilla until it reaches "cool whip" stage.
To serve, slice the cake and top with whipped cream and cherries. Enjoy!
This recipe is from the Winter in the Middle East menu served at Table for 12.
SKM: below-content placeholder
Whizzco for 12T