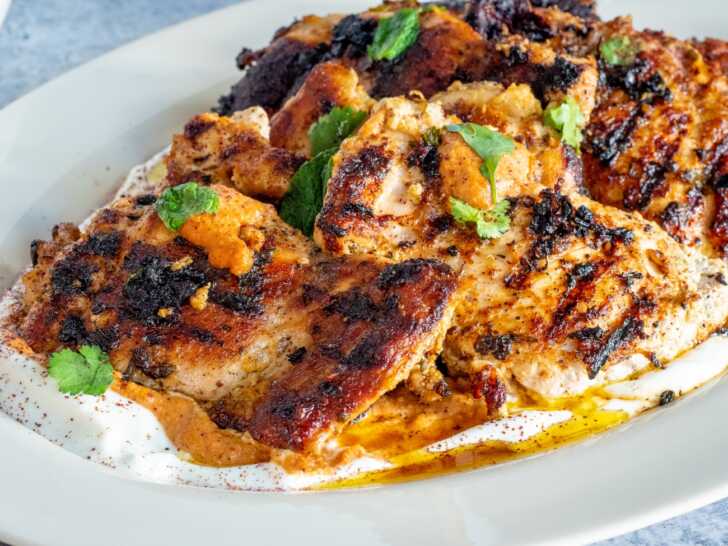 Chicken is a grilling go-to. It's a blank canvas for flavor which means it presents so many opportunities for deliciousness. I find that a good marinade can make all the difference when it comes to achieving the perfect grilled chicken and in particular this yogurt marinade. Yogurt infuses the chicken with tenderness as well as amazing flavor, especially when that yogurt is blended with fresh herbs and spices to make it the perfect bath for the chicken to swim in.
I like to serve this with a muhammara, a Lebanese-style red pepper sauce that is going to become your absolutely most-favorite condiment. Yogurt-marinated grilled chicken is going to be on permanent rotation in your home menu.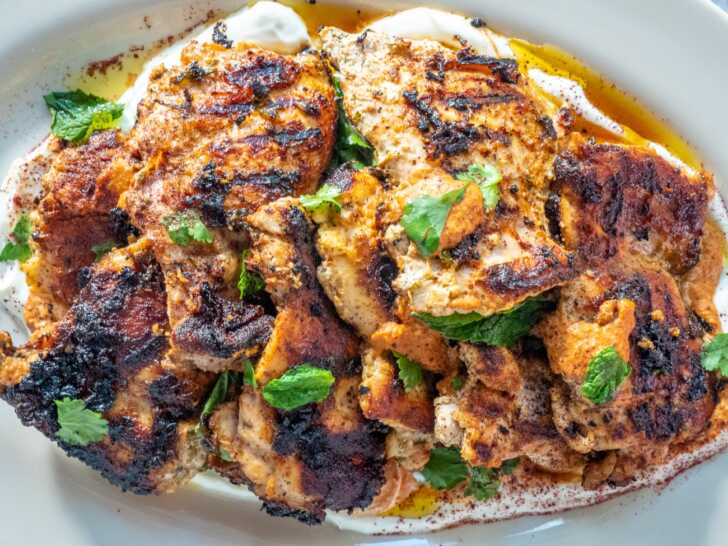 The yogurt marinade is made with Greek yogurt, garlic, lemon zest, fresh chopped cilantro, and mint. These alone can make a delicious marinade but I want something a bit more and so I'll also mix in cumin and a Middle-Eastern spice called za'atar. If you don't already have this in your spice drawer, get it! Za'atar is a blend of oregano, thyme, sumac, and toasted sesame seeds ground together to make an extraordinary spice blend.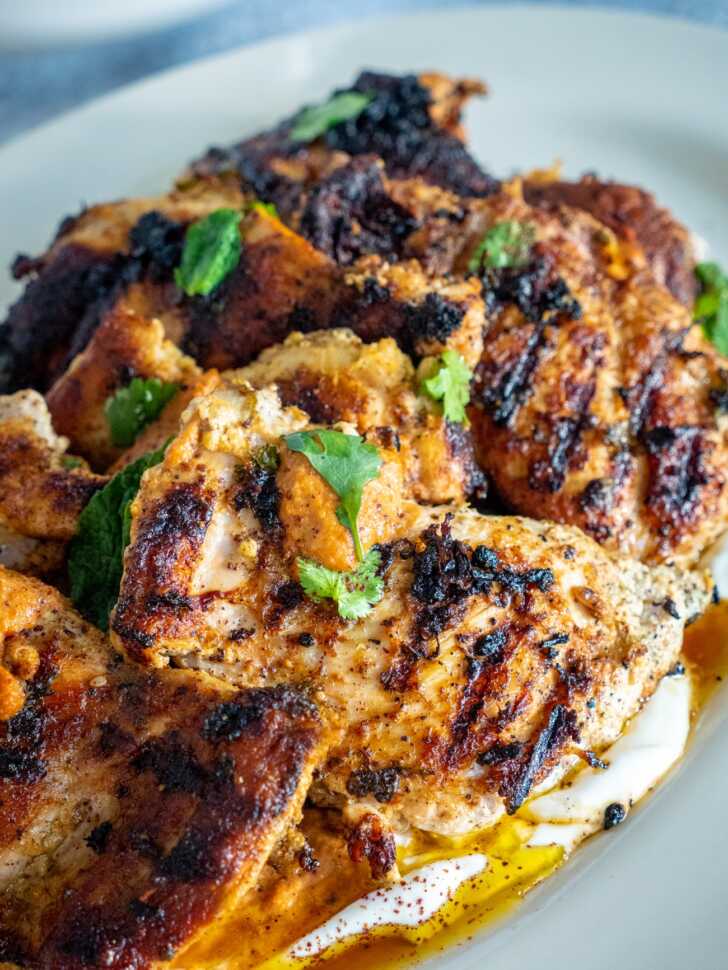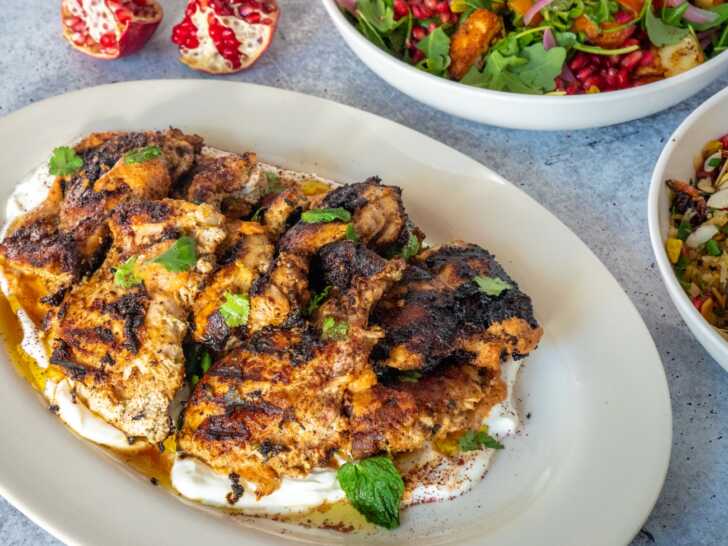 The herby-spiced yogurt blend is ready for the boneless, skinless chicken thighs. Chicken thighs already have more flavor than chicken breast due to the dark meat (it tends to have a more natural flavor and is better at retaining juiciness while it cooks). Chicken thighs are also often less expensive than chicken breast, so I'm getting flavor AND frugality with this particular protein. The chicken thighs will sit in the marinade for at least 30 minutes, preferably longer, up to eight hours to really become their best selves.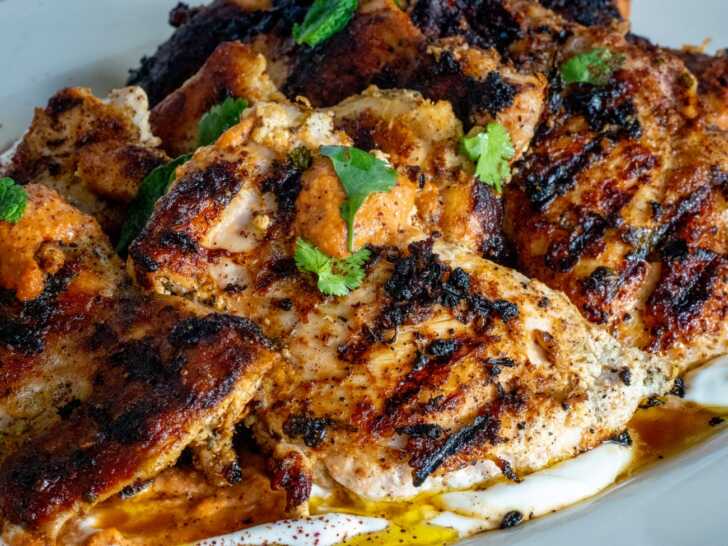 On to the muhammara – love this word because it already sounds like it's delicious, "mmmm-mmm." The flavor here is unlike any other, this is almost hummus-like in texture, a bit smoky and spicy, and just so good. Muhammara is a blend of flavors and spices, from red bell peppers to toasted cumin seeds and a little bit of lemon and garlic. Blended together it becomes a luxurious sauce that will beautifully complement the final yogurt-marinated chicken.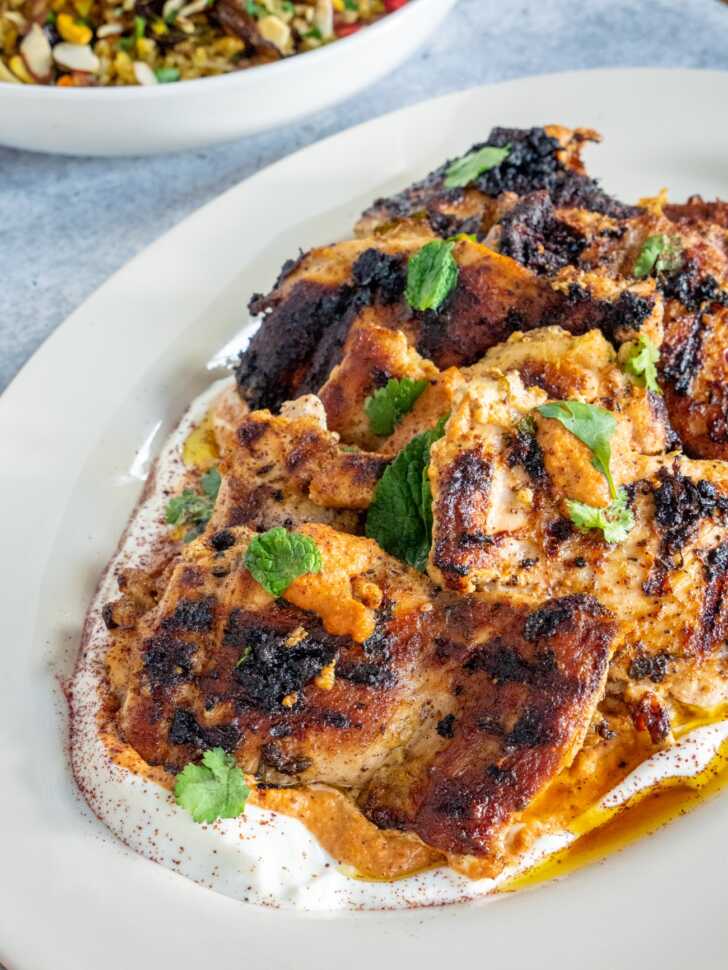 Once the chicken is grilled (just a quick 4-6 minutes per side), it's time to plate and to eat. To serve, a layer of labneh – or a thick yogurt, like Greek yogurt – goes down first, followed by a drizzling of the muhammara. The tender grilled chicken, with all of it's juiciness and flavor, goes on top. Another drizzle of muhammara and then a scattering of fresh chopped mint and cilantro, followed by a swirl of pomegranate molasses and olive oil and our yogurt-marinated grilled chicken is ready to eat. The color, flavor, and texture of every part of this dish is meant to tantalize tastebuds. And just like that, dinner is served. Enjoy!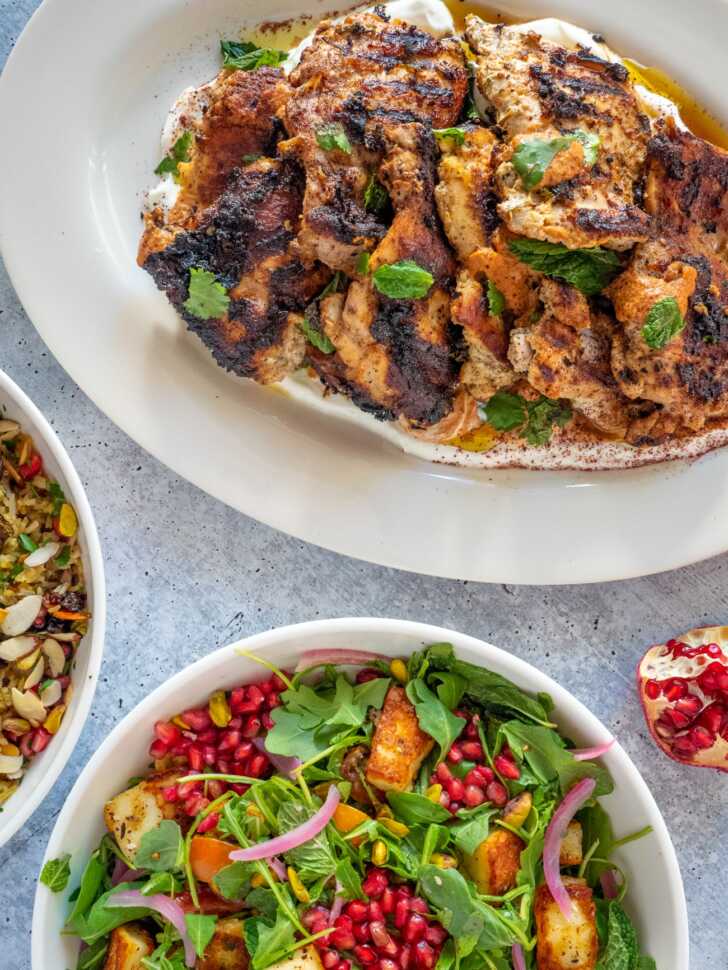 Yogurt Marinated Grilled Chicken is from the Winter in the Middle East menu at Table for 12. It was served with Fluffy Persian Jeweled Rice, Halloumi Pomegranate Greens Salad, and a Black Sesame Marbled Tahini Cake.
Yogurt Marinated Grilled Chicken
For the Chicken:
12 boneless, skinless chicken thighs, pounded
6 garlic cloves, minced
1 lemons, zested and juiced
1 cup plain yogurt
1/4 cup fresh cilantro, chopped extra for garnish
2 tablespoons fresh mint, chopped
3 tablespoons extra-virgin olive oil
1 1/2 tablespoons za'atar
1 teaspoon ground cumin
1 1/2 tablespoons kosher salt
1/2 cup labneh (Greek-style yogurt)
For the Muhammara:
2 roasted red bell peppers
3 tablespoons walnuts, toasted
2 tablespoons breadcrumbs
1 garlic clove
2 tablespoon extra-virgin olive oil
2 tablespoons pomegranate molasses
2 teaspoons fresh lemon juice
1 teaspoon crushed red pepper
1/2 teaspoon cumin seeds, toasted and crushed
Kosher salt and freshly cracked black pepper, to taste
Preparation
Mix all the ingredients for the marinade, besides chicken thighs, in a bowl until thoroughly combined.
Coat each chicken thigh in yogurt marinade and let it marinade for 30 minutes or overnight for up to 8 hours.
Blend the ingredients for the muhammara in a food processor, immersion blender, or stand mixer by adding all ingredients at once. Taste for salt and lemon juice.
Preheat a grill pan hot or set the oven to broil high . Grill the chicken on each side for 4 - 6 minutes or until a nice char is formed on one side. Repeat on the other side.
To plate, spread labneh on a round platter, followed by drizzles of muhammara. Arrange chicken on top of yogurt. Dress with more muhammara. Garnish with torn cilantro, mint, pomegranate molasses, and a drizzle of olive oil. Enjoy!
This recipe is from the Winter in the Middle East menu at Table for 12
SKM: below-content placeholder
Whizzco for 12T