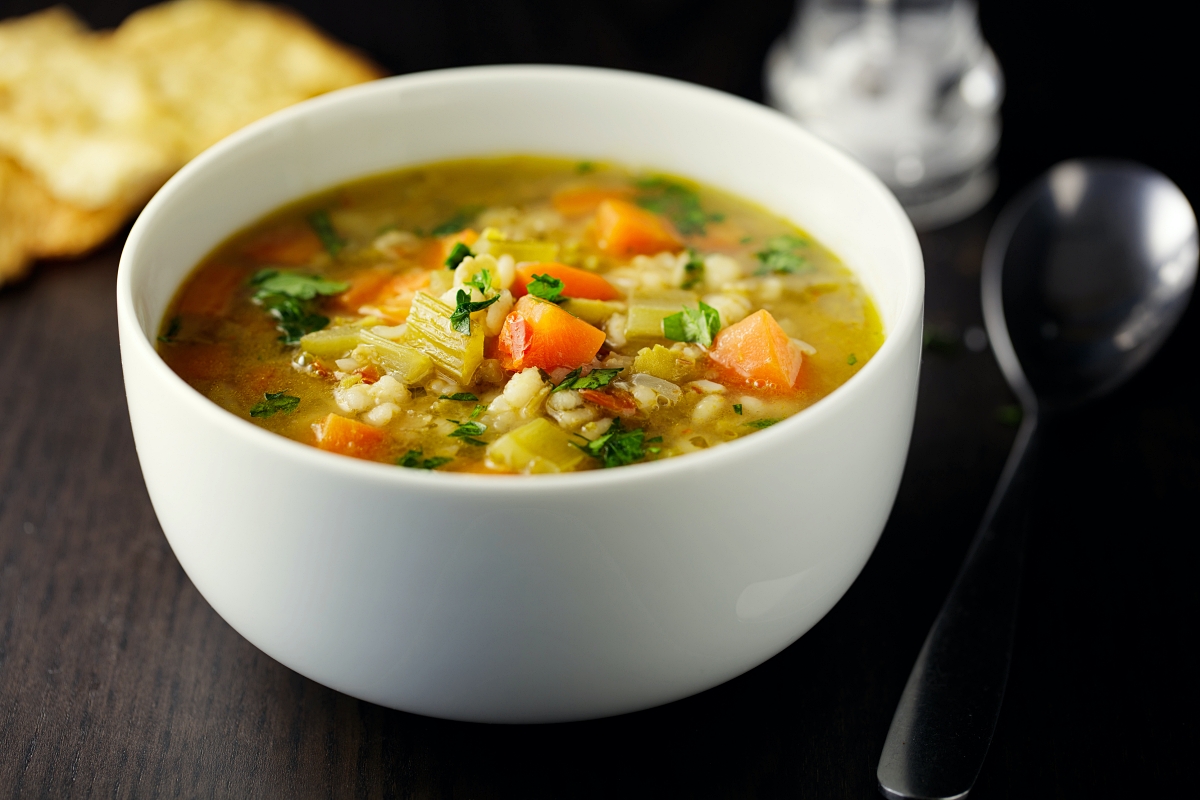 I can't speak for others, but in my kitchen I find that the improvised dishes I make are often the best. When I've got a lot of vegetables about to go bad you can guarantee that a tasty soup or bolognese sauce is fast-approaching. Because of all the different flavors that cooking this way adds to each recipe, the results are incredibly satisfying. And, that's why I love this recipe for everything but the kitchen sink soup.
If you've got a little bit of a lot of things left over then this is the hearty recipe for you. This dish starts with a mirepoix, a foundational mix of chopped onion, carrot, and celery. If you're missing one of these veggies then it will still be delicious, but the onion is perhaps the most critical part of this blend.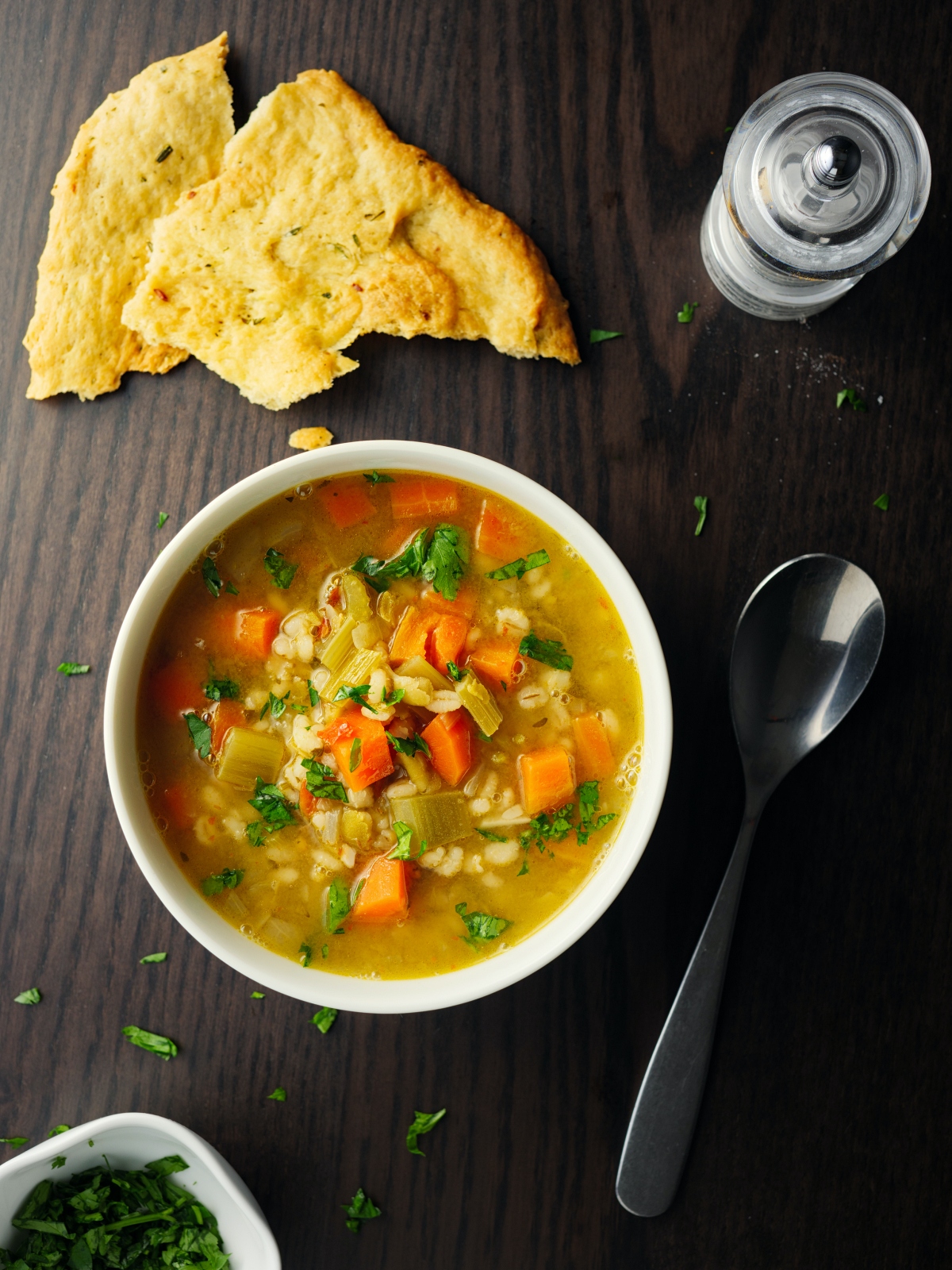 Sauté these in olive oil in a big stockpot and then add in vegetable or chicken stock. Whatever you have on hand will work just fine.
Next in the pot is the corn kernels, zucchini, and green beans, but you can change up the veggies to what you've got in the fridge or freezer or cupboard. Red peppers, mushrooms, and/or water chestnuts would be great in this soup. The base recipe with vegetable broth is vegetarian. But, you can add in some canned or leftover chicken or other meat to this recipe for a bit more protein.
One thing I love to add to my soups are drained white beans (AKA cannellini beans). You can throw in lentils, cooked barley, pasta, or quinoa. Whatever is to hand will be great in this soup! After that add in some chopped spinach or kale and turn the heat off. The greens will cook with the heat of the liquid.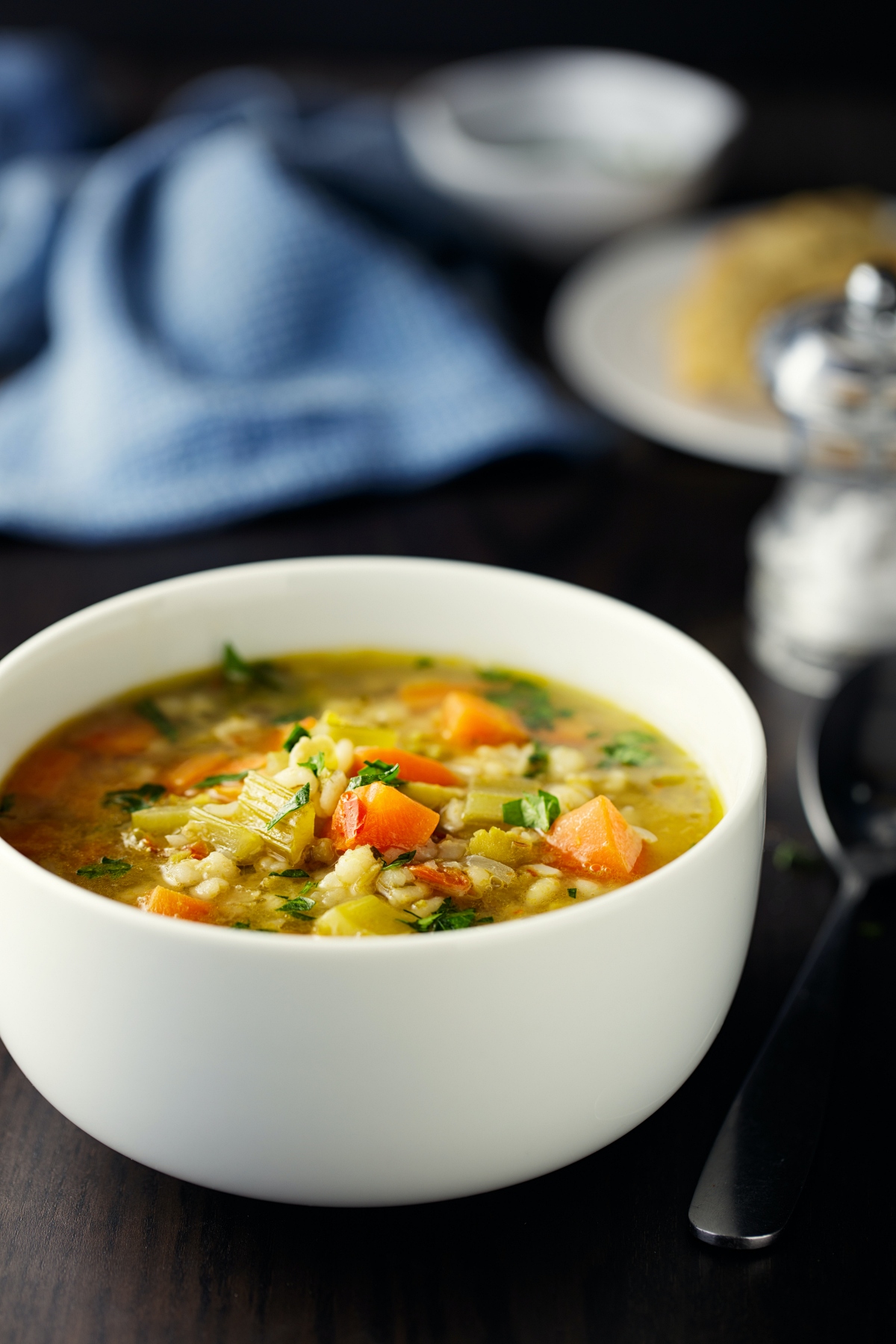 Then garnish each serving with some fresh parsley and if you're feeling fancy a little grated parmesan or some oyster crackers.
If you love hearty soups then this one is perfect for cooler weather. And, you can finally use up all those aspirational vegetables lingering in your fridge while being wonderfully frugal.
Everything But the Kitchen Sink Soup
Serves 4-6
20m prep time
40m cook time
Ingredients
2 tablespoons olive oil
1 onion, diced
1 carrot, sliced or diced
1 medium celery stalk, sliced
salt and pepper to taste
5 cups chicken or vegetable broth
1 tsp Italian seasoning
1/2 tsp garlic powder
1 ear corn, kernels removed, with cob reserved (optional)
1 small zucchini, quartered and sliced (optional)
1 cup fresh green beans, sliced or frozen bite-sized pieces
1 cup cold cooked rice, quinoa, barely, lentils, or pasta
2 cups kale or spinach, sliced into ribbons
2 tablespoons chopped fresh parsley
Preparation
In large stockpot heat oil over medium heat. Sauté onion, celery, and carrot until onion is just beginning to turn translucent, about 8 minutes. Add salt and pepper to taste.
Add broth, Italian seasoning, and garlic to pan and then the corn cob (optional). Bring to a boil and then reduce heat to low. Simmer for 10 minutes.
Add corn kernels, zucchini, and green beans and cook until veggies are fork tender. Add rice or cooked grains, pasta, or legumes and cook for 2 more minutes.
Remove from heat and add spinach. Season with more salt and pepper if needed. Allow to sit for 5 minutes and then remove corncob. Sprinkle each serving with some fresh chopped parsley. Optional: garnish with cheese and/or crackers.
Recipe adapted from Food Network.
SKM: below-content placeholder
Whizzco for 12T