And it tastes exactly like the original!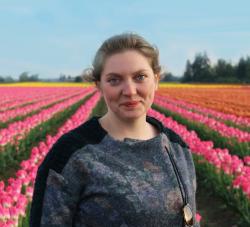 Decatur Macpherson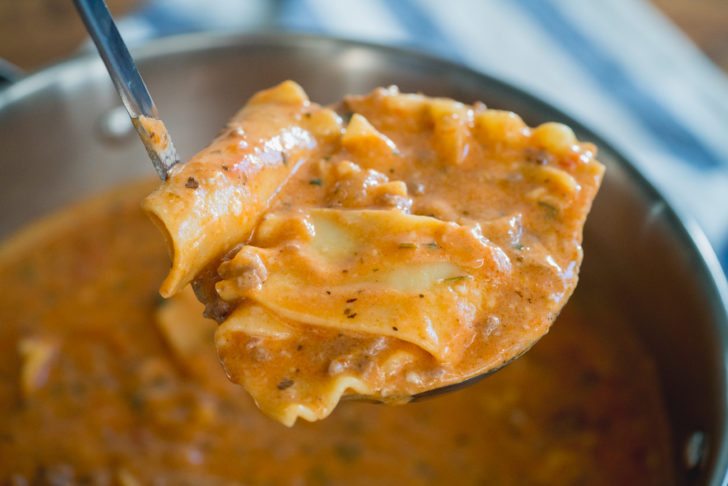 Are you ready to learn about one of the best soups we've made all year? Seriously, we've come to feel really strongly about soup in general – we can't believe we ever scoffed at it! – but this extra creamy lasagna soup truly is amazing. Not only is it packed with all the lasagna essentials, but it truly does taste just like the classic pasta dish that we always want to eat but never really want to make. This soup is a much, much easier way of getting all the greatness of a lasagna, but packed into a hearty, warming soup.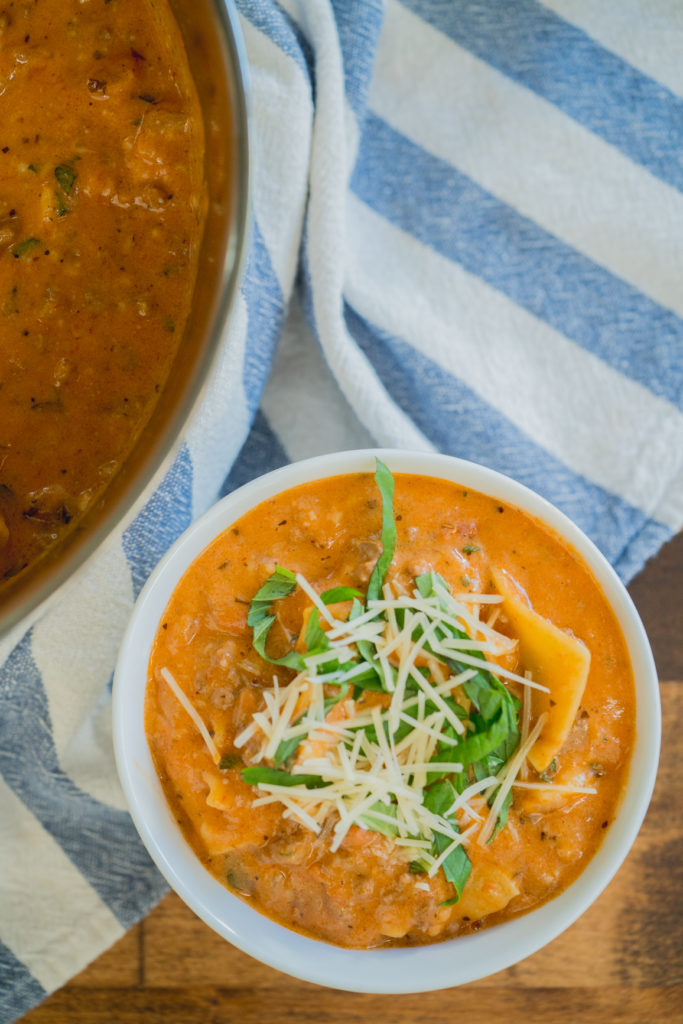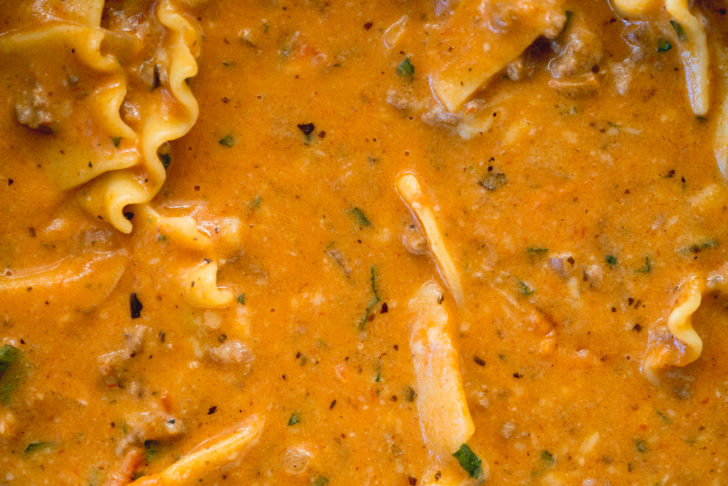 So apart from the fact that we've got ground beef (and you could easily sub in pork), broken up lasagna noodles, a delicious tomato base and plenty of cheese, we took it one step further and stirred in a bechamel sauce to tie the whole thing together. Yup, we skipped the ricotta, which we find to be lacking in flavor and texture, and went whole hog by making a roux, then stirring in whole milk and heavy cream to make a thick sauce which gets stirred into the soup as it finishes cooking. It's so, unbelievably good.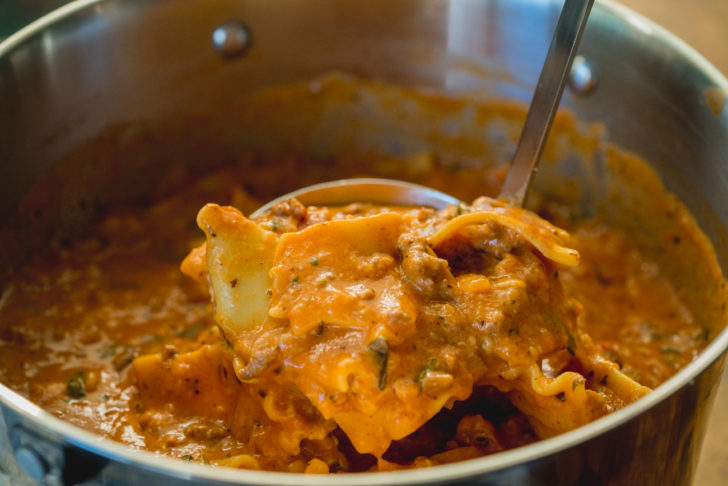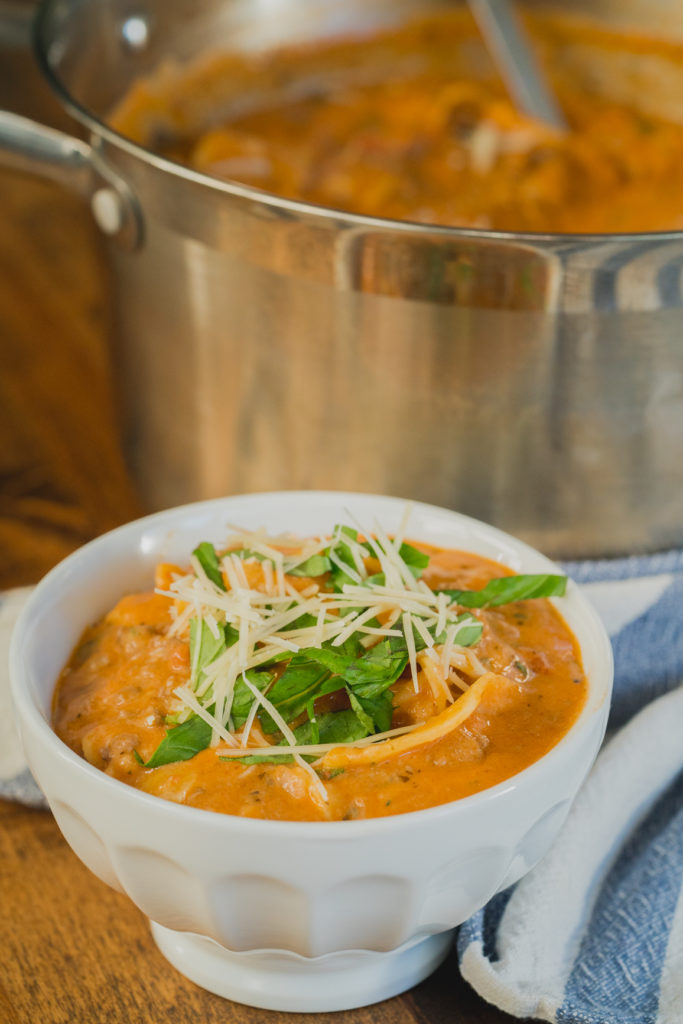 While you have a very yummy and filling soup without the bechamel sauce or cheese going in, we definitely recommend not skipping it, since it takes this meal the the next level. And this really is a meal. It's a soup pasta combo that we are absolutely thrilled with, and you will be too once you try it!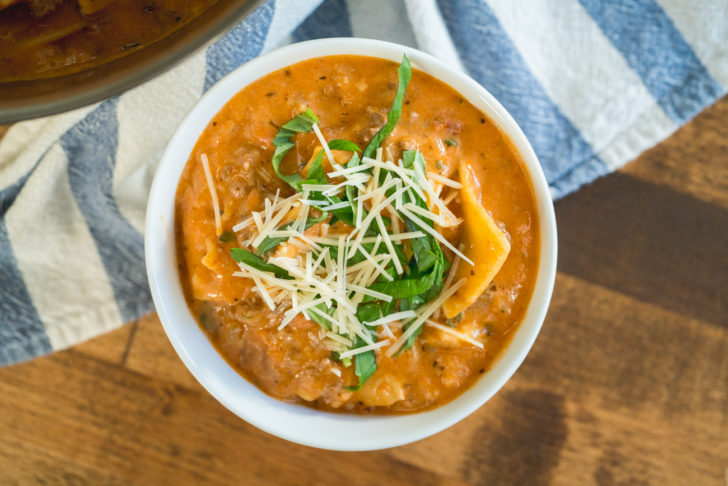 Creamy Lasagna Soup
Ingredients
Bechamel:
1/4 cup (1/2 stick) unsalted butter
1/4 cup all-purpose flour
1 cup whole milk
1 cup heavy cream
kosher salt and freshly ground pepper, to taste
Soup:
1 pound lean ground beef
1 yellow onion, finely chopped
4 cloves garlic, minced
1/2 tablespoon Italian seasoning
1/2 teaspoon rosemary
2 bay leaves
2 tablespoons tomato paste
1 (24 oz.) jar Italian pasta sauce
2 cups low-sodium chicken broth
10-12 dry lasagna noodles, broken into pieces
1/4 cup fresh basil, chopped
1 cup mozzarella cheese, grated
1 cup parmesan cheese, grated
kosher salt and freshly ground pepper, to taste
Preparation
Melt butter in a large saucepan over medium heat. Sprinkle in flour once butter has melted, whisking to create roux.
Let roux cook, while stirring continuously, for 2-3 minutes, or until golden, then continue to whisk and pour in milk and heavy cream.
Cook for another 5-10 minutes, or until mixture thickens.
Remove from heat and set aside until ready to use.
Heat a large stock pot or Dutch oven over medium-high heat and brown beef until no longer pink. Season generously with salt and pepper. (Drain all but 2 tablespoons fat.)
Add onion and cook for 7-8 minutes, or until softened. Season with salt and pepper, Italian seasoning and rosemary, then add garlic and cook for another 1-2 minutes, or until fragrant.
Stir in tomato paste, cooking for 2 minutes, or until incorporated with the beef and veggies, then stir in pasta sauce.
Add bay leaves and chicken broth, then stir in broken noodles. Bring to a boil, then reduce heat to low and let simmer for 15-20 minutes, or until noodles are al dente.
Stir in bechamel-roux sauce and cook for 5 minutes, then stir in mozzarella and parmesan cheese. Taste and adjust seasoning, if necessary.
Ladle into bowls and serve hot.
SKM: below-content placeholder
Whizzco for 12T