We could not believe how perfectly this turned out…it's just like pastry!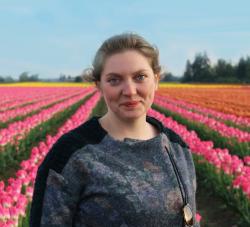 Decatur Macpherson
One of our favorite fall desserts that always brings a smile to our face is apple strudel. Regardless of whether the temperature's dropped, once September rolls around we officially dive into all things autumn-related, so that means getting our hands on as many apple treats as we possibly can. Here, we decided to take our brunch game to the next level with a French toast loaf. But not just any French toast loaf – we made an apple strudel French toast loaf.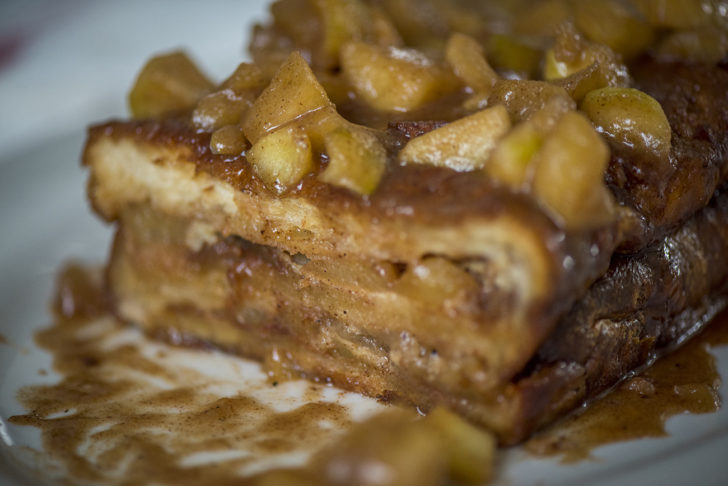 Let your mind wrap itself around that, take all the time you need. What we did is whip up an easy cinnamon apple concoction, along with a deliciously spiced French toast batter, then lined our loaf pan with layers of bread, cinnamon sugar, butter and apples, then poured our batter over the top. Pop that bad boy in the oven, then get ready to devour the whole thing. The result is shockingly pastry-like, so drizzle your remaining cinnamon apples over the whole thing and dig in! It's flavorful and delicious, and you'll be thrilled with how it turns out!
Strudel French Toast Loaf
Serves 6-8
1 hour 30 minutes active
Ingredients
French Toast:
9-12 thick slices day-old, white bread
4 eggs
1 stick unsalted butter, cut into pats and chilled
1 1/4 cup heavy cream
1 cup brown sugar
1 1/2 teaspoons cinnamon, divided
1 teaspoon vanilla
1/4 teaspoon nutmeg
1/4 teaspoon allspice
Topping:
6 fuji/gala/granny smith apples, peeled and chopped
1/2 cup (1 stick) unsalted butter
1 cup brown sugar
2 tablespoons warm water
1 teaspoon cornstarch
1 1/2 teaspoons cinnamon
1/4 teaspoon nutmeg
Preparation
[When ready, preheat oven to 350º F.]
Spray a 9×5-inch loaf pan with non-stick spray and set aside.
Start by prepping topping ingredients: melt butter in a large pan or skillet over medium-high heat and stir in brown sugar.
Add chopped apples to skillet, and season with cinnamon and nutmeg. Cook for 6-8 minutes, or until softened and tender.
In a separate bowl, whisk cornstarch into 2 tablespoons warm water until smooth and combined. Pour slurry into apple mixture and cook for 2-3 minutes, or until thickened.
For the french toast ingredients: combine brown sugar with 1 teaspoon cinnamon and nutmeg in a medium bowl, and mix well.
Cut bread slices into strips that fit your loaf pan or baking dish and lay down a layer of bread strips inside pan.
Sprinkle 1/3 of brown sugar mixture over the layer of bread, then add a layer of butter pats over the sugar, using 1/3 third of the butter. Pour 1/4 apple mixture over the butter.
Repeat with another 2 layers of bread, sugar, butter and apples. Press down on bread with your hand to make sure it's compacted.
In a large bowl, beat together the eggs, heavy cream, vanilla, remaining cinnamon, and allspice.
Pour batter slowly over the loaf, making sure to allow time for the bread to absorb all the liquid. Pay attention to the corners of the pan.
Cover pan with plastic wrap and refrigerate for 2-4 hours, or overnight.
Remove plastic wrap, cover pan with aluminum foil, and bake (on a rimmed baking sheet) for 40 minutes.
Uncover and top with remaining apple mixture (optional), then return to oven and bake for another 15-20 minutes.
Remove from oven and let rest 10 minutes, then slice, serve and enjoy!
SKM: below-content placeholder
Whizzco for 12T