Highly customizable bite-sized appetizers packed with spicy flavor and the goodness of halloumi.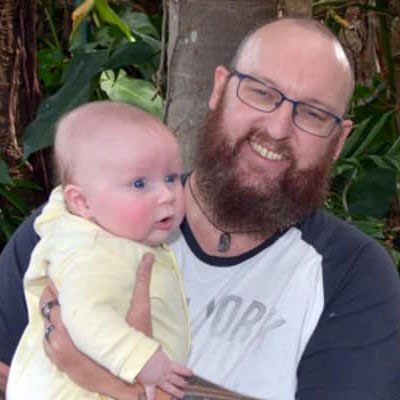 Jono Elderton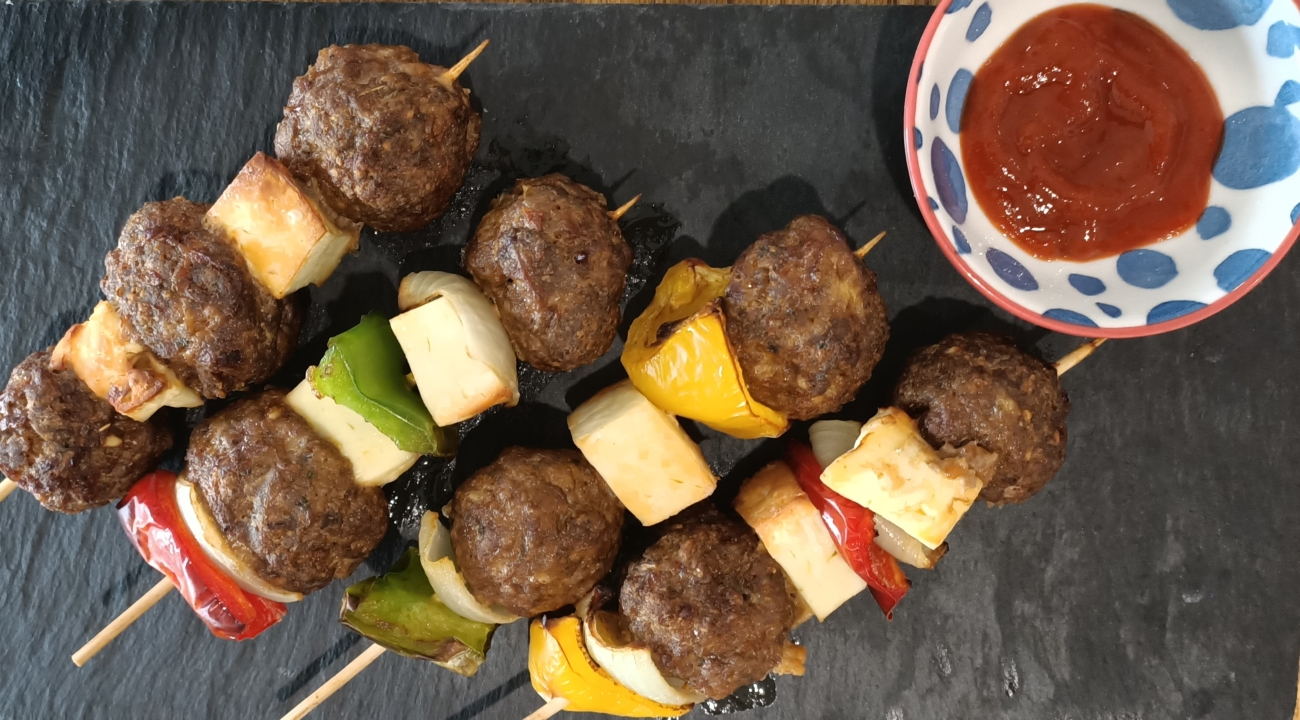 My air fryer has taken meatballs to another delightful level. Whether it's beef, chicken, or pork, air fryer meatballs are quick and delicious, and they absolutely pop with flavor. The process eliminates the need to use oil, cooks meat simply and effectively (I don't need to watch it closely either), and locks in a natural savory taste that amplifies the seasoning that you've chosen to pair with your meat.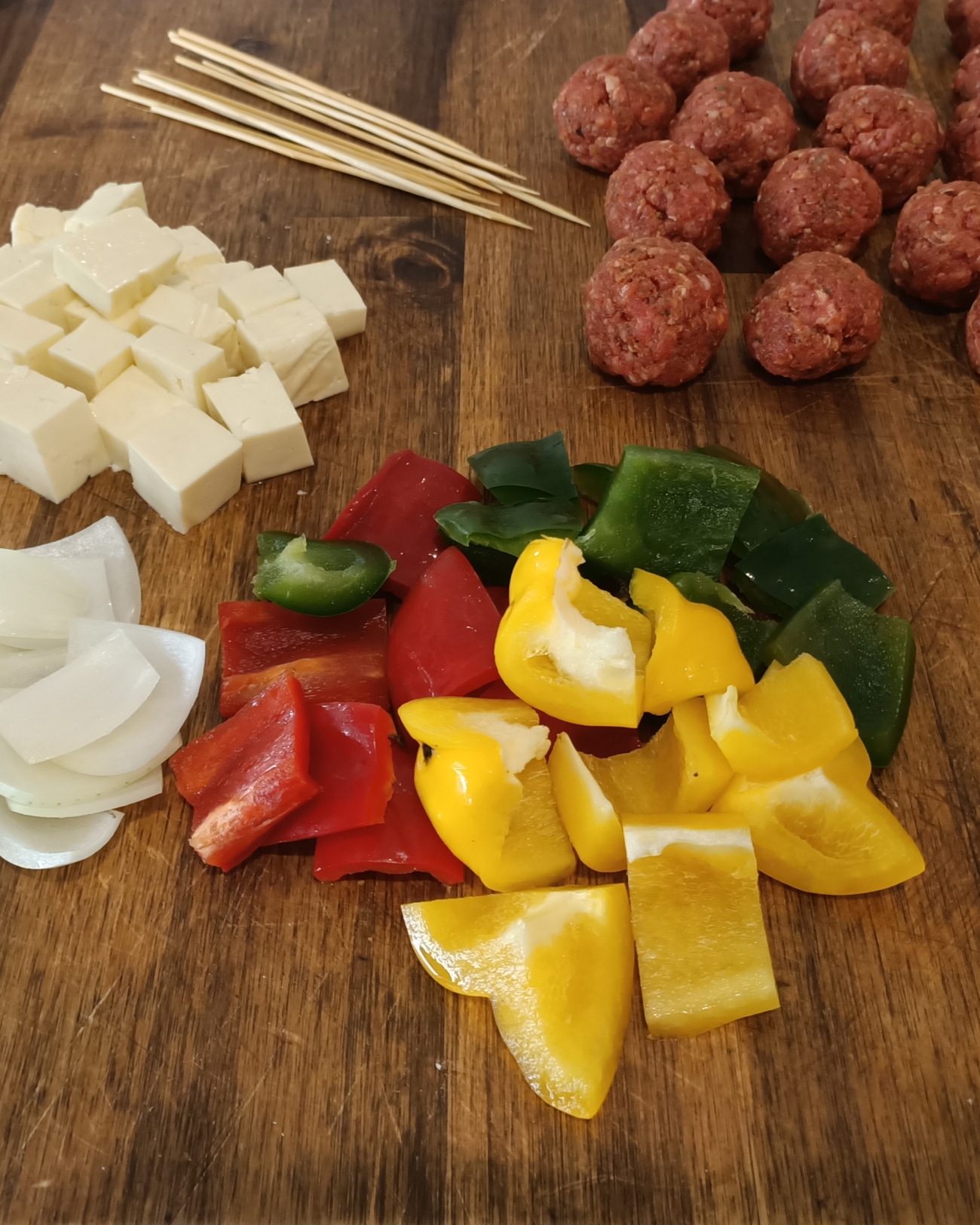 This beef skewer meatball recipe is one of my absolute favorites to cook at home. It matches spicy, flavorful meatballs with halloumi (my favorite cheese), bell peppers, and onion. Halloumi is a great cheese to use when air frying because it's firmer than most others. This means you get crispier, golden brown cheese without the mess and mayhem of meltier cheeses, and it also stays on your skewers.
Jono's Tips: Always moisten your wooden skewers prior to use. Also, use a corkscrew motion to thread your halloumi onto the pre-dampened skewers in order to avoid cracking/splitting the cheese.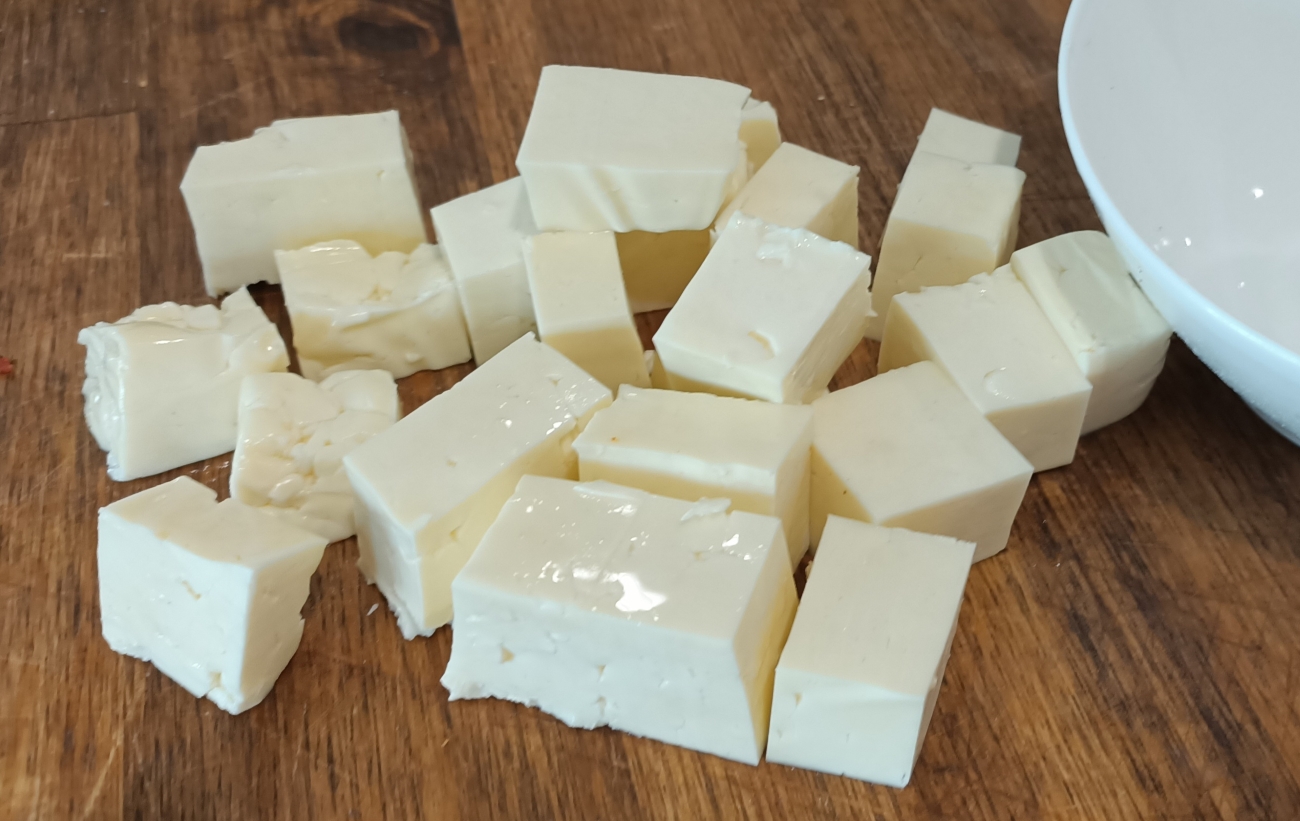 There's tremendous versatility you can bring to this recipe. You can switch up your meat, the veggies you pair them with, and the herbs to suit the theme of your meatball skewers. For example, adding pineapple chunks and bacon to create a Hawaiian type of skewer is something I'm extremely keen to try.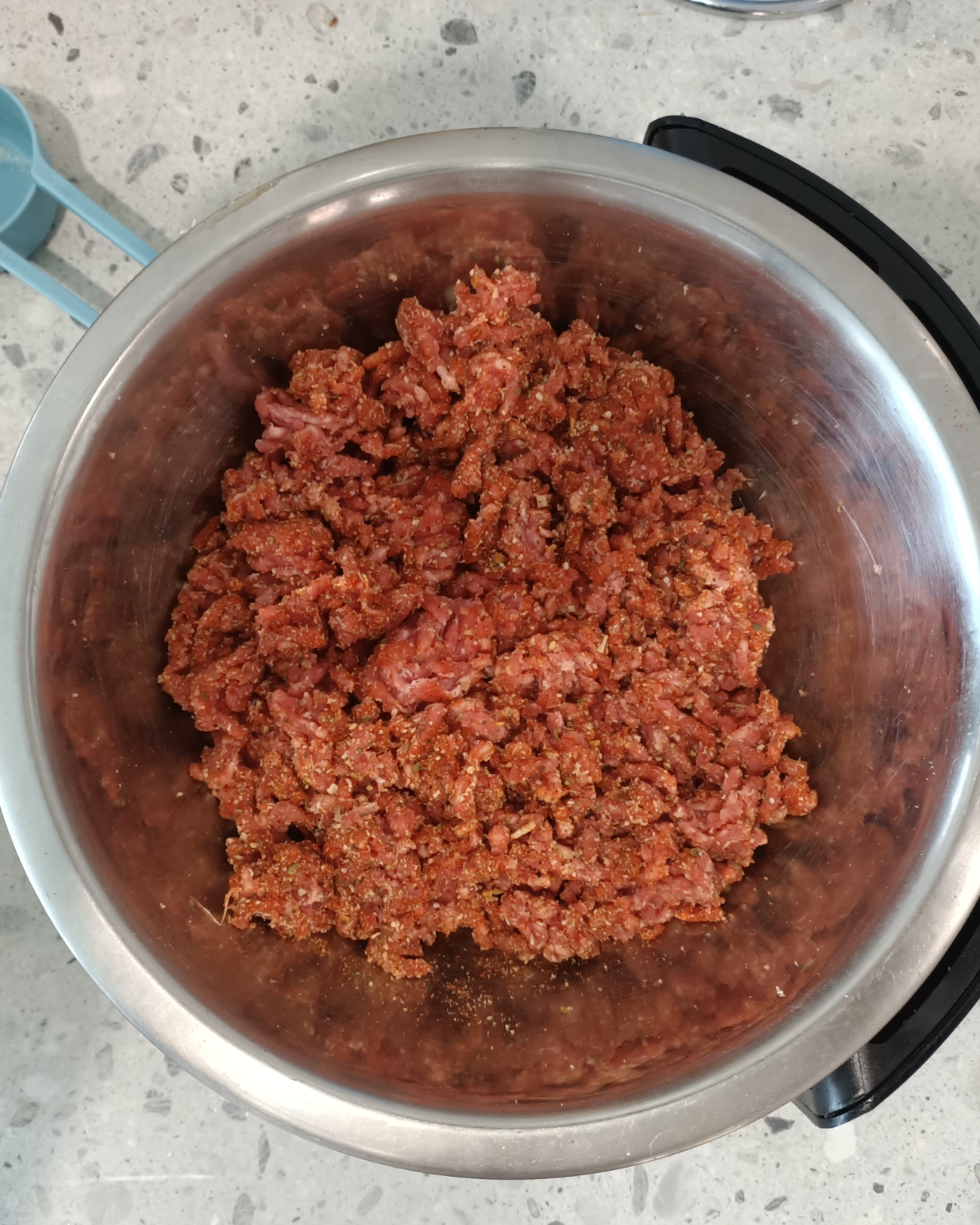 This recipe works fantastically as a snack for guests on game day, or as a simple midweek family meal in spring and summer. All you need to do is combine it with a simple fried rice or a leafy salad. And if you don't like your meatballs hot, you can switch out the spicy stuff for a gentler mix of herbs and spices.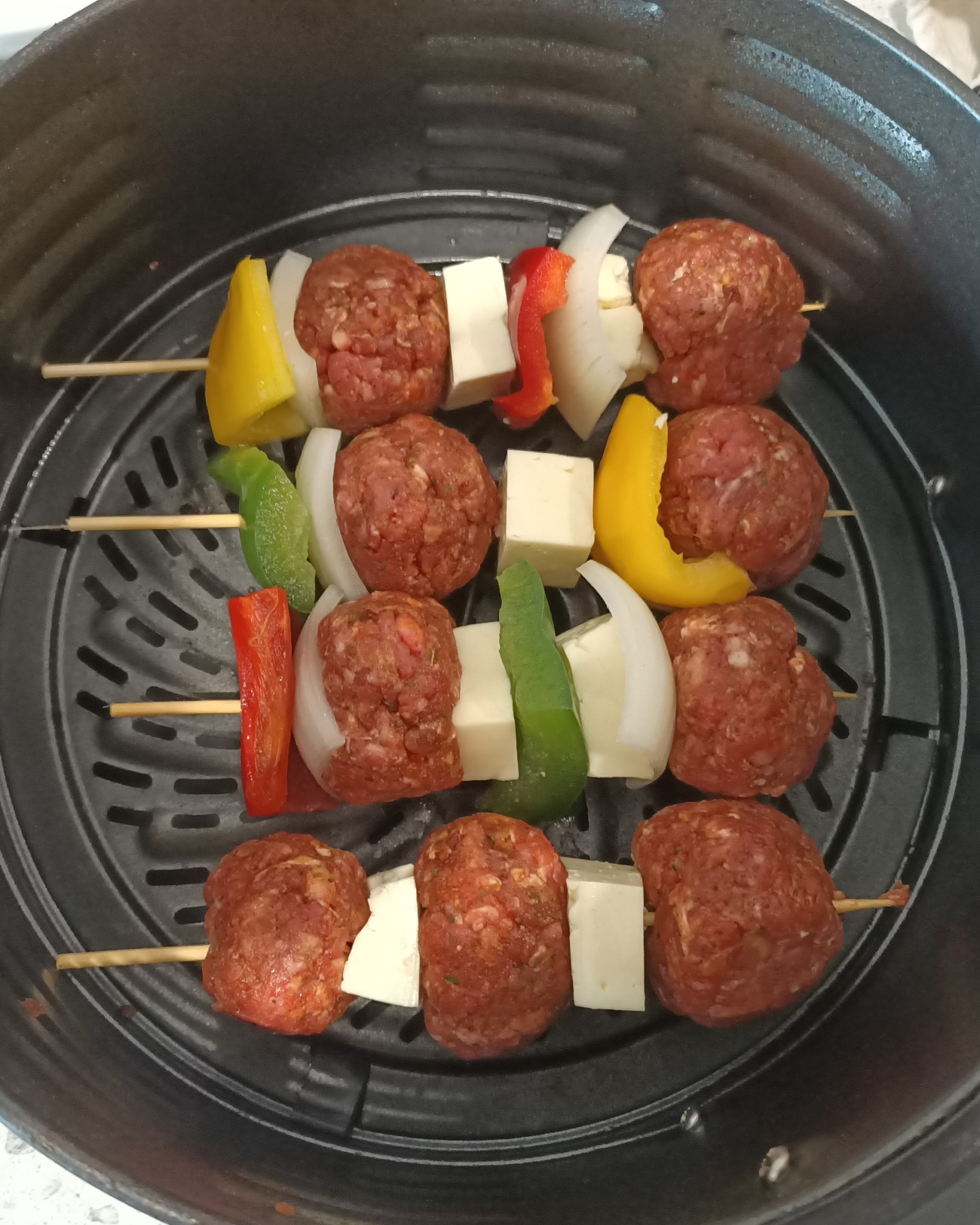 Air Fryer Spicy Meatball Skewers
Makes 10-12 skewers
20m prep time
15m cook time
For the Skewers
10-15 bamboo skewers (soaked)
1 lb lean ground beef
1.5 - 2 bell peppers
1/2 yellow onion, cut into large pieces
10 oz halloumi cheese
1/4 cup regular bread crumbs
1 egg, lightly beaten
For the Herb Mix
1 teaspoon Kosher salt
1 teaspoon black pepper
2 teaspoon Italian herb mix
1 teaspoon cayenne pepper
1 teaspoon cumin
1 teaspoon sweet paprika
Optional: Replace cayenne pepper with garlic powder
Preparation
Cut skewers in a size to fit the air fryer then soak in a dish of water, setting aside until it's time to thread.
Combine herbs together to create spice mix.
Combine ground beef, spice mix, and breadcrumbs in a bowl, add the egg and mix thoroughly to combine.
Cut veggies and halloumi into 1-inch pieces, and roll the ground beef mixture into small, circular balls.
Thread the first four wooden skewers, leaving about 1-inch at the end of the skewer.
Place sticks into the air fryer in groups of 4 and cook for 5 minutes at 350°F.
After five minutes, turn over each skewer and cook for a further 5-7 minutes at 350°F, or to taste.
Plate and enjoy with ketchup, sriracha, or the dipping sauce of your choice!
Recipe adapted from The Busted Oven
SKM: below-content placeholder
Whizzco for 12T