Need a quick dinner the family will love? We've got just the thing!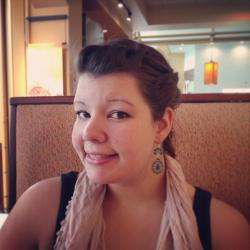 Jessica Griggs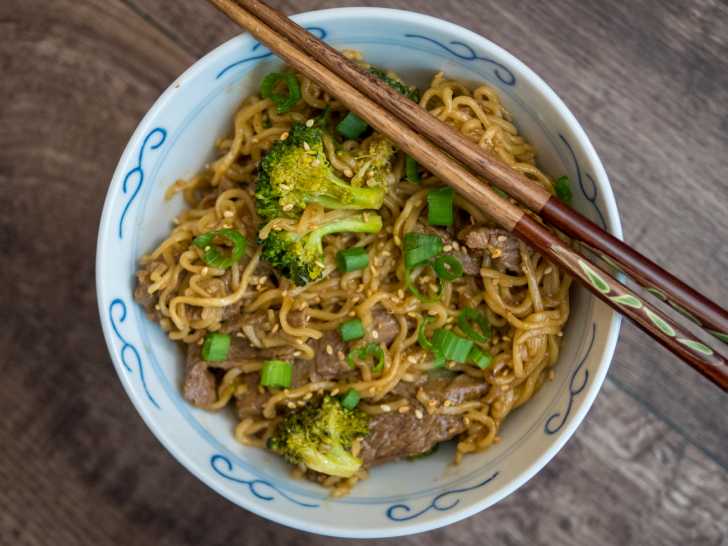 Whenever I get Chinese takeout, my go-to dish is beef broccoli. There's just something about the tender, juicy beef coupled with the snap of broccoli that is so satisfying! Typically beef broccoli is served with rice, but the switch-up in this recipe is noodles that are cooked right in the same pan, making this meal not only quick and easy to cook, but easy to clean up as well. That's a win-win in my book.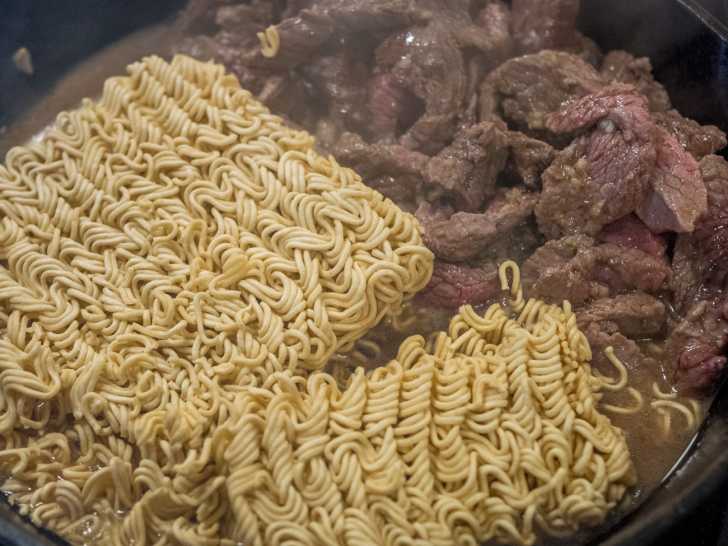 Part of what makes this dinner easy prep is the instant ramen noodles. It's probably been a while since you've had instant ramen, and if you're anything like me, the orange packets of food bring back memories of being a poor college kid who survived on ramen and peanut butter and jelly sandwiches. Don't worry though! This recipe only uses the noodles, so you can throw that sodium-filled seasoning packet away.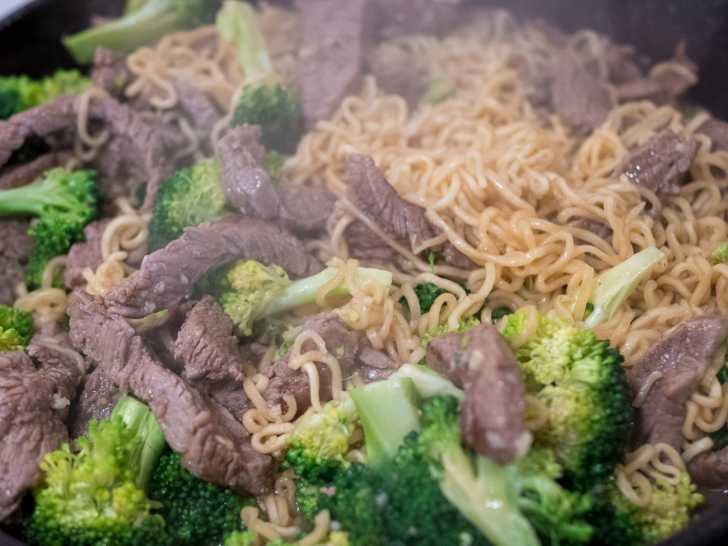 Start off by pan-frying the thinly sliced flank steak, and then mixing in garlic and cooking until that nice, flavorful aroma fills the kitchen. Then add water and plop the uncooked ramen noodles right in the pan. Flip the noodles after about forty-five seconds, then let sit another thirty seconds before breaking the noodles apart.
Some of the ingredients in the sauce may seem a little strange, like oyster sauce. While this is a staple in a lot of Asian dishes, it doesn't make its way into a lot of other cuisines. So, if you're not going to use the sauce for something else, you may be understandably hesitant to buy it. Luckily, there are a few easy substitutions. You can replace the oyster sauce with Worcestershire sauce, or you simply add a spoonful of sugar to your stir-fry.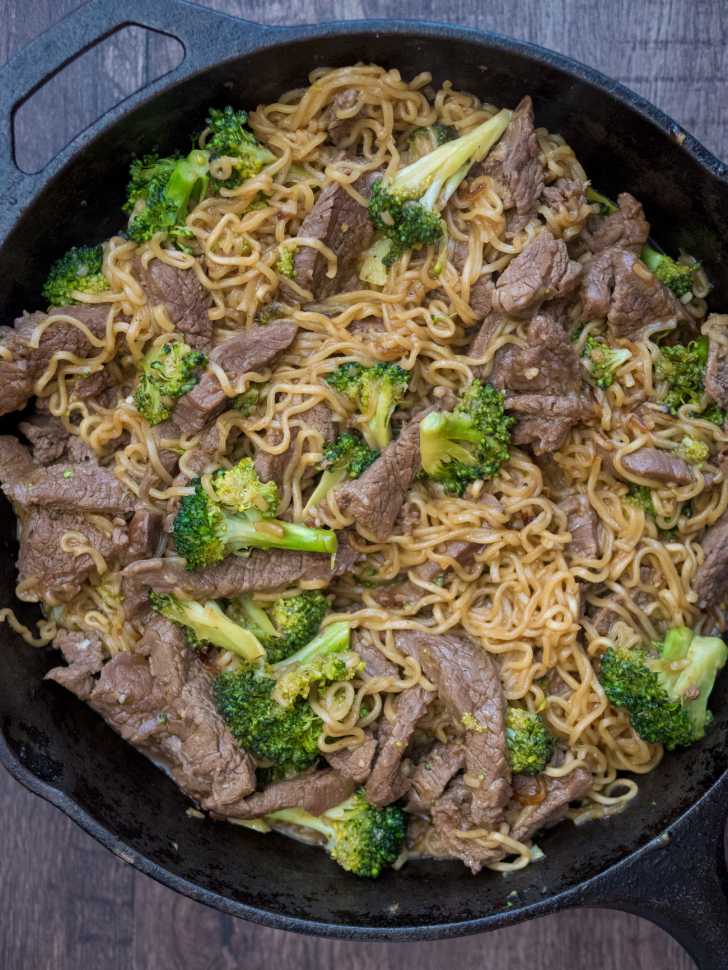 From there, you just have to mix your sauce together and pour it in the pan and toss your broccoli right in as well. Cook until the broccoli is tender, and then top with green onions and sesame seeds, and serve this meal up nice and hot. See the full recipe and ingredient list below!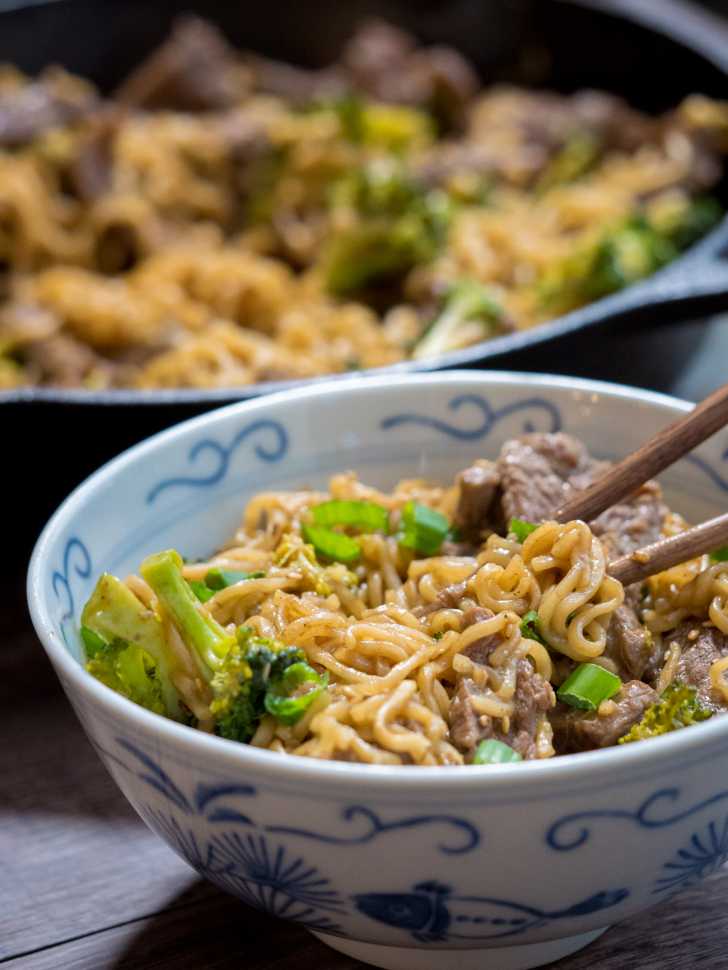 20-Minute Beef & Broccoli Ramen Stir Fry
Ingredients
1 teaspoon sesame oil
1 tablespoon soy sauce
1 tablespoon oyster sauce
2 teaspoons hoisin sauce
1 tablespoon rice wine vinegar
2 tablespoons olive oil, divided
1 lb flank steak, thinly sliced
2 cloves garlic, minced
2 (3 oz) packets ramen instant noodles, discard seasoning
1 head broccoli, cut into florets
Green onion, sliced for serving
Sesame seeds, for serving
Preparation
In a medium bowl, whisk together the sesame oil, soy sauce, oyster sauce, hoisin sauce, and rice wine vinegar. Set aside.
Heat olive oil in a large skillet over medium-high heat. Add steak and cook, turning once, until browned and cooked through, 3-4 minutes. Add garlic and cook 1 minute more.
Push beef to the side, add 1 1/4 cups water and place the noodles in the water. Leave for 45 seconds, flip, leave for 30 seconds, then untangle noodles.
Toss noodles with beef, add broccoli, and sauce, and cook until broccoli is tender and sauce has thickened, 3-4 minutes.
Serve garnished with sesame seeds and green onion. Enjoy!
Recipe adapted from Damn Delicious.
SKM: below-content placeholder
Whizzco for 12T