This is the some of the best soup you'll ever make.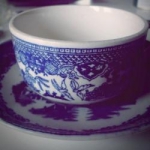 Rose Heichelbech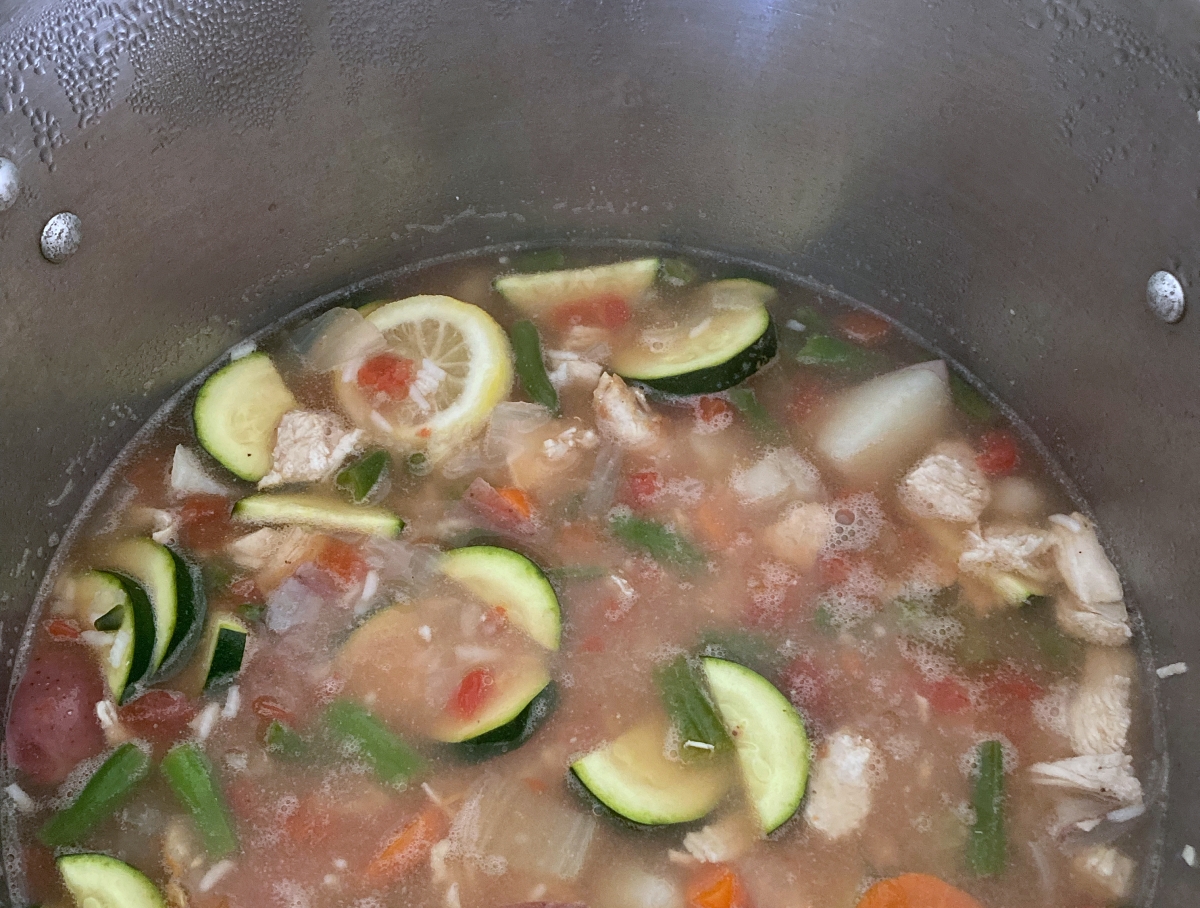 Most of us remember the story of stone soup. The popular 1947 children's book by Marcia Brown (still in print today) was based on European folktales about the community banding together to make soup seemingly from nothing.
The fable goes that some travelers (or sometimes soldiers) were passing through a village with no food and no cooking utensils save for a soup pot. Asking everywhere for things to put in the pot, they were rejected at every turn until they fabricated a story that with just a stone they could all have soup…if only someone would also toss in some carrots for garnish…and maybe a few potatoes…and maybe some black pepper. Soon everyone contributes something to the pot and there's enough soup for the entire village.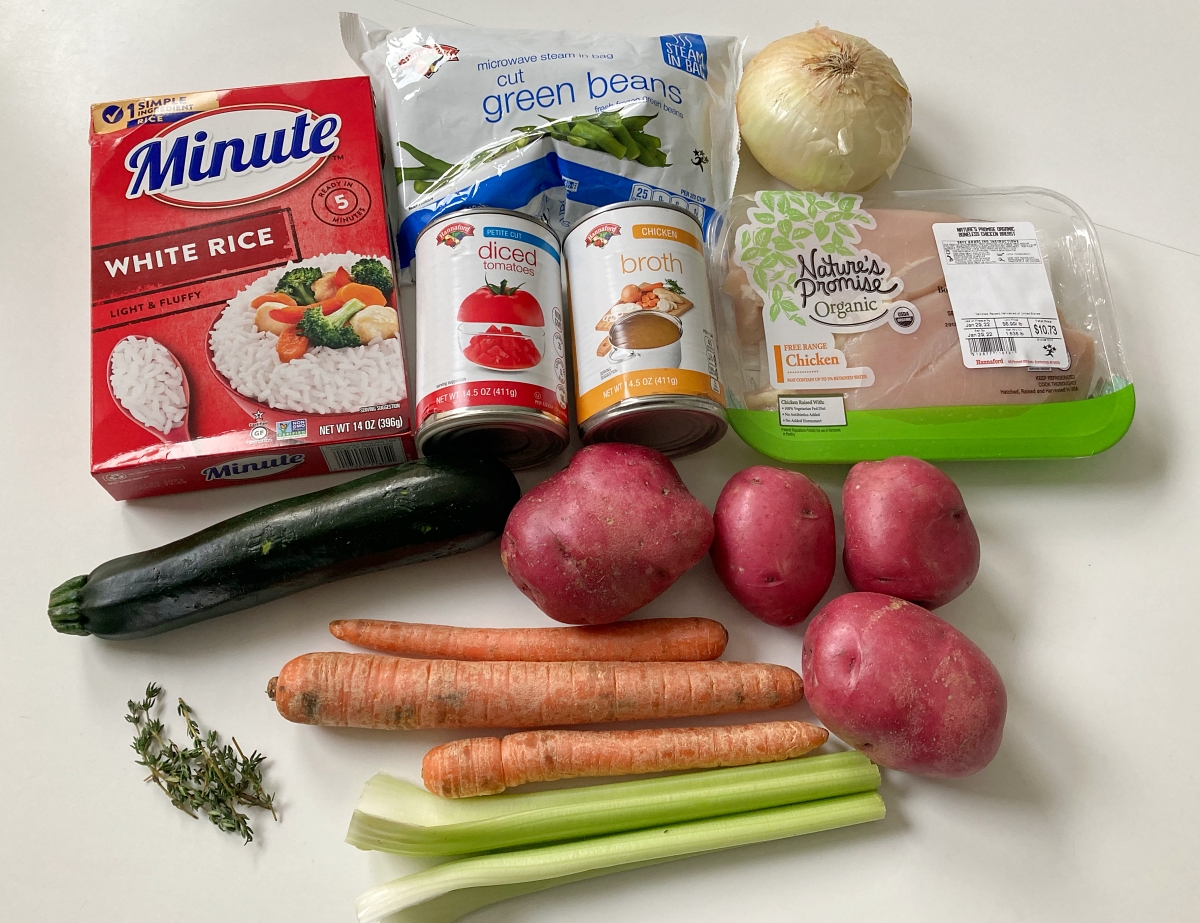 The "little of this, little of that" cooking style is one that resonates with me in a big way. So often when I'm cooking I'll change things up or add extra spices to suit my mood at the time. And that's what is so great about this stone soup recipe- you can customize it endlessly.
If you prefer peas over green beans then go for it. Want to use barley or pasta instead of rice? Great! And, while this recipe is perfect when made with chicken, it would also be wonderful made with turkey or ground beef instead. Just make sure your meat is already cooked before adding it into the pot, that way you're not boiling the soup to cook the meat through.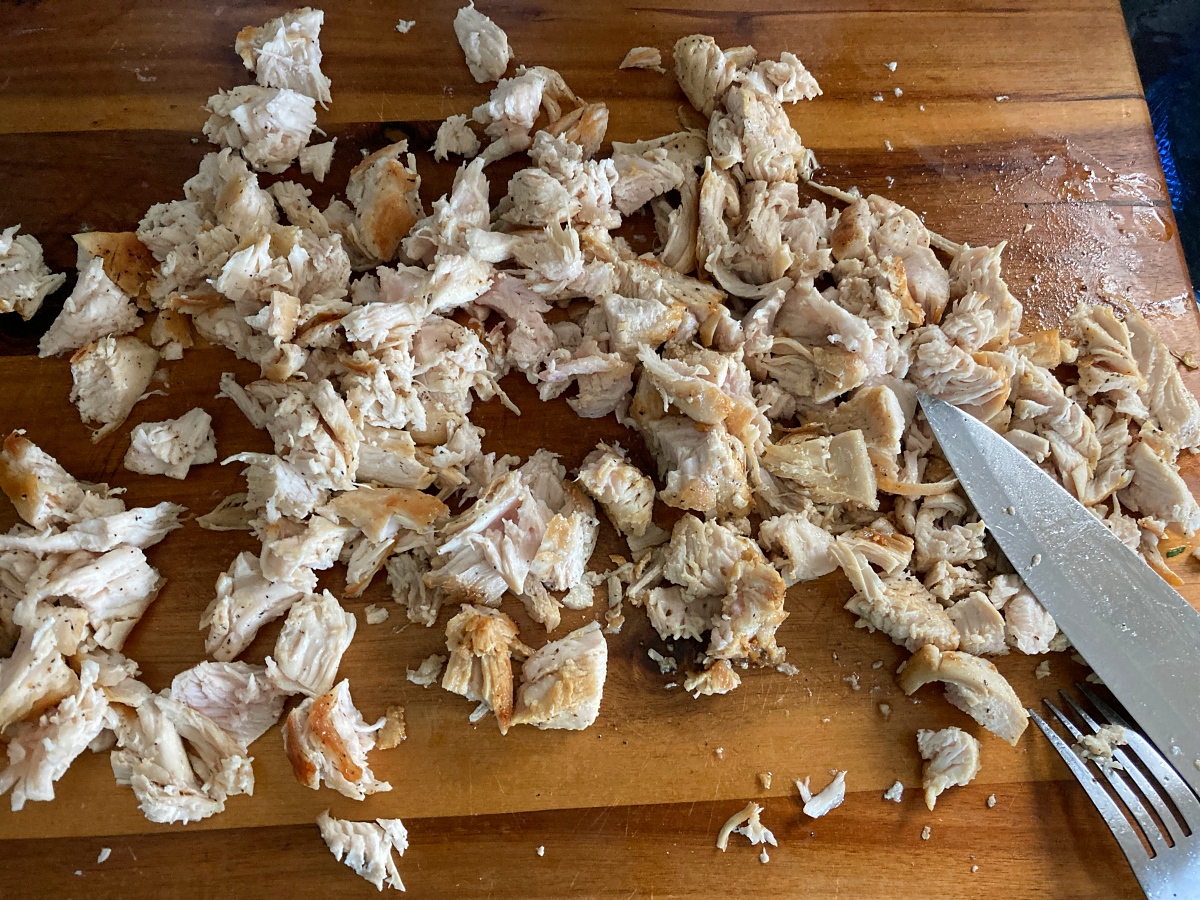 Another good thing about this soup is how much it makes. With just 1.5 pounds of chicken, some chicken stock, and some veggies I was able to make 12 servings of soup. This is a wonderful way to get the most for your dollar- without sacrificing anything in the flavor department.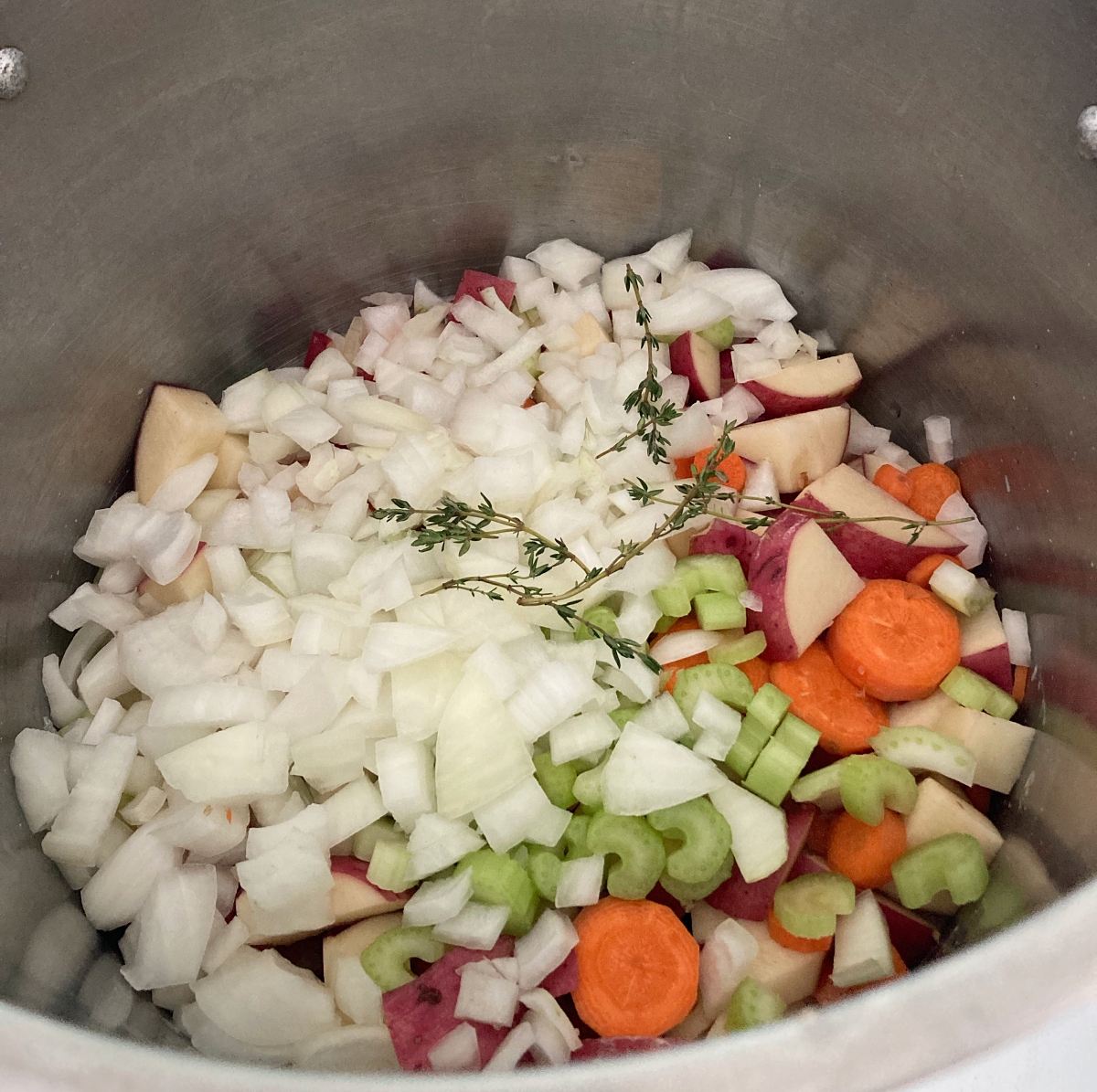 As for spices this soup doesn't have that many, but there are two things that really made this recipe stand out: the addition of thyme sprigs and lemon slices. The thyme added a subtle flavor since you take the sprigs out part way through cooking, but the lemon brightened up the soup. In my opinion the hit of citrus really brought the flavors together.
For a lovely finish you can sprinkle some croutons and cheese on top of each bowl of soup, but this is not required. This is one soup that's great with bread, crackers, or just on it's own.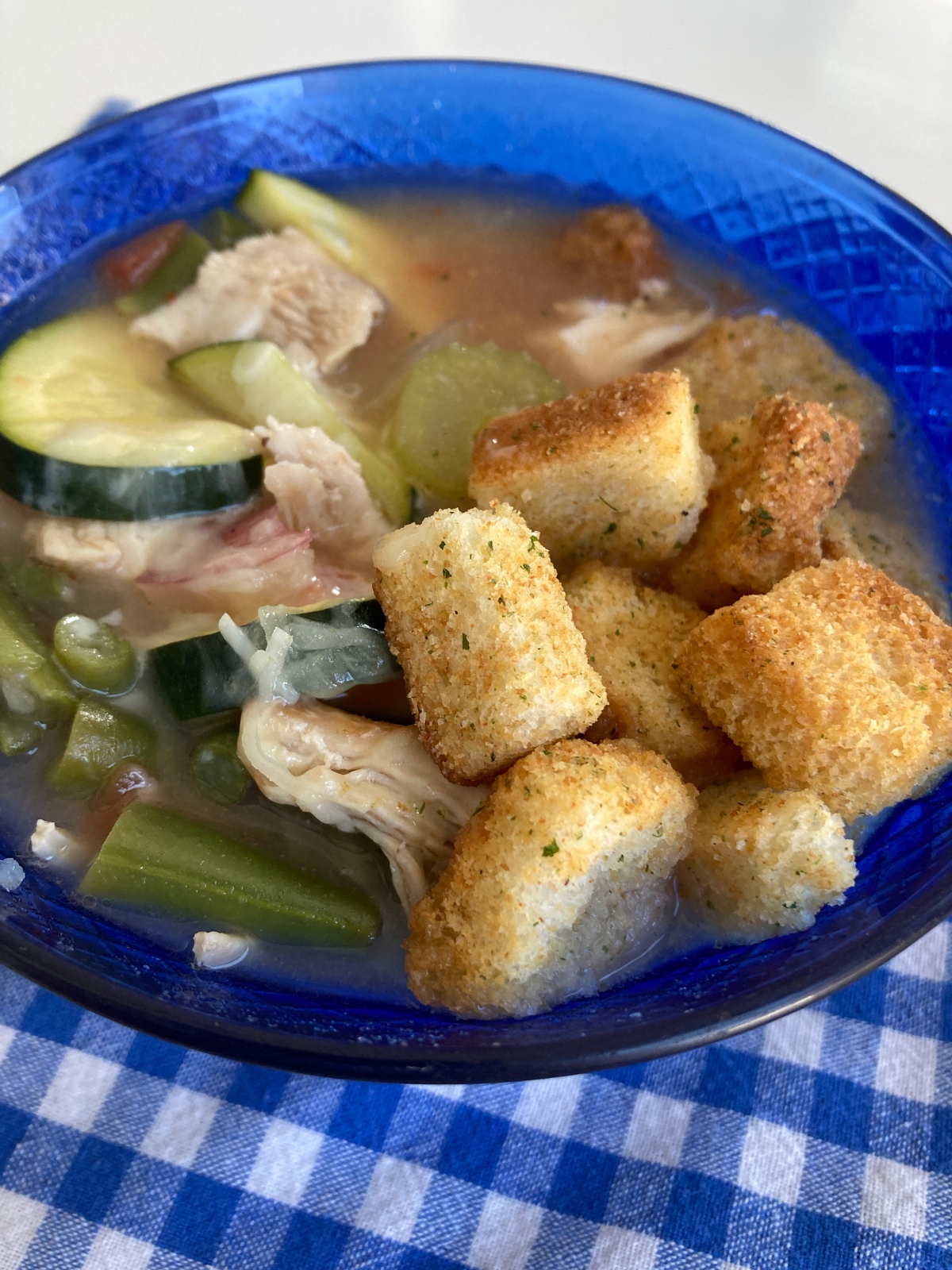 If you love an easy and customizable dinner then this stone soup recipe is the versatile dish you've been craving.
Stone Soup with Chicken
Serves 12
15m prep time
47m cook time
Ingredients
4 (14 1/2 oz) cans chicken broth
4 medium red potatoes, cubed
2-3 carrots, peeled and chopped
1 onion, chopped
2 celery stalks, chopped
2-4 stems thyme
1/2 teaspoon black pepper
1/4 teaspoon garlic powder
4 cups cooked chicken, cubed or shredded (1-2 lbs raw)
1 cup frozen, cut green beans
1 yellow squash or zucchini, chopped
2-4 slices of lemon, seeded
1/2 cup quick-cooking barley or parboiled rice (optional)
1 (14 1/2 oz) can diced tomatoes, undrained
Salt and pepper to taste
4 cups croutons
1 cup shredded cheese of your choice for serving
Preparation
In a large stock pot combine broth, potatoes, carrots, onion, celery, thyme, pepper, and garlic powder. Bring to a boil over medium-high heat and then reduce heat to low. Stir and cover then simmer for 15 minutes.
Add in chicken, green beans, zucchini, lemon, and barley or rice. Bring to a boil again then simmer for 12 minutes. Add undrained tomatoes and cook for another 5 minutes. Add salt and pepper to taste and remove lemon slices. Serve with a sprinkling of cheese of your choice and some croutons.
Recipe adapted from Taste of Home.
SKM: below-content placeholder
Whizzco for 12T