It turns out so incredibly creamy.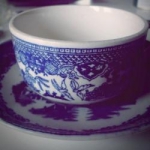 Rose Heichelbech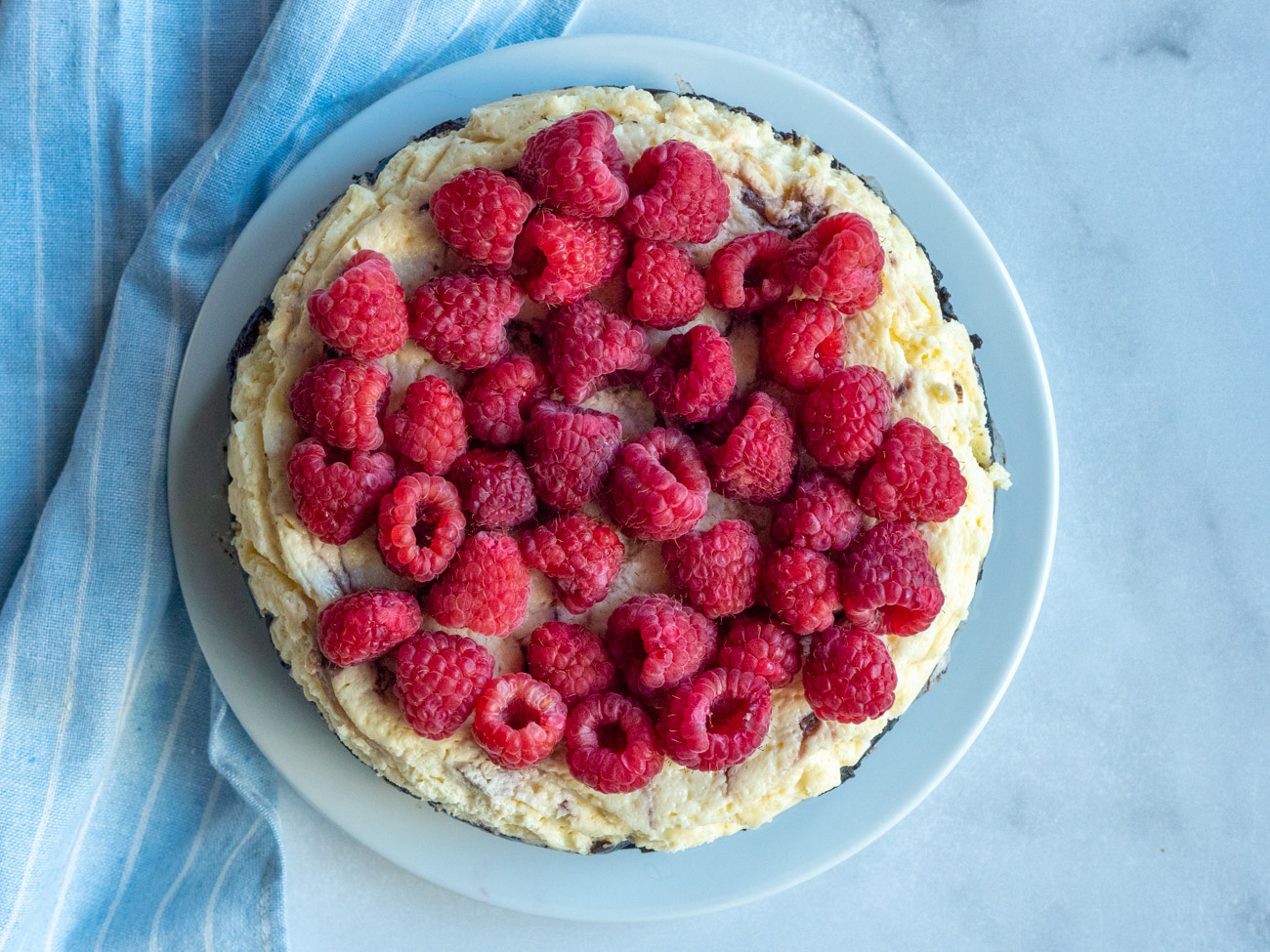 Cheesecake is probably my favorite dessert of all time. There's something about that creamy texture that us just so satisfying. And, because it's a rather rich treat it's much more enjoyable to savor it slowly. Add chocolate and raspberry to it and it's even better. But, the trick with this cake is that you can make it in the slow cooker, freeing up your oven for the other dishes.
As anyone who's made cheesecake can tell you the only downside is that the process hogs the oven for a really long time. Not only does a cheesecake need a long time to bake, but then it has to cool down in the oven for a while to avoid cracking along the top.
Because of the time needed it can be really difficult to make the day's meals and a cheesecake as well. Using the slow cooker eliminates this problem and results in a really moist texture because of the steam that's created in the closed pot.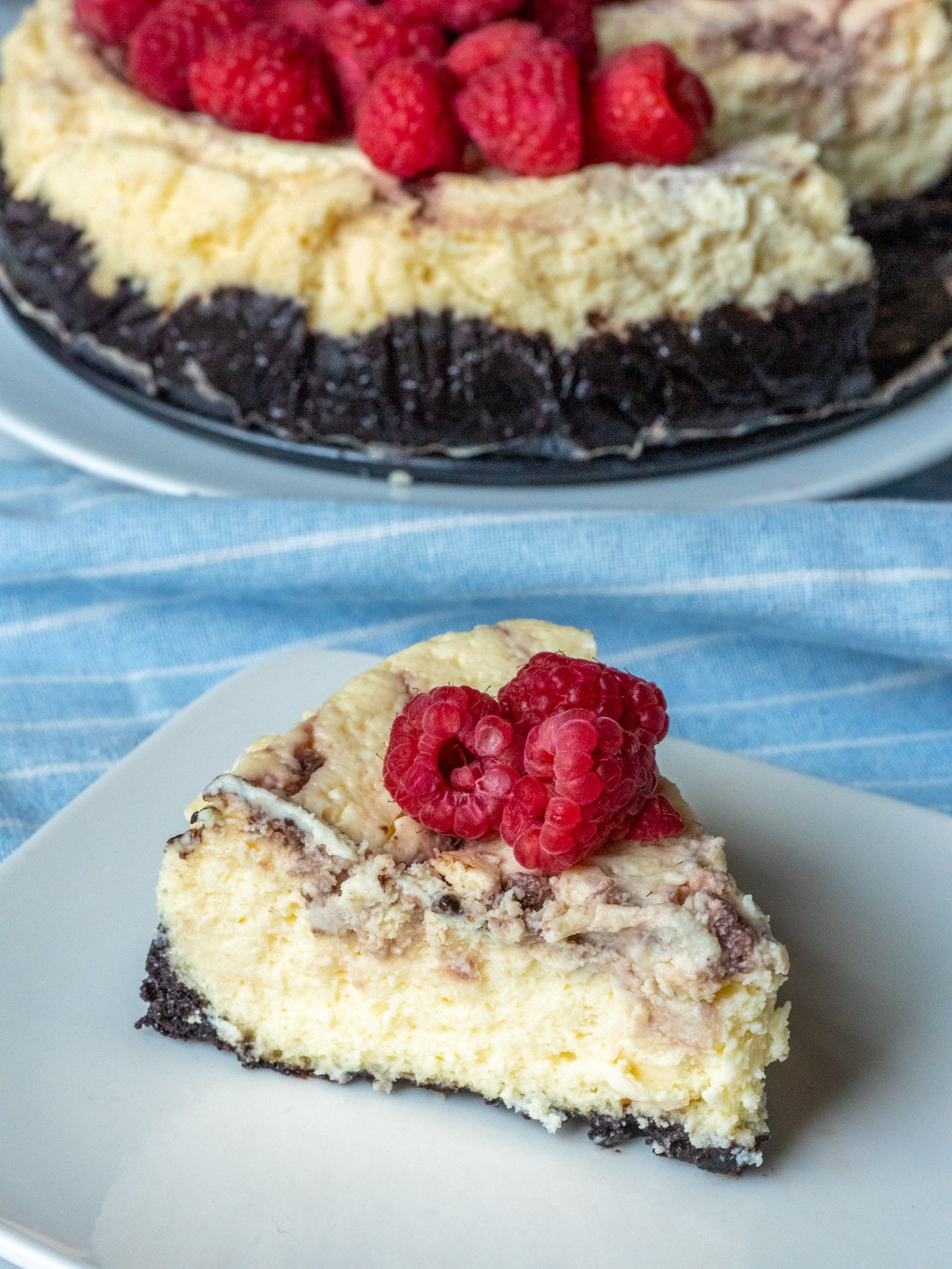 To start making this recipe you put an entire package of Oreos in the blender along with some butter. Pulse until it looks sandy and then press this into a springform pan lined with parchment paper. For some cheesecakes you wouldn't need this much insurance, but the slow cooker is such a steamy environment that the parchment and the release pan really come in handy. They ensure that you can actually get the whole cheesecake out at one time.
Pour the crust into the pan and then press it down and along the sides somewhat using a glass or your hands to make it level.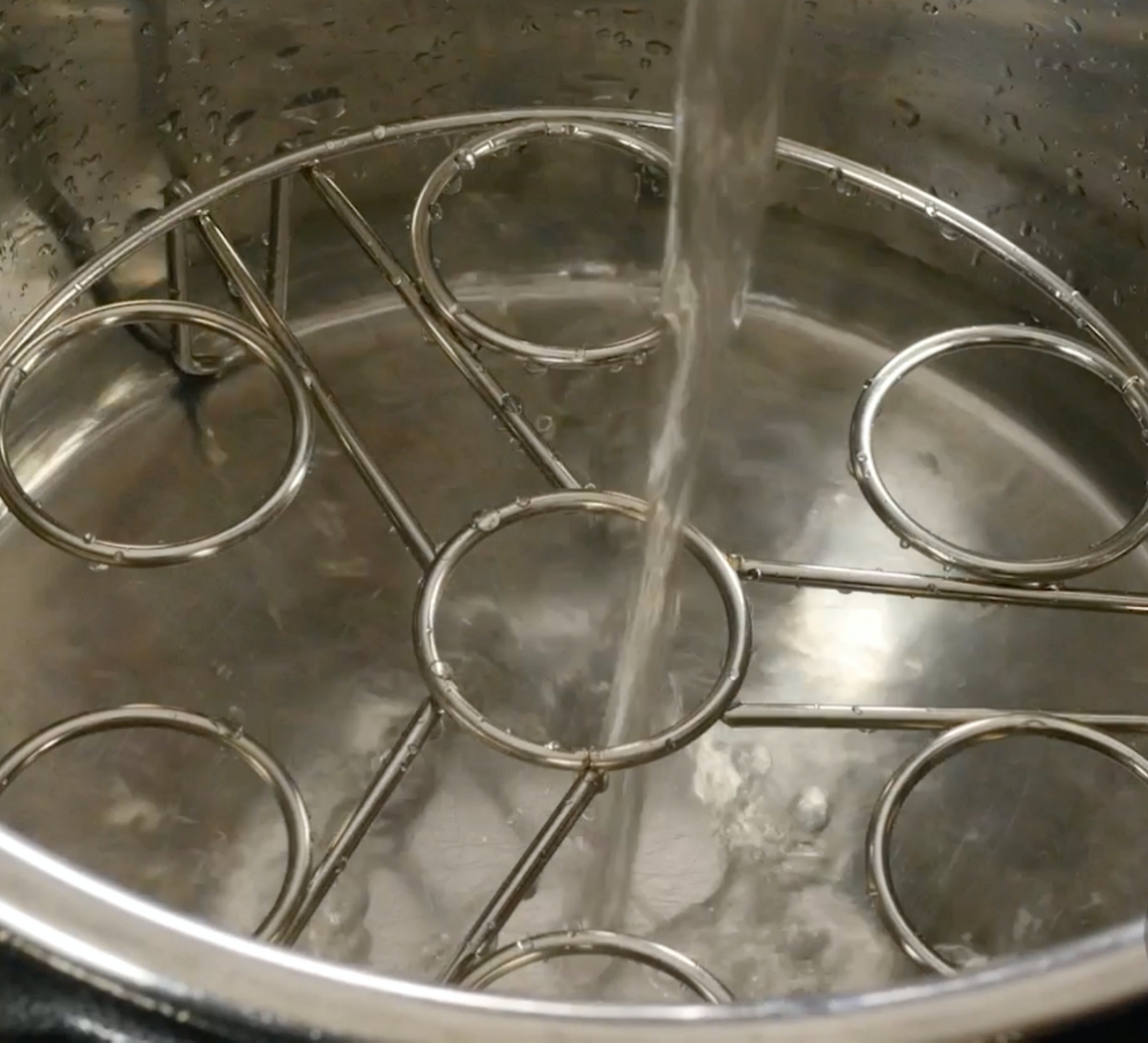 For the filling this recipe uses yogurt instead of sour cream, but either will work in this instance. Combine the softened cream cheese with the yogurt, sugar, and vanilla and then pour into the pan. The next bit is the fun part since you spoon dollops of seedless raspberry preserves or jam onto the cheesecake. Then take a knife, a fork, or a skewer and drag it through the jam, creating swirls on the top of the cheesecake.
Place a steamer tray into the bottom of your Crockpot and fill with hot water just an inch or so. This is so that the cheesecake never gets boiled since it's elevated from the water. If you don't have a tray you can use 3 equally-sized balls of crumpled foil to balance the pan on.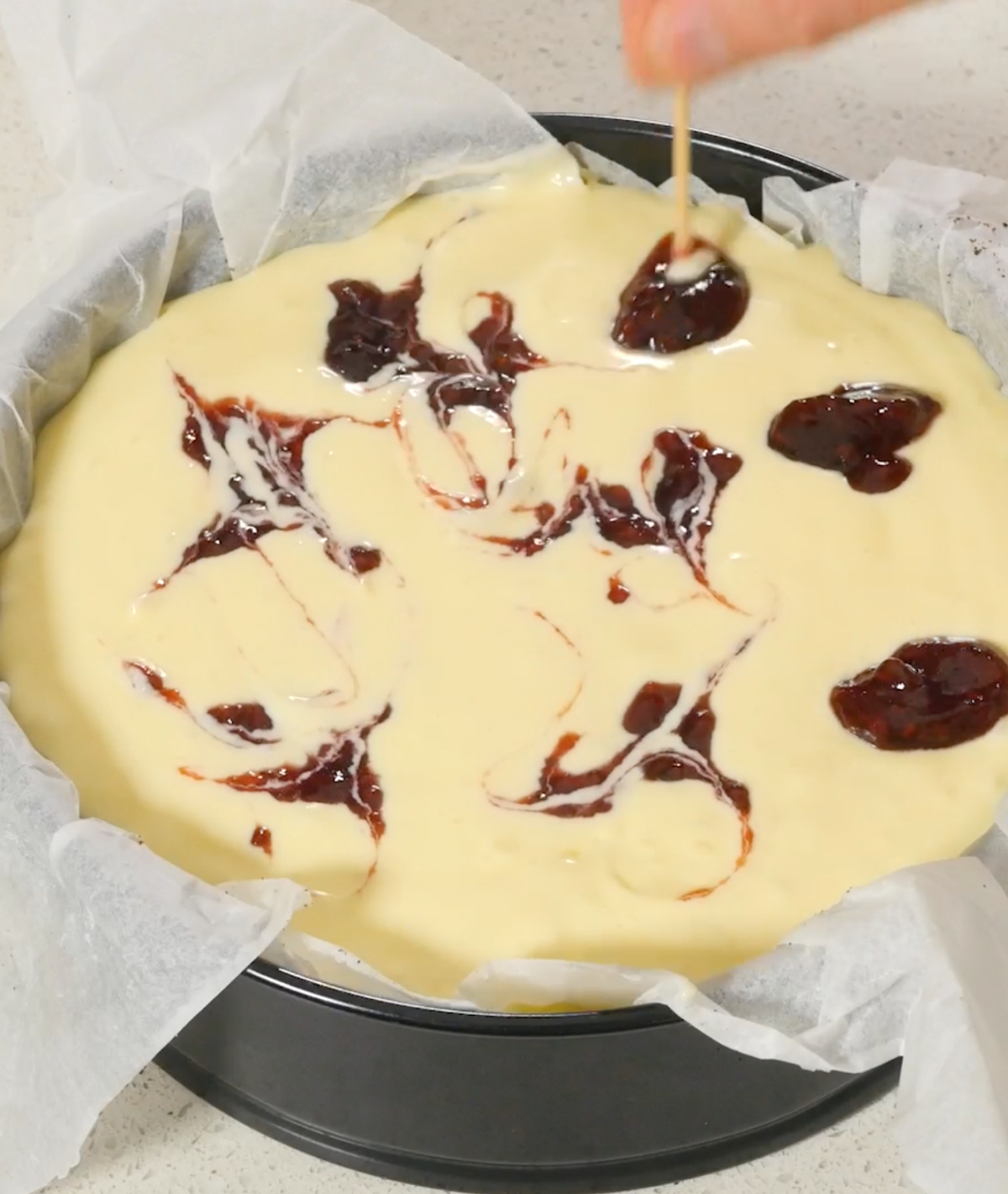 Then set the slow cooker to high and let is cook for 1 1/2 to 2 hours. Make sure to put a towel around the lid to lock in more moisture during the cooking.
Then turn the slow cooker off and let the cheesecake cool down for an hour. After that allow the cheesecake to cool completely before removing from the pan. Once it's no longer warm pop it into the refrigerator. Depending on the type of jam you use it can lose some color in the cooking or turn slightly brownish. This is normal and doesn't affect the taste at all.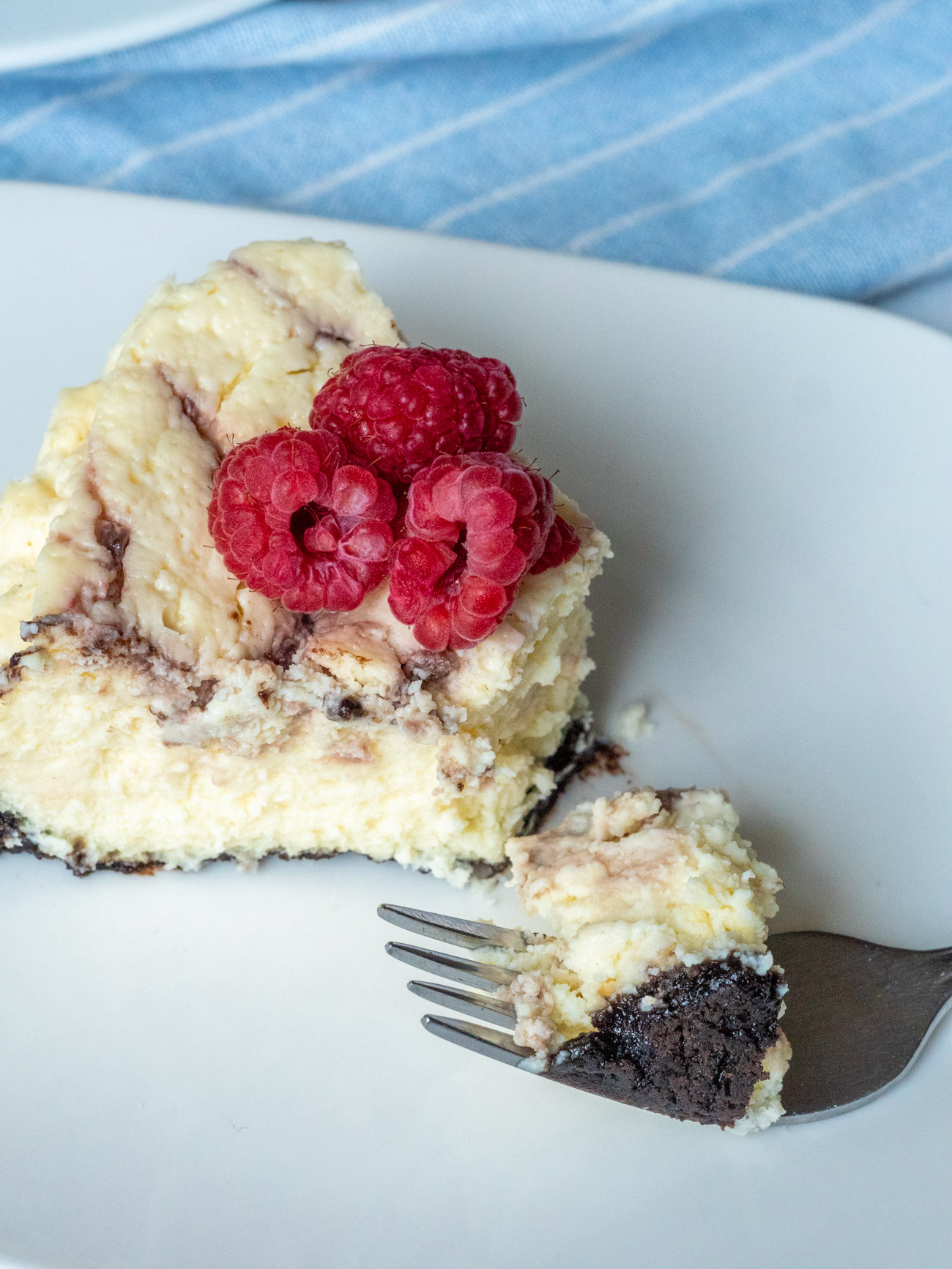 Garnish with fresh raspberries or a drizzle of melted chocolate for a really wonderful dessert that doesn't even require an oven to make.
Slow Cooker Chocolate Raspberry CheesecakeRecipe adapted from The Kitchn.
Serves 6-8
4h prep time
2h cook time
For the crust:
1 13-oz package Oreo cookies, crushed into crumbs
4 Tbsp butter, melted
For the cheesecake:
2 8-oz packages cream cheese, at room temperature
1/2 cup granulated sugar
2 eggs, at room temperature
2 Tbsp all-purpose flour
2 tsp vanilla extract
pinch salt
1/2 cup Greek yogurt
1/4 - 1/2 cup seedless raspberry jam
fresh raspberries for garnish (optional)
Preparation
To a 6-quart slow cooker add enough hot water to fill it 1/2 inch. Make 3 balls out of foil large enough to support the cake pan. Or use a metal steamer tray instead.
Mix together crust ingredients until a sandy mixture forms or use a blender to combine them. Press into the bottom of a 6" springform pan that's been lined with parchment paper. Use a flat bottom cup or mug to press the dough into the pan and a little up the sides as well.
Using an electric mixer combine cream cheese, sugar, flour, vanilla, and salt until creamy. Add in the eggs and blend until batter is uniform in color. Add yogurt and blend until fully incorporated.
Pour filling into pan and gently tap or drop the pan on the counter a few times to remove air bubbles. Place a few dollops of the raspberry jam on top of the cheesecake. Use a knife or fork to then swirl jam in a circle or other pattern.
Place pan onto foil balls or rack and set slow cooker to high. Place cheesecake into cooker and wrap towel around lid to stop moisture from escaping. Cook for 1 1/2 to 2 hours.
Turn off slower cooker and leave cheesecake in for an additional hour to avoid cracking. Allow to cool completely on a wire rack before placing in the refrigerator to chill for at least 4 hours. Do not attempt to remove from pan before cheesecake is chilled. Cut into slices and garnish with fresh raspberries if desired.
Recipe adapted from The Kitchn.
SKM: below-content placeholder
Whizzco for 12T