This classic college late night load up has never tasted so good!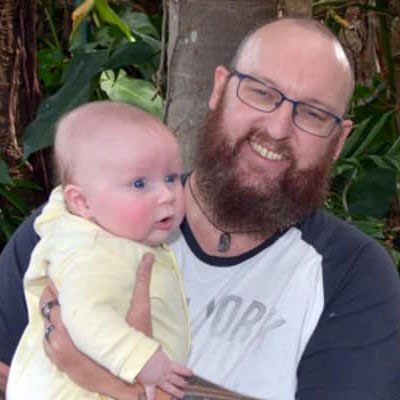 Jono Elderton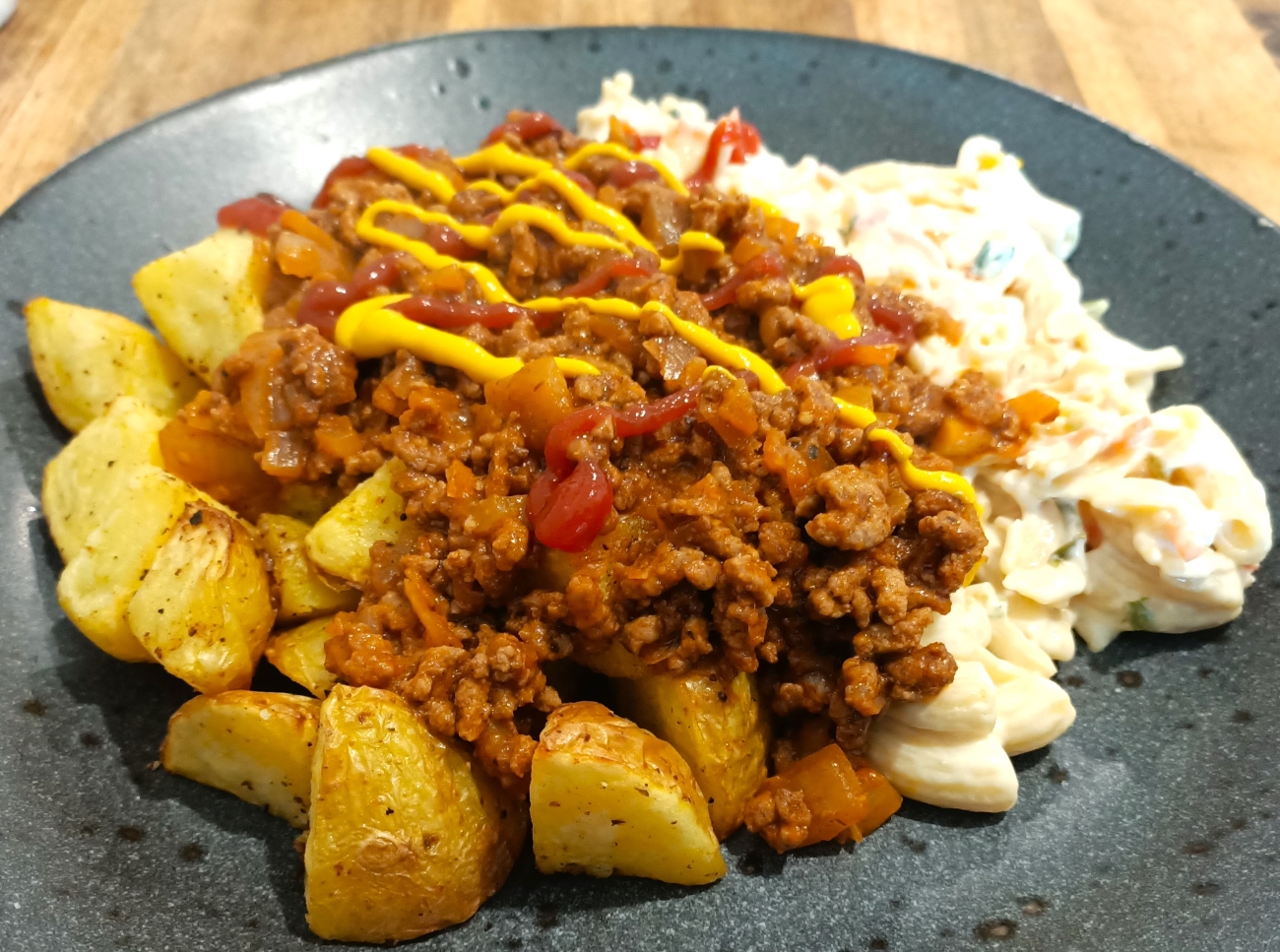 Garbage plate folklore is the accidental brainchild of 'tired and emotional' college students searching for a late night meal. Once a load-up for partying University of Rochester students, the plate's popularity has grown. It's now a surprisingly delicious regional favorite famed for its unorthodox, yet extremely tasty ingredients. I was filled with trepidation when approaching the recipe for this plate for the first time, yet it does not taste like garbage at all, just a yummy grab plate of disparate elements that when served together makes for a hearty and delicious meal.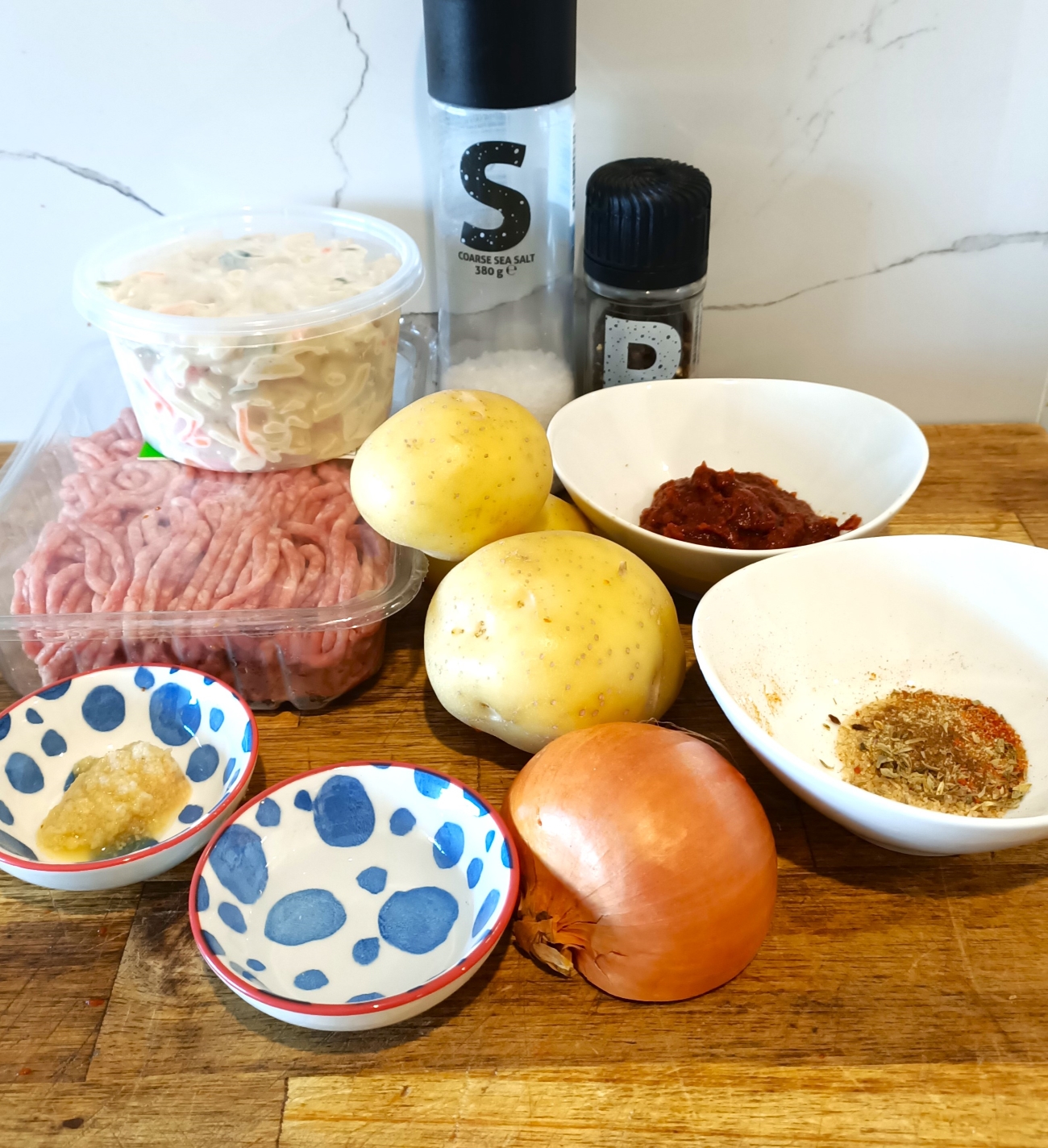 While there are many variations of the Rochester garbage plate, when making the meal at home, there are a few necessary elements. A garbage plate should include at least a base consisting of potatoes (chips or home fries), and macaroni salad. The other important element is Rochester hot sauce, a meat sauce loaded with all sorts of flavors, herbs and spices, that you can top with ketchup and mustard.
I know that it's lazy to use a store bought macaroni salad in this recipe, but it fits the profile for maximizing my enjoyment of a Rochester garbage plate, especially since I'm the only family member that likes creamy macaroni salad. It's now a go-to if I'm home by myself and can't quite figure out what I want to eat. If you want to make a homestyle macaroni salad version for your recipe, I'd heartily recommend this 12 Tomatoes Macaroni Coleslaw Salad to work into the dish.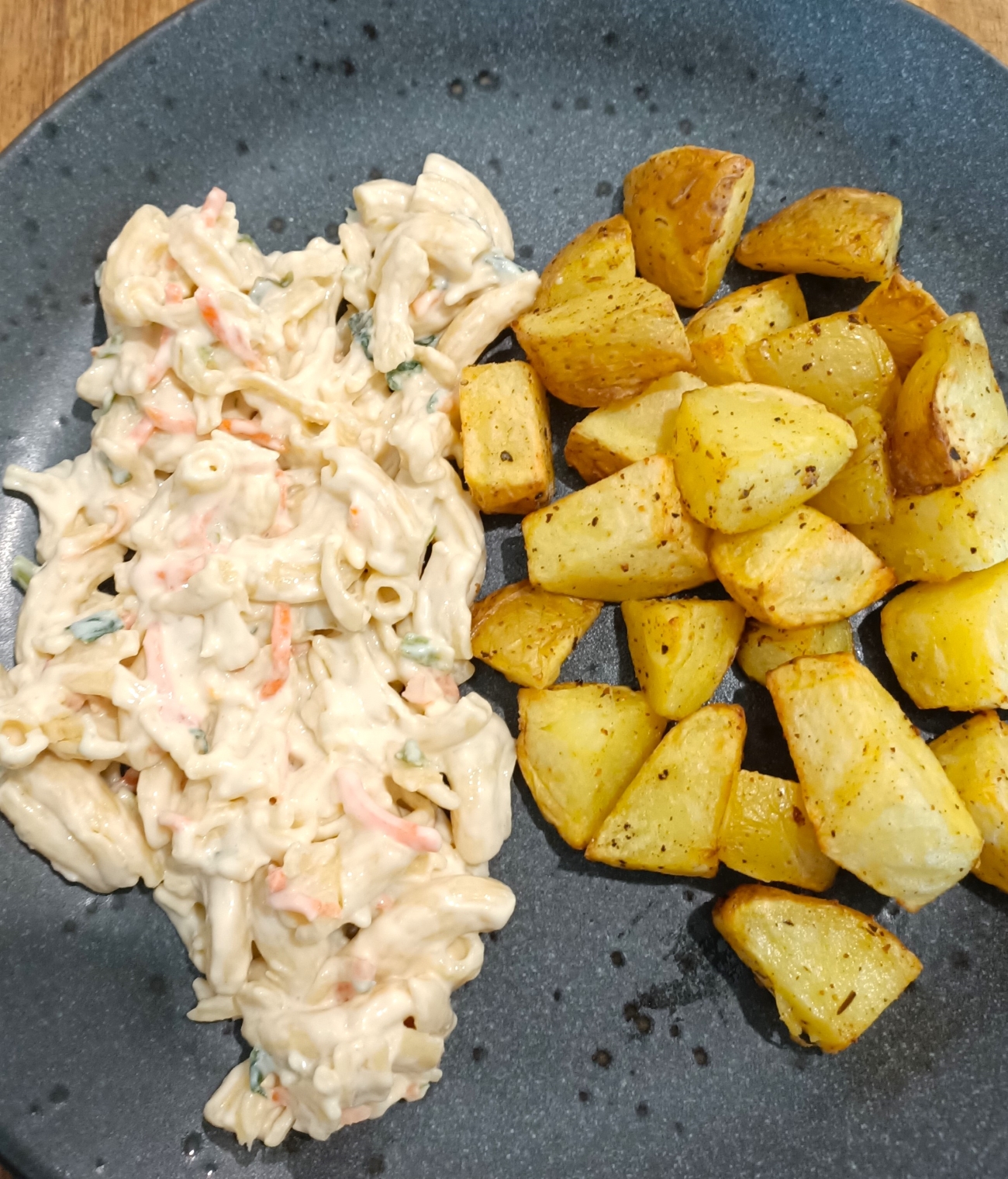 Unlike the original Rochester Garbage Plate recipe, which was the accidental product of a late night of limited options, making a garbage plate on purpose seems kind of weird, until you taste the final result. The hot sauce in particular is delicious because no flavor element is ignored. Heat, sweet, salt, it's all in there!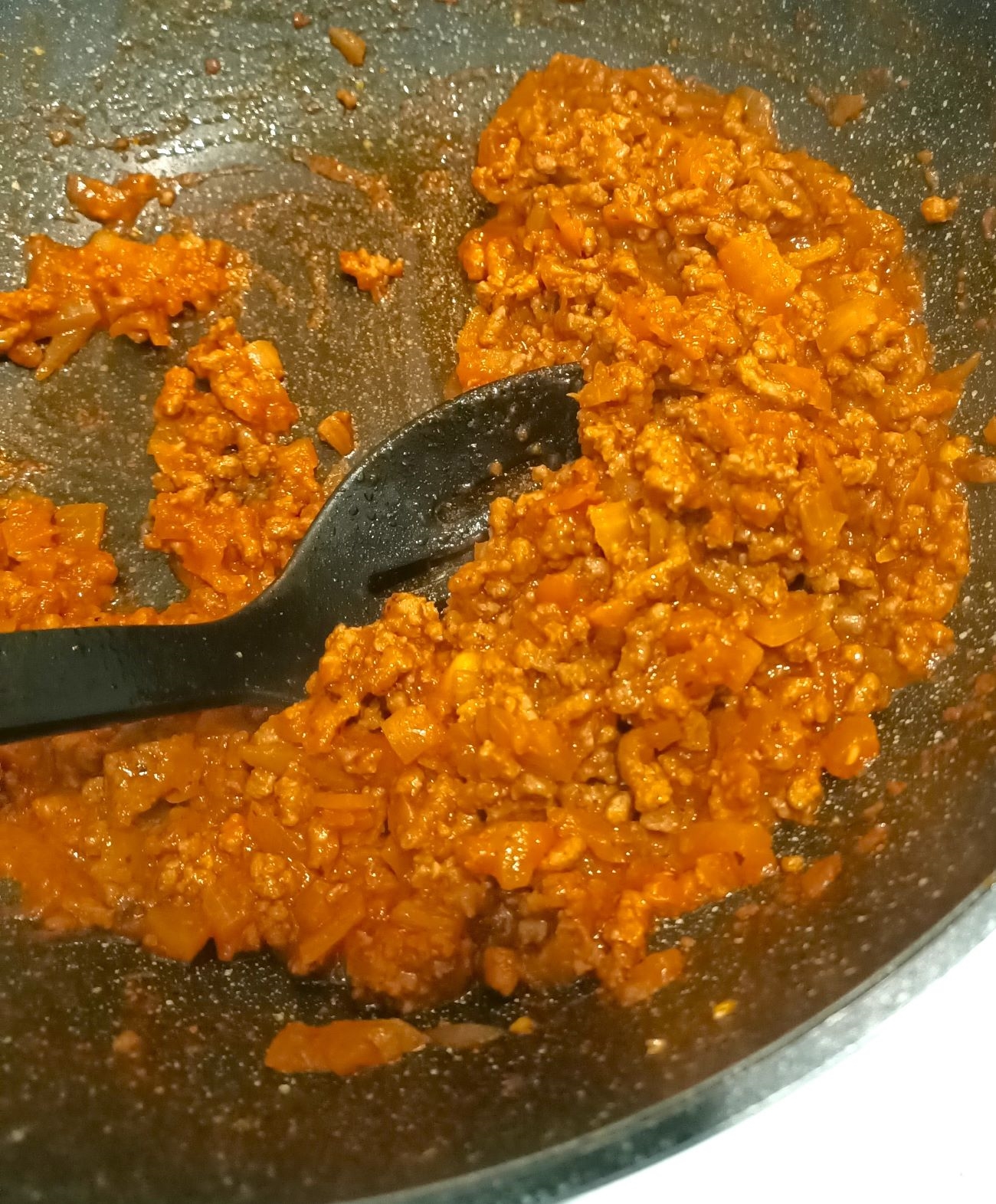 With spuds, macaroni salad, and a great sauce, the garbage plate is a tremendously useful recipe you can adapt and use whenever you have a surplus of ingredients, when you are not sure what you want to eat, or when you are on your own and want to load up with fun flavors while binge watching television.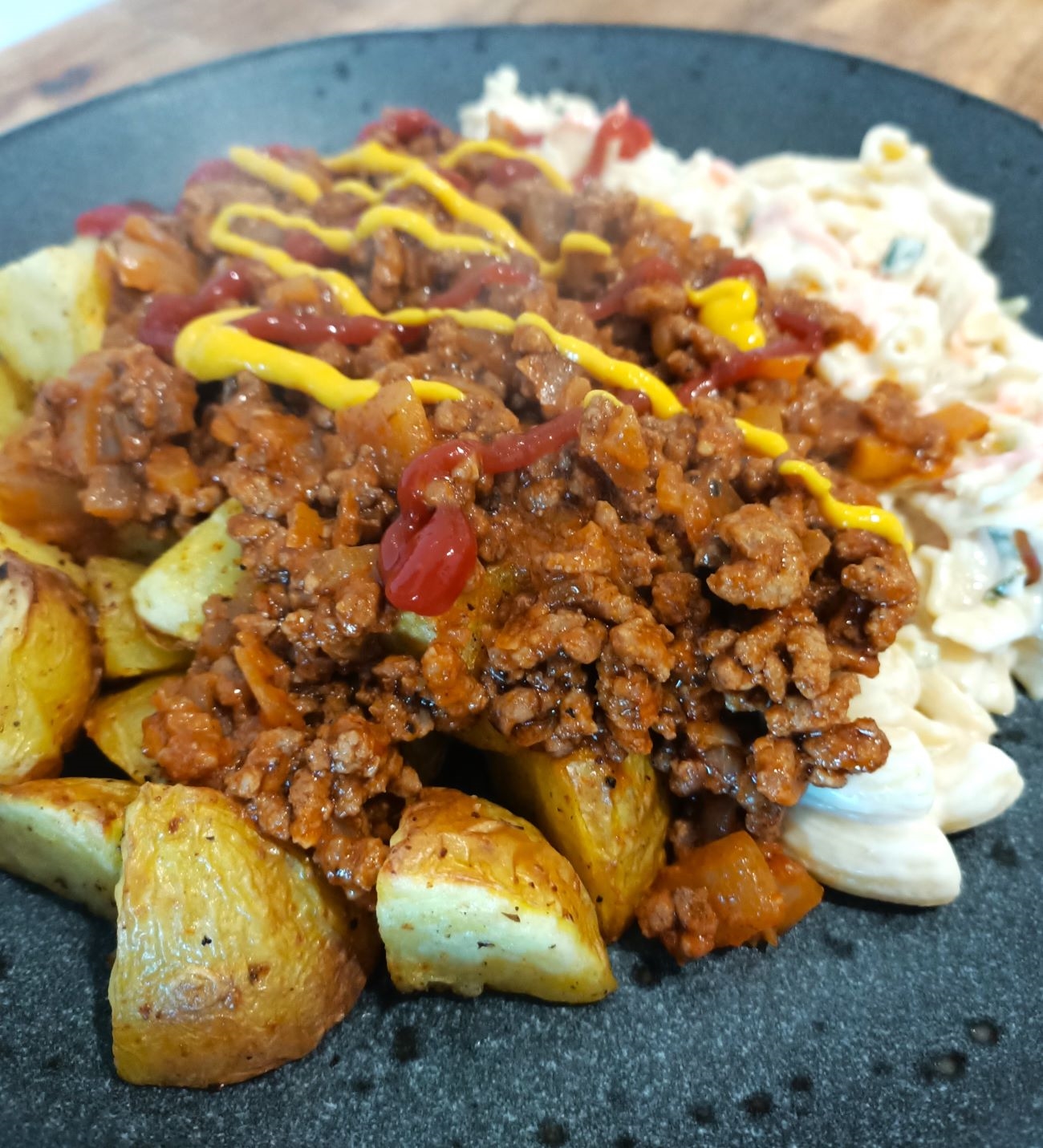 Rochester Garbage Plate
Serves 2
10m prep time
20m cook time
For the Garbage Plate Sauce
8 oz ground beef
1/2 yellow onion, chopped finely
1 tablespoon olive oil
1 cup water
2-3 tablespoons tomato paste
2 tablespoons white vinegar
1 teaspoon minced garlic
1/2 teaspoon raw sugar
1/2 teaspoon onion powder
1/2 teaspoon paprika
1/4 teaspoon cayenne pepper
1/4 teaspoon cumin
1/4 teaspoon thyme
1/4 teaspoon cinnamon
Kosher salt and black pepper, to taste
For the Garbage Plate
2-3 cups macaroni salad (store bought is fine)
3 Russet potatoes (medium)
1/2 teaspoon paprika
1/2 teaspoon cumin
1/2 teaspoon onion powder
1/2 teaspoon garlic powder
Kosher salt and black pepper, to taste
Mustard and ketchup to taste
Spray cooking oil, as required
Optional: Buttered white bread
Preparation
Cut the potatoes into 1 1/2" cubes to make chunky home fries. Spray lightly with oil and add herbs, salt, and pepper. Cook the home fries in the air fryer (or on a sheet pan in the oven) at 400°F for 15-20 minutes, shaking occasionally.
While the home fries are cooking, heat a frying pan to medium-high temperature. Combine onion and olive oil, and cook for 1-2 minutes or until onion becomes translucent.
Add ground beef. Cook for 5 - 7 minutes or until ground beef is broken up and fully browned. Drain oil from the mixture and discard. Return ground beef to the heat, adding water, vinegar, and tomato paste. Bring to the boil briefly, and then lower to a simmer.
Add remaining herbs and sprinkle with salt and pepper. Cook garbage plate sauce at a simmer for 10-15 minutes, or until sauce has thickened and reduced.
On a plate, fill one side with macaroni salad, and the other with home fries. Scoop sauce mixture over the top. Serve with ketchup and mustard, and a slice of buttered bread.
Recipe adapted from Savory Experiments
SKM: below-content placeholder
Whizzco for 12T