Equal crust and custardy filling in every bite.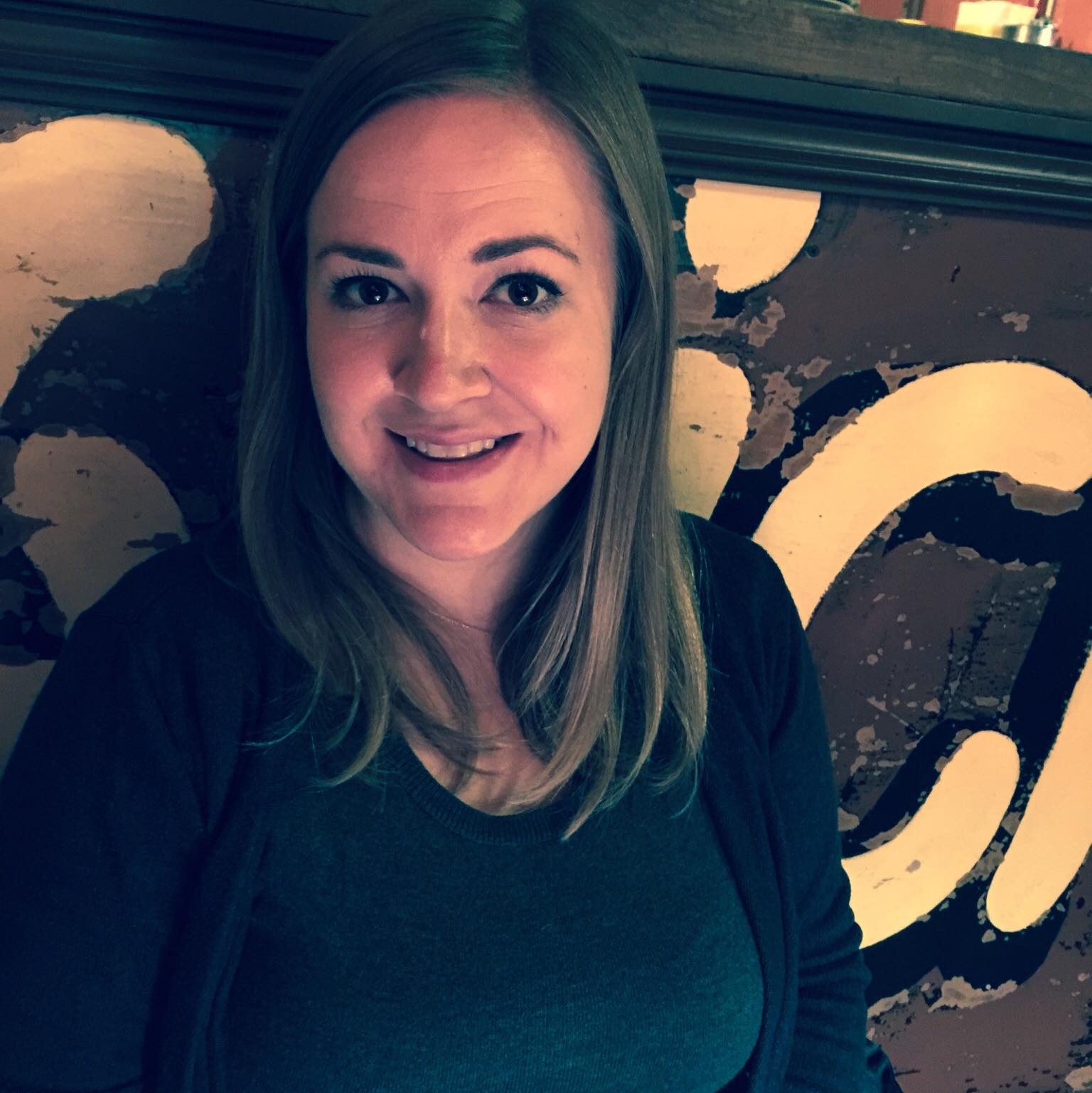 Kristy Norrell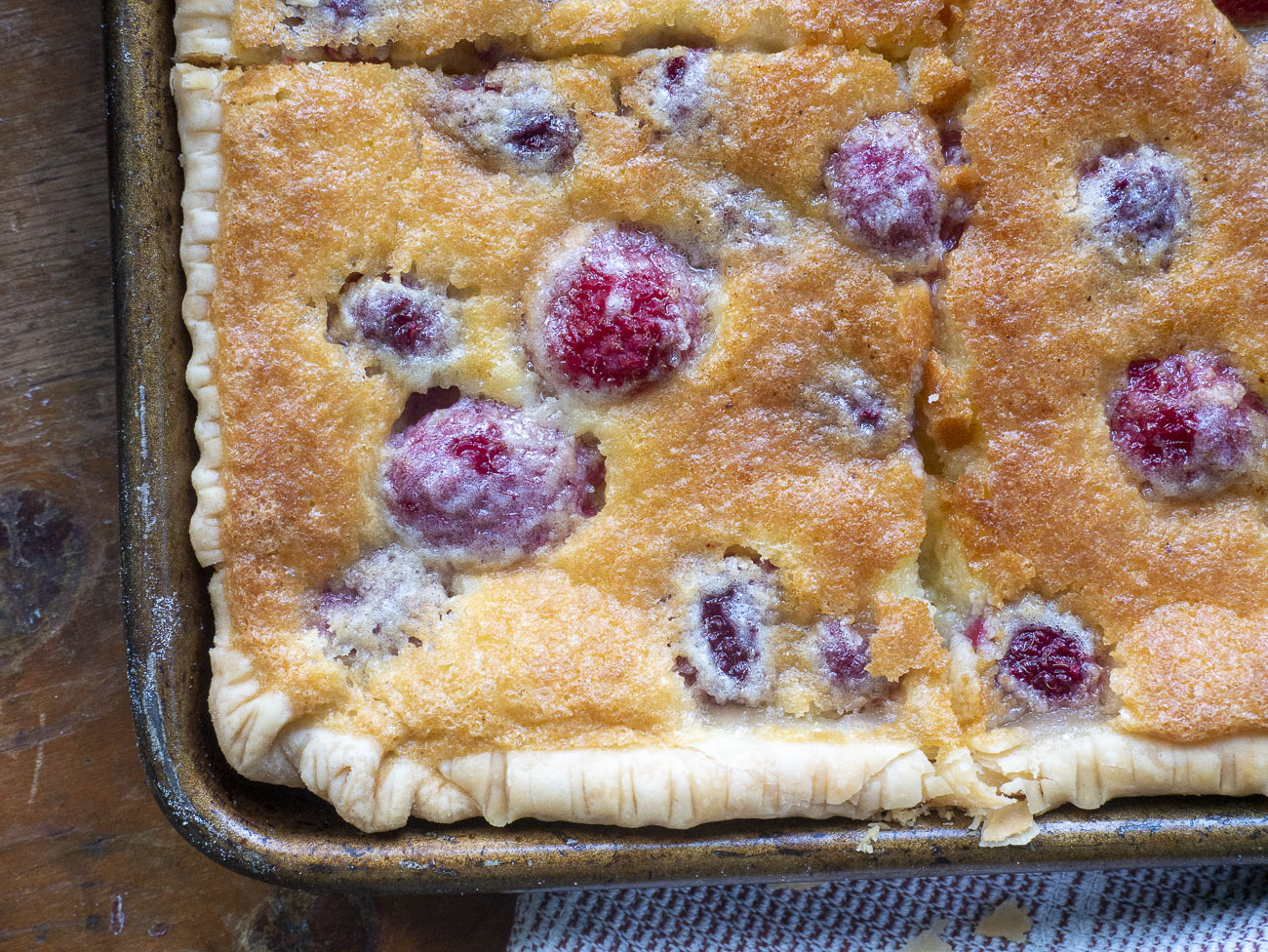 The first time I had Buttermilk Pie I was hooked. I mean, it doesn't really sound that good — buttermilk in a pie? But it turns out to be sweet and creamy and delightful pie and buttermilk gives it the perfect balance. And the first time I had a slab pie, I was hooked too. See, I'm a more of a crust person when it comes to pie so when there's enough crust to fill up a half sheet pan and the filling stretches out that far too, that's the ideal pie ratio for me. And then those two met in this Buttermilk Slab Pie — what a dream. But sometimes even an already great dessert needs a little seasonal pizazz, so here's Raspberry Buttermilk Slab Pie. It's everything I loved about the first one, but with the sparkle of fresh fruit. (And yes, you can absolutely use any fruit you want.)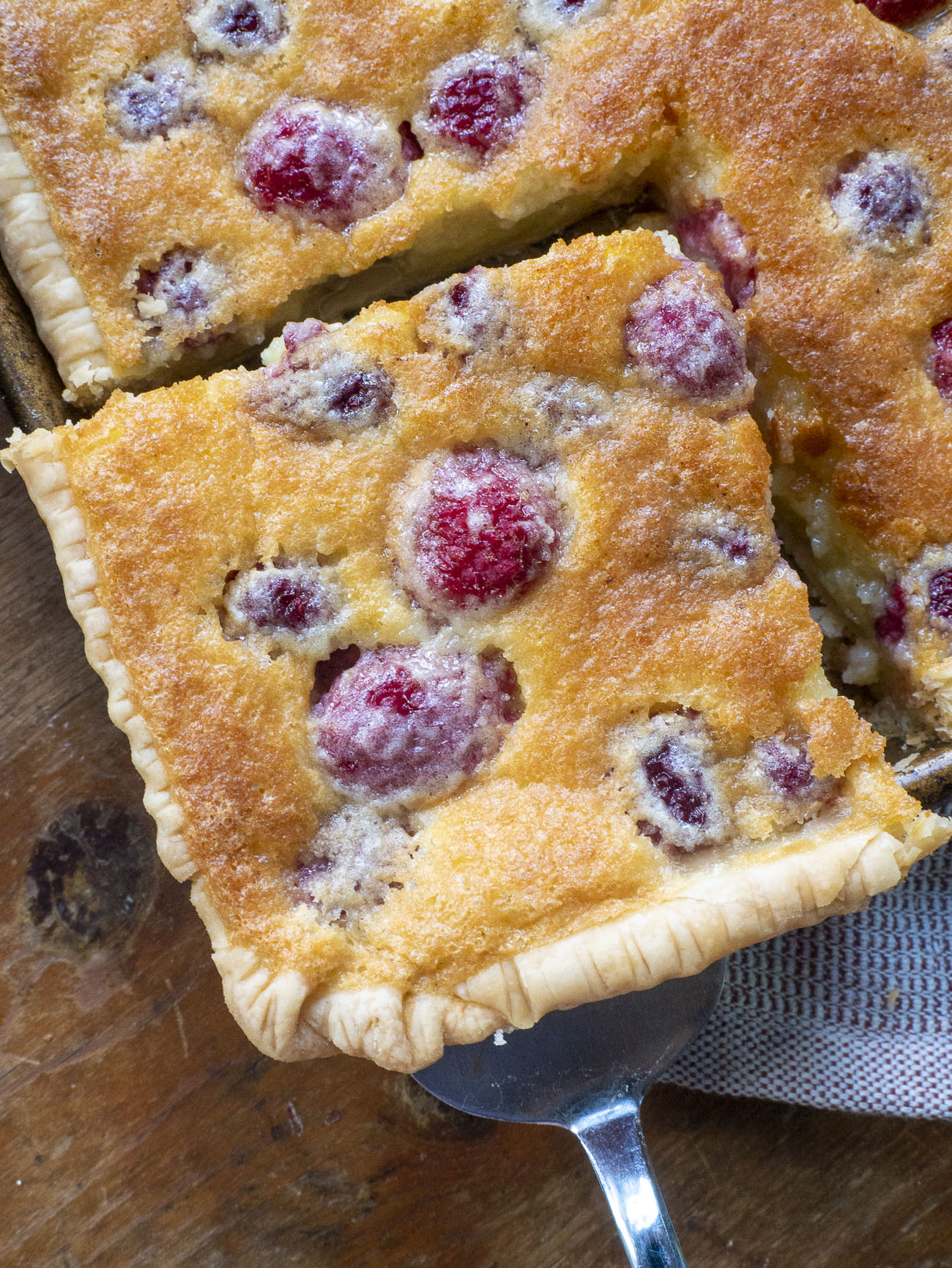 If you haven't made a slab pie before, rest assured that it's as easy as pie. You just need two pie crusts instead of one because it needs to fit a 10×15-inch sheet pan. Just stack those pie crusts on top of each other and roll them out into a rectangle that's a little larger than your baking pan. Carefully transfer it to the baking pan and then fold down the edges, pressing the sides and top with the tines of a fork. You can poke the bottom with the fork a few times too to prevent any bubbles.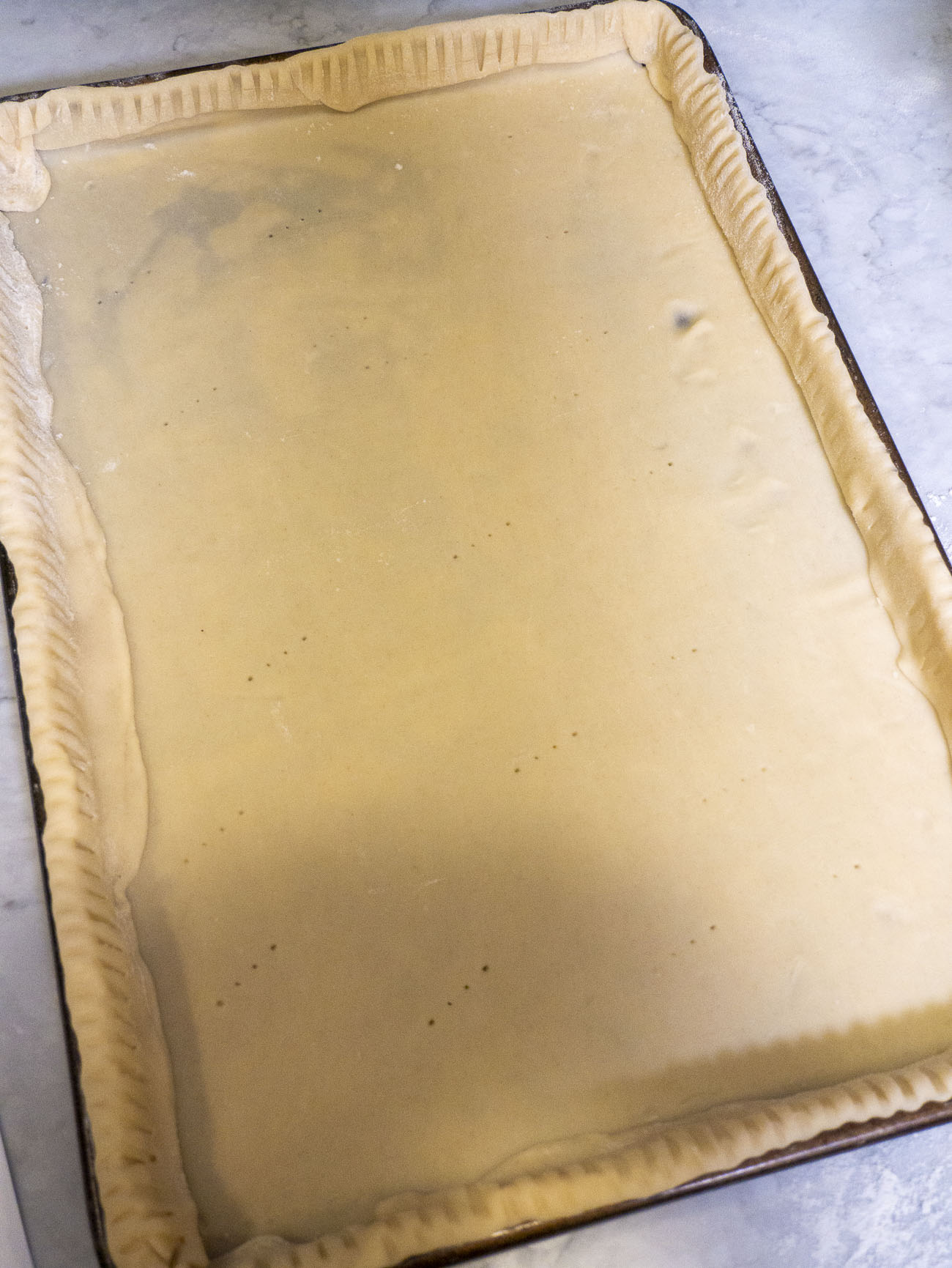 You don't need to blind bake. Just line those raspberries up in the pie crust…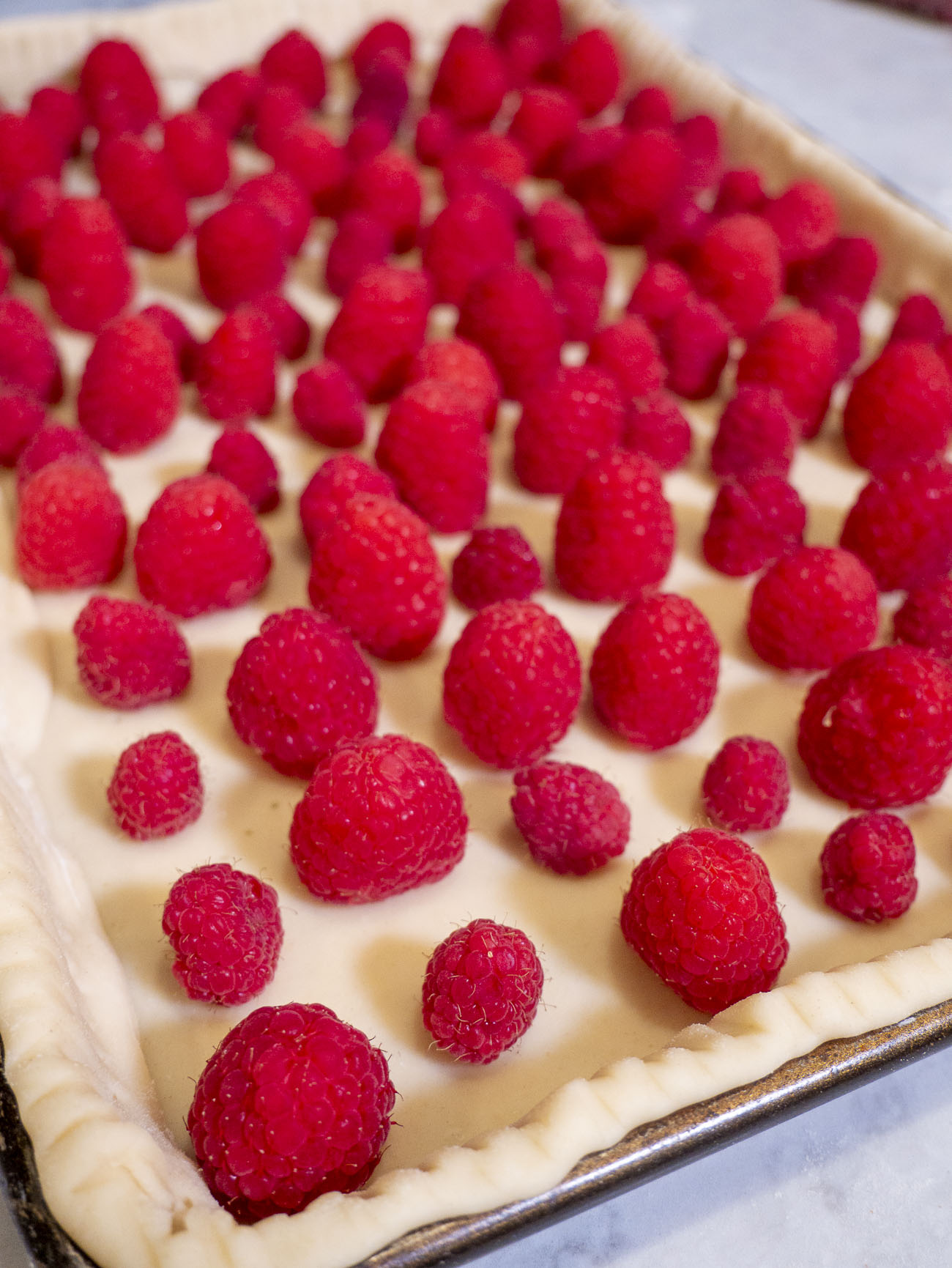 And pour the filling right over and around them. There's no sense in getting too particular about your raspberry rows as they're going to move around a bit anyway.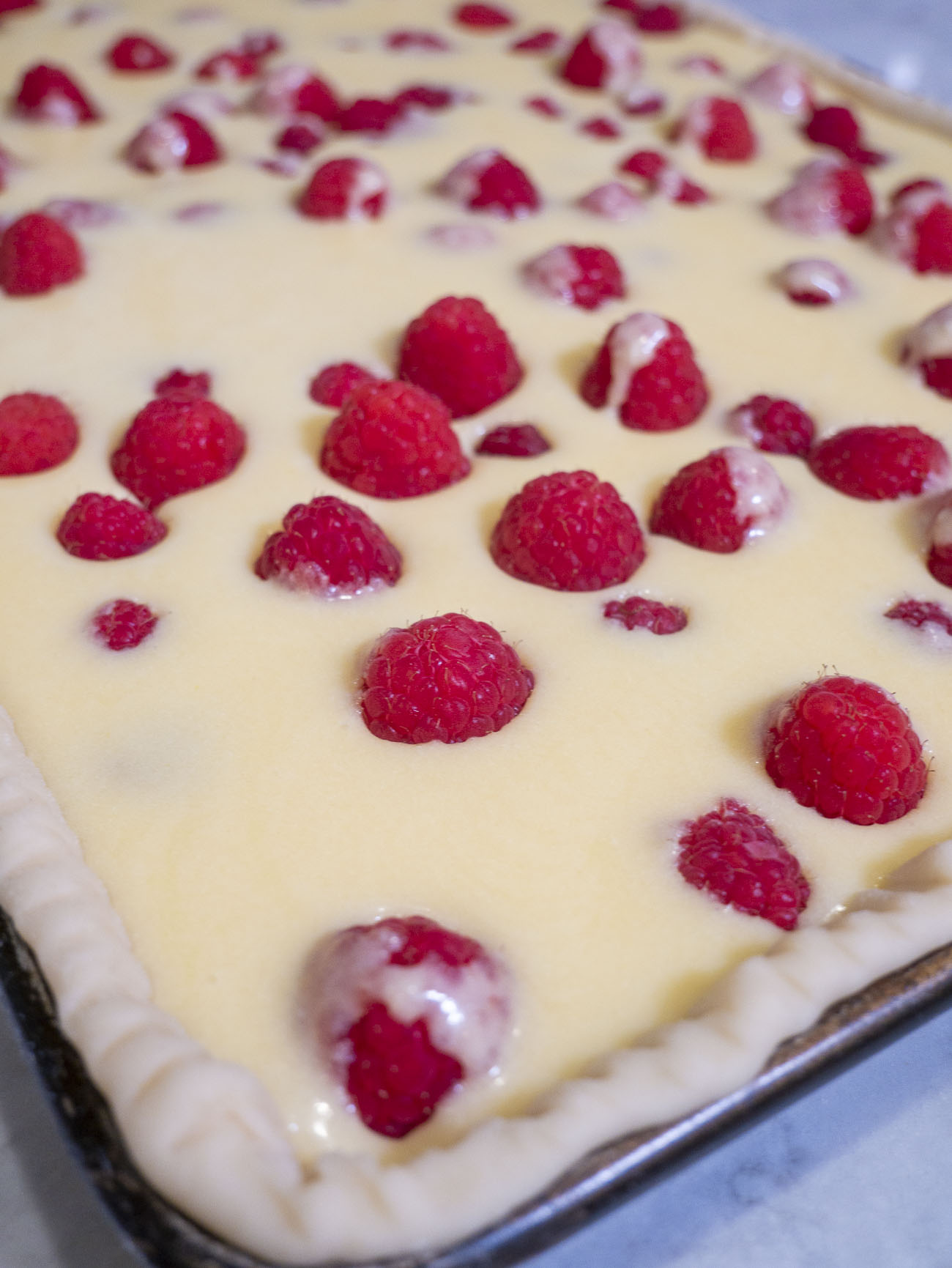 After about forty minutes in the oven the filling will be mostly set, golden and a little crackly on the top, but a bit jiggly in the center underneath. It'll set up as it cools, but it's meant to be a custardy pie, so don't stress too much.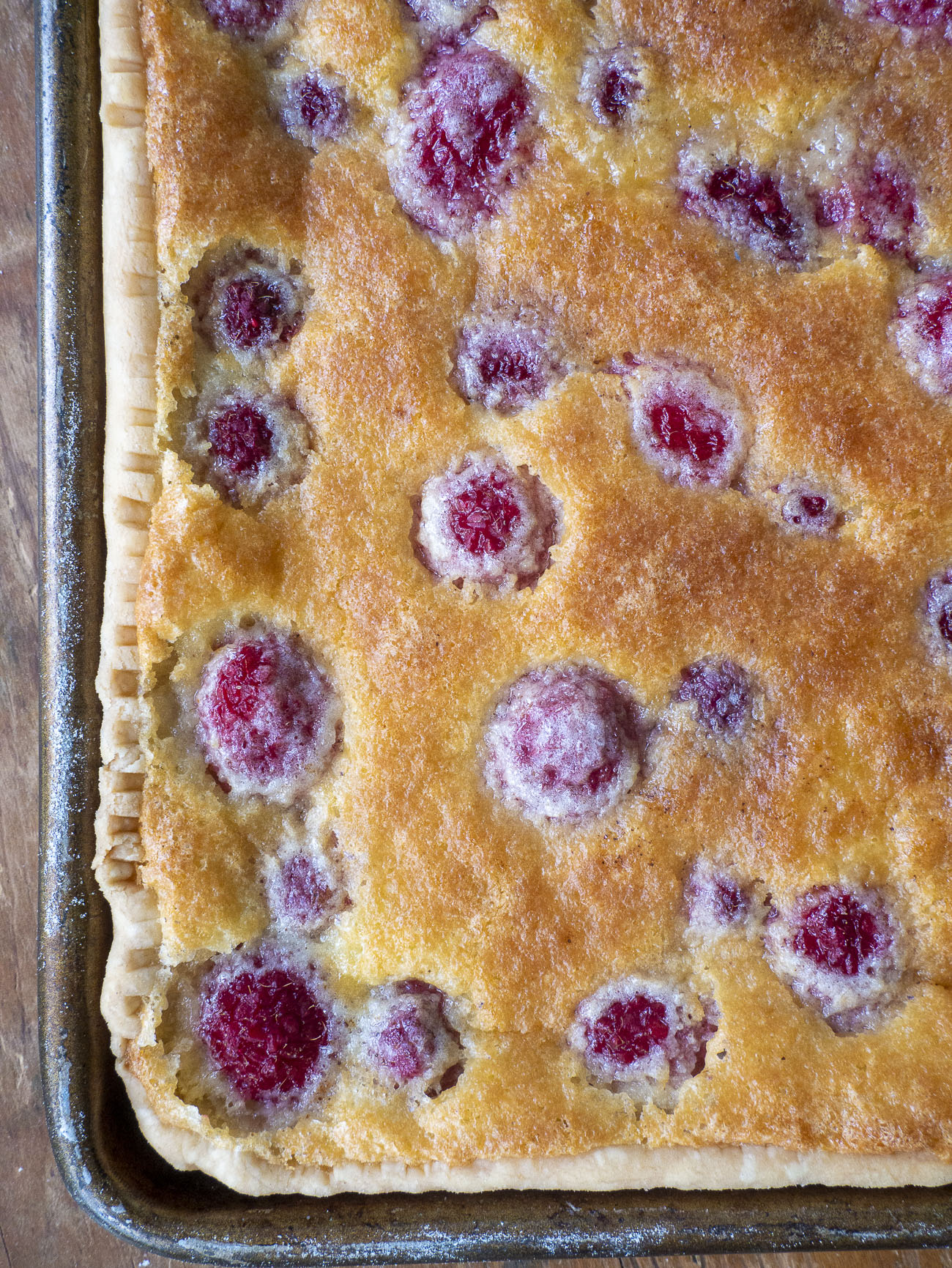 And that custard is beautiful. It reminds me a bit of a really good vanilla ice cream but silkier. The top is a little firmer — not quite like a creme brulee, but enough to provide some contrast. And then, of course, there's the sweet and tart pop of fresh raspberries.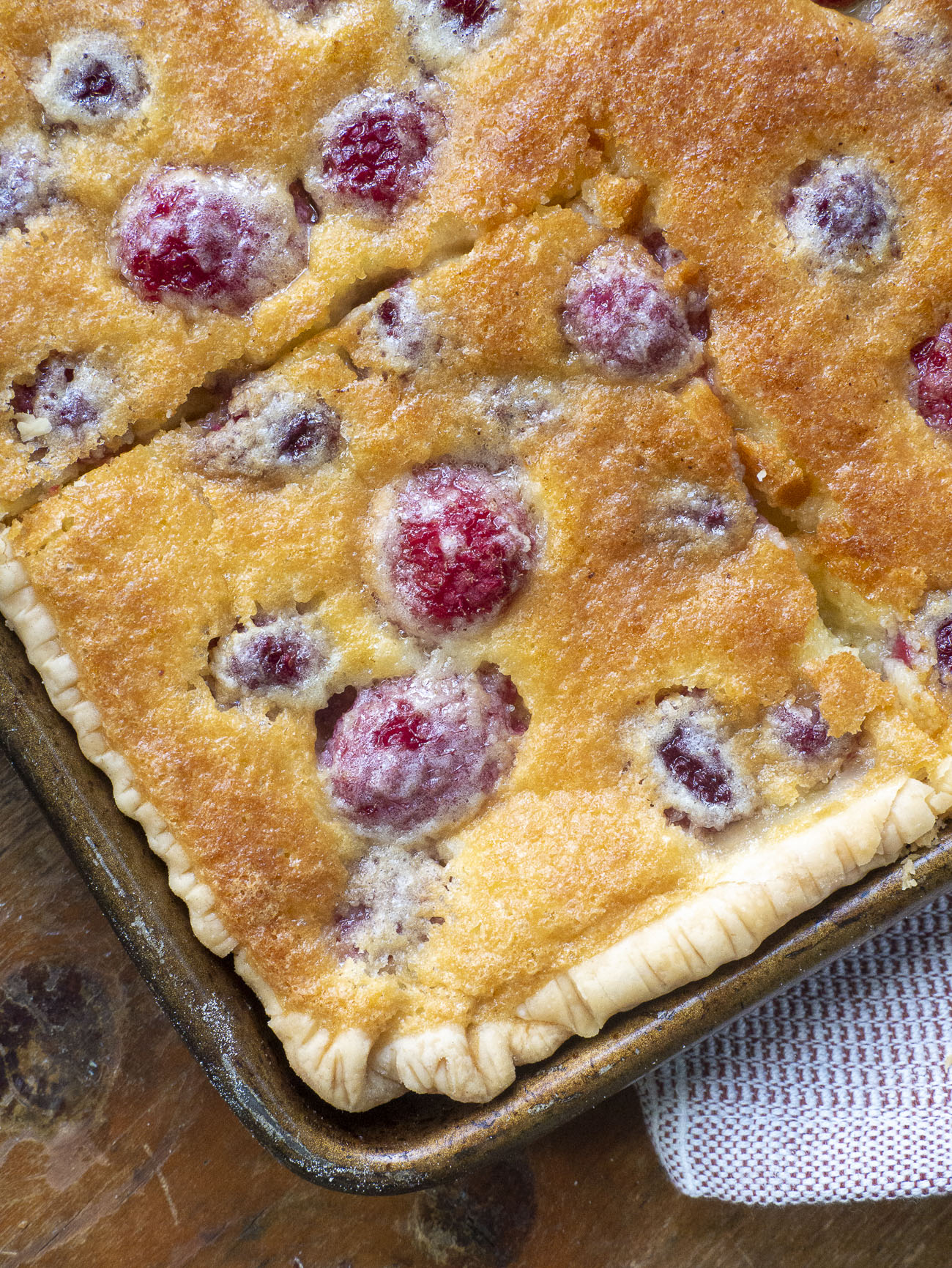 What's especially nice is that with a normal custard pie you might have an inch or two of filling or two to get through in a bite before you ever reach the crust. But not with a slab pie. With a slab pie, it's equal velvety filling to crunchy crust in every bite and that's why I'll always be singing its praises.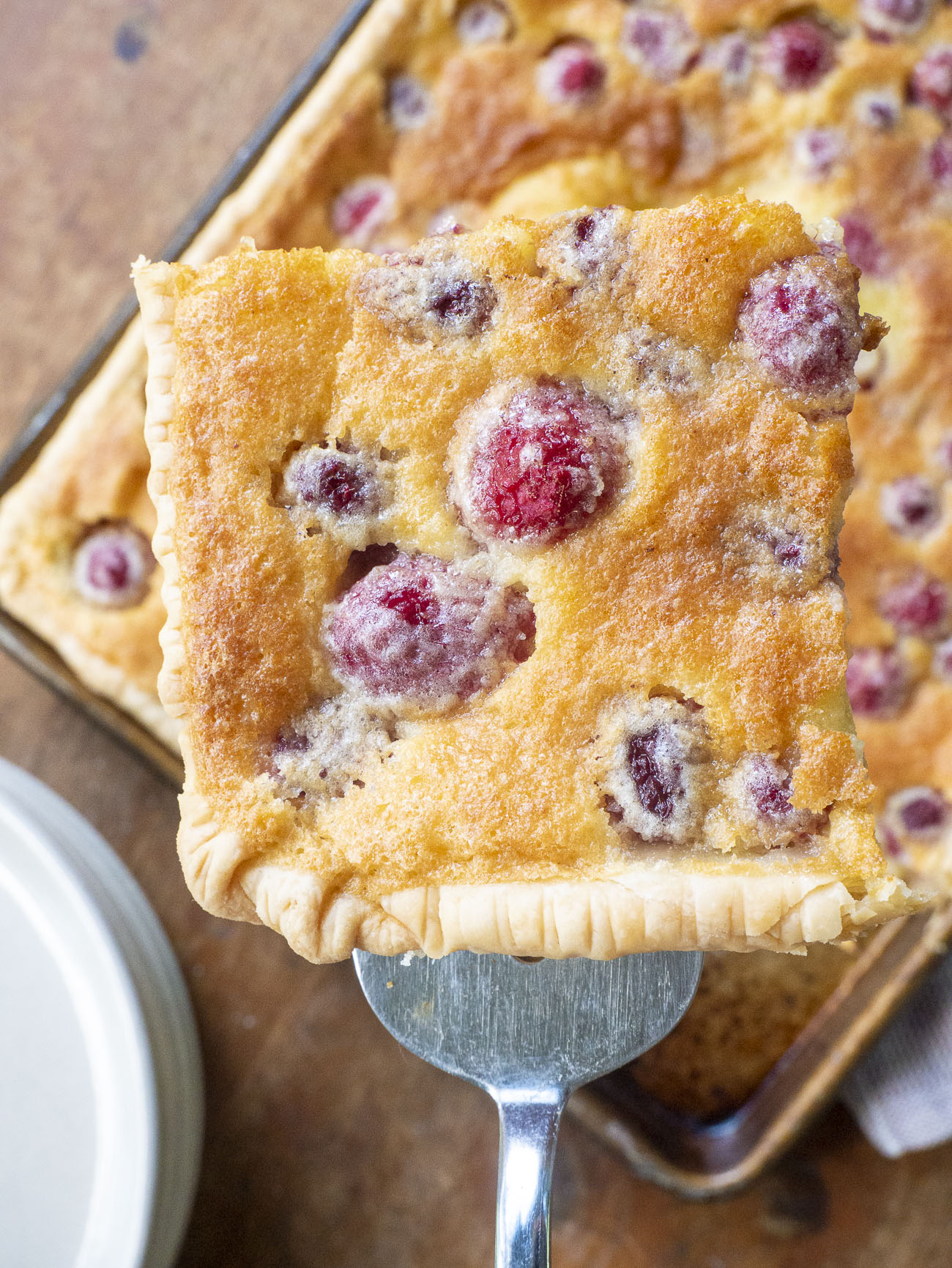 Raspberry Buttermilk Slab Pie
Serves 24
15m prep time
40m cook time
Ingredients
2 9-inch pie crusts, unbaked
6 tablespoons all-purpose flour
4 cups granulated sugar
2 cups buttermilk
1 cup (2 sticks) unsalted butter, softened
6 eggs
2 teaspoons vanilla extract
1/2 teaspoon salt
3 cups fresh raspberries
Freshly grated nutmeg, as needed
Preparation
Preheat oven to 350°F and set aside a 10x15-inch rimmed baking sheet.
If using pre-made pie crusts, remove from pouches and let soften according to package directions. On a lightly floured surface, stack pie crusts on top of each other and roll out into a large rectangle, about 12x17-inches.
Move crust onto baking sheet and press into corners and up sides. Fold extra crust even with top edge of pan and flute edges or flatten with the tines of a fork. Set aside.
In a large bowl, beat together butter and sugar with an electric mixer on medium until light and fluffy. Add flour and eggs and mix to combine.
Add buttermilk, salt, and vanilla, and mix until thoroughly incorporated.
Arrange raspberries over pie crust, then pour buttermilk custard over and around them. You might have excess filling; just fill up to top edge of baking sheet. Dust top evenly with nutmeg, then bake until center is set and top is browned, 35-40 minutes.
Pie will be slightly jiggly but will firm up as it cools. Let cool completely (at least 1 hour) before slicing and serving. Enjoy!
SKM: below-content placeholder
Whizzco for 12T