It's a must try.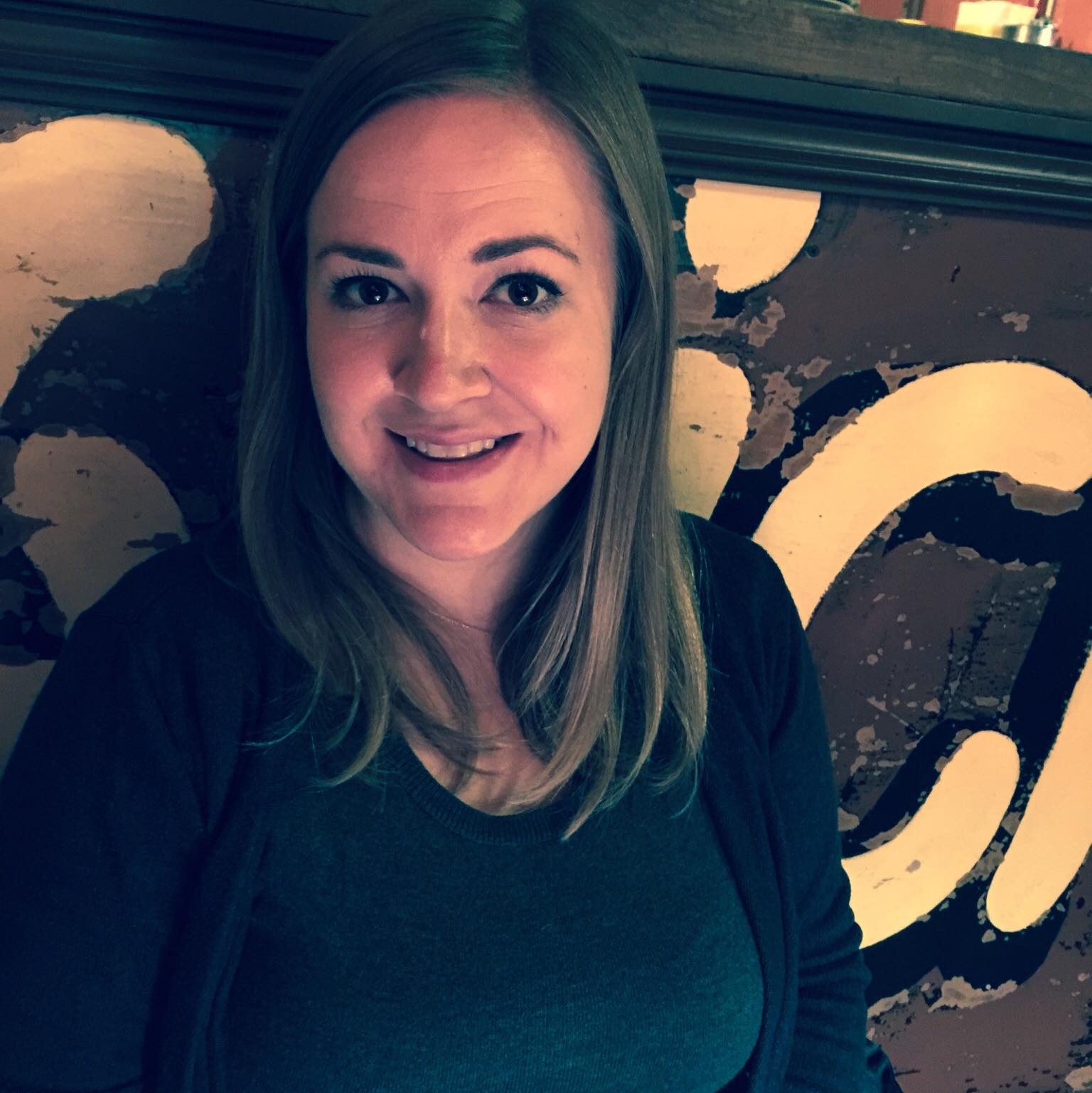 Kristy Norrell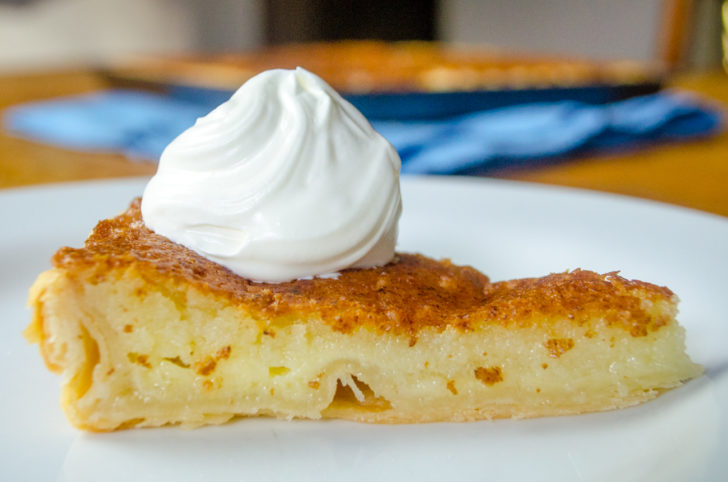 We'll admit it. If you haven't had it before, buttermilk pie sounds a little weird. Buttermilk in a pie? Pie made of buttermilk? You might imagine a pie that's sour, but you'd be wrong. In actuality, buttermilk pie is as sweet as can be. It's delicate and subtle, and while we don't understand exactly why, it just works. It works oh so well. There's a reason this pie has been around for ages, and that reason is deliciousness.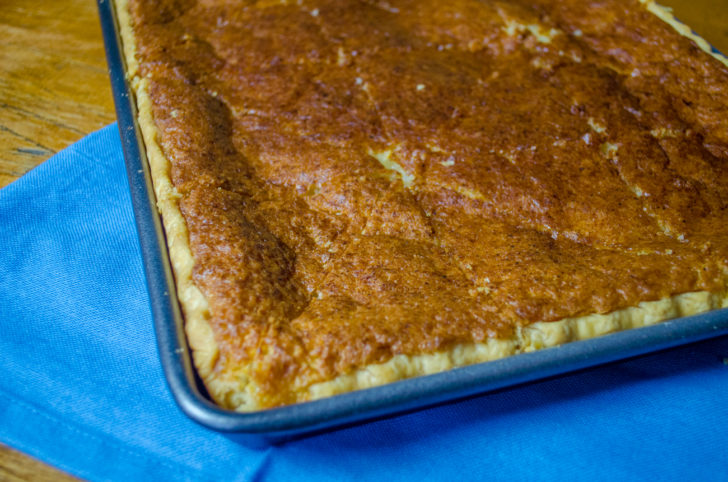 It's a pie that's quickly become a favorite of ours, and since sharing is caring, we thought it would be the perfect flavor for a slab pie. Slab pie is a genius thing. It's pie that's baked up in a big ol' baking sheet, which means there's always plenty of pie to go around. They also tend to need less time in the oven since the filling isn't as deep. And we must say, we're really loving the filling to crust ratio in this particular recipe. It's shallow enough that you don't get overwhelmed by the custard, but it's still got a good creamy bite to it.
You can make a slab pie really easily with refrigerated pie crusts. You just unroll the two pouches, stack them on top of each other, and roll them out into one big rectangle… about 12×17 inches.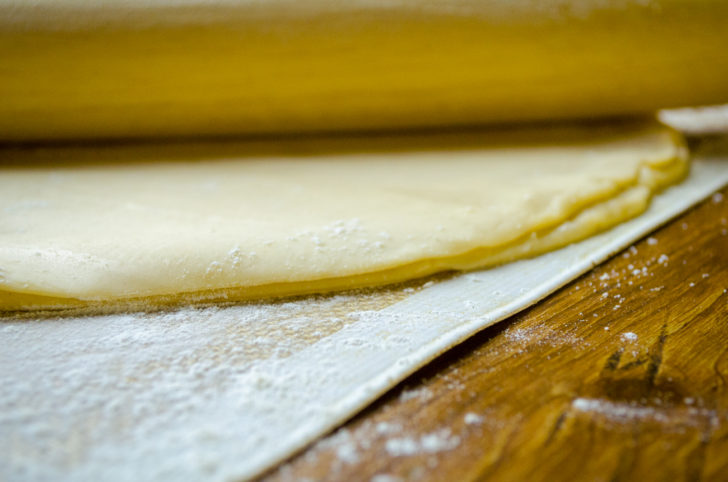 Then you transfer the dough to a rimmed baking sheet and fold the excess under and flute the edges…
Since it's a custardy pie, you can blind bake your pie crust first if you feel so inclined, but we've opted not to, and it turns out just fine if you don't. You pour in the filling and dust the entire thing with a good helping of nutmeg. You can use the ground stuff out of the spice jar, but it's fun to break out the whole nutmeg every once in a while…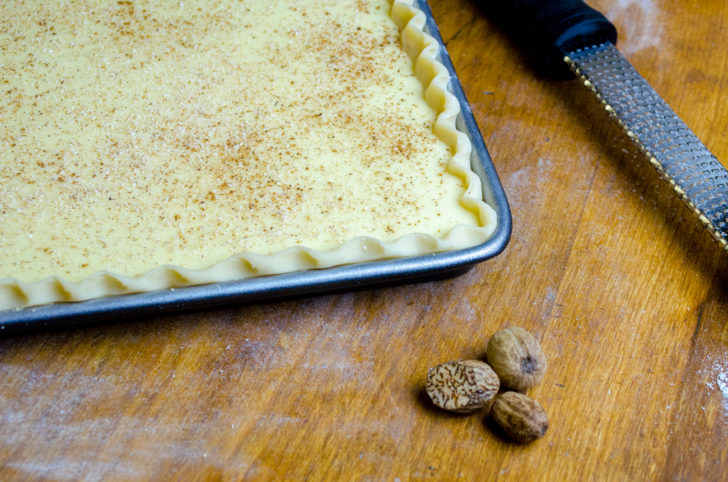 Then you bake it, and let it cool, and slice it up…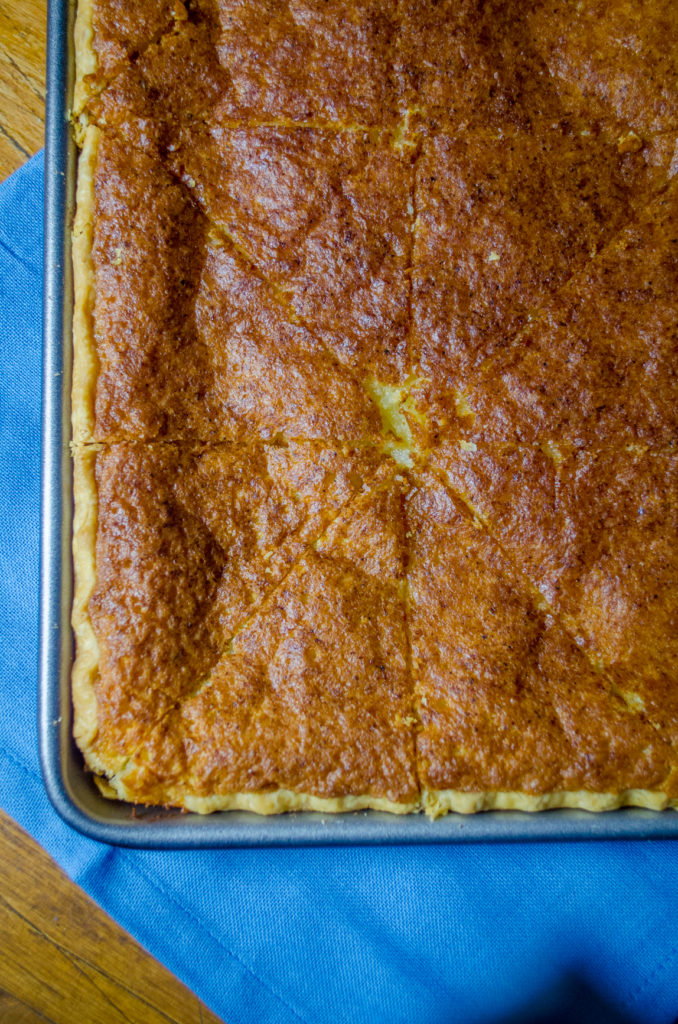 It'll be a little bit jiggly when it comes out of the oven, but it will firm up as it cools. Just give it a good hour to cool before you slice it. And you'll get 24 servings out of this pie if you slice it this way! That's 23 people you can share this goodness with. That's a whole lot of pie for not a lot of work.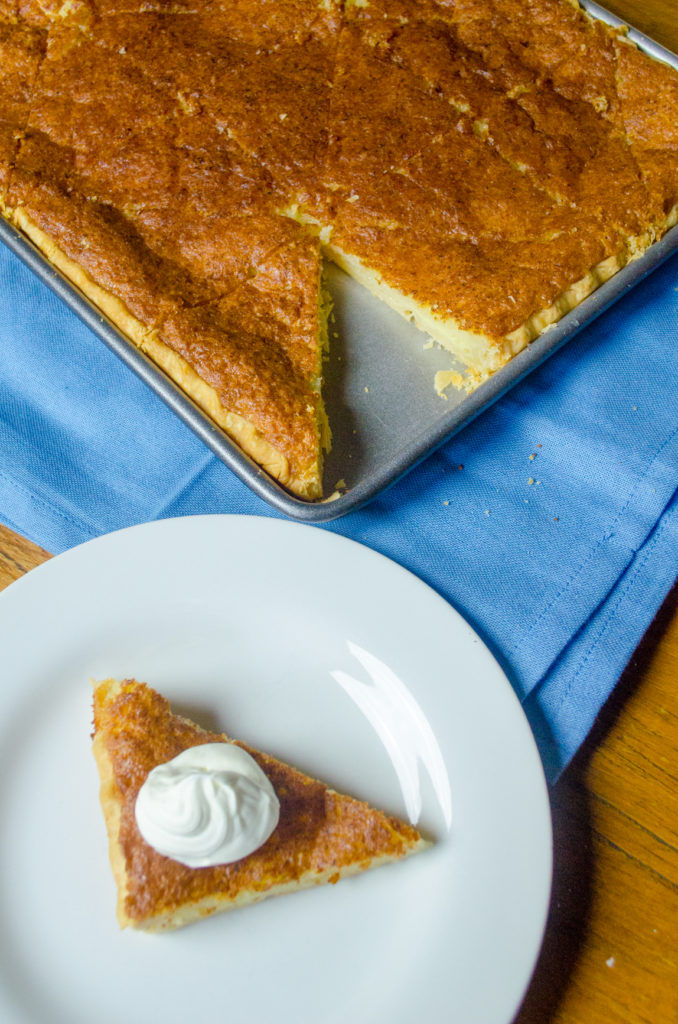 The nutmeg provides a spicy contrast to the sweet filling. Buttermilk pie has a loooooong tradition, particularly in the south, and some recipes use lemon instead, but we just love the way the nutmeg cuts through that delicate sweetness.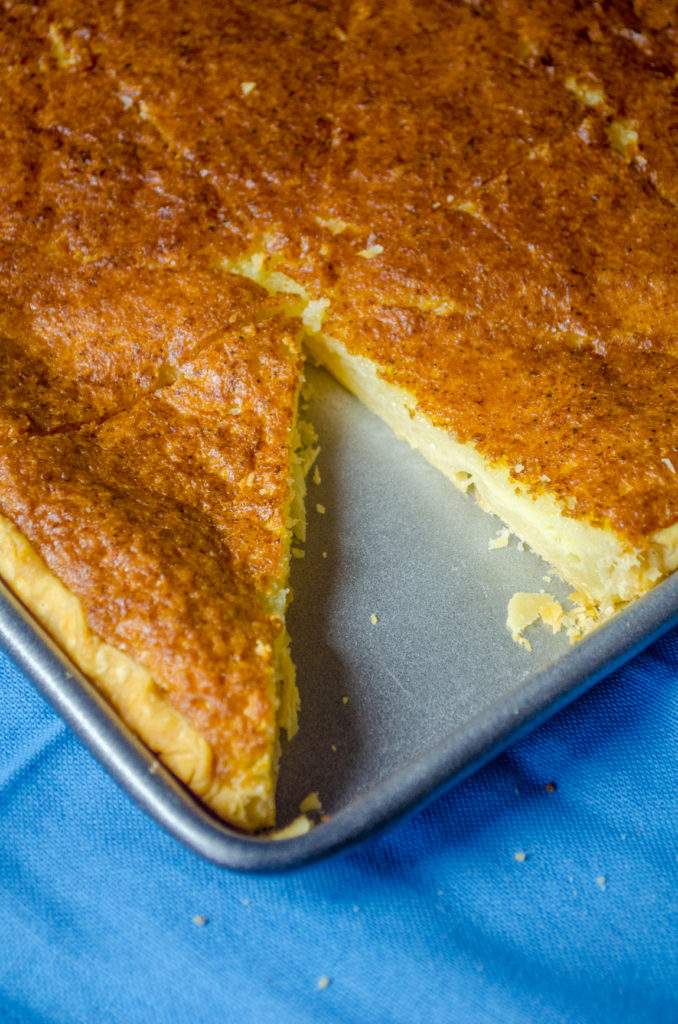 It's a simple pie that's simply great, and slab pie makes it easy to feed a crowd. You'll have a great quantity of pie come out of the oven… but when it comes to something as delicious as Buttermilk Pie, there's no guarantee it'll last too long.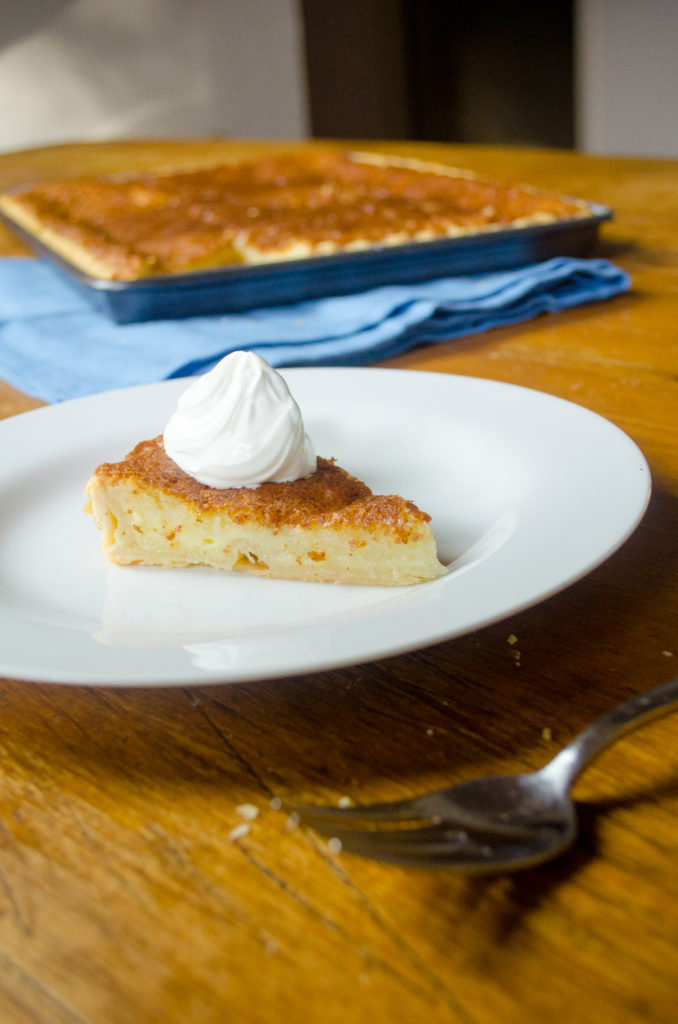 Buttermilk Slab Pie
Ingredients
2 9-inch pie crusts, unbaked
6 tablespoons all-purpose flour
4 cups granulated sugar
2 cups buttermilk
1 cup (2 sticks) unsalted butter, softened
6 eggs
2 teaspoons vanilla extract
1/2 teaspoon salt
ground or fresh grated nutmeg, as needed
Preparation
Preheat oven to 350°F and set aside a 10x15-inch rimmed baking sheet (a jelly roll sheet).
If using pre-made pie crusts, remove from pouches and let soften according to package directions. On a lightly floured surface, stack pie crusts on top of each other and roll out into a large rectangle, about 12x17-inches.
Move crust into baking sheet and press into corners and up sides. Fold extra crust even with top edge of pan and flute edges or flatten with the tines of a fork. Set aside.
In a large bowl, beat together butter and sugar with an electric mixer on medium until light and fluffy. Add the flour and eggs and mix to combine.
Add the buttermilk, salt, and vanilla, and mix until thoroughly incorporated. Pour into pie crust and dust top evenly with nutmeg. You might have excess filling; just fill up to top edge of baking sheet. Bake until center is set and top is browned, about 35-40 minutes. Pie will be slightly jiggly but will firm up as it cools. Let cool completely (at least 1 hour) before slicing and serving. Enjoy!
SKM: below-content placeholder
Whizzco for 12T