You guys, it tastes just like the original!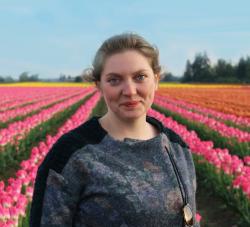 Decatur Macpherson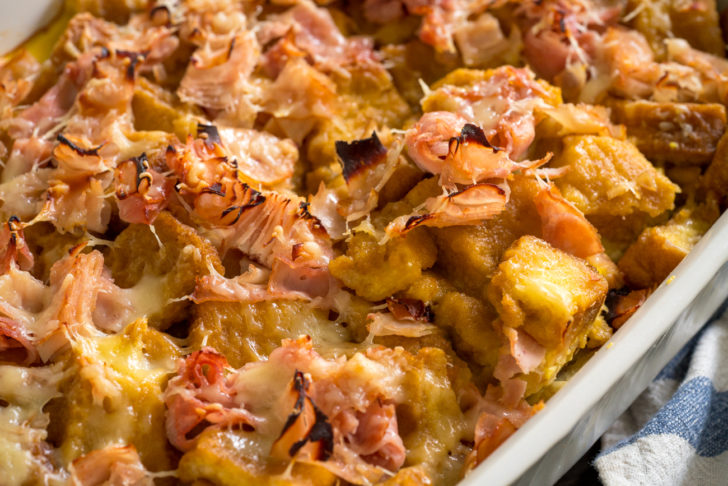 Have you ever had a Monte Cristo sandwich? Layers of turkey, ham and Swiss cheese, wrapped up in bread and then deep-fried and coated in powdered sugar…it sounds totally insane, but it's absolutely delicious and totally works – just give it a chance! Instead of battering and deep-frying our own sandwiches, which sounded like a lot of work that we didn't feel like doing, we turned the classic sammie into a casserole. And not just any casserole, a casserole that's perfect for breakfast, lunch or dinner!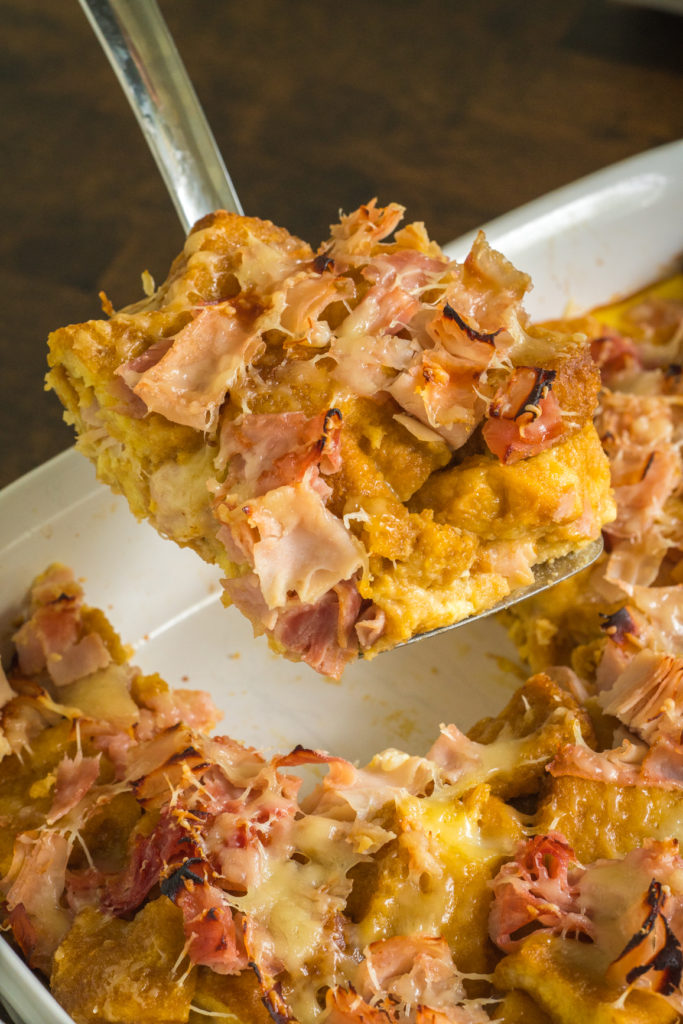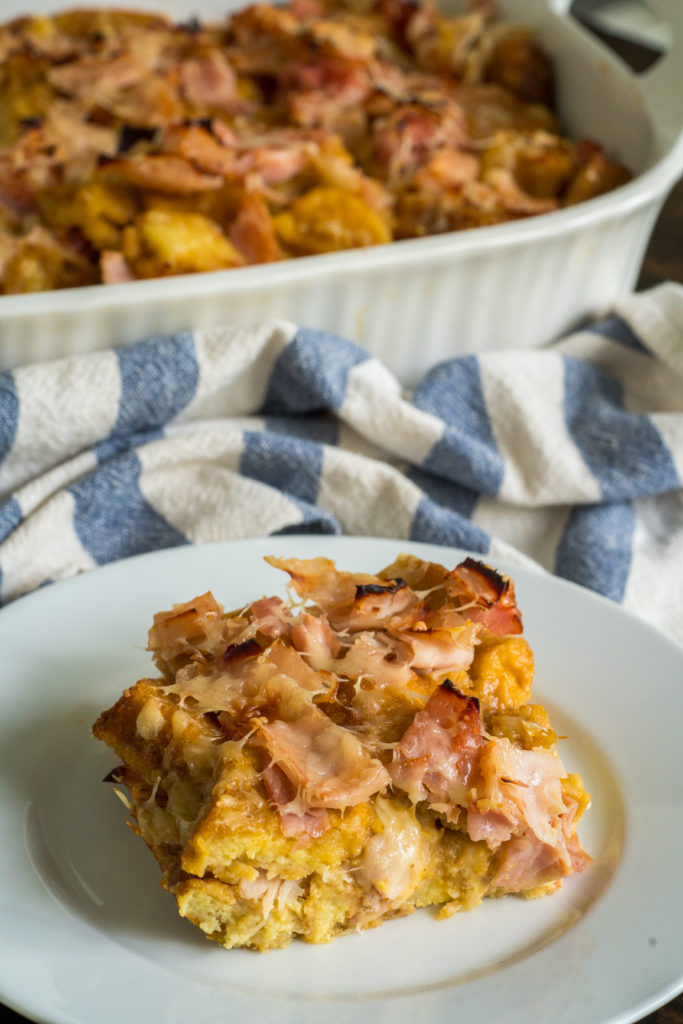 So one of the best (and most guilt-inducing) parts of the Monte Cristo is the deep-fried, powdered sugar-coated bread that holds all the other essential elements together. We couldn't bear to lose the flavor of the bread, but we cut a few (read: a lot of) corners and used frozen French toast sticks as the base of our dish. They've got a hint of sweetness that hits the spot without being overwhelming, so we just cubed them up and made a sort of savory bread pudding mixture to coat them in – so unbelievably yummy.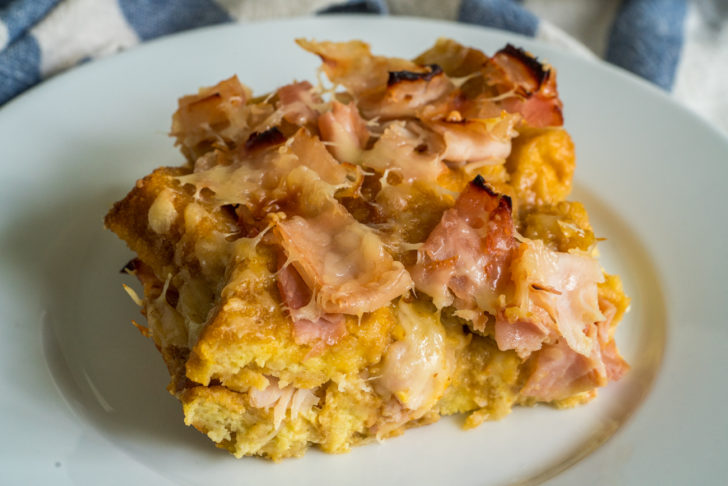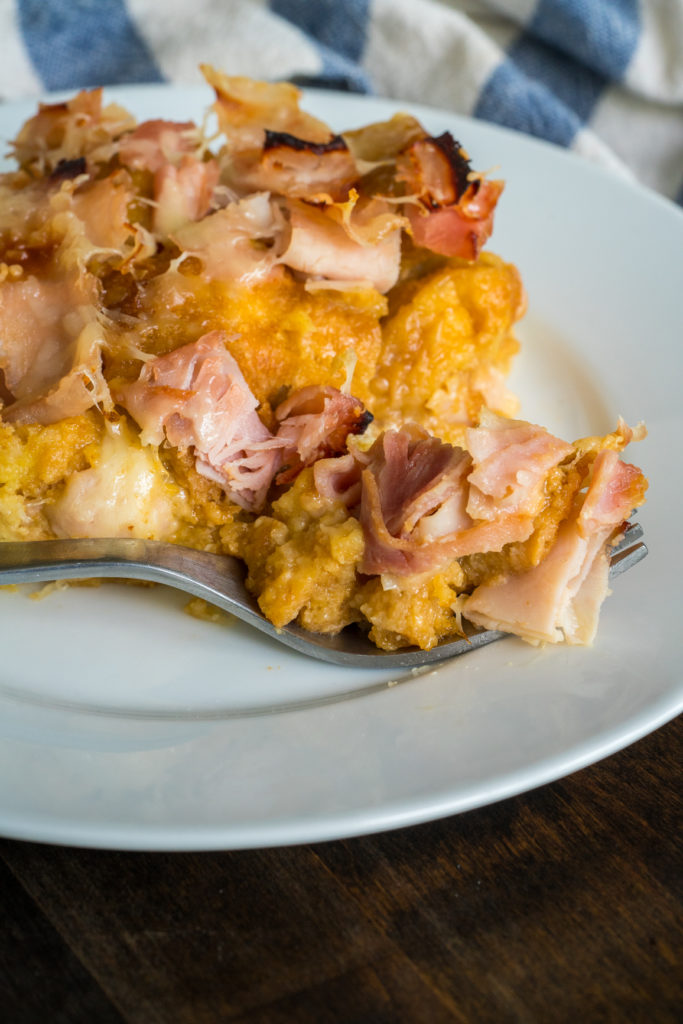 Once you've got your bread bases covered, you place half of the mixture in your baking dish and then cover that with sliced and diced turkey and ham. You could just layer slices of turkey and ham over the bread without slicing them up, but we think it makes for a slightly more manageable eating experience to have them diced. Load up on Swiss cheese, then repeat with your remaining bread, turkey, ham and cheese. Pop it all in the oven until your cheese is melted and bubbly and your bread has absorbed all the egg mixture…you guys, this stuff is so good!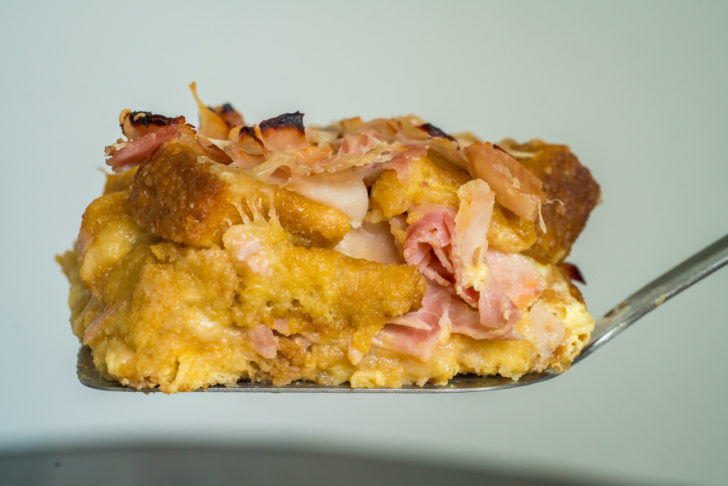 Even if you've never even heard of a Monte Cristo and think the whole thing sounds insane – which it is, in a good way – this is a great casserole recipe to have on hand. It's got a sweet-savory vibe that is unbeatable, plus it really does work for just about any meal. People will be hooked after the first bite, just like we were after our first bite of the famous sandwich…you can't escape its greatness!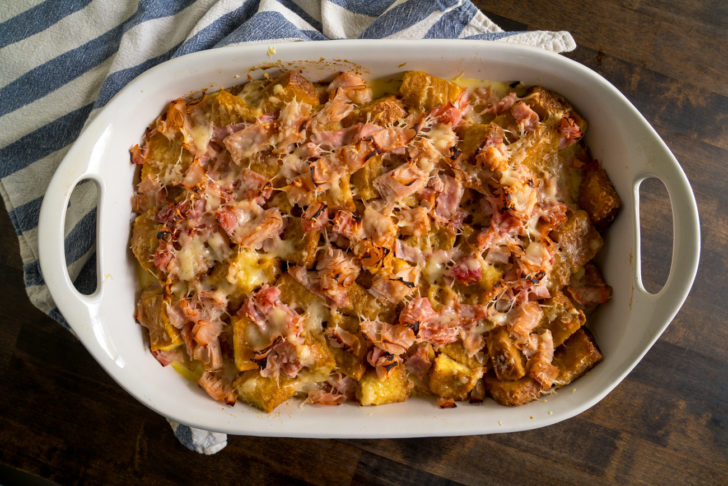 Monte Cristo Casserole
Ingredients
2 (12.5 oz.) packages frozen French toast sticks, thawed, cubed
6 large eggs
1 1/2 cups whole milk, warmed
1 (8 oz.) package deli honey baked ham, diced
1 (8 oz.) package deli roasted turkey, diced
1 cup Swiss cheese, grated, divided
1/2 teaspoon salt
1/2 teaspoon mustard powder
Preparation
Preheat oven to 375º F and lightly grease a 9x13-inch baking dish with non-stick spray.
In a large bowl, whisk together eggs and milk until combined. Season with mustard powder, salt and pepper, if using, then gently fold in cubed French toast.
Layer 1/2 French toast mixture in greased baking dish, then top with 1/2 diced turkey and ham. Sprinkle 1/2 cup Swiss cheese over the meats.
Top with remaining bread mixture, turkey and ham, then sprinkle remaining cheese on top.
Place baking dish in oven and bake for 35-40 minutes, or until cheese is melted and bread is golden brown.
Remove from oven and, optional, sprinkle with powdered sugar. Optional: serve with warmed raspberry jam or compote. Enjoy!
Recipe adapted from Genius Kitchen
SKM: below-content placeholder
Whizzco for 12T