This is comfort food on another level.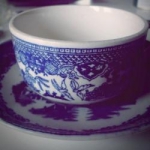 Rose Heichelbech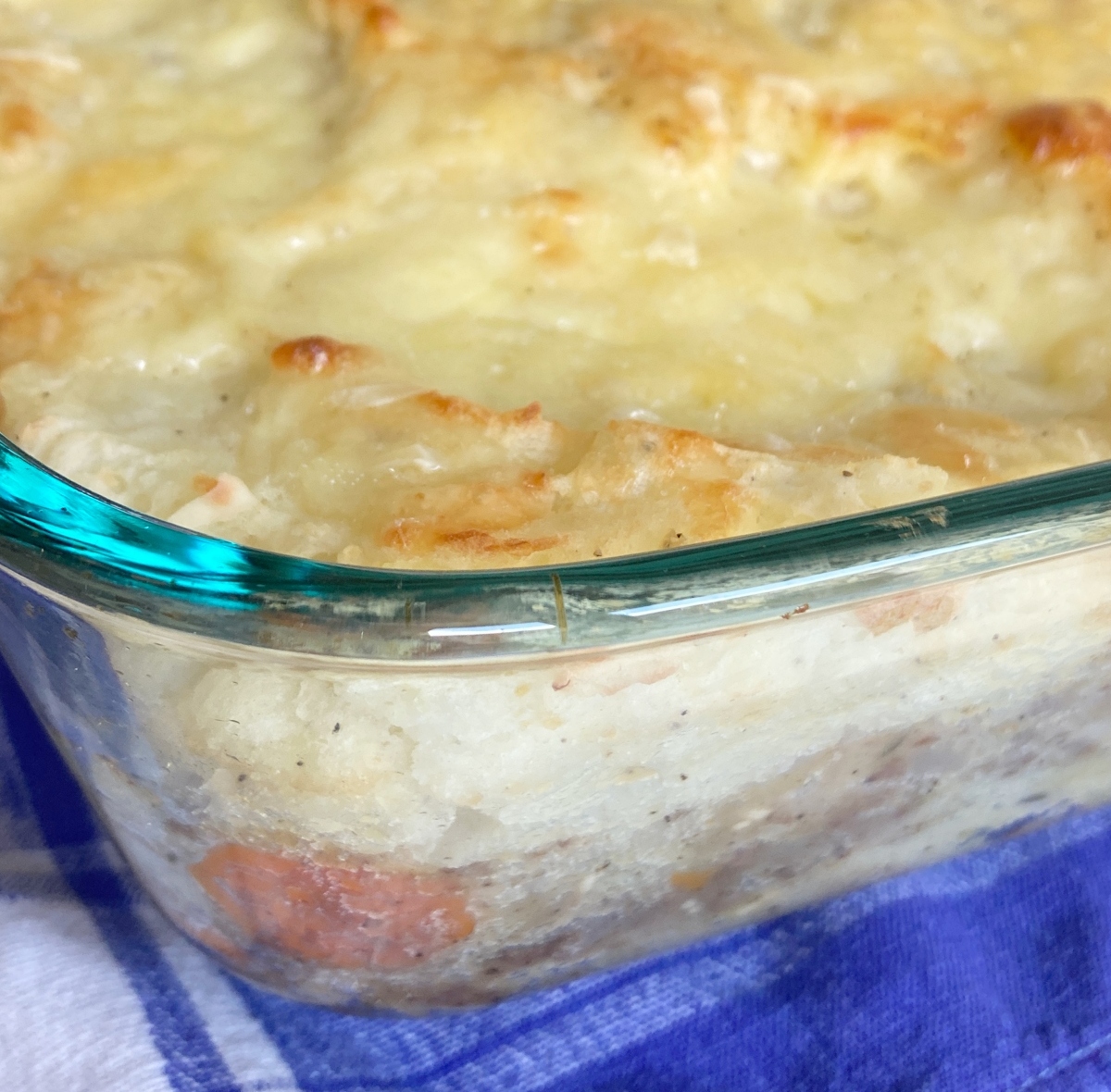 Shepherd's pie is a dish that's known around the world because it's a wonderful comfort food and full of flavor. But, it's also a great way to use up leftovers. Recipes like these that use up the last of last night's dinner can really stretch the food budget. Plus, it means that whatever tasty thing you had the other night can be enjoyed by one more time.
This dish is based around using up leftover beef stew. But, in case you don't have any lying around we've included the how-to of making the beef mixture (using ground beef) as well.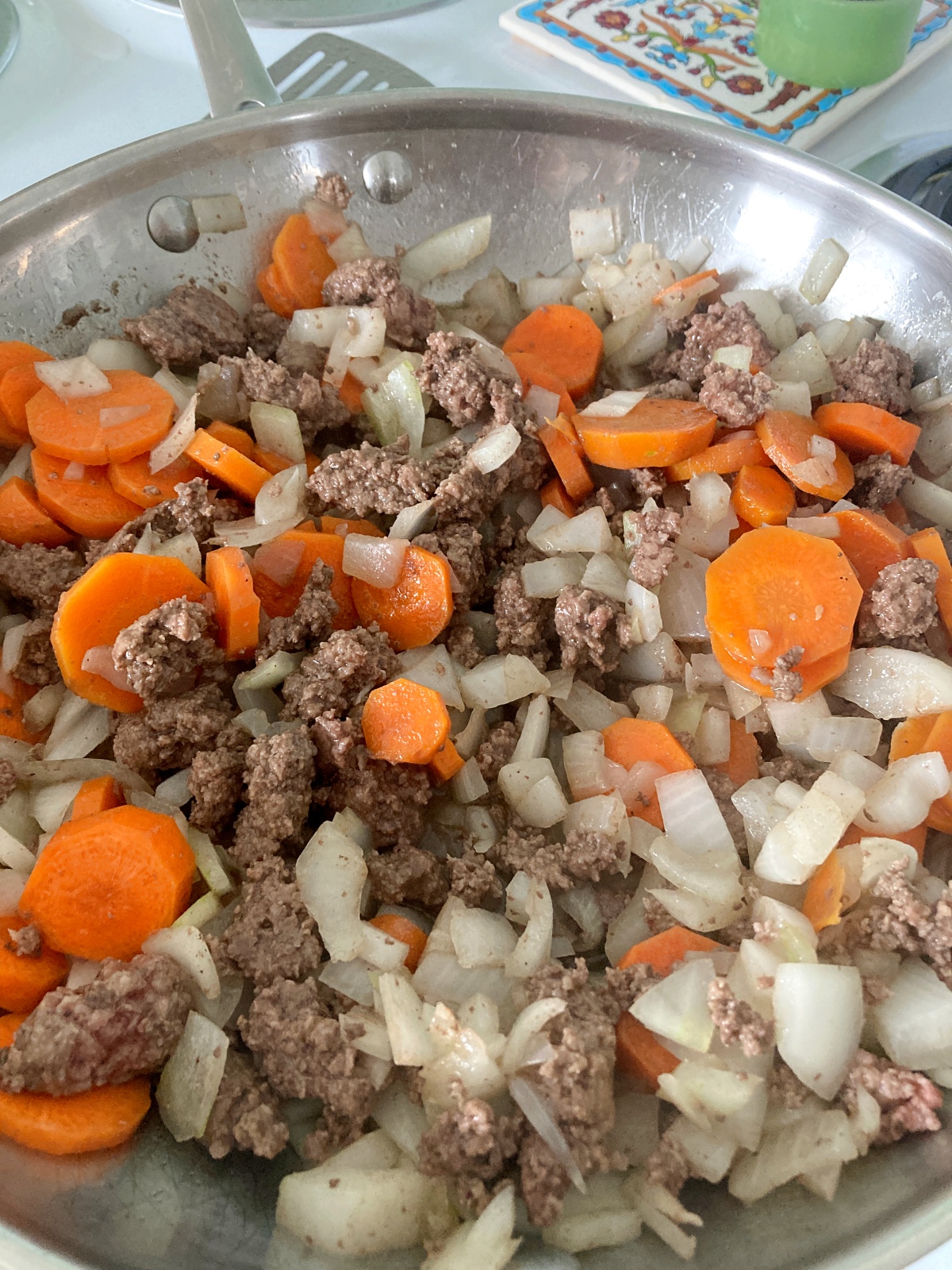 In the beef mixture some herbes de Provence and fresh thyme season it perfectly. A trick to getting thyme leaves off, since they can be so finicky, is to pull them through the bottom of a small-holed strainer. The bowl shape catches the tiny leaves and your fingers get a break from a tedious task. It's a great shortcut I use in the kitchen often.
The meat is also flavored with a bit of apple cider vinegar in this recipe, but you can use wine, sherry, or cognac instead if you prefer. Just know that each one will lend a different flavor to the finished dish.
The French word for potato is "pomme de terre" but this dish is "parmentier". The reason the phrase for spuds doesn't appear in the name is because it's not named for the plant, but for the man who championed the humble potato. French pharmacist Antoine-Augustin Parmentier made it his mission in the late 18th century to show the French that the potato could be an easy-to-grow crop that was also tasty and nutritious. Up until then many regions of Europe had regarded the plant as only good for animal feed!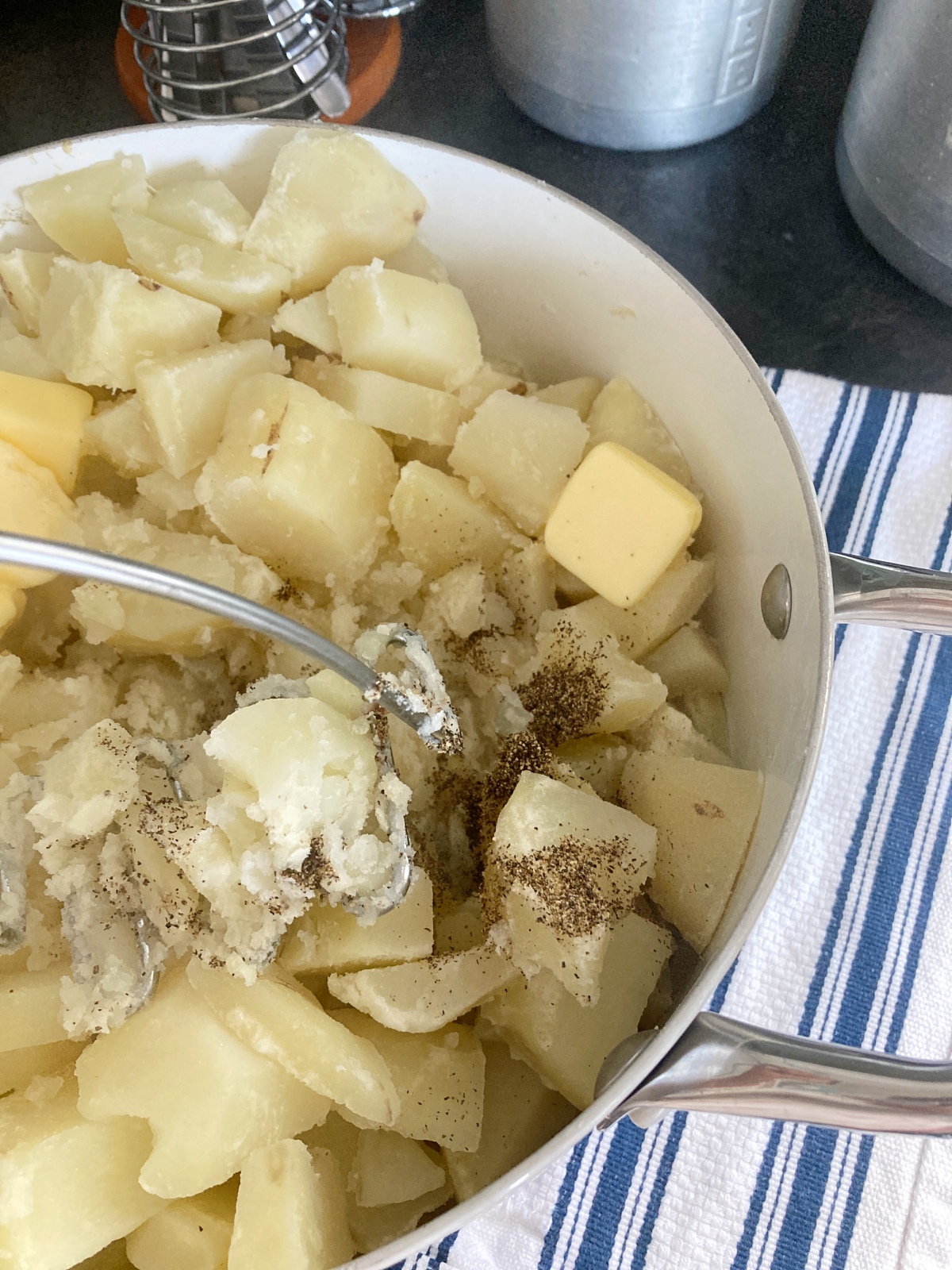 This version relies on a lot of potatoes- 8 Russet potatoes in fact. A generous helping of salt in the cooking water means they come out with a lot of flavor. But, a goodly amount of black pepper just before mashing helps, too.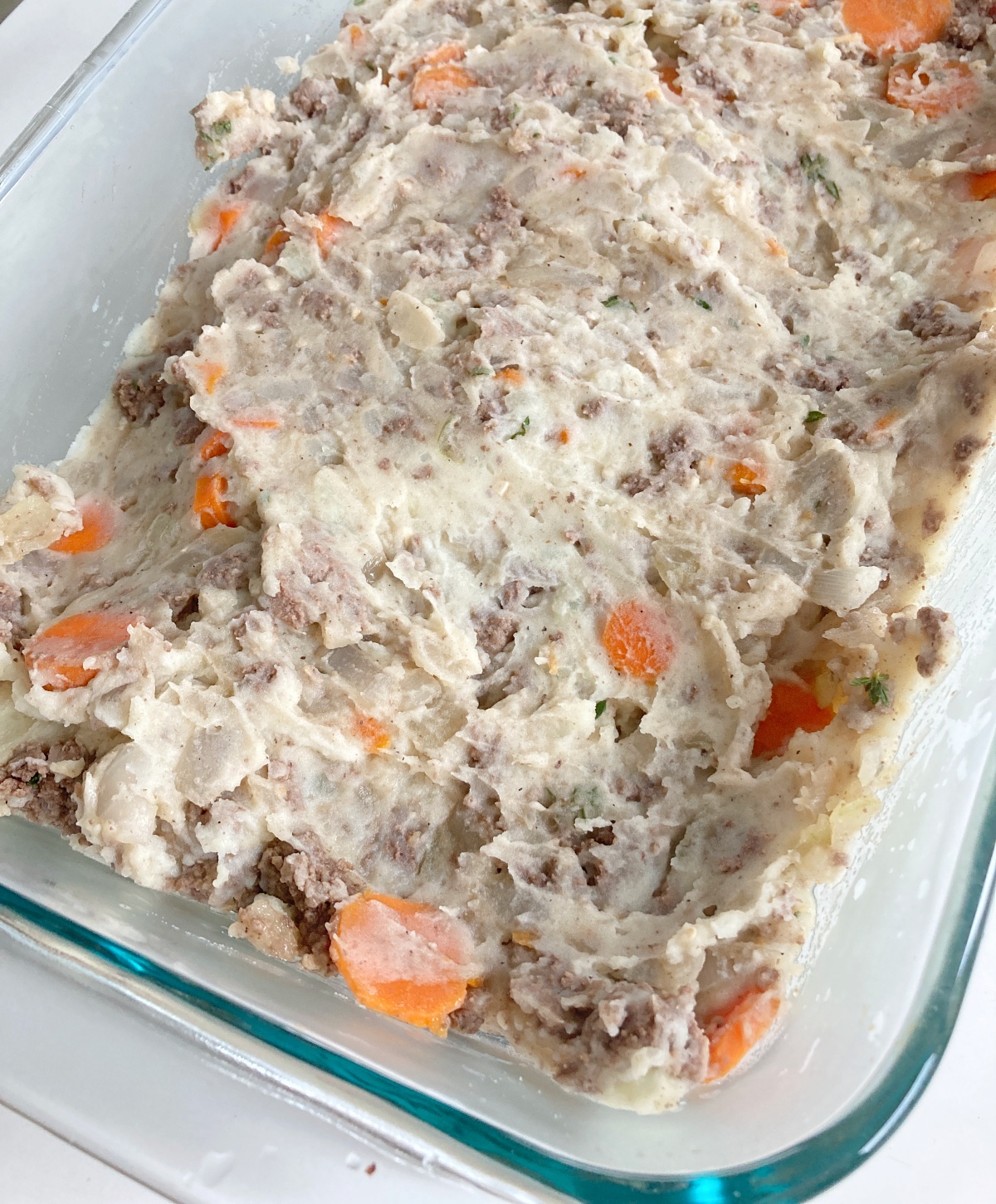 Combine the beef mixture (or leftover stew if using) with half the potatoes. Then pile the plain potatoes on top of that.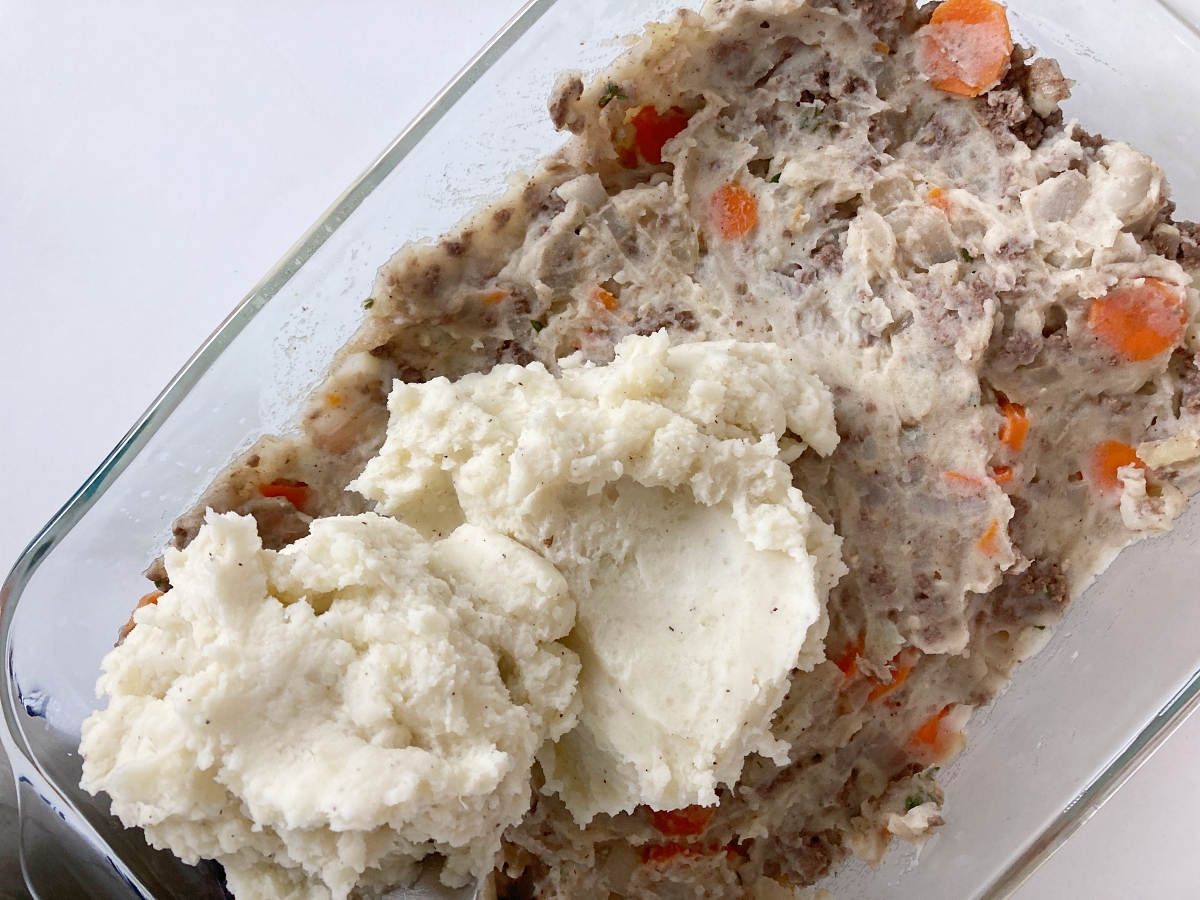 The finishing touch is to add some shredded Gruyère cheese on top for a bit more of that classic French flavor. C'est bon!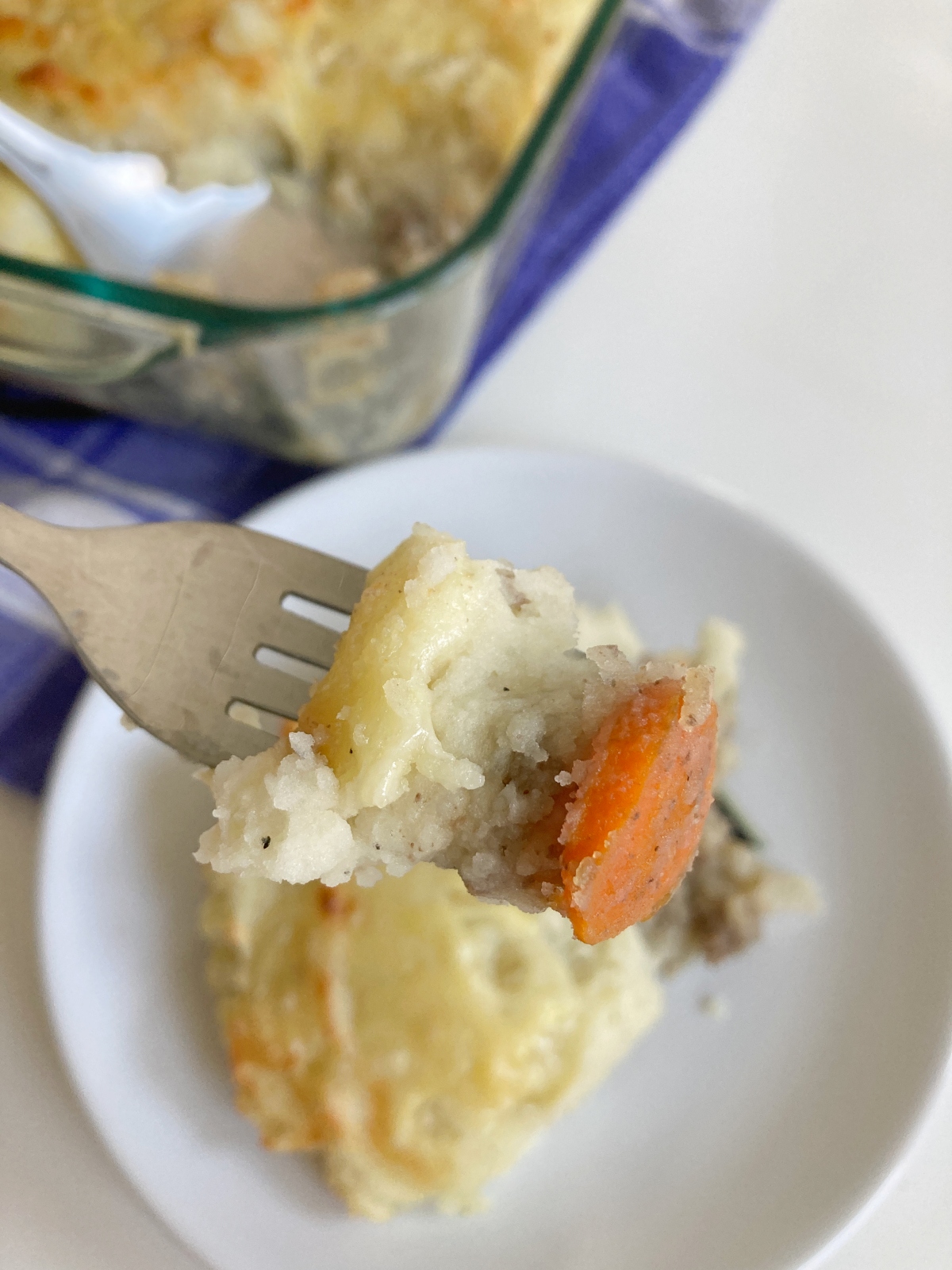 French Shepherd's Pie (Hachis Parmentier)
8-10
25m prep time
47m cook time
520 calories
For the potato layer:
8 Russet potatoes, peeled and roughly chopped
3 tablespoons salt
5 tablespoons butter
1 cup milk
salt and pepper to taste
1 cup (8 oz) shredded Gruyère Cheese
1 tablespoon freshly chopped parsley for garnish
For the beef layer:
1 tablespoon olive oil
1 lb ground beef
1 white or yellow onion, diced
2 carrots, peeled chopped
salt and pepper to taste
1 teaspoon Worcestershire sauce
1 1/2 teaspoons herbes de Provence
2 tablespoons apple cider vinegar
2 garlic cloves, minced
1 tablespoon fresh thyme leaves
For the beef layer:
Fill a large, oven-safe stockpot halfway with water. Add salt and stir. As you peel and chop the potatoes add them to the water to prevent oxidation. Add more water to pot as you go so that the water just barely covers the potatoes. Bring water to boil, then reduce heat to medium. Cook for 10-12 minutes or until fork tender. Drain and return potatoes to pan. Add butter, milk, salt and pepper and mash potatoes well.
Preheat oven to 375˚F. In a large skillet heat olive oil over medium heat. Add beef, onion and carrots and season with salt and pepper. Cook until carrots are softened and beef is browned. Add Worcestershire sauce, herbes de provence, apple cider vinegar, garlic, and thyme to pan. Reduce heat and cook for 2 minutes.
Add half the potatoes to the beef mixture and mix together. If you don't have an over-safe stockpot, transfer to a 9"x13" baking dish. Then carefully add the remaining potatoes on top of that. Smooth with back of spoon. Add cheese on top and some more black pepper. Bake for 20-25 minutes or until cheese is just beginning to brown. Sprinkle parsley on top and serve piping hot.
Recipe adapted from Entertaining with Beth.
SKM: below-content placeholder
Whizzco for 12T