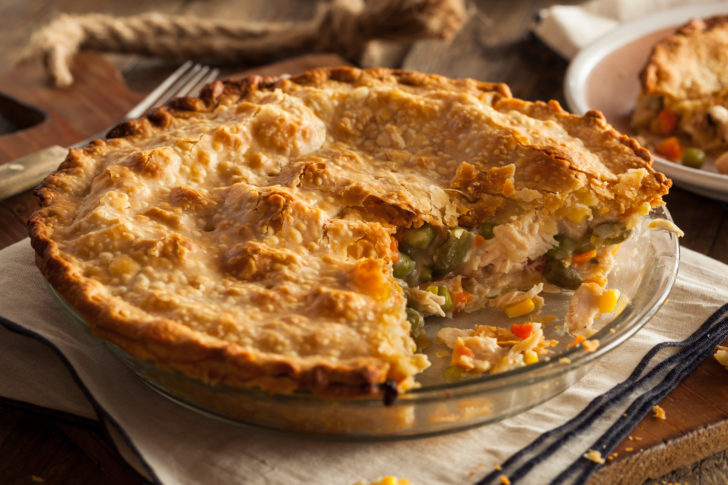 Pot pies were a staple in our household growing up, so we always think back to those days when we make it. Now, sometimes we use store-bought dough (or puff pastry!), but every once in awhile we like to roll up our sleeves and do the whole thing ourselves, from start to finish. Our dough comes together quickly and easily, and then it's just about whipping up the deliciously thick and creamy filling, stuffed to the gills with chicken and tasty veggies. Whether or not you've got memories associated with this dish, it's hearty and delicious and just the right thing to pick us up on a cold day…plus, if you don't eat it all in one sitting, it makes for great leftovers later in the week!
Classic Chicken Pot Pie
Serves 6-8
Ingredients
Crust:
2 3/4 cups all-purpose flour
1 cup (2 sticks) unsalted butter, cold and cubed
2/3 cup cold buttermilk
3/4 teaspoon salt
Filling:
3 cups cooked chicken, cubed or shredded
3 cups chicken broth
1/2 cup onion, chopped
1/2 cup carrot, chopped
1/2 cup green beans (or peas), chopped
1/2 cup corn kernels (fresh or canned)
1/3 cup heavy cream
1 egg
4 tablespoons butter
4 tablespoons all-purpose flour
1 teaspoon fresh thyme, minced
1/2 teaspoon garlic powder
1/4 teaspoon ground turmeric
kosher salt and freshly ground pepper, to taste
Directions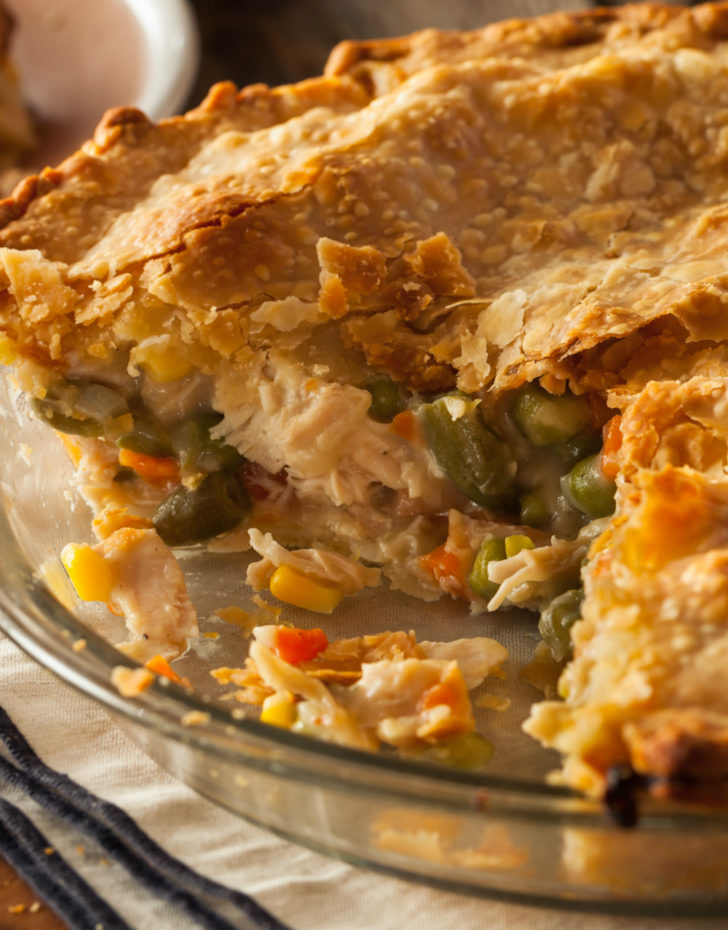 In the bowl of a food processor, pulse together flour and salt, then add in cubed butter and pulse until mixture is coarse and crumbly.
Turn mixture out into a bowl and pour in cold buttermilk.
Use two forks to mix everything together until a shaggy dough forms, then knead on a lightly floured surface until dough is smooth and elastic.
Divide dough into two balls, flatten into discs and wrap tightly in plastic wrap.
Refrigerate 1-2 hours, or until ready to use.
When ready to prepare, preheat oven to 375º F.
In a large pot or Dutch oven over medium-high heat, melt butter and sauté onions, carrots and green beans for 10 minutes, or until softened.
Add chicken and corn and cook for another 3-4 minutes, then sprinkle flour over everything and cook for 2 minutes, stirring frequently.
Pour in chicken broth and season with salt, pepper, thyme, garlic powder and turmeric, and bring to a boil.
Cook for 10 minutes, or until thickened, then stir in heavy cream and cook for another 5 minutes.
Remove one dough disc from refrigerator and roll it out on a lightly floured surface to 13-inch circle. Transfer it to 9 or 10-inch pie dish, then top with chicken and veggie filling.
Roll out second dough disc to the same size and gently place over the filling. Crimp and seal the edge of the dough and trim off excess.
Lightly beat your egg with 2 tablespoons water and brush mixture over the top crust, then use a small paring knife to cut vents in the crust.
Place pot pie in oven and bake for 15 minutes, or until crust is golden, then cover and bake for another 15 minutes.
Remove from oven and let cool at least 15 minutes before serving.
Recipe adapted from12 Tomatoes
SKM: below-content placeholder
Whizzco for 12T