The tomato-y goodness that infuses with the garlic butter and soaks into the bread is everything I want in a summer snack!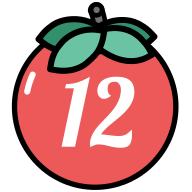 Dom Ruane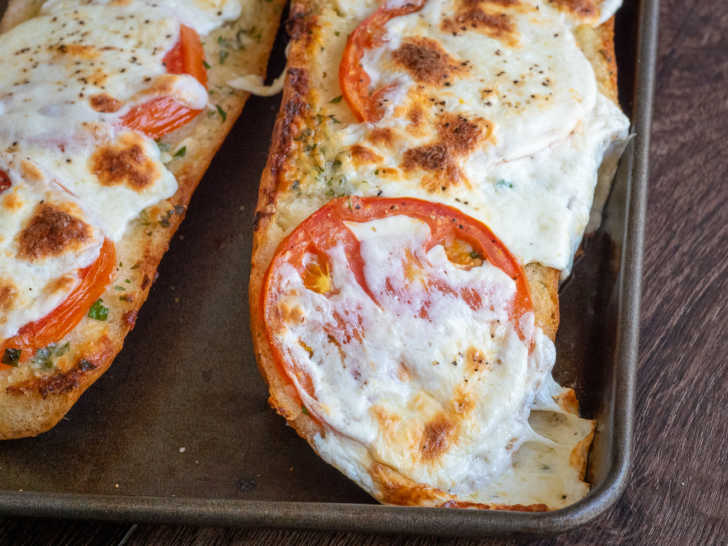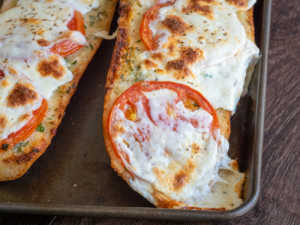 Thinking back to those summer weekends at my mom's house fills me with such joy. My mom & I were just starting to get into the Food Network at that time, and she started cooking more and more creatively. Garlic bread day was always a good day, but one pasta-filled night, she decided to make garlic bread with a slice of tomato on top & covered in shredded mozzarella cheese. Could you imagine? THE NERVE! She changed garlic bread day! I was so shocked when I took my first bite, how am I only gonna have one?! I soon enforced a law at my house that she shall only make this cheesy garlic bread from now on!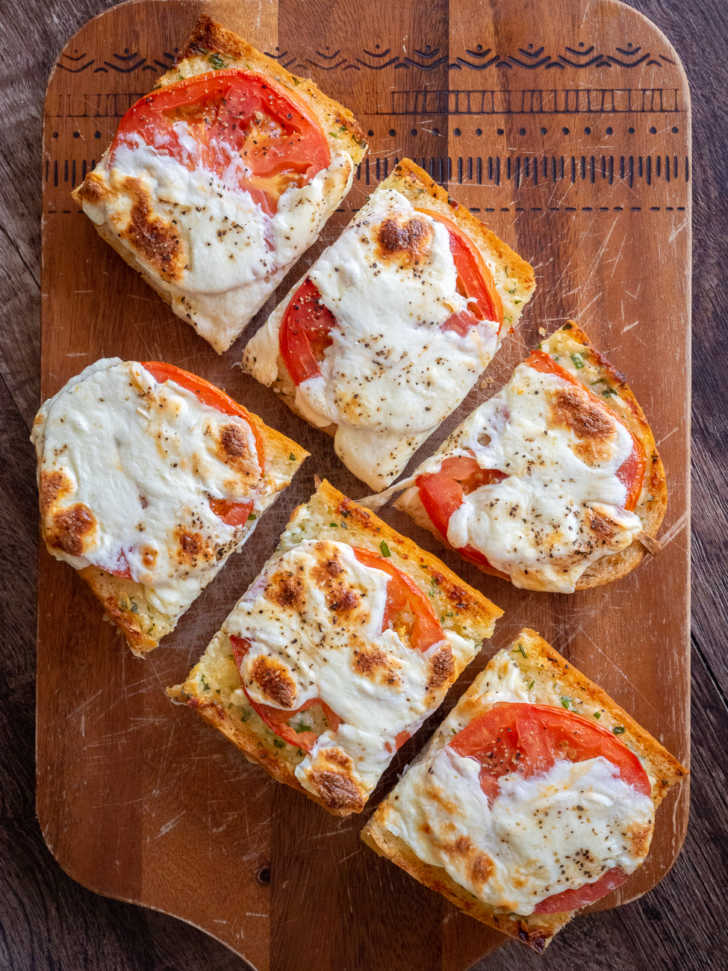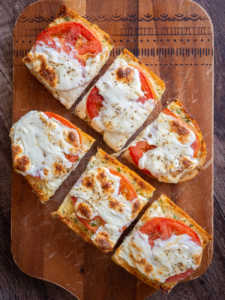 Why do some people not vibe with tomatoes? Is it the tomato caviar that looks like boogers? That caviar has so much umami flavor and is totally the key to making this flavor so magical.
I shouldn't be so surprised to see tomato & bread working this well together since we already have Spanish tomato bread, shakshuka, and bruschetta as successors. As I've gotten older, I started experimenting with dipping the bread in a homemade red tomato sauce, then I started topping the tomato bread with a vinegary salad, the opportunities are endless, just got to take a chance on this recipe.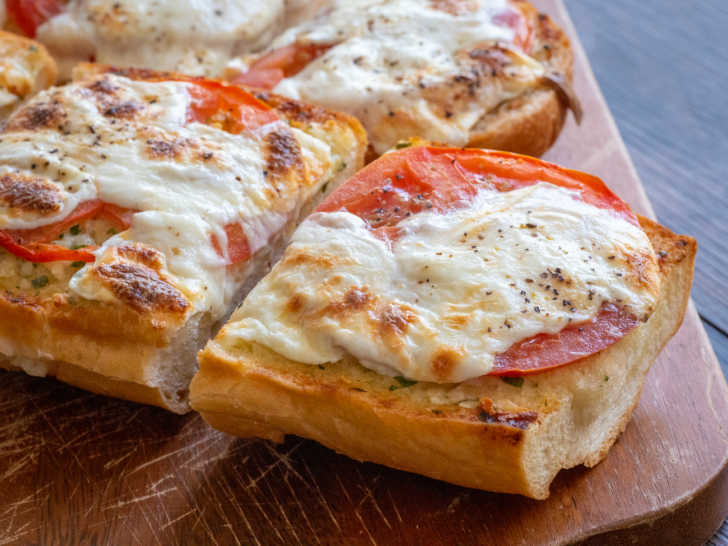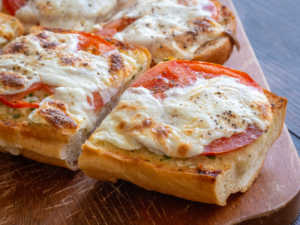 What kind of cheesy garlic tomato bread can you dream up next? Sliced Provolone and capicola? Actually, that sounds soo good! Don't be surprised to see something like that pop up on the 12 Tomatoes site. Carbs, especially bread are my happy place. Make sure you really put some love into the purchase of your bread for this recipe. It's all about the bread and the way it soaks up the butter and tomato. If you have a loaf that's too fluffy with bread, you can always tear some out of the middle, dry it out and save it for homemade breadcrumbs or feed it to the dogs. I always have a nice baguette "chillen" in the freezer, whenever I need a cheesy tomato stuffed garlic bread day.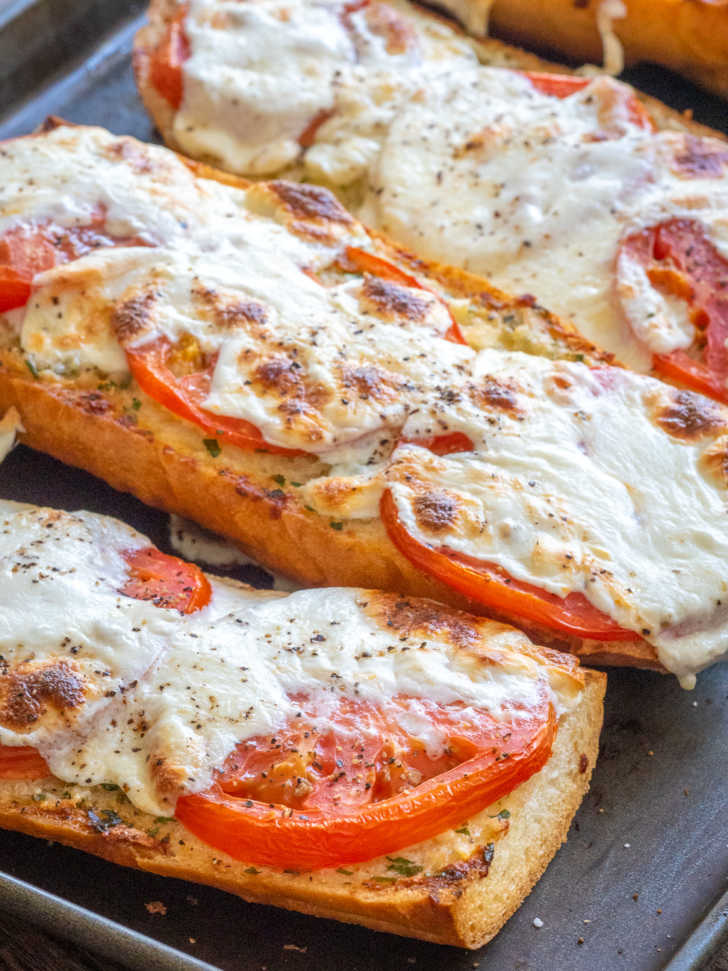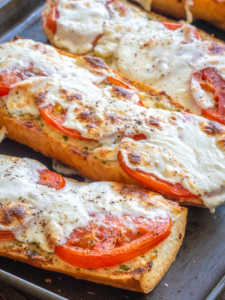 Cheesy Tomato Stuffed Garlic Bread
Makes 12 pieces
5m prep time
15m cook time
Ingredients:
1 loaf French or Italian bread, cut in the middle
1 stick of salted butter, softened
4 garlic cloves, grated, pasted or pressed
1/2 cup Parmigiano Reggiano, grated
2 tablespoons parsley, minced
2 large beefsteak or heirloom tomatoes, sliced (12 large slices total)
3/4 lb fresh mozzarella cheese, torn into strips
Kosher salt & freshly cracked black pepper, to taste
Directions:
Preheat the oven to 400° F.
In a bowl, mix together butter, garlic, parm and parsley.
Using a spatula, spread the butter mixture evenly on both sides of the bread.
Lay 4 -5 slices of tomato on the bread, making sure that the whole loaf is covered in tomato and season slices with salt and pepper.
Top each loaf with strips of mozzarella, until your bread looks like a work of art.
Bake in the oven for 12 - 15 minutes, or until the cheese starts brown.
Let cool for 2 - 3 minutes and serve immediately!
Mangia!
Recipe adapted fromRecipe adapted from New York Times Cooking.
SKM: below-content placeholder
Whizzco for 12T