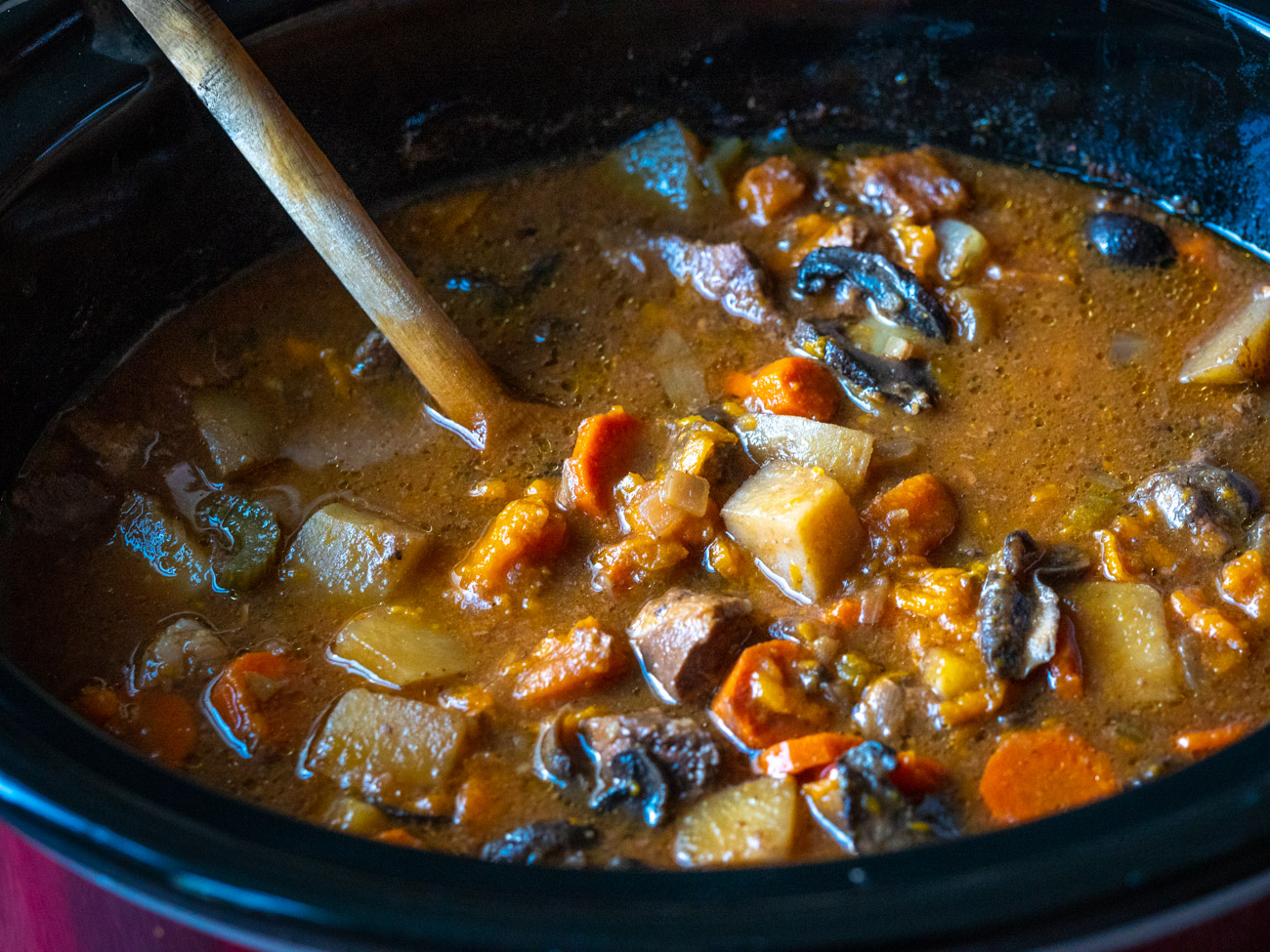 I can still remember how good the house would smell when we'd get home and my mom had been cooking a beef stew in the Crockpot all day. She could take the humblest of ingredients and make them into something so good that it would perfume the whole house. While I usually choose nicer cuts of meat than my mom did, the basis of a good stew remains just the same as it ever was.
Our recipe for an all day stew uses many of the standard beef stew ingredients, but you can easily customize it to whatever you have on hand. And, it may be called all day stew, but you only need a slow cooker and bit of prep time in the morning for this to be done with no other effort by the time you get home in the evening.
To begin making this recipe put all the meat and vegetables into a 6-quart slow cooker. Chuck or shoulder cuts usually turn out more tender than beef that's labeled stew meat, but they also cost more so the choice is yours.
The veggies in this recipe are onion, carrots, celery, mushrooms, potatoes, and sweet potatoes. You could add pearl onions, parsnips, corn, barely, or peas to your stew if you like. But, if you're using frozen or canned peas add them at the last 10 minutes of cooking so they don't get too mushy.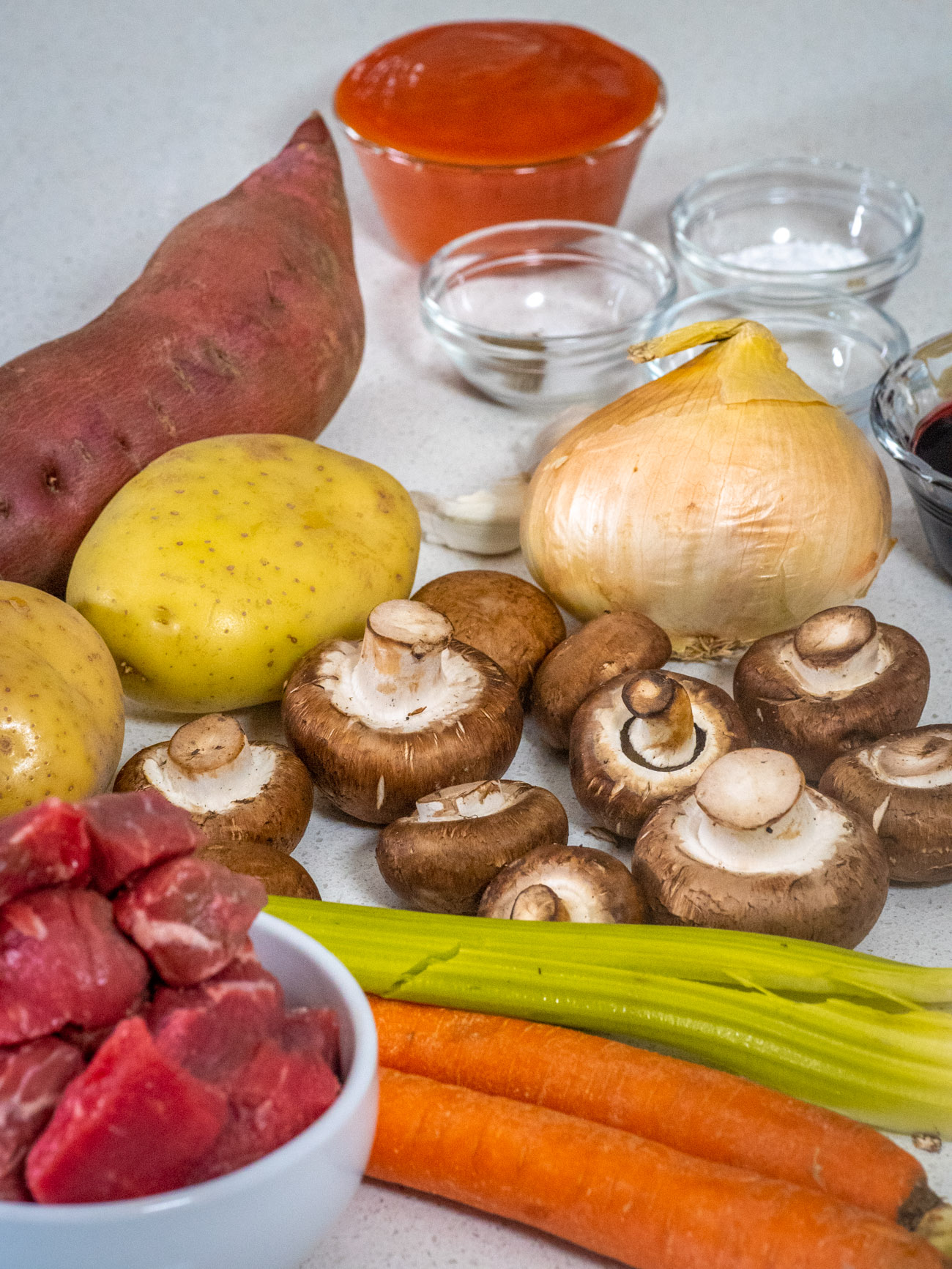 Once you have the base ingredients in the slow cooker mix up the flavorings in a separate bowl. This special blend includes condensed tomato soup, garlic, salt, pepper, cornstarch for thickening, and beef bullion. The magic ingredient in the stew is just a half cup of red wine which gives it a flavor not unlike beef bourguignon. But, you can also use beer if you have that instead, which is what my mom frequently did with her stews. Trust me, you won't be disappointed with either choice.
Once the liquids are mixed pour them over the ingredients in the pot. It might look a little dry at this stage, but the meat and vegetables will lend a lot of liquid to the stew so don't worry too much about it.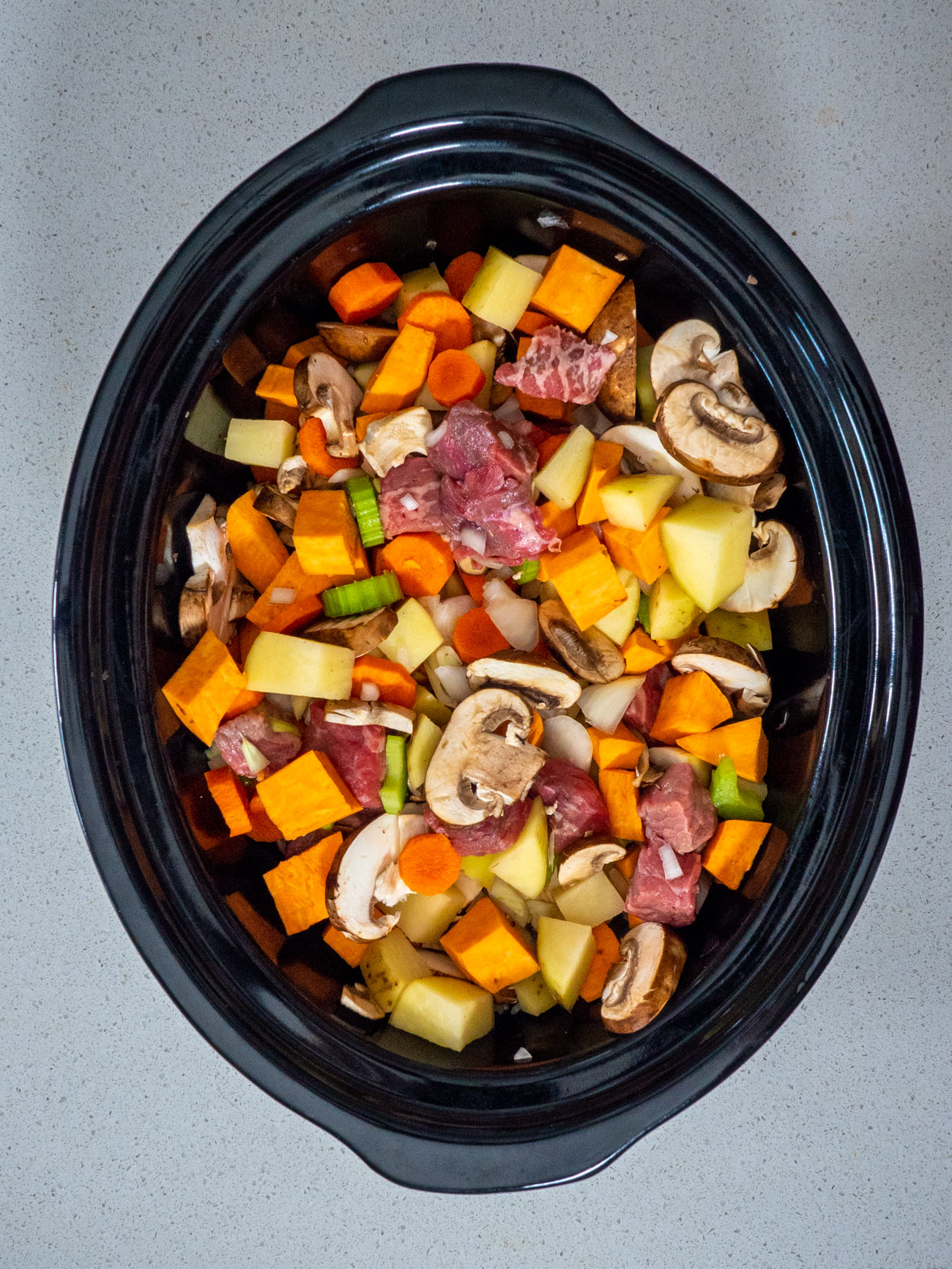 The final step is just to put a bay leaf on top and cook for 9 to 10 hours on low. If you're in a hurry you can set your Crockpot to high and cook for 5-6 hours instead. But, the lower the heat the tastier and more tender the meat will be.
If you're feeling fancy a little bit of parsley on top makes this stew look and taste even better. Serve this with a salad or some good bread or rolls and this is dinner all taken care of- and in the tastiest way possible!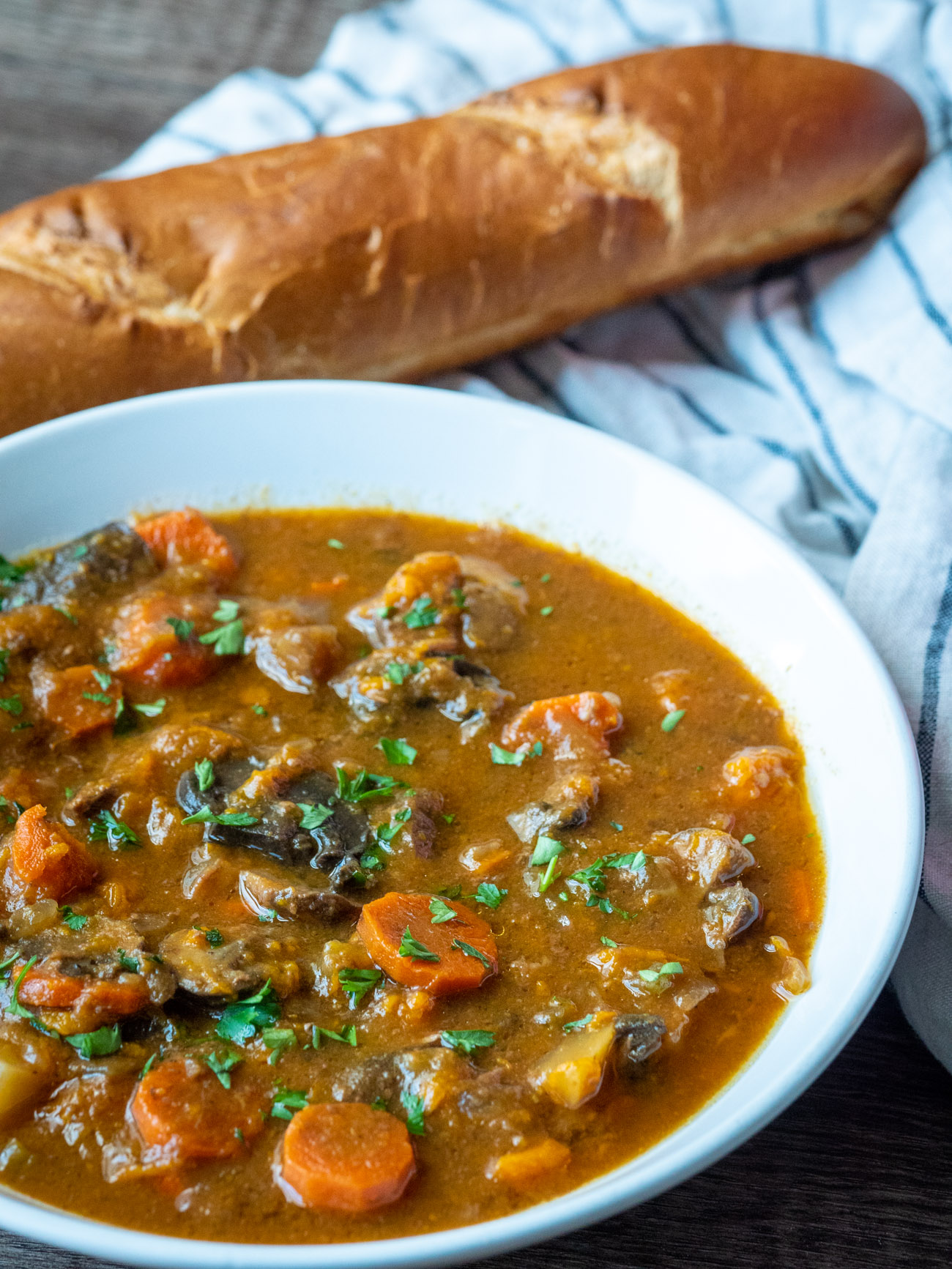 All Day Stew
Serves 6
20m prep time
10h cook time
Ingredients
1 lb stew meat (like chuck or shoulder), chopped into 1" pieces
1 onion, chopped
2 carrots, sliced
1 celery stalk, sliced
4 oz sliced button or cremini mushrooms, sliced
1 sweet potato, peeled and cubed
2 white or yellow potatoes, cubed
1 10-oz can condensed tomato soup
2 cloves garlic, minced
1/2 cup red wine
1/2 cup water
1/2 tsp salt
1/2 tsp pepper
1 Tbsp cornstarch
1 tsp beef bullion
1 bay leaf
Preparation
Place meat and vegetables into a 6-quart slow cooker. In a large bowl combine tomato soup, garlic, water, wine, salt, pepper, cornstarch, and bullion. Stir well and pour over beef and vegetables. Add bay leaf on top.
Place lid on top and cook for 9-10 hours on low or 5-6 hours on high. If too thick add in some more water and cook for 10 more minutes. Remove bay leaf before serving.
Recipe adapted from Easy Budget Recipes.
SKM: below-content placeholder
Whizzco for 12T