Comfort food comes in many forms – fried chicken, cheesy macaroni, buttery mashed potatoes, and on and on the list goes. While tastes may vary, we can all agree most comfort food is either carb-loaded or sugar-loaded (and sometimes both!) When it comes to savory comfort food, is there anything better than a hearty casserole? Not only are you getting the warm, deliciousness of a comfort meal, but the dish itself is easy to prepare and easy to clean up! That's a win-win in my book. Let's take a look at some of our favorite comfort food casseroles here on 12 Tomatoes.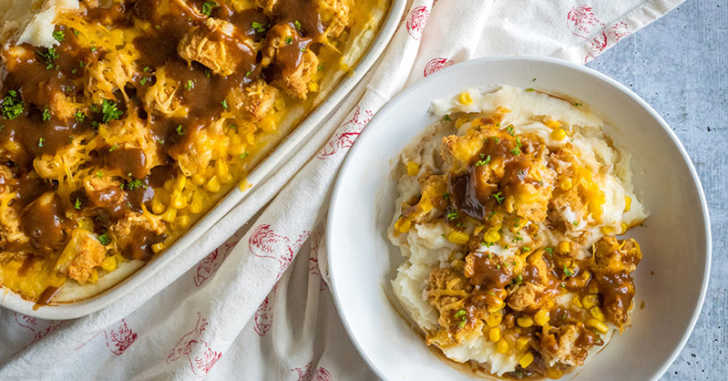 Aside from crispy chicken and potatoes, this casserole contains two different kinds of cheeses, corn, and brown gravy. Separately, these foods are good. But together they are unbeatable. My favorite part about this meal is how easy it is to throw together. By using instant mashed potatoes, instant gravy, and frozen chicken strips, you truly can have dinner ready in just over half an hour. Get the recipe here!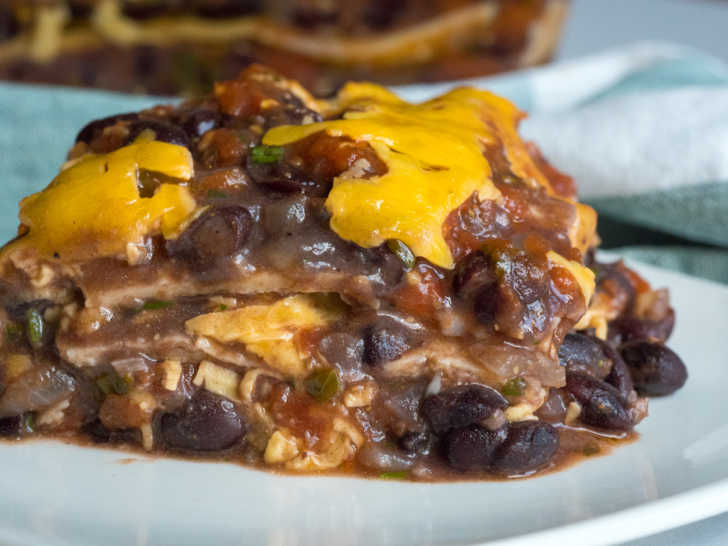 Good food is all about layers of flavor and this easy casserole has plenty of that going on. Though it's a vegetarian bake, it is still incredibly hearty and zesty (and cheesy too). It's the kind of casserole you can throw together with things you usually have on hand, which is great news because it means you can get this delicious flavor whenever the mood happens to strike! Get the recipe here!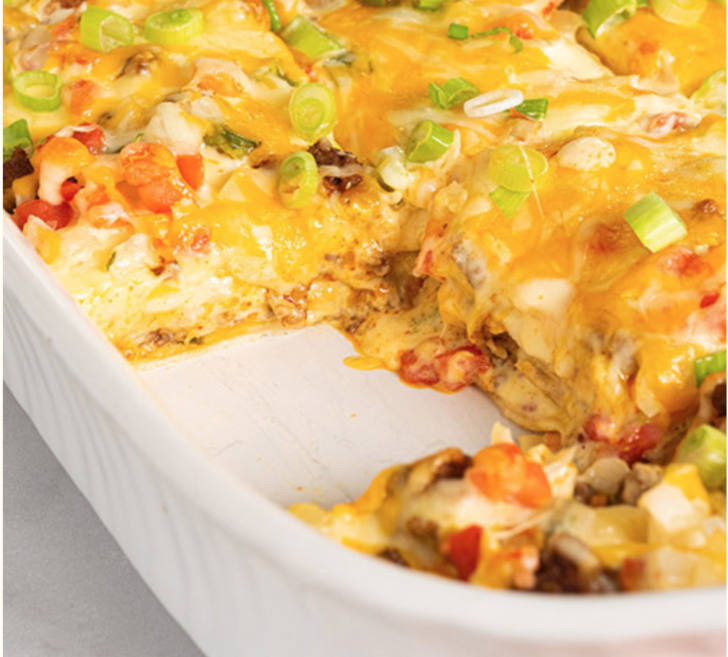 Presenting: Cheesy Taco Lasagna. This dish leans more on the taco side with its seasonings and flavor profile, but that doesn't mean it's not overflowing with delicious cheese! This layered taco dish will satisfy your taco night craving while keeping things interesting. Perhaps my favorite part of this whole meal is the decadent cheese sauce. You'll melt butter in a sauce pan and then add heavy cream and 2 cups of cheese. Um, yes, please! Coupled with the seasoned beef and a heaping helping of Pico de Gallo, and this dinner is sure to be a hit. Get the recipe here!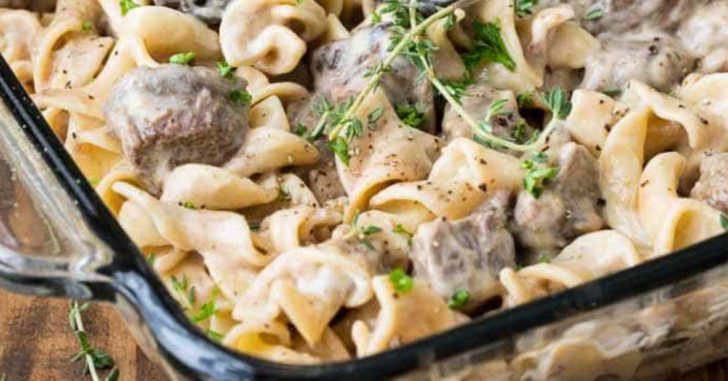 This casserole takes a traditional stroganoff to the next level by baking the tender noodles in a sour cream gravy sauce. The noodles soak in all of the delicious flavor for a dish you literally cannot resist. This recipe turns inexpensive stewing beef incredibly tender by roasting it low and slow. In return this dish is absolutely luscious and so full of flavor and the beef melts in your mouth! Get the recipe here!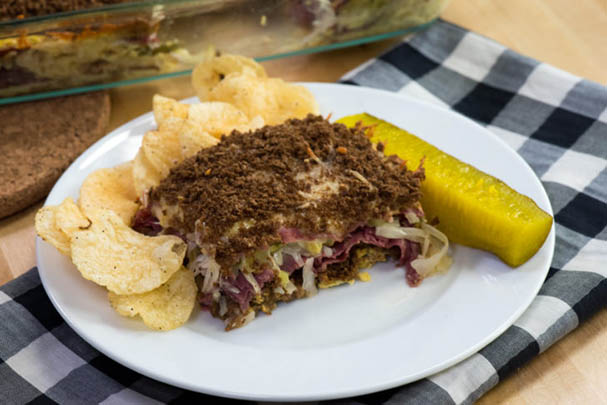 When it comes to classics, a good ol' Reuben sandwich never fails to hit the spot. Seriously, there isn't much that grilled-to-perfection, gooey sandwich can't cure, but it can be rather a hassle to make ourselves, so we decided to come up with an easier way to whip up a big batch that'll feed a crowd: a reuben casserole! Filled with rye bread cubes, your choice of pastrami or corned beef, sauerkraut, pickles and Thousand Island dressing, this casserole tastes just like our favorite hot sammy, and we didn't have to stand over the hot stove to make it! Next time you're having people over, make this casserole and step back – everyone will go wild for it! Get the recipe here!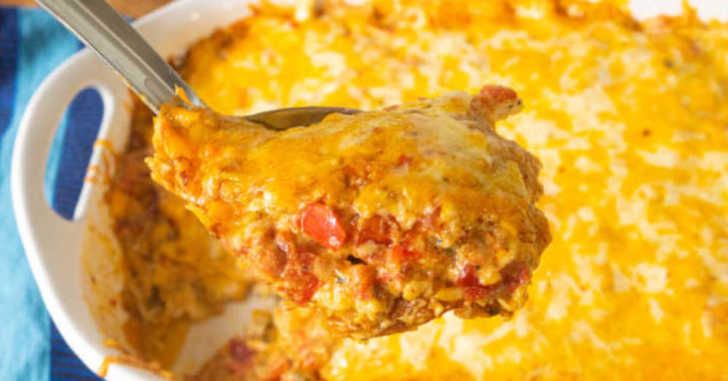 A King Ranch Chicken Casserole is just the kind of hot, bubbly comfort we've all come to expect from Southern cooking. It hails from Texas – named after the biggest ranch in the state even though there's no actual link between the recipe and the ranch itself. It's unabashed comfort food – cheesy, creamy, and usually reliant on a can of cream of mushroom soup. Our version skips the can but still brings you all the creaminess and flavor you could want, just in a more 'from scratch' manner. Get the recipe here!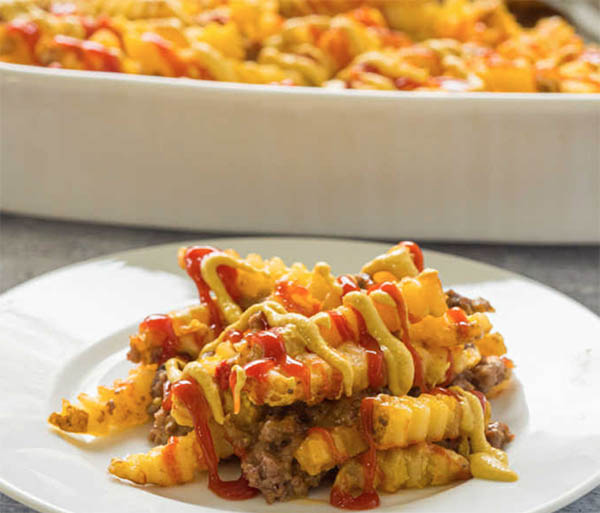 It doesn't get more quintessentially American comfort food than a cheeseburger and fries. Sometimes you just get a craving for a delicious burger with a side of piping hot, crispy fries, am I right? This Cheeseburger and Fries Casserole takes all of those savory, seasoned flavors that you love and combines them with fries, all in casserole form. This meal is as easy as browning hamburger, mixing in a few ingredients, and popping it all in the oven. Get the recipe here!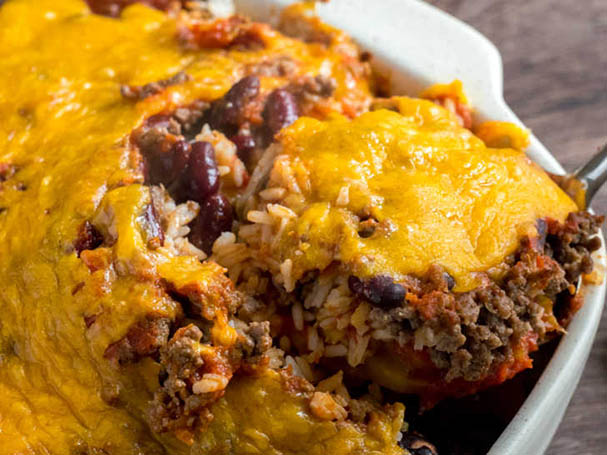 Shipwreck Casserole ain't pretty, but it's one of those casseroles where looks don't matter in the slightest because it's all about the comforting flavors. It's a unique layered affair; some say it got its name when sailors grabbed whatever food they could from their wrecked ship and then prepared a baked dish from the assorted ingredients. (When I first saw it I thought it got its name because it just looked like a shipwreck.) This bake has been around (in one form or another) since the 1940s, so you just know it has to be good; it's tried and true, the kind of dish that families have loved so much that they've passed it down for decades on end. Get the recipe here!
SKM: below-content placeholder
Whizzco for 12T