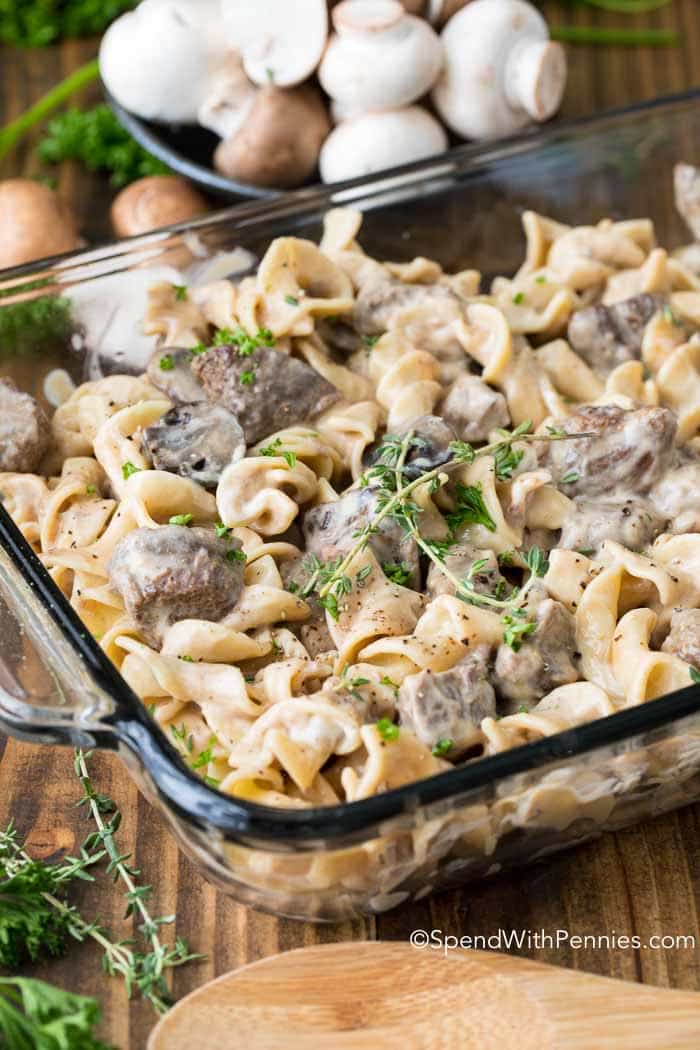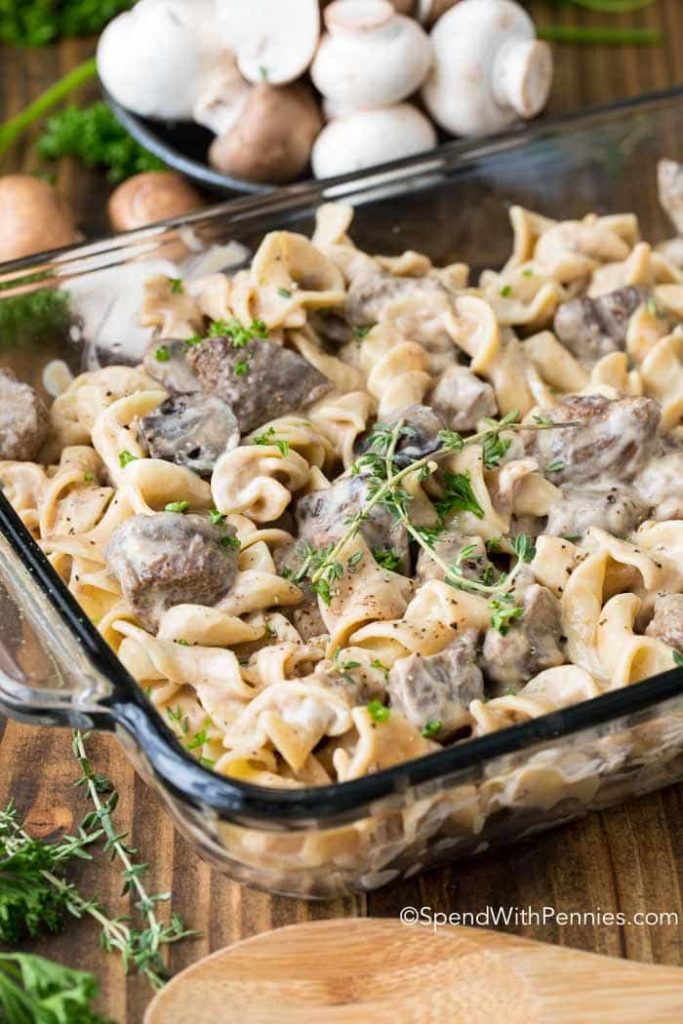 This post is brought to you by our friend, Holly, at Spend With Pennies
I love Beef Stroganoff, it's the ultimate comfort food!
Tender beef, mushrooms and onions roasted to perfection and smothered in a rich flavorful sauce.
This casserole takes a traditional stroganoff to the next level by baking the tender noodles in a sour cream gravy sauce. The noodles soak in all of the delicious flavor for a dish you literally cannot resist.
Beef stroganoff is often made with sirloin (or with ground beef) and as many times as I've tried it, I never find the beef is tender enough.
I set out to make a beef stroganoff that was incredibly tender while making sure it was simple to make and full of flavor.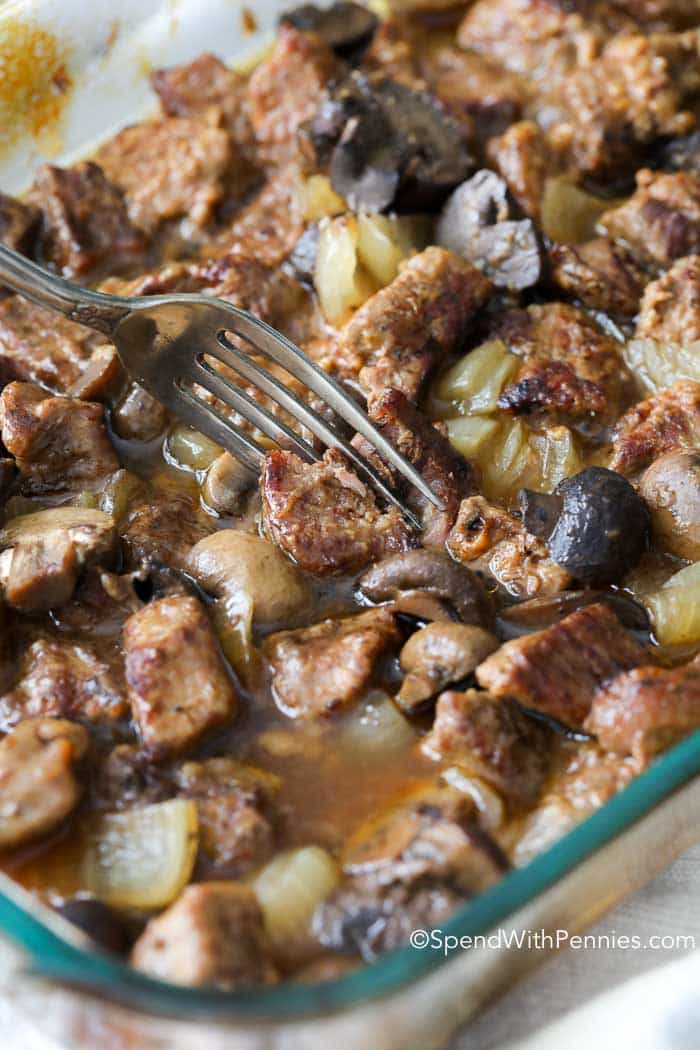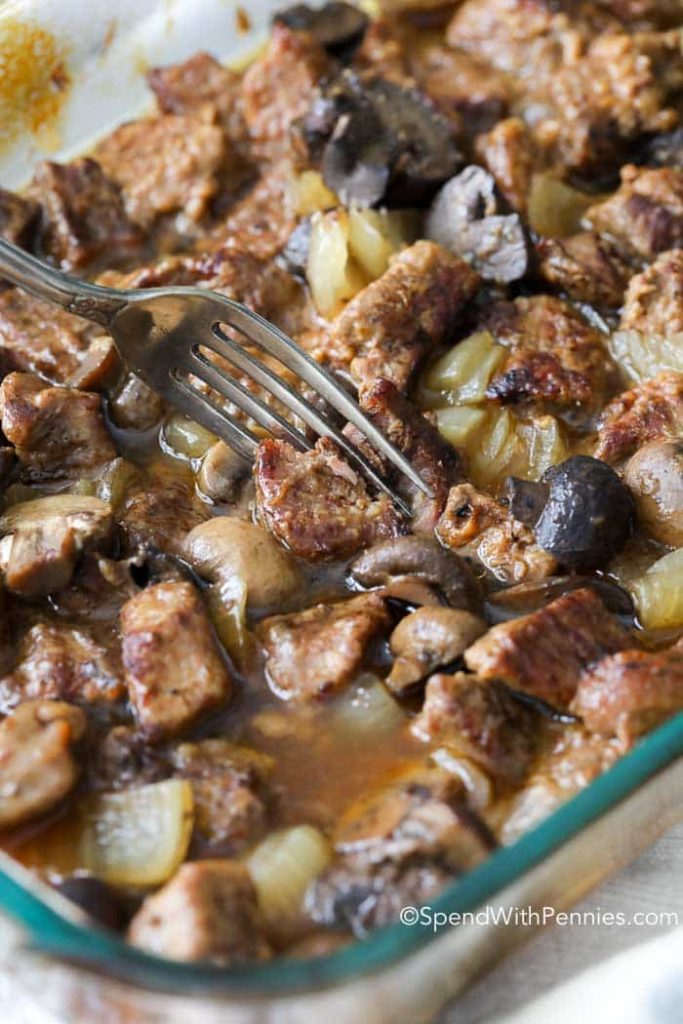 This recipe turns inexpensive stewing beef incredibly tender by roasting it low and slow. In return this dish is absolutely luscious and so full of flavor and the beef literally melts in your mouth!
First the beef is seared in a very hot pan until it has a nice brown crust on it which adds amazing flavor. You don't want it just browned, you want a nice crust to really seal the beef before roasting.
The great thing is that slowly roasting beef with onions and mushrooms (and just a touch of broth) not only creates the most tender meat but the mushrooms and onions caramelize leaving the best flavor infused in every bite of this stroganoff!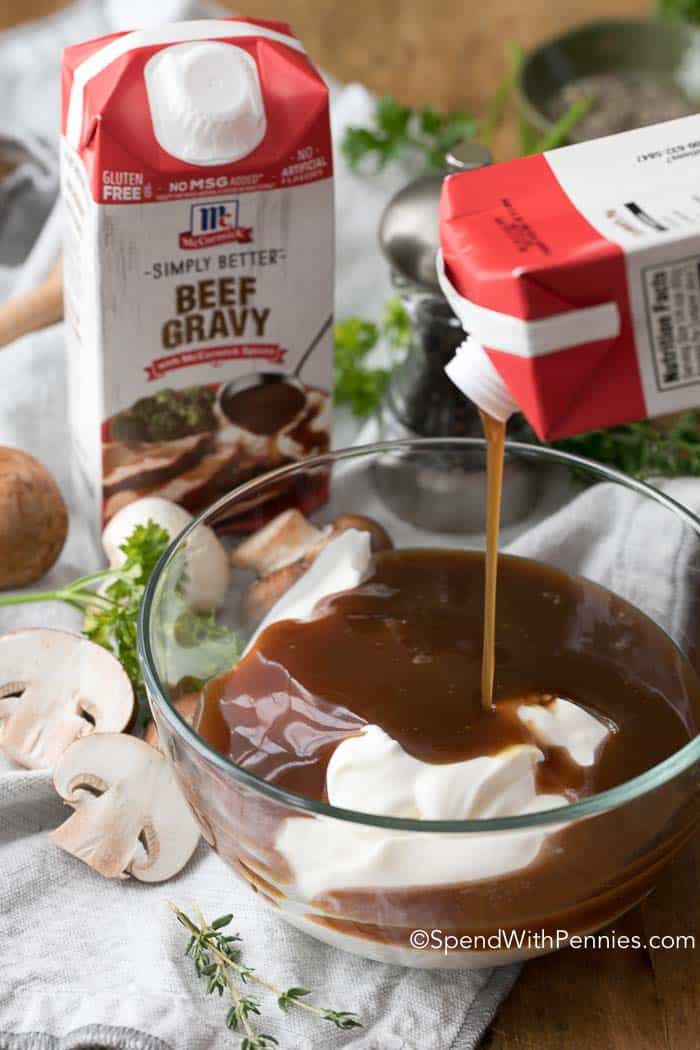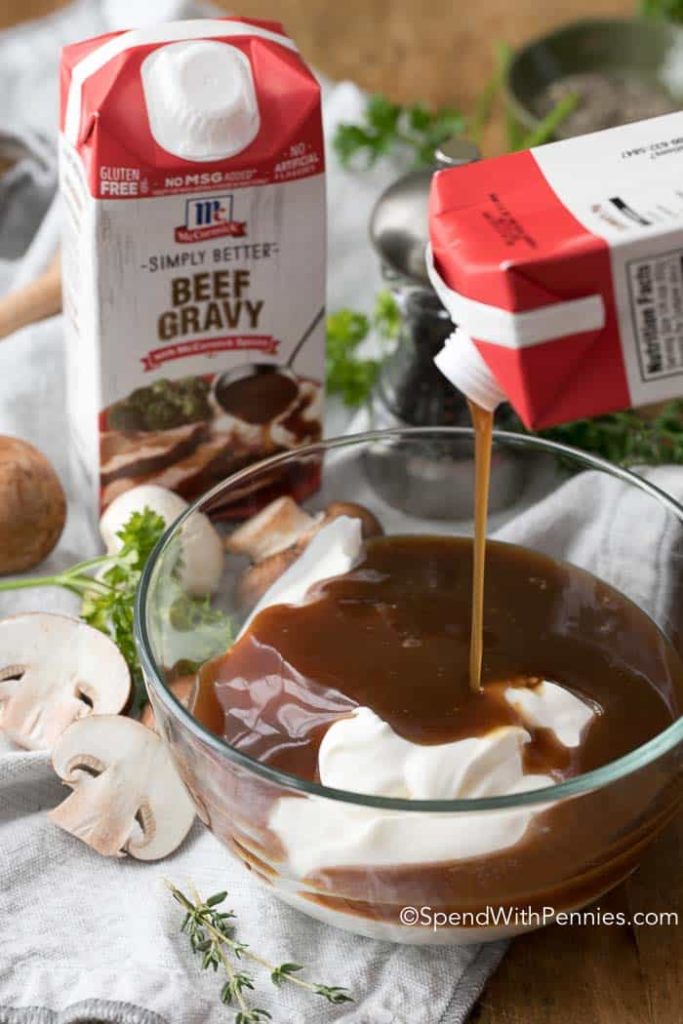 The secret to this recipe, though, is the simple, two-ingredient sauce that gets added with the noodles for the last 15 minutes of roasting. The sauce for this beef stroganoff doesn't have to be fussy and because the ingredients have such amazing flavors on their own.
I combined McCormick Simply Better Beef Gravy with sour cream for the most perfect sauce. I love the Simply Better Gravy not only because it is delicious, but also because it tastes so close to homemade.
Since this beef stroganoff casserole contains fresh ingredients like mushrooms and onions, I love that this gravy contains no artificial flavors while still having the perfect consistency and loads of flavor!
You may wonder why this is a casserole instead of just dishing up the beef mixture over noodles… the answer is MORE FLAVOR!
The noodles are slightly undercooked (so they don't get mushy) and then tossed with the tender beef mixture and of course the rich sour cream and gravy.
By baking this until hot and bubbly, the rich sauce is infused into the noodles making sure every single bite is crazy delicious!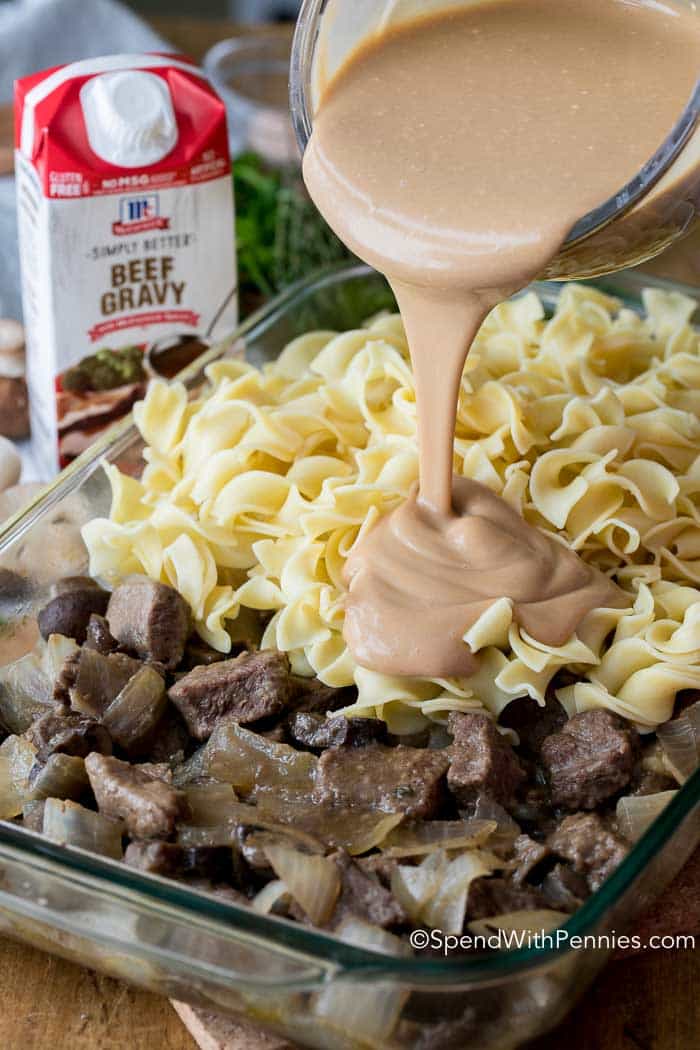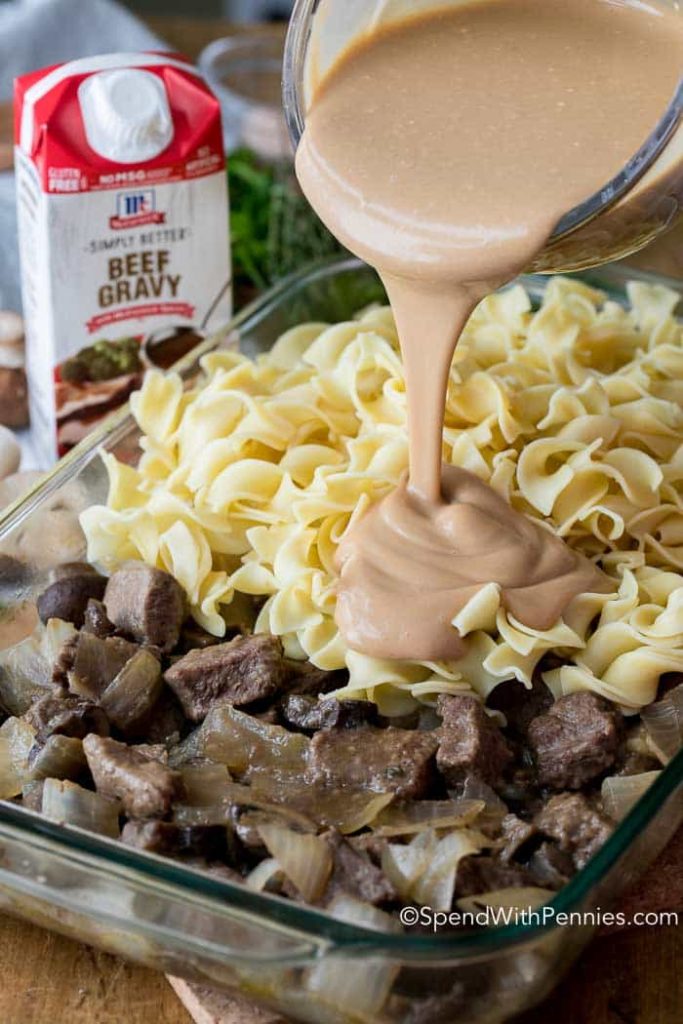 If you don't happen to have stewing beef (or if you just prefer ground beef), you can certainly use ground beef in this stroganoff recipe.
Simply roast the mushrooms and onions (reduce the broth to 1/4 cup) for about 45 minutes or until tender. Stir in cooked ground beef, the remaining ingredients and bake as directed!
It also works perfectly with leftover roast beef, chopped leftover steak or even store bought pre-cooked roast!
If you like a buttery crumb topping on your casseroles, it works perfectly on this recipe!
I make a simple garlic buttered Panko topping by combining 1/2 cup Panko bread crumbs, 1 tablespoon fresh parsley, 1/2 teaspoon garlic powder and 1 1/2 tablespoons melted butter. Sprinkle over the casserole just before baking. The perfect finish to this dish!
Click HERE to find McCormick's Simply Better Gravy in your area
Beef Stroganoff Casserole
Serves: 6-8
Time to prepare: 1 hour
Ingredients
Beef

1/3 cup flour
1/2 teaspoon each garlic powder, salt, pepper & paprika
1 1/2 pounds stewing beef
2 tablespoons each vegetable oil & butter
2/3 cup low sodium beef broth
3-4 sprigs fresh thyme
1 1/2 cups mushrooms, halved
1 large onion, chopped

Sauce

1/2 cup sour cream
1 carton McCormick Simply Better Gravy, beef flavor
2 teaspoons cornstarch

Other

8 oz dry egg noodles
1 Tablespoon fresh parsley
Directions
Preheat oven to 300 degrees.
In a large bowl, combine the flour & seasonings. Set aside.
Remove any fat from the beef and gently toss with the flour mixture to coat.
Heat the vegetable oil and butter in a skillet over medium high heat. Add the dredged beef chunks and brown until a crust forms on each side.
In 9×13 inch pan combine beef, onions, mushrooms and beef broth Cover tightly with tin foil and bake for 2 hours or until beef is fork tender.
Meanwhile, combine the sour cream, Simply Better Gravy and cornstarch in small bowl and set aside.
Cook the egg noodles 2 minutes less than indicated on the package. Drain well.
Remove the beef from the oven and turn the oven up to 350 degrees.
Remove the thyme sprigs from the pan, stir in the egg noodles and the gravy mixture.
Bake an additional 15 minutes or until hot and bubbly.

NOTES

Optional Crumb Topping: Combine 1/2 cup Panko bread crumbs, 1 tablespoon fresh parsley, 1/2 teaspoon garlic powder and 1 1/2 tablespoons melted butter. Sprinkle over the casserole just before baking

Recipe from Spend With Pennies
SKM: below-content placeholder
Whizzco for 12T